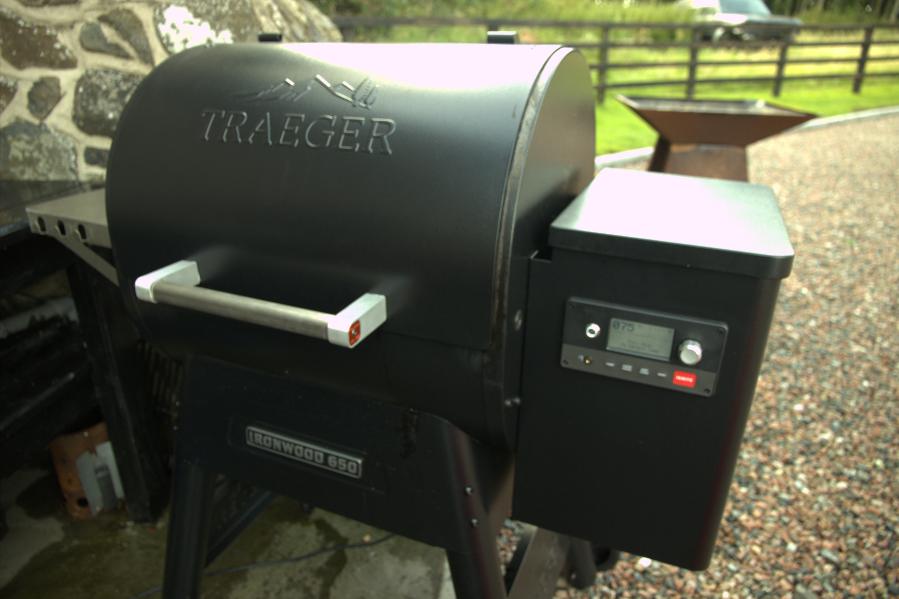 Over the last six months, I've been lucky enough to spend a lot of time in different countries across the United Kingdom & Europe. I was visiting a friend around Belfast and wanted to explore what's going on in the barbecue and smoking world of Northern Ireland.
This post is a thank you, but also a little bit of an unscientific report on how the Traeger (Ironwood 650) did grilling some organic steaks and sausages – whilst learning and sharing tips & techniques.
So I reached out and found Roger & Emma, from Great Outdoors BBQ Co. Roger basically just said cruise around and have a look at some of the offerings he has. Specifically, I wanted to test out how the Traeger Ironwood 650 did will do grilling a steak, with no modification.
BBQ grilling on most pellet grills draws many different opinions around the world.
A friend of mine Lewis & his better half Claire from Ballylagan Kitchen (instagram link) recently took over the organic café kitchen. Lewis was also interested in learning more about pellet grill smokers in general and maybe a collaboration somehow down the line with a smoker or grill (Lewis loves a bit of wood-fired cooking Lewis has been a friend for over a decade and he's a very talented chef with some unique experiences from all over the world.
So over a few beers, Roger fired up the Traeger and we were going to see how it performed with a "caveman snack" of Ballylagen organic ribeye steaks & sausages. From the butchery at the farm next to Lewis & Claire's kitchen. This is also an award-winning butchery that makes some superb biltong (at the butchery, it was fun comparing notes on biltong with my secret recipes).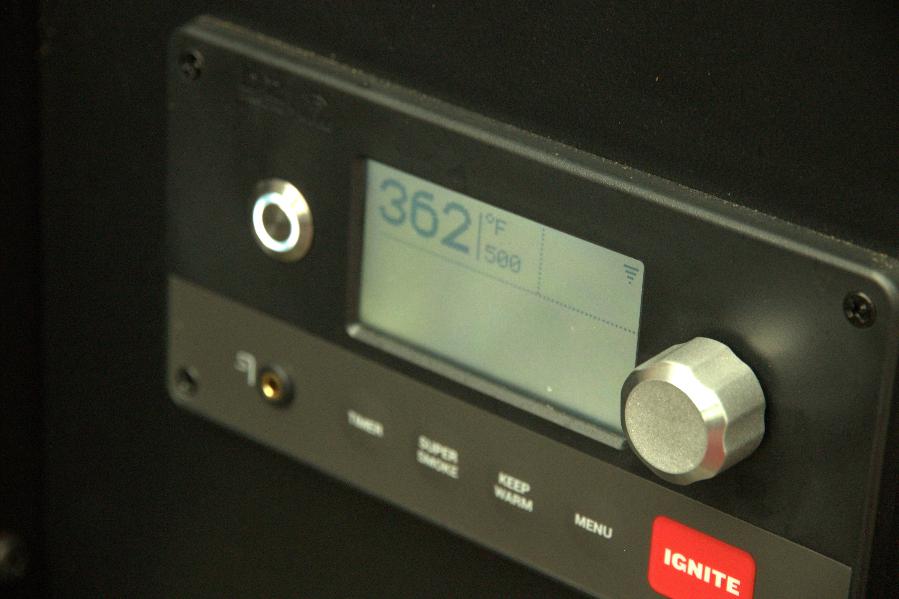 As the Traeger was heating up, Lewis & I took a quick walk around and checked out the showroom that Roger & Emma have out in the countryside. I definitely felt like a kid inside a toy shop with all the pizza ovens, charcoal, barbecue grills and many accessories they had on offer.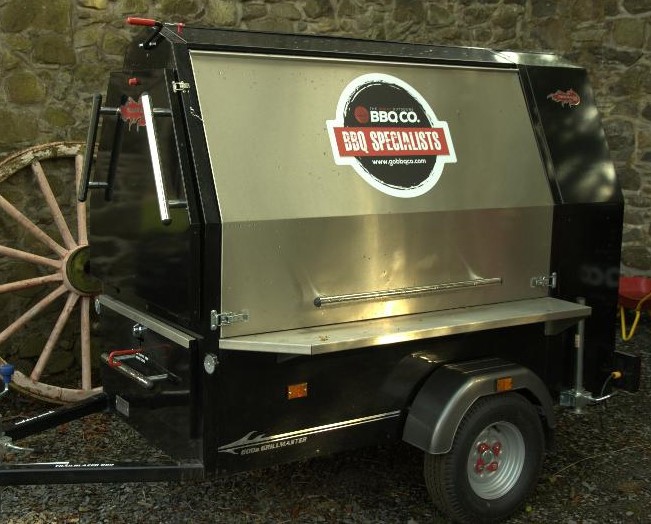 There was a bunch of rustic offset heavy-duty barbecue smokers for low & slow, which gave me confidence that Roger knew what he was talking about (one was practically antique and he said it ain't for sale).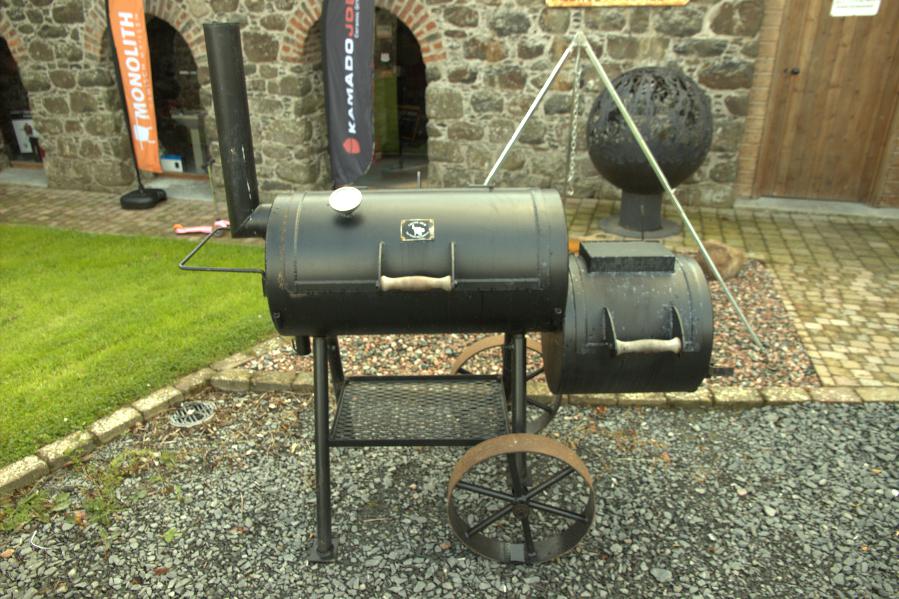 Great Outdoors BBQ Co is often at festivals and events around the United Kingdom and the custom grill trailer is probably something seen all over the place.
Good Old Fashion Service
We actually spent 2 or 3 hours, proverbially chewing the fat and chatting about all aspects of barbecuing and smoking with the various tools and toys around us. I really enjoyed discussing the comparisons between the ceramic egg-type grill and smoker and pellet grill smoker.
This is also one of the decisions that my brother recently made, which depends on a few factors but if you need to get the expertise in Northern Ireland, Roger is the man you want to talk to, he isn't just selling them – he is using and testing all kinds of kit, all the time.
As much as I love my online community and blogging about smoking and curing meats, you can't beat good old face-to-face communication for finding out the ins and outs and sharing some knowledge.
Experience in Grilling & Smoking
With the combined knowledge of a very talented chef, barbecue and smoking expert and a jack of all trades master of none curing and smoking blogger, we did a comparison of the Traeger when it came to grilling temp for the meat.
We decided to give some of the sausages a little bit of the super smoke mode blasting, and it was interesting that the smoke ring actually was created around the sausage and the outside casing as well.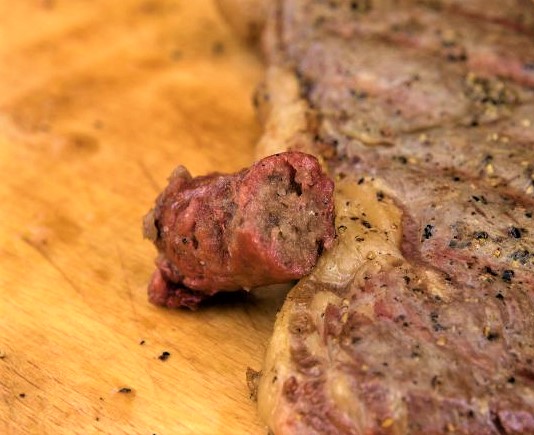 We cranked up the heat to maximum, this was a Traeger that could hit 260°C/500°F (now around 290°C/550°F), We left it at max temperature for an extra five minutes to get the grill up to its performance level.
Pellet Grill – Grilling Test
So rather than me talking about the results, here is the visual interpretation.
Note, that these were steaks were pretty thin, probably about half an inch, no marinating just the classic salt, pepper and rub of oil on the meat.
In terms of tasting notes, one of the sirloins was a much fattier cut than the other. We didn't get the outside fat crispy, but all in all the medium done steaks were delicious and also so were the organic sausages.
Traeger (Personal Opinion)
I've been using, studying and writing about Traeger for many years now, and these are a few observations.
Personally I now like what Traeger are doing with more grills being Wi-Fi enables, it's not for everyone, but a lot of people get the extra level of convenience with checking on meat or grill temp from your phone when you want to go do stuff.
If you haven't actually got a pellet grill, I believe these are the most convenient types of low & slow barbecue smoking device and the cheesy set & forget option on the market. If you're doing like an overnight long slow smoking of brisket, pork or anything else, this is just about perfect. Pure wood fire flavor, with a hands-off approach. I have mollycoddled many a charcoal smoker.
Pellet grills are versatile, with 7 or 8 in 1 cooker. They have the versatility of a kitchen oven but in a much more outdoorsy type of cooking environment.
Hot Tip for Searing on a Pellet Grill Smoker
Having something to retain the heat either like a heavy cast-iron griddle pan or grill grate, is a great way of holding the heat that's generated from the pellet grill, this will give you that extra level of searing ability. We can buy a grill grate accessory, which I believe Great Outdoors BBQ Co Roger is stocking in the near future.
The test was to see how the Traeger Timberline performed without a heat retention device, and considering those steaks were rather narrow – it did the job well enough for me to serve to friends and family.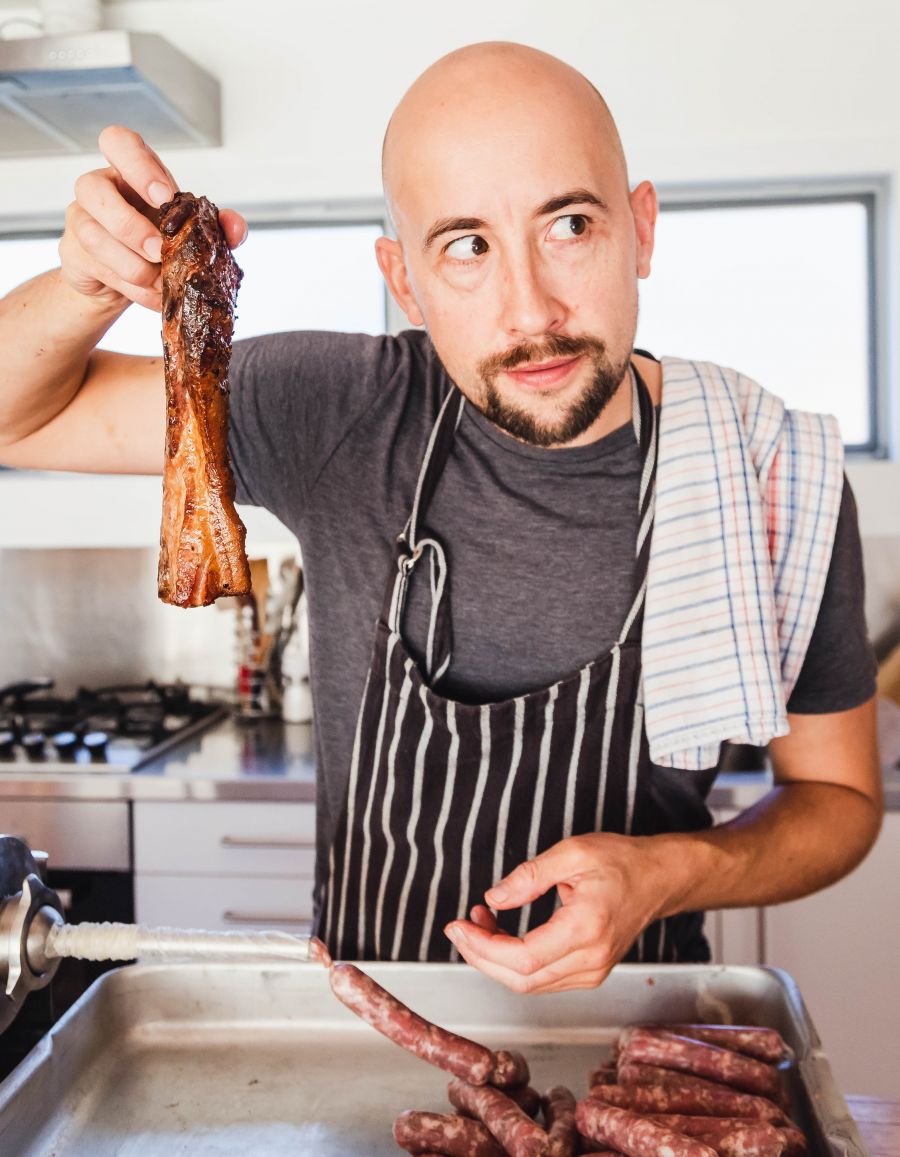 Thanks for dropping by, I've been passionate about meat curing for decades.
I Hunt, Fish, Forage, Buy, Butcher (Wannabe Norcini), Make, Savor (I'm not a Saviour), and love curing and smoking meat.
Learning and consuming in a circular fashion, I am always interested in what is happening around the curing and smoking world
Seeking the passionate behind the passion.