Since curing meat in a curing chamber is a craft, temperature, and humidity do not have to be exact, but more so I found through experience, within a range.
When I started off and built my first meat-curing chamber over 15 years ago, I did a lot of research and read quite a lot of books to make sure I was on the right track. Now I truly appreciate other people are learning from this blog which summarizes what I have learned.
When starting off, I had the right temperature and humidity, but I learned unless I inoculated the curing chamber it may take a little while to build up some good bacteria a.k.a. penicillin a.k.a. white powdery mold (Some folks do like to spray the meat surface in encourage this growth).
But once you have this culture growing inside the curing chamber, the salt-cured meat you put in there will be well protected (as long as you follow a good methodology of course).
So here is a table summarizing the temperature and humidity ranges and then I'll go over a few tips relevant to the curing chamber and its environment.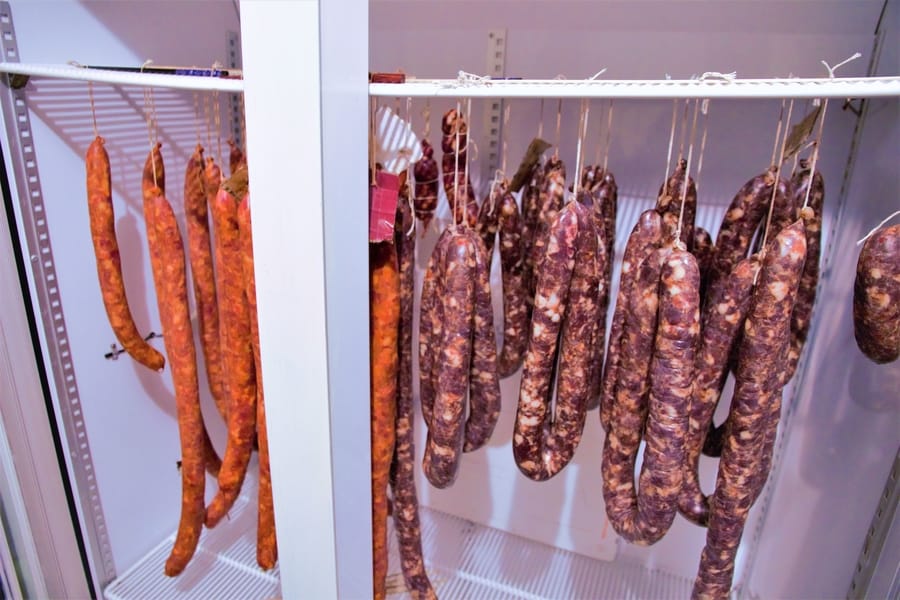 Humidity and Temperature Ranges for a Curing Chamber
| | | |
| --- | --- | --- |
| | Temperature | Humidity |
| Dry Cured Meat (Whole Muscle) | 50-61°F/10-16°C | 60-80% |
| Dry Cured Salami (after fermentation) | 50-61°F/10-16°C | 60-80% |
| Jerky and Biltong | 61-122°F/16-50°C | 30-50% |
Now, these are my dry curing conditions, although I have spoken to award-winning biltong makers internationally. So I go for longer slower biltong which takes 2-4 days.
For the most basic type of jerky, you can use your kitchen oven with the door ajar open, and it will take a lot faster since jerky is only a thin cut of meat. Biltong quite often is 1″ thick.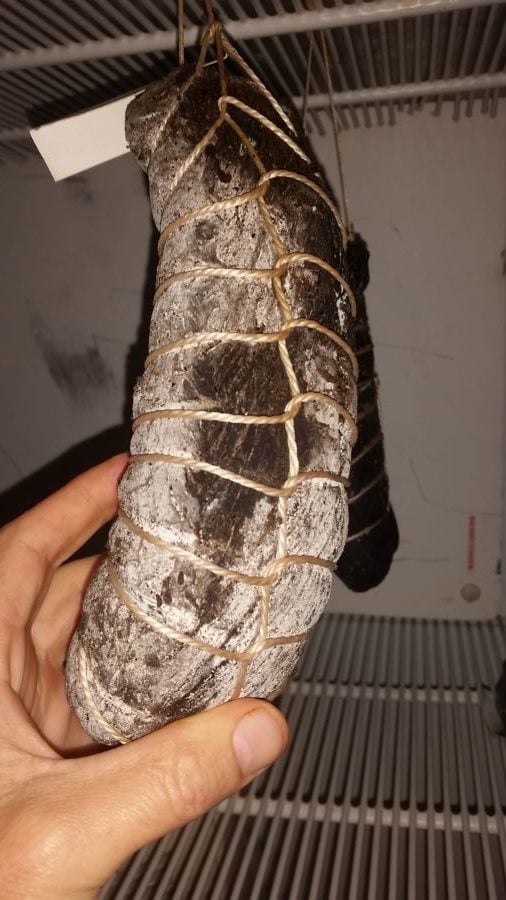 If you don't have a curing chamber and you're just looking at hanging out some meat to cure such as simple dry-cured bacon with some cold smoke after or a simple red meat braesola recipe. You can always just test the environment like out the back, in the garage, or some other place protected from pests with a bit of airflow. It just needs to be somewhere in the range of humidity approximately and temperature above.
It's just a bit hit or miss and can be frustrating when it's inconsistent, but it's done this way in homes all across Italy or other places across the world.
Here is a simple cheap sensor pack to check temperatures around the home.
The other option if you're new to the whole idea of dry-curing meat, is to just use your normal kitchen fridge. I did a fair bit of experimentation around this, so I wrote a guide about how to cure meat in your kitchen fridge I got consistent results.
Also, check out my page with an equilibrium curing calculator to make the calc easy!
Environments for Different Curing Chamber Projects
I thought it might be useful to stick in a quick overview of the different projects I am familiar with and the environments.
Ideal Temperature & Humidity for Dry-Cured Salumi
This is the most common type of dry curing people do at home apart from jerky. Whole muscle dry curing is also easier than salami, less air is exposed to meat surfaces which could have potentially bad bacteria get into it.
Airflow and how consistent the moisture is in the environment is key to any dry curing project, but it can work in many scenarios.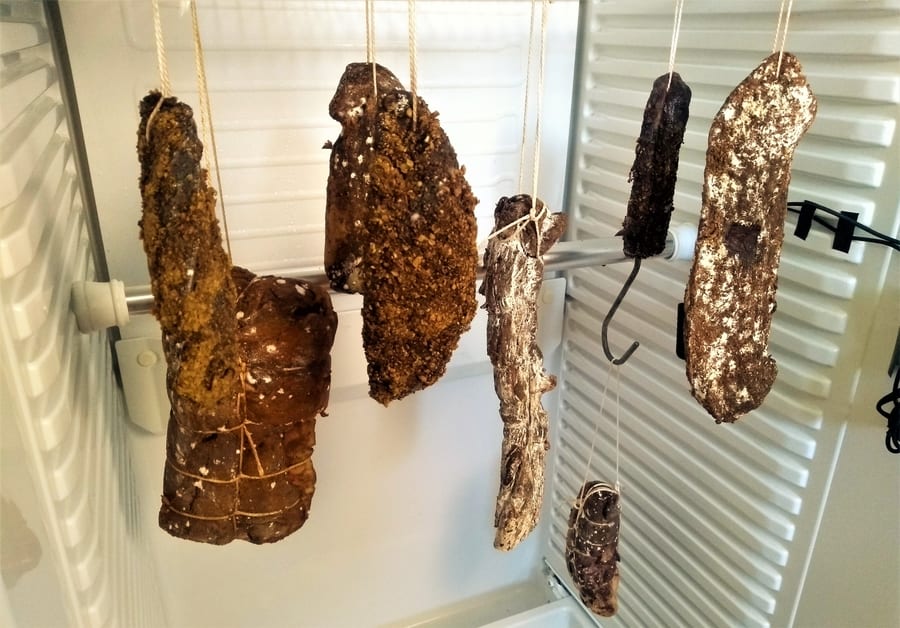 In the area of Parma where Parma Proscuitto Ham comes from, it's next to areas of water which allows generally higher levels of moisture and humidity in the air, it helps the outside of the cured meat drying slower (I just googled Parma, Italy whether. It's 90% humidity there now that's 11 AM in the morning with a sunny day with some cloud intervals).
My curing chamber does operate a little bit drier, it's a big double-door commercial fridge that I converted. So I end up starting most dry curing at around 75 to 80% humidity for the first two or three days and then take it down to about 70% for most of the dry-cured projects I do like pancetta, braesola, Lonza or dry-cured and then cold smoked bacon.
Ideal Temperature & Humidity for Salami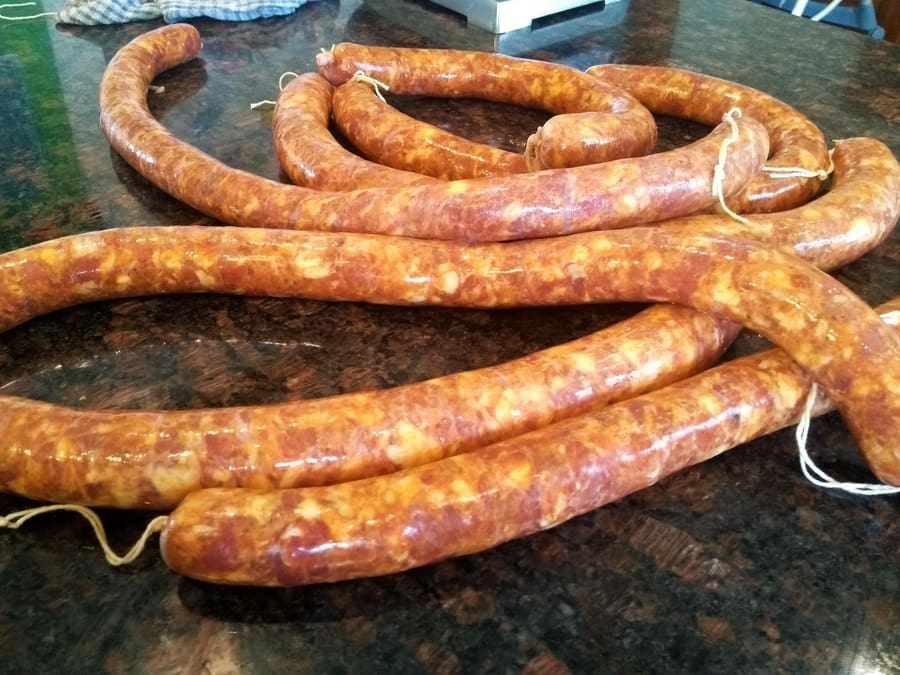 Salami is definitely the advanced category of using a curing chamber.
It basically just follows the procedure but since it is common to have a fermentation stage having that higher temperature and higher humidity allows that pH and acidity to increase to create a hostile environment for bad bacteria.
Now some recipes also don't have fermentation, so just make sure you are following a decent one. I have compiled a recipe book as we speak, which will be available soon, it will include what I have learned about meat curing across many different countries as well.
The easiest way to achieve high humidity and high levels of temperature is to have a humidifier and a heater of some sort in the curing chamber, or an old fridge with plug-in controllers..
In the early days, I also used the right conditions in a friend's shower, not ideal but it did help change the pH acidity which was the goal.
Ideal Temperature & Humidity for Jerky & Biltong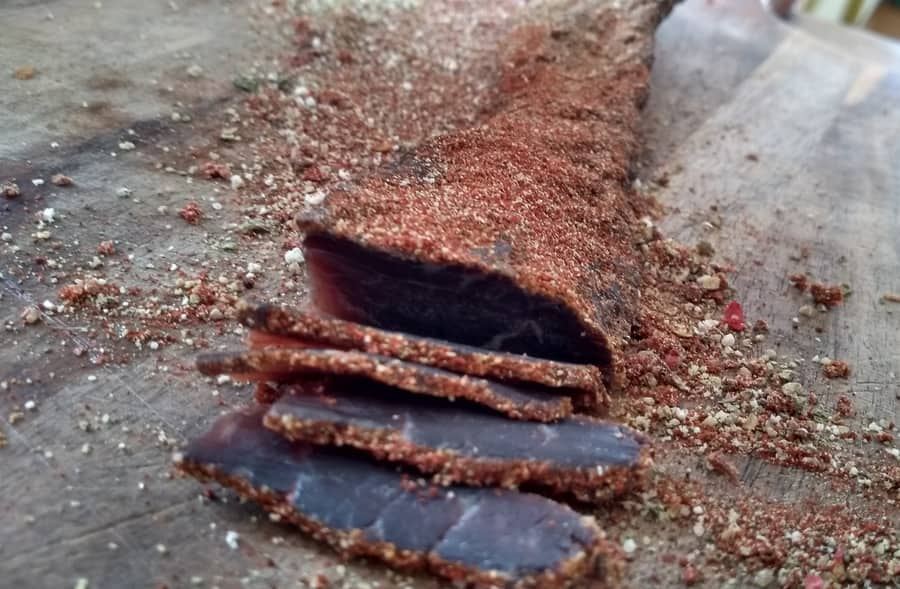 It's perfectly fine and very common to dry out jerky which has been in a dehydrator. This is definitely one style and very popular.
But before I started doing jerky I was making South African biltong, this is a slower drying process and uses much chunkier bits of meat. The recipes for the classic recipe is dead simple salt, coriander, and malt vinegar. If you're interested in a simple guide and recipe, please check out the page I wrote on jerky & biltong here.
I like to take 2 to 4 days to dry out biltong at around 28 to 35°C, personal preference.
Different Ways to Control Humidity
Finding the Right Environment
It really does depend on the environment you live in, you could be anywhere in the world wide web so you may have a more suitable environment when it comes to the humidity or you may not.
I got contacted by a man in East Africa, he was keen on dry-curing meat – he definitely needs to build something suitable. He said it never got below 77°F/25°C at any time of the year, day or night! Best for hot smoking, head to do cold smoking at under 86°F/30°C!
In the temperate environments that I've lived in, the moisture is always higher at night time and this is also useful since you can want the higher levels of humidity when you cold smoking.
There are some methods I have come across, like having bowls of saltwater inside a small chamber to have some impact on humidity or using some form of disposable cigar environmental control products.
But I haven't tried it and I can't say I've heard any great outcomes if you're looking at longer-term dry curing for months.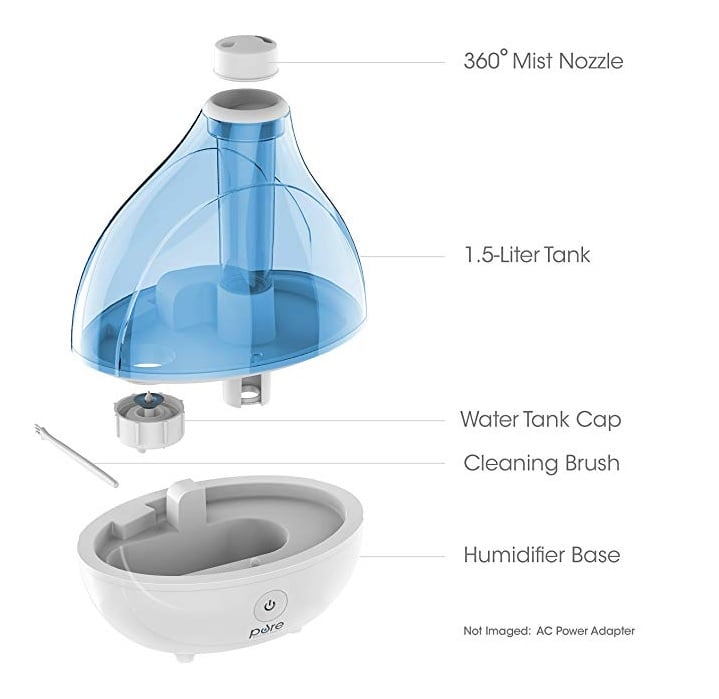 Humidifier
An ultrasonic humidifier is the best way to go because you end up pumping out a fine mist and hopefully, there is some kind of filtration going on inside the humidifier.
If you want some suggestions on a couple of humidifiers I know do a great job, here is a page with a few recommendations for humidifiers.
Different Ways to Control Temperature
What I've seen with temperature control and different curing chambers is that the compressor or whatever form of cooling is used may create more or less moisture as well as impact the humidifier or dehumidifier. This is something that just needs testing to get some balance generally.
Someone much more electrically minded than myself, a friend who is an electrical engineer pointed out that it could be moisture attaching to the condenses.
When the fan was blowing, that moisture got pushed into the chamber. This was specific to my curing chamber since it was designed to have a fan continuously operating even when the compressor wasn't on (it was a drinks fridge)
So some rewiring was done, which only turned on the fan when the compressor was on.
Nowadays with the plug-and-play controllers for fridges, it makes it super simple, if you use a standard old frost-free fridge.
If you want to check out the options and a guide on building a curing chamber, here is a detailed page on all the setup.
Fresh Air Flow Needed
This is something that took me a while to figure out in my first curing chamber. I thought there was enough air being pulled through the compressor but it seems it wasn't the case.
I actually tried growing some gray oyster mushrooms in the chamber and it didn't work because they need such a significant amount of oxygen and airflow.
I had some success with dry curing meat because I had the right humidity and the right temperature. However the results and the process improved once I improved the airflow and oxygen going in the chamber.
I offset a lid to the compressor, which was just next to the fan in the compressor. I then sealed it and placed a HEPA filter over it.
The fan was drawing in the oxygen and therefore pumping some more additional fresh air. I then drilled through the side and opened up an exit hole of about 3 x 3″. Since there was always a little bit of pressure going through the chamber, it was always coming out of the hole.
What I suggest is that if you get a computer drawing wall fan and have it mounted inside a curing chamber, it will then pull the air out.
Important Factors for Dry Curing in Curing Chamber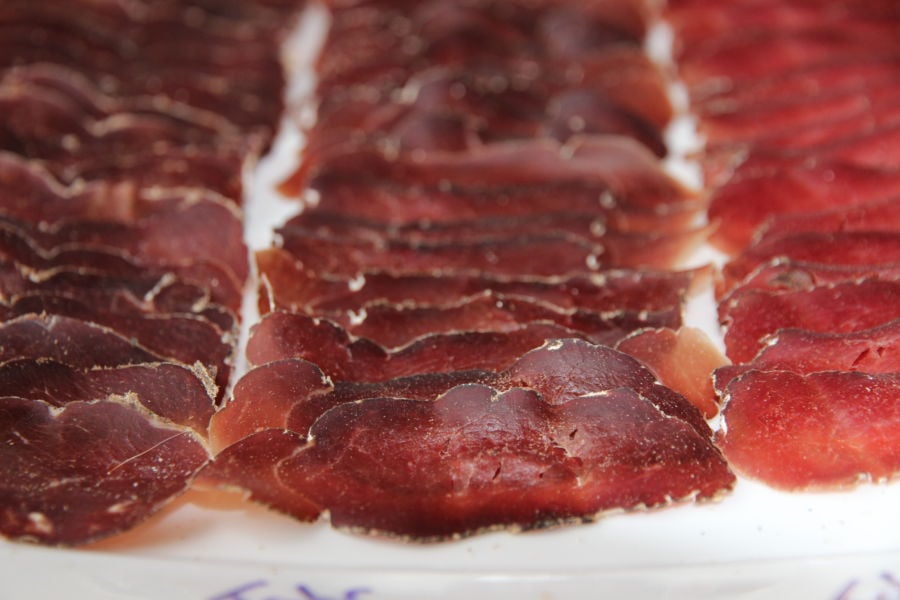 Quality of the Meat
Nitrites & Nitrates
Hygienic Environment
So you've looked into the temperature and humidity conditions you need.
But it's good to just go over the basics, first off the quality of the meat. I'm lucky enough to harvest quality meat from the wild.
Which comes from areas that are pretty much untouched. As long as I handle the meat in a hygienic way, avoiding any cross-contamination and refrigerating it then I use it either fresh or frozen. If I want to do a meat-curing project later on.
You can do your own research on pink curing salt otherwise known as sodium nitrite and sodium nitrate mixes with regular salt, I still use it as a form of protection just to make sure the meat is safe.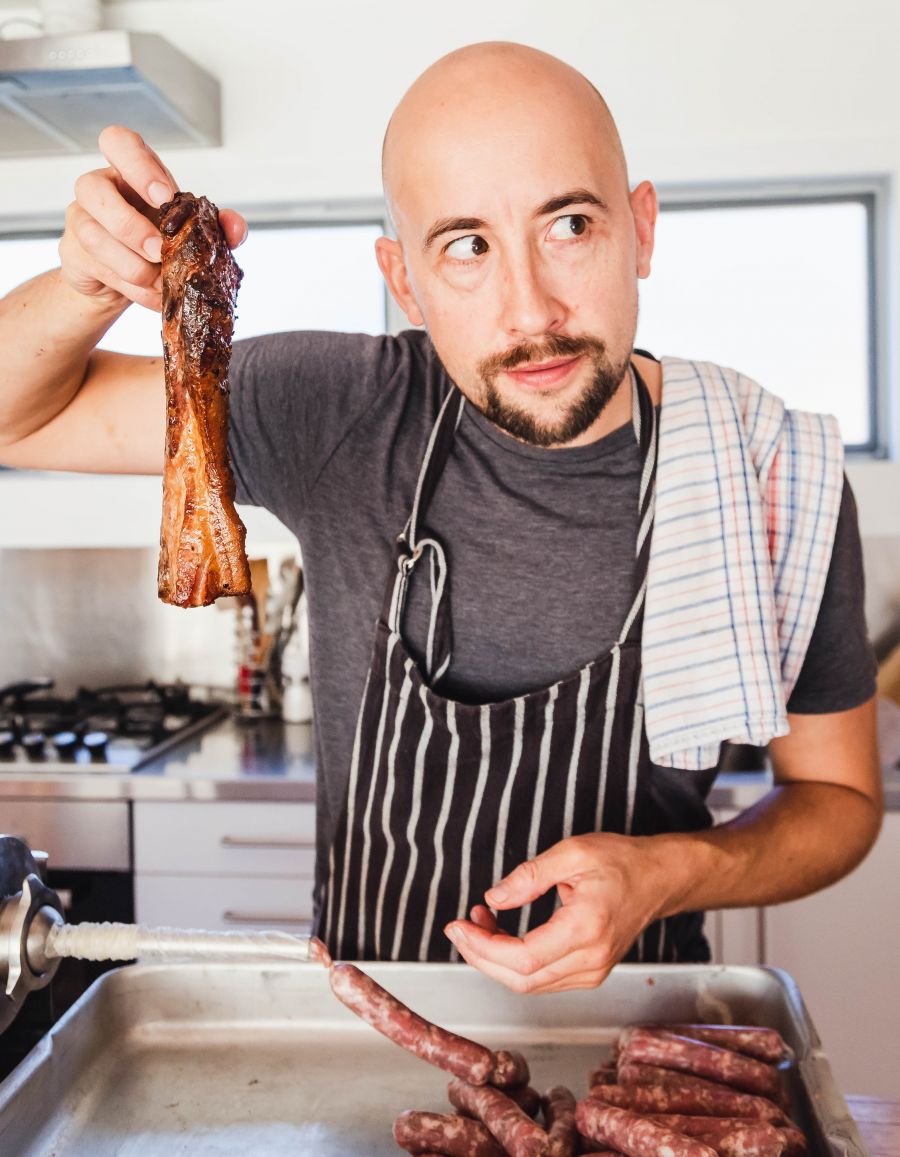 Thanks for dropping by, I've been passionate about meat curing for decades.
I Hunt, Fish, Forage, Buy, Butcher (Wannabe Norcini), Make, Savor (I'm not a Saviour), and love curing and smoking meat.
Learning and consuming in a circular fashion, I am always interested in what is happening around the curing and smoking world
Seeking the passionate behind the passion.