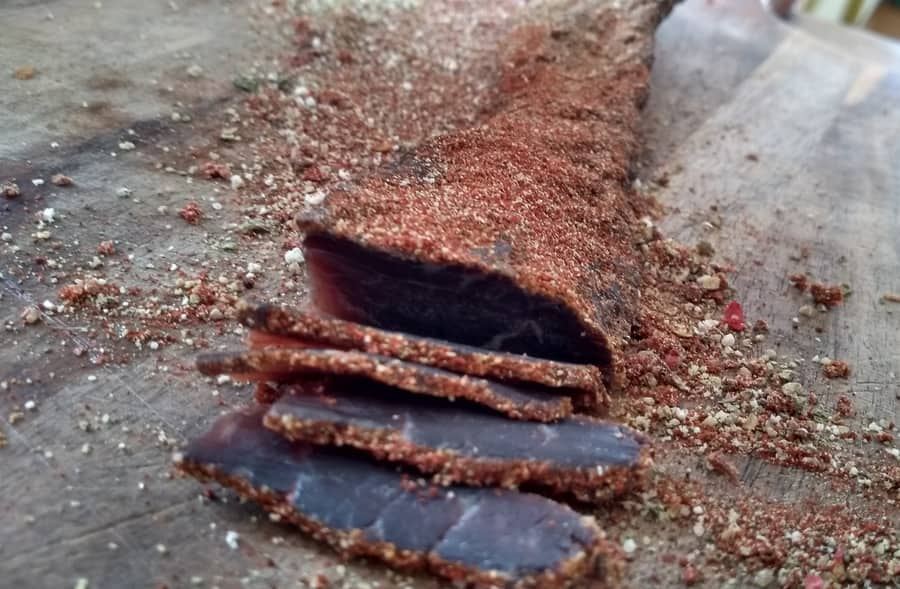 I don't often buy much red meat; I use a lot of venison and other red meats which I harvest and cure to make cured meats and definitely love making jerky and biltong.
A lot of guys I know just by topside beef which works well and is a budget cut of meat generally speaking.
I just wanted to do a quick guide since I have tried through trial & error many different recipes. It's a healthy protein snack which can last some time I have found.
Wading through online recipes, personally, a lot of them really have too much sweetness for my liking, I like just to use a touch of sugar sometimes. I want to have a meaty and savory flavor with some spiciness. Not some candy meat.
Instead of thin jerky slices, which you generally need a machine for. Biltong is using strips of 1/2 to 1 inch thick slabs or strips. So a little bit of easy knife work is required instead.
Biltong the classic recipe is salt, malt vinegar, and toasted coriander seeds.
It's funny how, when you add vinegar to fish it has an acidic reaction which is very common in dishes like ceviche. For that style of 'acid' cured fish, citric fruit like lime juice or lemon juice is used with a touch of maybe chile and some other spices.
Can't say I'm an expert, but 'denaturing' occurs amongst that meat protein I have read, whatever that is.
So I guess the same sort of thing is working with jerky or biltong.
Of course, it all really comes down to how thin your strips of meat are. You can mince the meat to make jerky in a squirting device, I haven't tried that. I like to have the texture and use strips or slabs of meat instead.
The South African way is to use slabs of meat about an inch thick because you end up drying it and it will be probably half that size once all the moisture comes out.
How to Cure Meat to Make Biltong & Jerky
Use quality fresh meat, leaner cuts
Cut into strips or slabs, cutting with the grain
Marinate in Salt & Malt Vinegar
Cover in Toasted Coriander and other spices of preference
Dry with a Fan, Dehydrator or Curing chamber
Store in a brown paper bag will dry out, but last 2-3 weeks
Breakdown Curing Method for Making Jerky and Biltong
When I started making this excellent meaty snack, I would leave the meat and the marinade overnight, but I have now cut back to leave it for 4 to 6 hours and find the meat flavor more balanced to the spices.
1. Use Quality Fresh Meat
Whether you are using store-bought meat or wild-harvested meet both can work really well for jerky or biltong. Sometimes I'm lucky enough to have some harvested meat which I can use for quality jerky\biltong.
It goes without saying that fresh meat is best, and the quality of the meat should be decent.
Great leg muscle cuts to use like the top around him bottom round are lean and have good runs of grains through the meat.
2. Cut into Strips or Slabs
So you want to be cutting with the line salt grains of the meat because this all means when you chew off all cut the meat the grains will make the meat slightly less tough.
Jerky Slicing
Jerky is often thinly sliced, so it does dry out a lot quicker, especially using hot drying techniques like a low heat oven or dehydrator.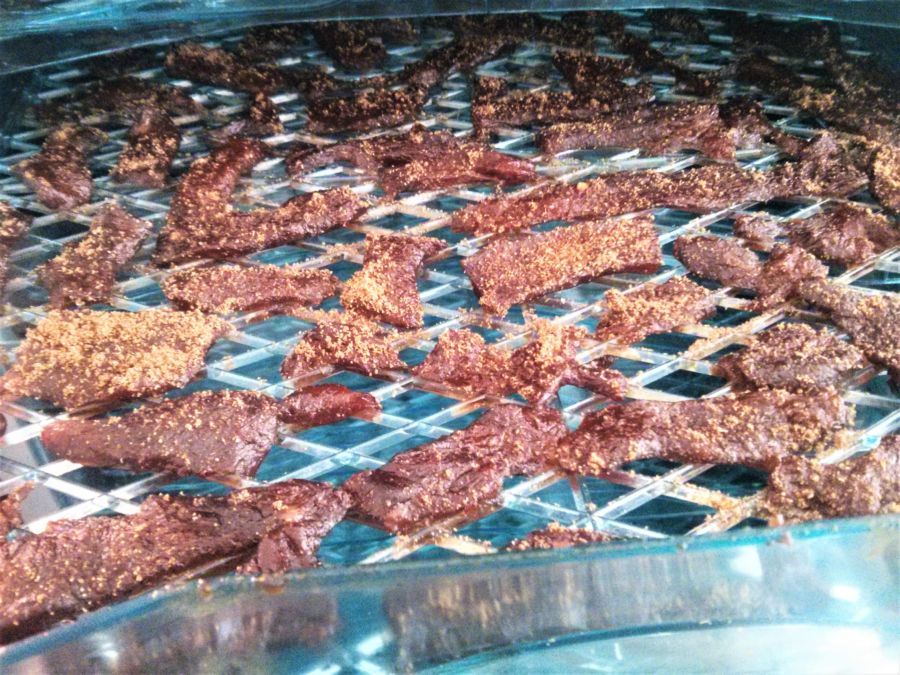 The same slicers I use for making jerky as for slicing wafer-thin dry-cured meat.
A few factors make for a decent deli slicer, there are many out there that don't quite nail it. Don't get caught with something that can't do the job as I did.
Here are a few slicers I can recommend with a quick write up.
Biltong Slicing
Sometimes if I want the meat to drive faster I will cut it into strips after cutting it into slabs. But I picked up the technique from South African biltong, to use roughly half to 1-inch slabs of meat.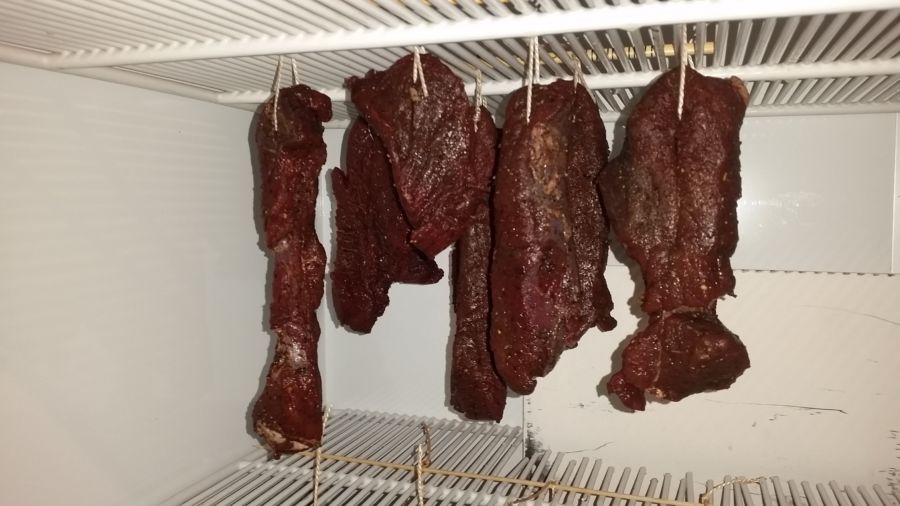 3. Marinate in Salt & Malt Vinegar
Per pound of meat, you can use 1 tablespoon of salt hands 2 tablespoons of malt vinegar. It's literally as simple as that, it's a kind of marinade but with curing and acidic reactions (denaturing) going on.
Six hours is generally my guide as a minimum or overnight.
4. Cover in Toasted Coriander & Spices
Now is the time to cut a slit or hole into the thinnest part of the meat. So you can thread some strings through it if you're going to hang the meat. I would advise using a fork or chopstick to hang the meat, or on a rack in the oven on super low, curing chamber or dehydrator.
If you are hanging the meat it will dry more efficiently then lying on a cooling rack or some other device to create some air circulation around.
Once you pull the meat out of the cure, now is the time to give it a spice bomb on the outside. When the meat is still wet the spices well stick to the meat.
2 or 3 tablespoons of coriander or about 45 g if you weighing it suitable for each pound of meat.
5. Drying Method for Biltong
A fan in a cool place is the easiest way to go.
As mentioned ideally I like to hang the meat but if you're using a dehydrator or kitchen oven, it will work perfectly fine as well.
Different Equipment for Drying
Dehydrator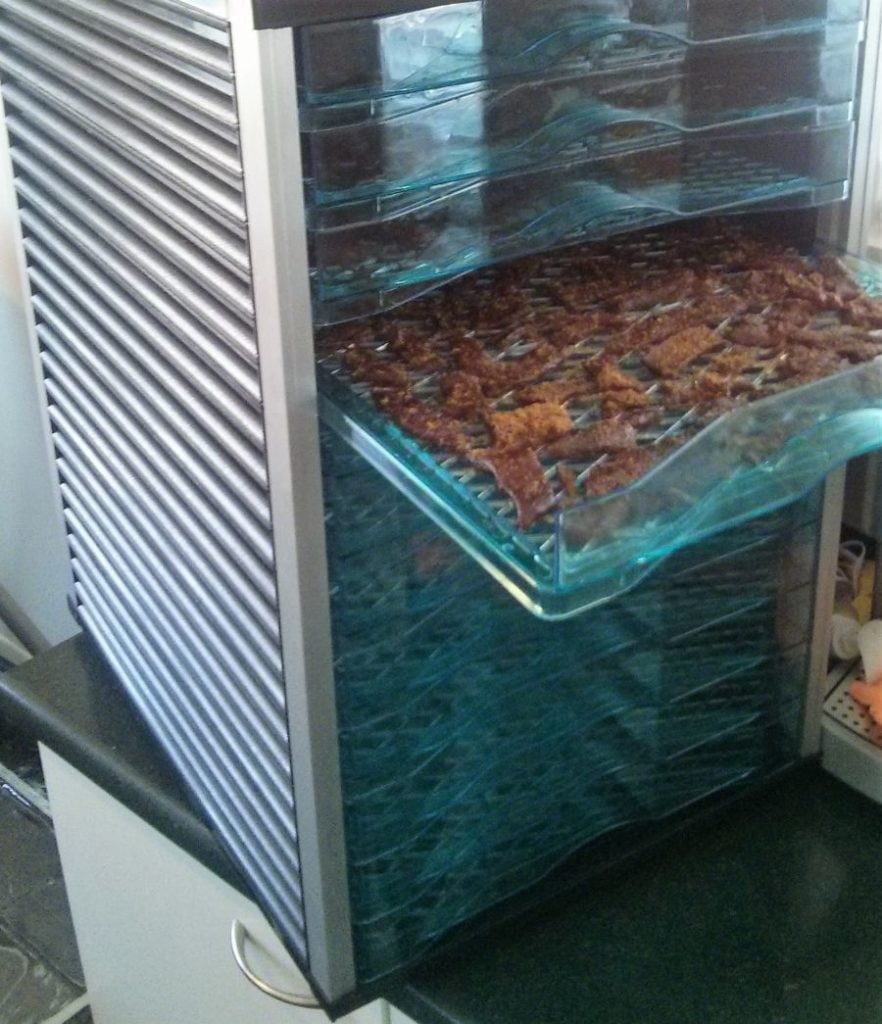 Next on the list is the dehydrator which generally can be running at a higher temperature, it's designed for doing this type of task, so that works well. I like to dry out at a lower temperature if I can.
A certain type of biltong is considered 'wet' which means that it's not entirely bone dry and still has a lot of moisture in it. I guess it's kind of like dry-cured meat like braesola, lonza or coppa.
The below methods can take a bit longer, the South African do this "wet" style and also dry.
Here is an example below. Its a slower more even drying to achieve this, just like dry-curing meat, you want to have lost a minimum of 35% weight to make it safe to eat (it generally loses much more than this with jerky or biltong.
For a fine selection of dehydrators to suit your situation – Summarized a useful page of info here.
Since I am all about meat curing, please find a link to that category – info here.
Cardboard Box
I've seen jerky made in a cardboard box with a fan and a bulb it really is as simple as that.
A friend of mine got a birthday present which was a display type biltong box.
DIY Curing Chamber
But since I have a DIY curing chamber I like to use this for drying out my biltong or jerky which will normally take about two to four days running at 50 to 60% humidity and 25°C/80°F.
I have a commercial jerky making friend who also makes biltong (he is South African) he prefers about 2-3 days drying.
A tasty and awesome protein snack.
The texture seems to be different when drying over an extended period of time, but don't let that stop you giving it a go!
If you want to read more about building a DIY curing chamber, here is a full page I wrote.
6. Store in a Brown Paper Bag
Congratulations, you have cured jerky or biltong.
If you keep the meat in your fridge it will generally just start drying out quicker. It may be to dry to eat.
In my experience just keeping the meat in a brown bag, in a coolish area will make it last longer. This could be one to three weeks or maybe longer.
Optional Extra Cold Smoking for Flavor
Cold smoking jerky your biltong or jerky can add a whole angle to the flavor.
If you'd like to read more about cold smoking I wrote a comprehensive post here. (look out its long! Well it took ages to write)
Related Questions
How Long Does it Take to Make Jerky?
Depending on the method jerky can be made in 1 day with a dehydrator or using an oven to dry the meat. Generally, 1-3 days is the time it takes depends on the method that is used.
Is Biltong healthier than Jerky?
Biltong generally contains less sugar & fat, biltong as a guide contact only 3% fat. Other healthy aspects are, it has low carbohydrates, no gluten, no MSG and can last a few weeks.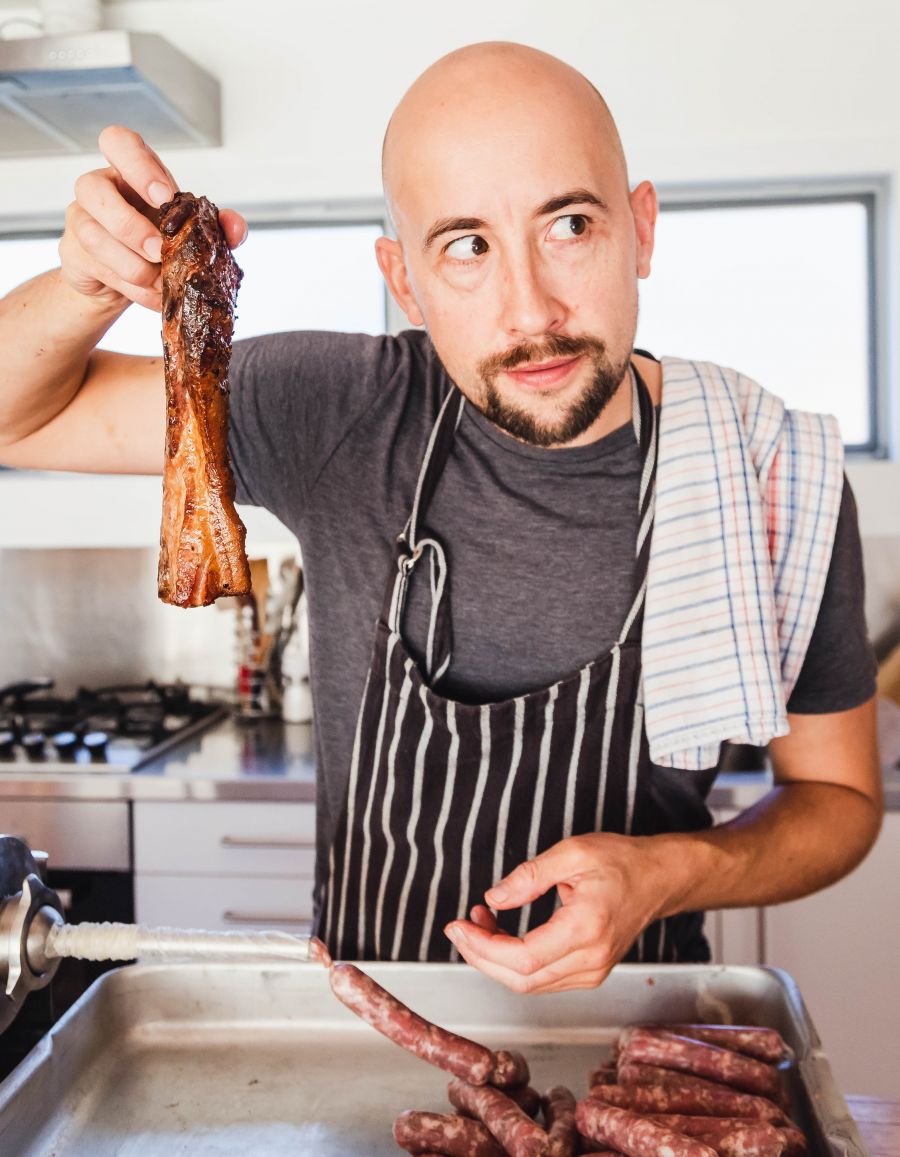 Thanks for dropping by, I've been passionate about meat curing for decades.
I Hunt, Fish, Forage, Buy, Butcher (Wannabe Norcini), Make, Savor (I'm not a Saviour), and love curing and smoking meat.
Learning and consuming in a circular fashion, I am always interested in what is happening around the curing and smoking world
Seeking the passionate behind the passion.