I want to give some insight about InkBird humidity controllers since this is a key component to review when you're looking at building a DIY meat curing chamber.
Or you may have other projects needing an environmentally controlled environment with a humidity controller.
Primarily I'm using the humidity controller for salami fermentation and growing mushrooms.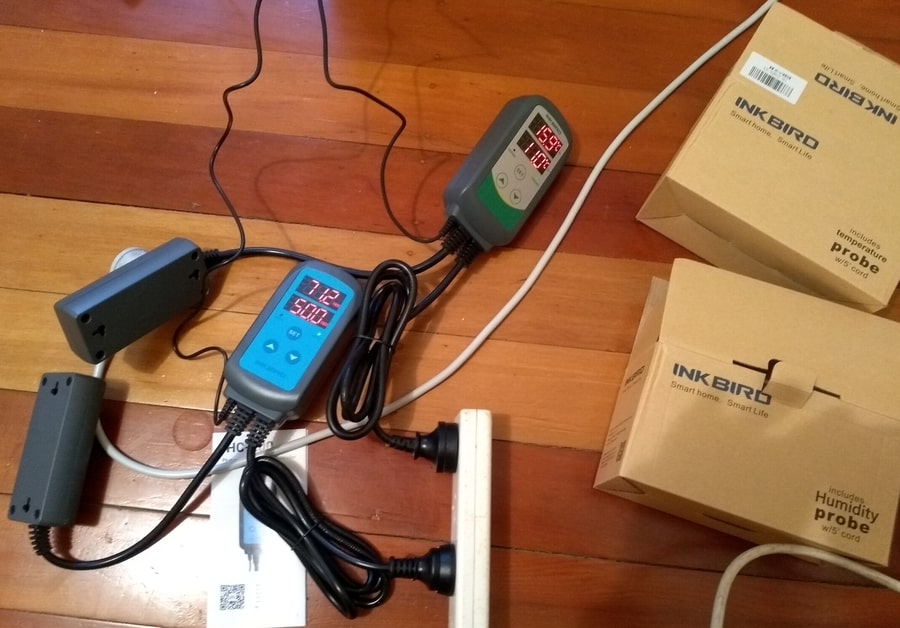 When I started doing meat curing about 15 years ago, I had an engineering friend of my brother's who knew how to hardwire the system.
Back then InkBird was not around.
After many years of using various different second-hand fridge conversions, I want to tell my audience of this blog, eatcuredmeat.com about this humidity controller setup.
Let's talk about my recent fridge conversion: I couldn't get the schematics for it and ended up doing what I knew could happen; I put a hole through the side of the fridge! Through the coolant pipe on the side – it is now an additional cold smoking unit! (ie. a shell/box)
Well, you know how it goes we live and sometimes we learn.
So let me give you a summary breakdown of the InkBird Controller.
InkBird Humidity Controller Review
What Does the InkBird Humidity Controller Do?
The Inkbird Humidity Controller can turn on or off a humidifier and dehumidifier. It has a plug-in style input, it is simple to set up and easily programmed for a range of moisture adjustable environments.
IHC-200 Controller – Specifically designed for two inputs, and basically clicking on and off, the humidifying /dehumidifier is based on the humidity sensor inside the chamber.
IHC-200 Controller Wifi – Same Same, but has wifi so you can use an app to control/monitor
What Does the InkBird Humidity Controller Do?
There are different models of InkBird such as the ITC-608T ​ which has one input for temperature and one input for humidity.
I still think it's better to go for the IHC–200 since this allows both humidification and dehumidification (for meat curing this is often needed, but not always – depends on your fridge setup -here is a guide I wrote).
There is also a Wi-Fi version of the IHC-200 that's come out within the last year or so. It uses the InkBird platform via a central app and connection to your home's wifi router.
I use the iBBQ-4T which is another InkBird product for my barbecuing and low-slow projects and has four probe inputs for temperature. It is Wi-Fi so I can watch the pork rib's internal and surrounding temperature while I'm out and about!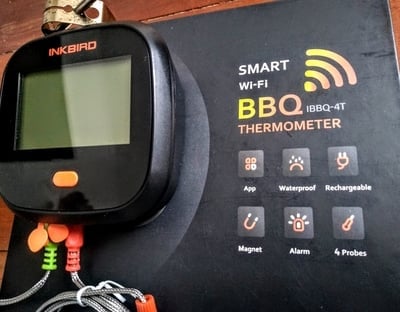 At some point I would like to have the Wi-Fi InkBird controllers as well for the meat curing chamber, maybe when I start running an auxiliary curing chamber at the same time. Yet, I will need another house and more space for that!
What Can You Use InkBird Humidity Controller For?
Other applications this controller could be used for are:
Mushroom
Mini greenhouse
Ventilator fan
Crawl space
Turtle enclosure
Snake cage
Tobacco cage
One day you never know, I might want to grow some tobacco and have a pet snake! The options are endless.
Primarily you use the IHC–200 InkBird humidity controller for 70 to 75% humidity inside the curing chamber.
When you make dry-cured salami, depending on the recipe, quite often you inoculate it with starter culture (good molds, like that powdery stuff on the outside of salami = penicillin!) and at this point, you need to have a higher temperature, as well as higher humidity, Inkbird humidity & temperature controllers, are perfect for this.
For the starter cultures, I'm often looking to get around 90-95% humidity.
There are various ways you can do this but using the InkBird humidity controller makes it very easy.
InkBird Humidity Controller Performance
If you're looking at the performance side of it – it does the job very well.
The humidity sensor probe seems to take the readings accurately, so it's just switching on and off the equipment appropriately.
I have noticed a quiet buzzing sound coming from the unit, because of this, I do not have the curing chamber running close to where I'm blogging or doing other work.
I'm a little bit sensitive to noise, I never was any good in a loud office environment!
The claimed accuracy from InkBird is plus or -3% relative humidity, and for a meat curing chamber or fermentation chamber, a variation of 5 to 8% in between is what I aim for, and when doing long-term dry curing it's perfect,
There is also a calibration function built-in in the controller, but I have not needed to use it.
User Friendliness
Compared to some of the hardwired controllers (link to a page for hardwired at the bottom of the post) that I have, the InkBird is incredibly easy to set up.
It just has one button that you hold down and then you can cycle through the menus and change the parameter either up or down with the arrows.
They definitely have kept things simple for at-home use.
If you are looking at setting up a commercial operation then you should be looking at Auber instruments (bottom of the page as well).
Placement & Mounting of the Controller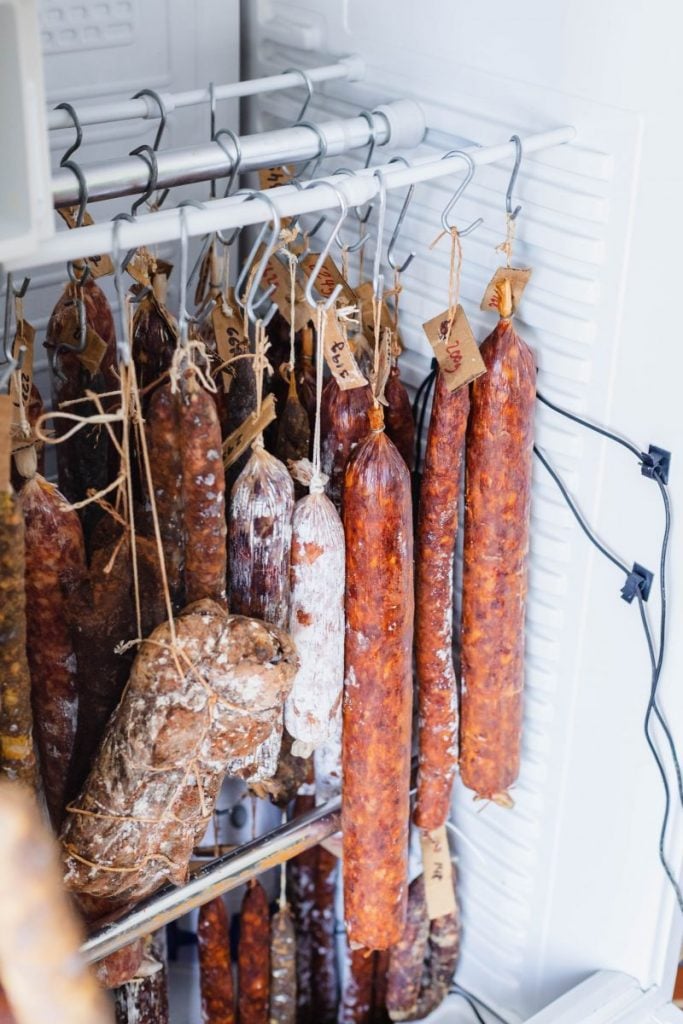 I have used double-sided tape to stick the controller onto the side of some of my curing chambers.
Units have mounting holes at the top so that you can put a little screw in place.
As you can imagine, I prefer to not put holes into a fridge when I don't have to.
Overall Review of InkBird Controllers
The InkBird humidity controller comes with different available sockets for Europe, the United States, the UK, or Australia/New Zealand.
When you're looking for something which is a plug-and-play option, this really is the product for it on the market.
For the thousands of people that are interested in DIY curing chambers through this blog, I have done a lot of extensive research and have been keen to show the various options.
The InkBird humidity controller is definitely a winner and will do the job that you want whether it's dry curing meat or other applications which need a controlled environment.
Where to Get InkBird Products
Amazon is the best place to get InkBird products and they seem to have the best prices.
For the Wi-Fi version check it out here.
For the non-Wi-Fi version over this way.
Here is my other 'recommended gear' page on controllers.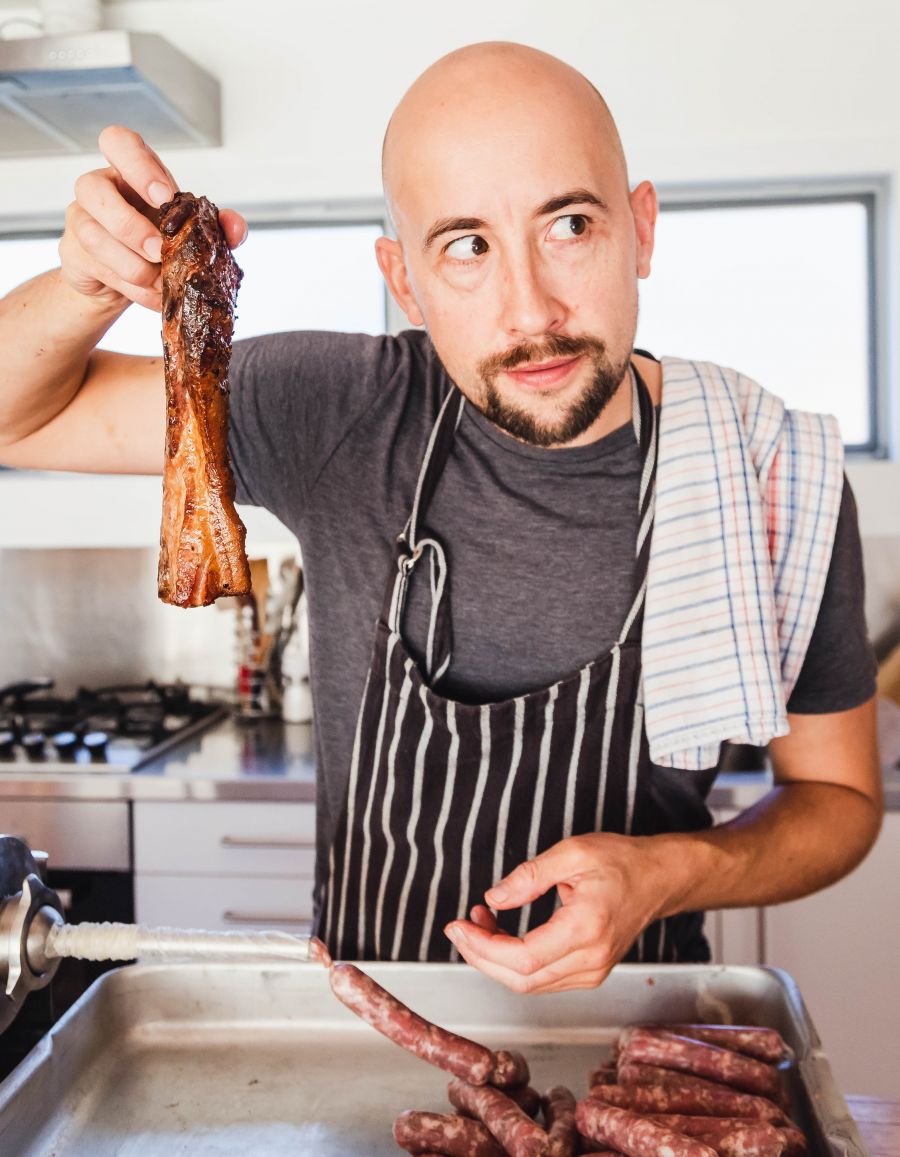 Thanks for dropping by, I've been passionate about meat curing for decades.
I Hunt, Fish, Forage, Buy, Butcher (Wannabe Norcini), Make, Savor (I'm not a Saviour), and love curing and smoking meat.
Learning and consuming in a circular fashion, I am always interested in what is happening around the curing and smoking world
Seeking the passionate behind the passion.