For decades, immersed in studying, working, learning, and teaching the art and craft of meat curing, now sharing his passion with you through his content.
(Last Updated On: October 31, 2023)
Cured meat is a big category, and what you need to keep in the fridge or not depends on what the cured meat or charcuterie is.
I love charcuterie and cured meats in all its variations, below is a quick answer with a table and a bit more detailed answer for each meat below that.
Also, I will touch on the ways I have found that is best to store cured meat to keep the flavor the freshest.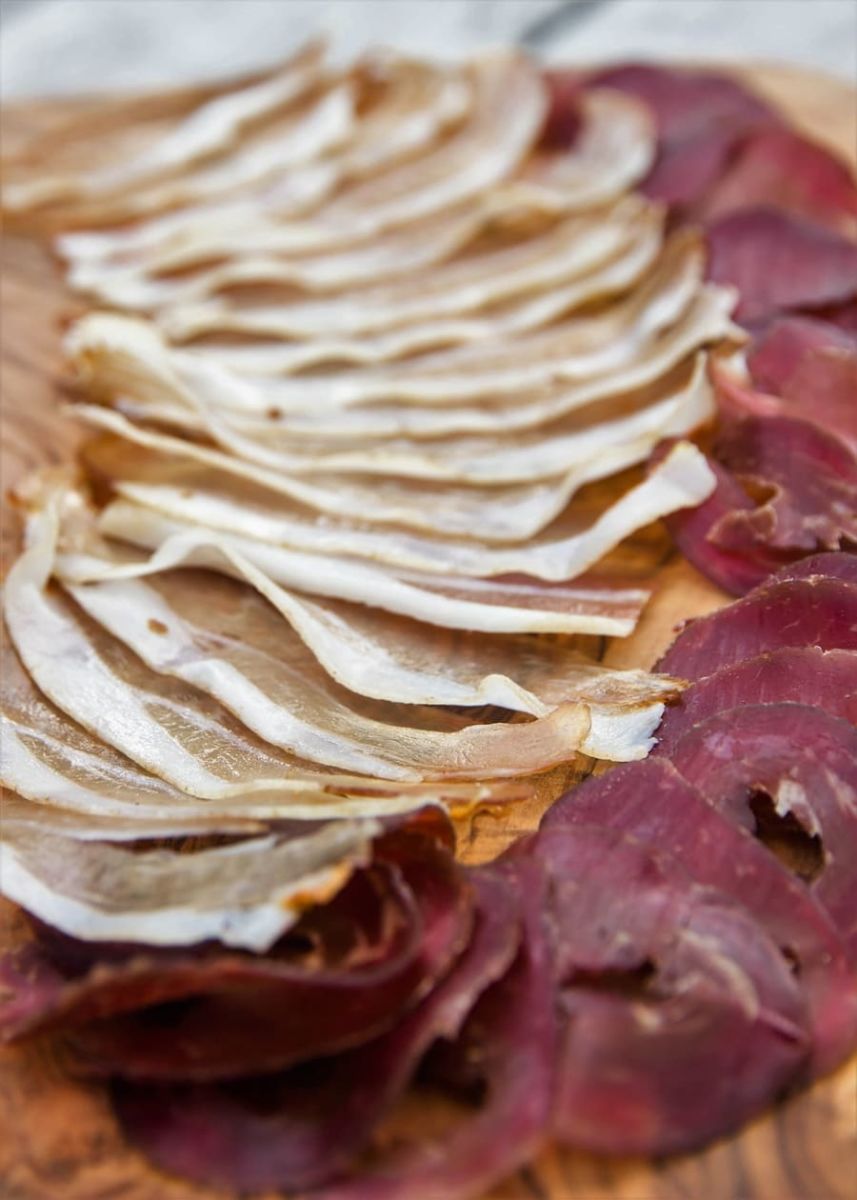 If it is still in a whole muscle piece of cured meat (like a leg of prosciutto) or a stick of dry-cured salami form then it won't get as much oxygen on the surface which can slow down the process of deterioration or drying out.
If it has been sliced and is in the package, then you can of course just go by the dates on the package. Many packages have had the air sucked out of them, so as long as they haven't been opened – no problems.
From the store – sliced cured meat, hot or cold smoked meat – once the package is opened will start to perish the more air/oxygen is around it.
Tip when buying salami, if you buy your dry-cured salami whole you get the advantage of being able to dry it to your taste preference and also it will last a lot longer in its whole state.
Most Parma ham, prosciutto, braesola, lonza, and other forms of salumi or cured meat will be sliced already when you buy it from the deli. Therefore it will end up lasting a week or two but will dry out being cut and exposed.
If it's whole salumi, then it only needs to be kept at a cool temperature and can generally tolerate up to 18-20°C/64-68°F, because it has been inhibited with salt and dried out, it isn't a good environment for bad bacteria to grow, hence it has been 'preserved'. But generally, I will keep it in the fridge if it's vac-packed.
Here are the quick answers and some more specific insights about different charcuterie and cured meats.
Refrigerating Different Charcuterie and Cured Meats
| | |
| --- | --- |
| Meat Product | Needs Refrigeration |
| Cold Smoked Meat – Packaged/Cut | Yes |
| Cold Smoked Meat – Whole/Homemade | Either |
| Hot Smoked Meat ie. Bacon, Chicken, Fish | Yes |
| Biltong/Jerky | No |
| Dry Cured Salami | Either |
| Whole Muscle Salumi ie Prosciutto, Parma | No |
| Cut Salumi ie. Prosciutto, Parma, Lonza | Yes |
| Pate/Rillettes/Confit ie. fat preservation | Yes |
| Ham ie. Country Ham, Ham on the Bone | Yes |
Cold Smoked Meat – Packaged/Cut
Refrigerate? Yes

When you buy cold smoked salmon/bacon it has been cured with salt, and dried to a certain level through a set drying area / cold smoking in conditions under 30°C has also been performed. Ideally, in a much cooler environment
But if it is sliced, then it's exposed to the environment more, so it has to be kept in the package, which has had the air/oxygen sucked out of it.
What many people don't know is that cold smoking is just another form of drying with some smoke. The smoke has certain beneficial properties that help the meat preserve effectively.
The salt curing at the start removes some moisture and makes the environment inhospitable for bacteria that spoil the meat.
Anyway, since the meat has been sliced, once you open the packaging – it will deteriorate since all that oxygen can easily cover the surface – keeping it in a sealed container helps, but usually, 5 days after opening the package it starts to go off (just read the package).
Cold Smoked Meat – Whole/Homemade
Refrigerate? Yes – or kept in a cool place
If you are lucky enough to make or buy whole cold-smoked chunks or muscles of meat, like this,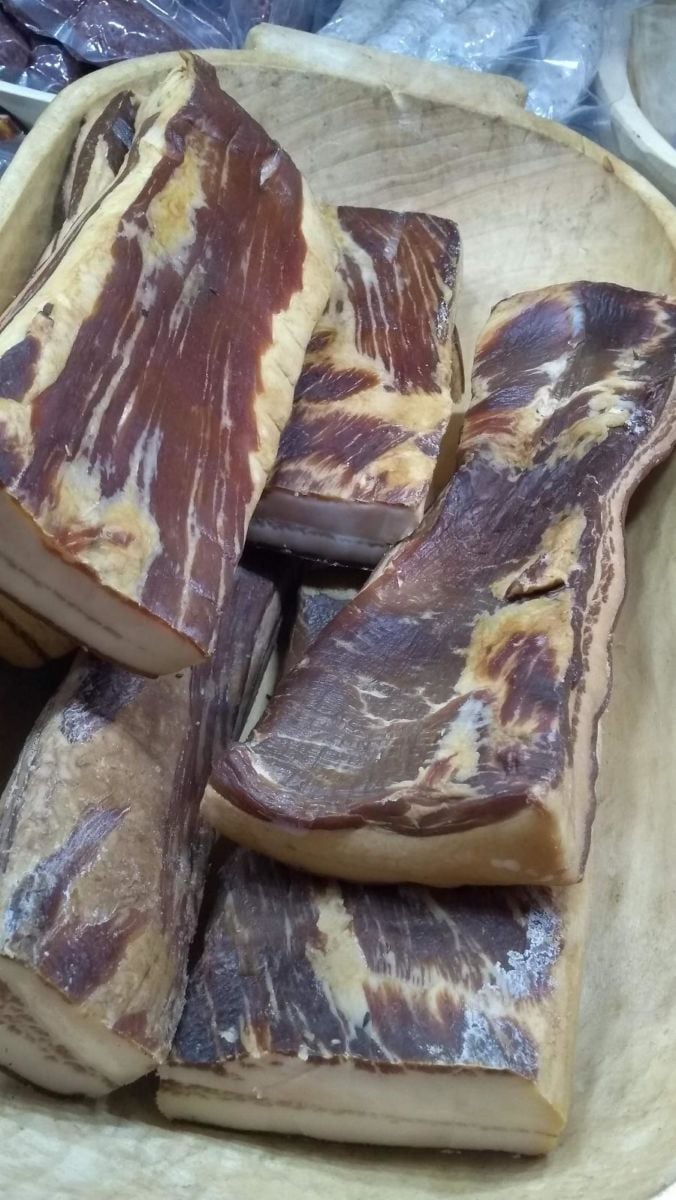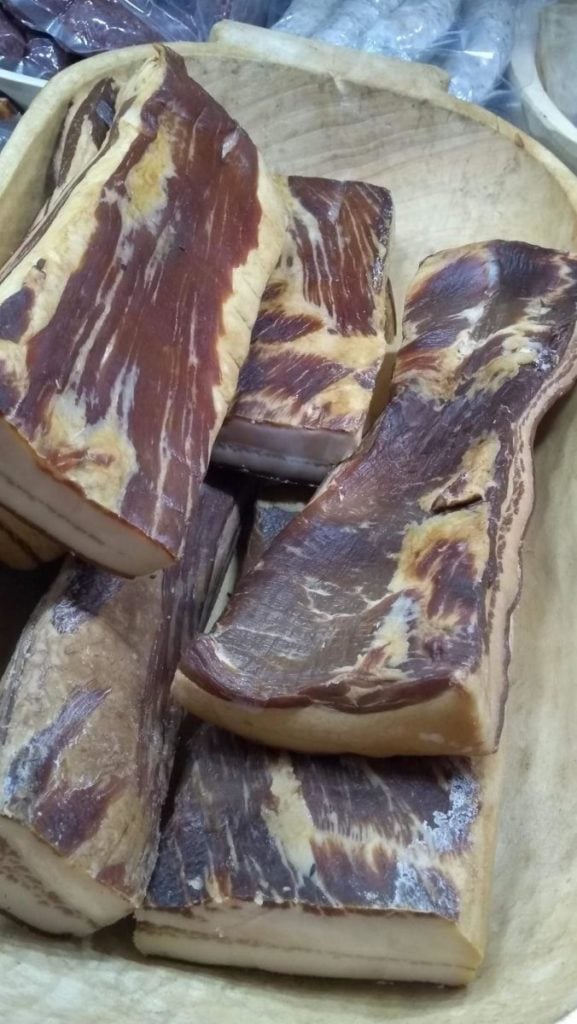 So with this dry-cured/cold smoked meat, you have something that has lost over 30-40% of its weight from drying/smoking – in effect, this has preserved the meat long term (so it can last months). This applies to most pork and red meats.
However, salmon which is cold smoked is one that sometimes if you buy it whole can have 20% weight reduction which is about the right amount for salmon and it all depends on what level it has been dried out.
I have found that homemade cold smoked salmon dried over 30% can last a very long time.
Gravlax is salt-cured for 24 hours, it generally lasts about a week until it gets a bit more fish smell. As the Scandinavians have done for thousands of years, you can leave it in salt for much longer, drawing out more moisture and inhibiting the bad bacteria's ability to grow. In other forms and cultures, this is called salt fish.
The same applies for salt pork, salt fish, and salt beef – which is basically putting chunks of meat in salt and leaving it for days. Then dry it out (this can be done in your regular fridge).
You see this type of meat hanging outside stores in certain cultures like the Caribbean since it has been fully preserved and can actually last years they say.
Hot Smoked Meat ie. Bacon, Chicken, Fish
Refrigerate? Yes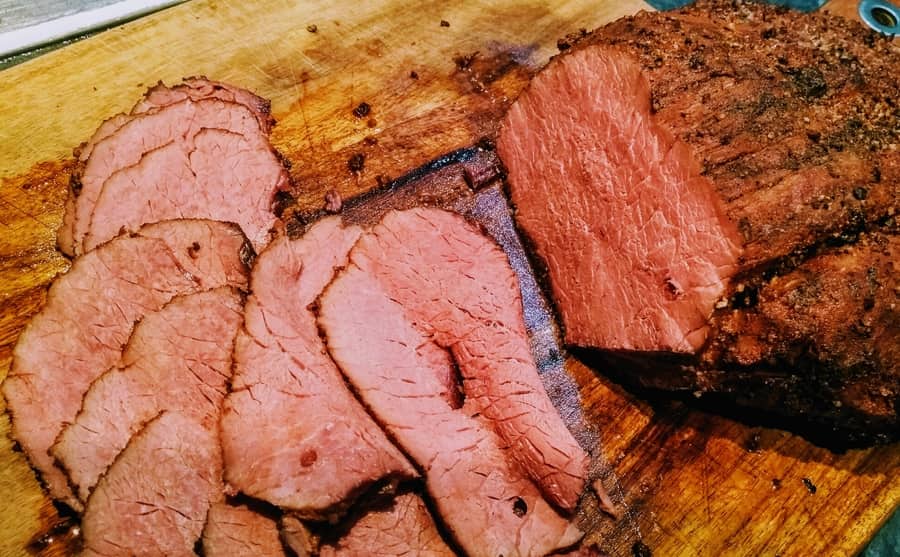 It seems more hot smoked bacon is coming onto the market, and it's popular for making at home also. It's because you can use you're existing hot or low & slow smoker to smoke and cook the bacon at the same time.
Folks then package it and freeze it until they want to cook it, so you just end up recooking it through frying or baking.
When you buy hot smoked salmon, it's been cooked – so it's ready to eat product (or if you make it at home). Once it's made or the package has been opened – it tends to last 7-10 days.
Golden Rule for if Food is Good to Eat
Smell it! Your nose has some evolutionary sensors built to detect whether something is edible. You can normally tell if it's off with a good sniff!
Biltong/JerkyRefrigerate?
Refrigerate? No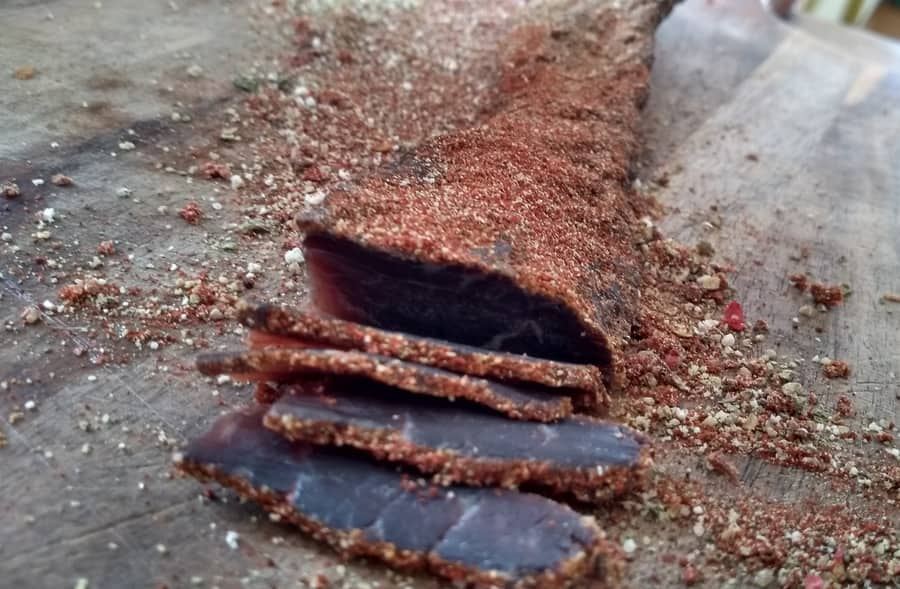 This stuff tends to dry out faster in the dry environment inside a fridge.
I love making jerky and biltong, it's a brilliant high protein low-fat snack that doesn't need refrigeration. This is because it has been dried to a point where it is preserved (salt, sugar, and/or vinegar help fortify the meat).
If you make or can get your hands on whole biltong or jerky chunks – it's great for camping, hiking, or long road trips!
Will last weeks as well.
Dry Cured Salami
Refrigerate? Yes – in a cool place is ok if the salami is whole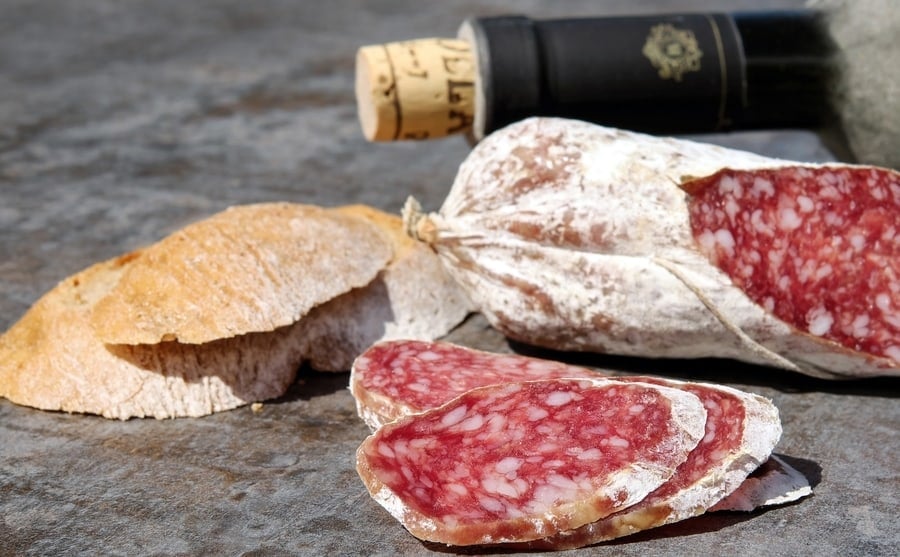 As mentioned, keep it whole and you will get a much longer shelf life out of it. It also means you can dry it out until it gets to your preference. Heaps of dry-cured salami you will buy are fresh and can do with some drying out in my opinion ( the loss of moisture intensifies the flavors).
If it's cool (under 16°C), doesn't need to be kept in the fridge. But I sometimes do stick it in, because I want it to dry out quicker in that humid environment.
The same goes for sliced salami, it gets more exposure so it will not last as long, I like to keep it in an airtight container in the fridge.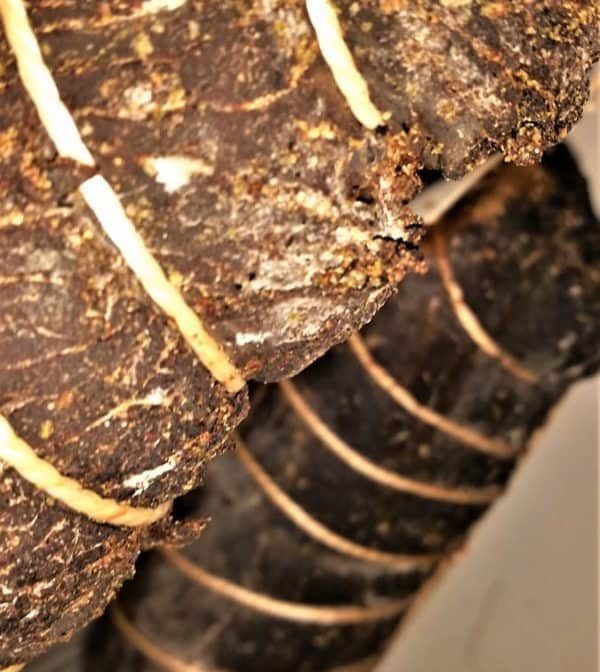 Whole Muscle Salumi ie. Prosciutto, Parma
Refrigerate? Yes – but can be in a cool place
If whole, then as mentioned it's preserved already.
If purchased from the deli and it's cut into wafer-thin slices ready for the charcuterie board, then you should keep it in the fridge – will last a few weeks but start to lose its special flavor once the air has its diminishing effect.
Cut Salumi like Prosciutto
Refrigerate? Yes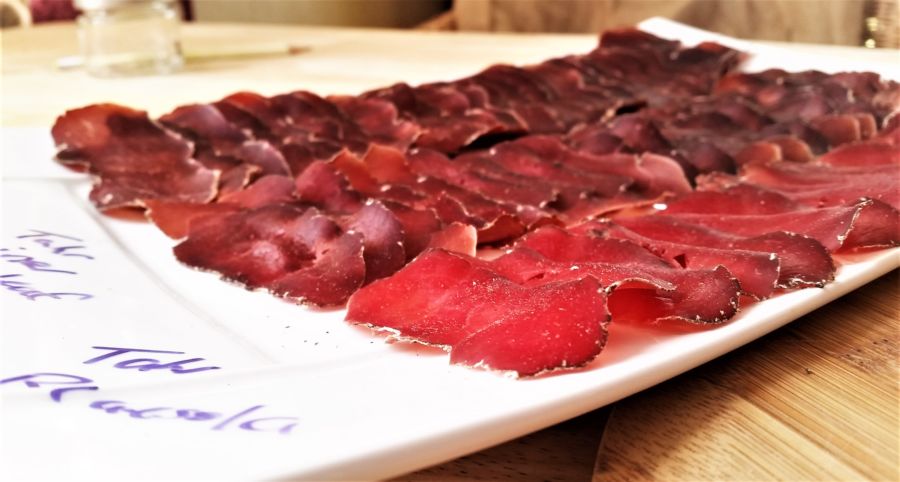 Air & oxygen have been mentioned will affect the prosciutto that has been cut, you will probably only get 1 to 2 weeks stored in the fridge.
Pate/Rillettes/Confit
Refrigerate? Yes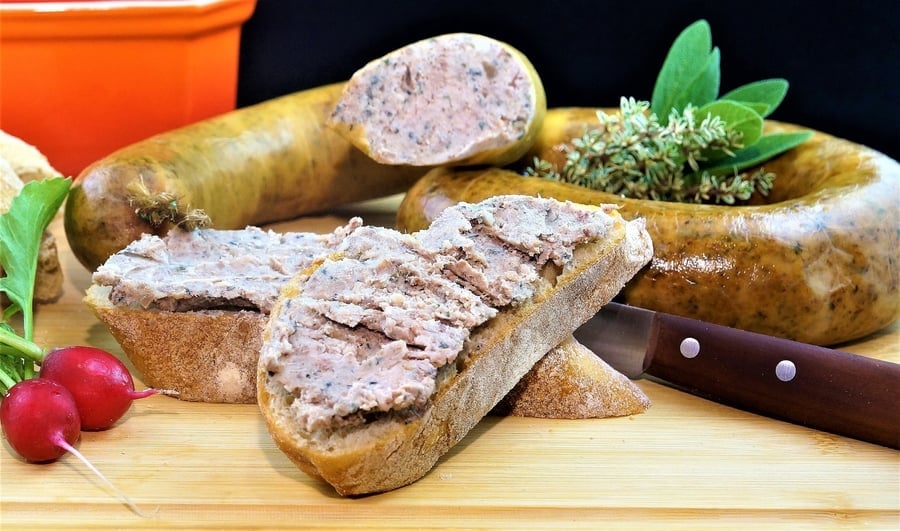 Most will be sealed with fat/butter so the air/oxygen can't affect it if you buy it. Keep in the fridge, once that seal has been broken you probably won't get much more than a week.
Unless it's confit (cooked and stored in fat-duck confit for instance), which I find with wild duck confit, can last 2-3 weeks. Keep in the fridge in an air-tight jar. Hopefully, the fat will cover the meat in the jar.
Ham Whole or Cut
Refrigerate? Yes – whole in a damp bag or cut in airtight container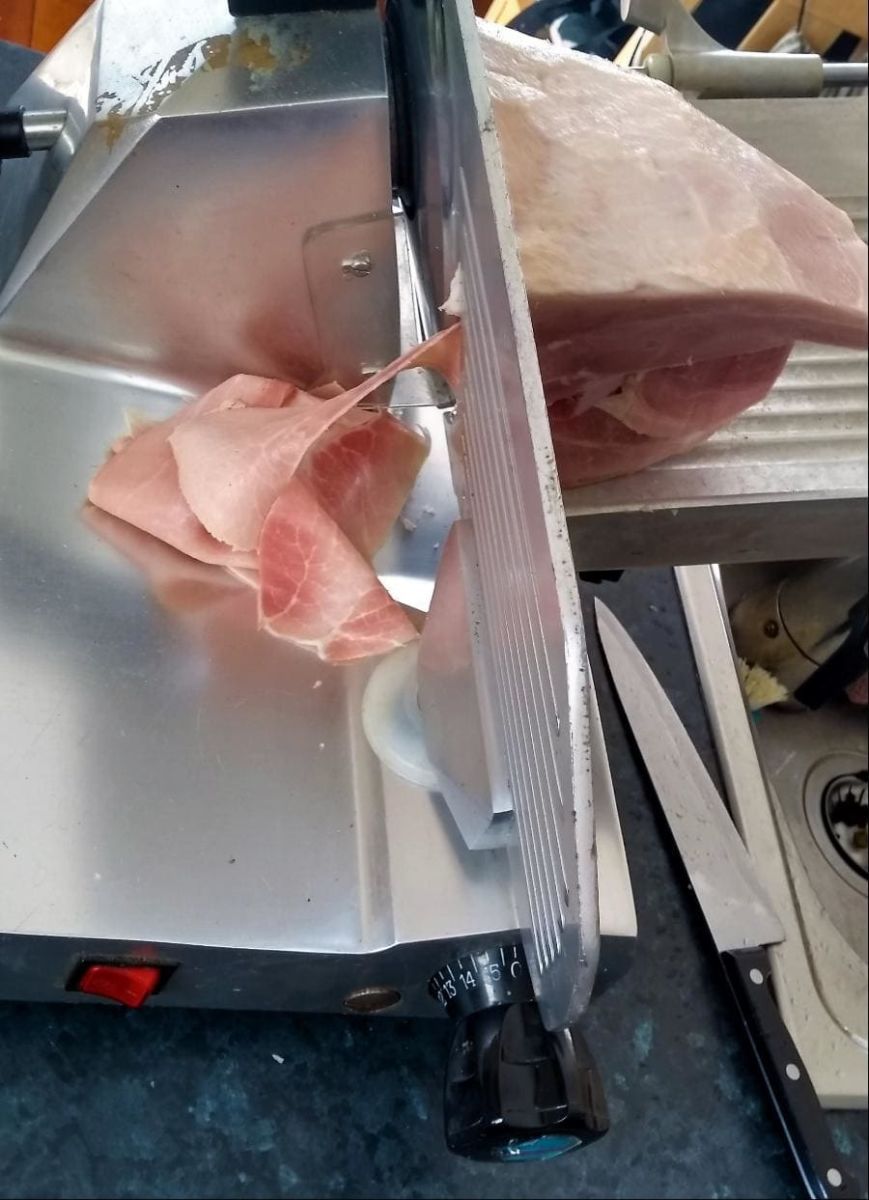 Country ham and whole ham have been salted and smoked, the 'ham bag' is useful to keep the ham from drying out too much in the low-humidity environment of the fridge.
I don't have a ham bag, so I use a slightly wet tea towel – which does the same job.
Cut ham will again need to go into a container and will perish within a week or so – it will get a bit wiffy.
Fridges Invented Recently, Many Years After Cured Meat
With most dry-cured meat and cold smoked meats, they were invented way before the fridge. In their whole form, they were used for months as a useful protein source on long ship voyages and to discover many parts of the world.
Due to the commercial nature of food, they sometimes get bastardized, and bacon is especially one which is injected with water sometimes to 'bulk' it up. Everyone has had the puddle of liquid from that cheap supermarket bacon.
Hope this helps, if you have any other tips, please leave a comment!
For decades, immersed in studying, working, learning, and teaching the art and craft of meat curing, now sharing his passion with you through his content.