Choosing the right meat slicer took me some time, I did alot of research and found a few pitfalls. So I thought that I would share some info to help avoid getting the wrong piece of kit.
The day I bought a proper meat slicer for cured meats, I got so excited over my first wafer-thin piece of dry-cured meat. It was a homemade braesola that was in the curing chamber for three months. I used all my different types of knives previously but just couldn't get that wafer-thin deli cuts, but now I can!
After a ton of in-store & online research on meat slicers, I have tried out varies brands in some commercial kitchens and even a few butchers, I interrogated some of the local delis I visit. You see a lot of them in kitchen stores, but most of them won't do the job. There definitely are some factors you need to watch out for.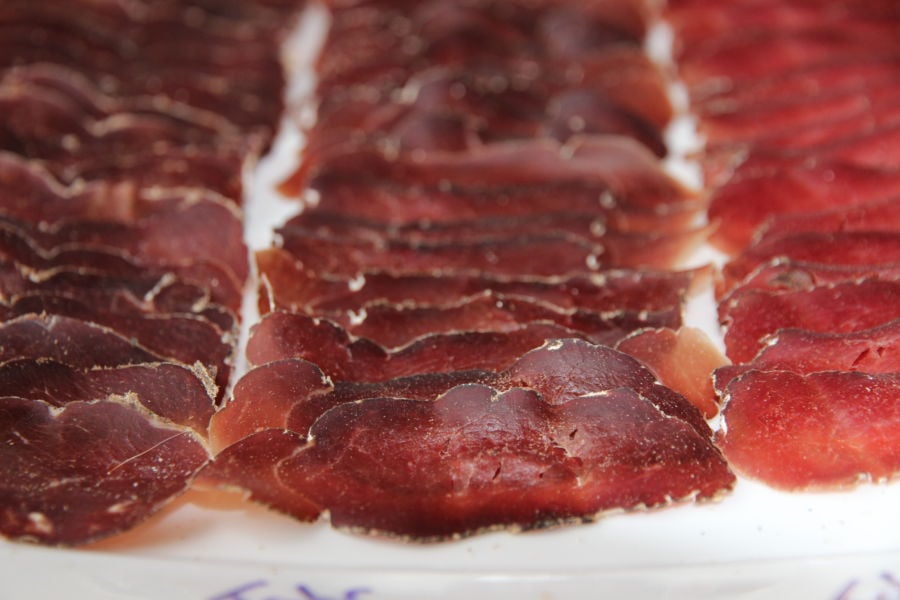 So here is what I think are the most important factors for picking a meat slicer, especially if you are making dry-cured meats or want to slice whole muscle salumi at home wafer-thin. For any dried meat like salami, this is what makes the job super simple, it's literally the only way I feel.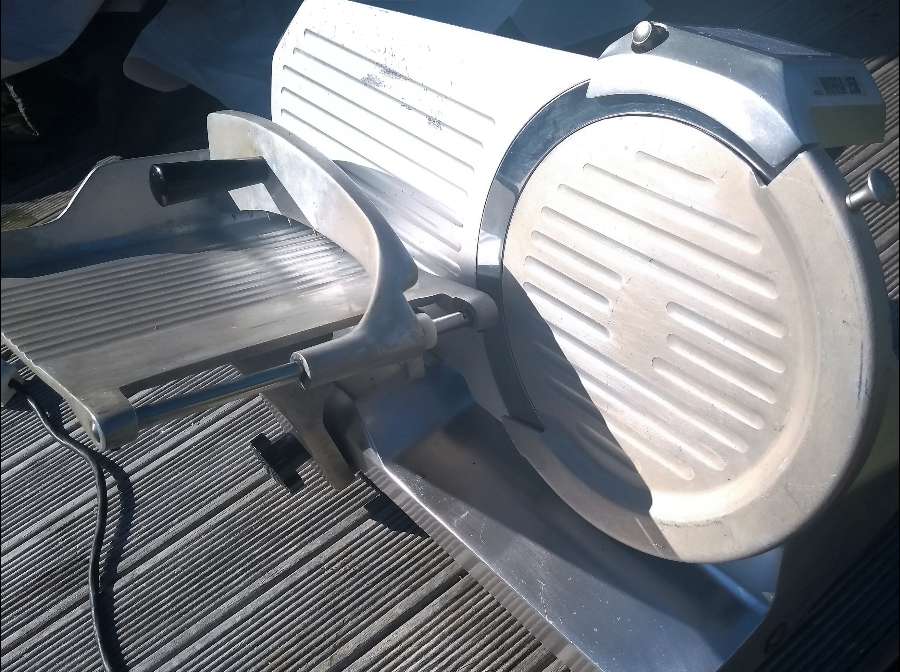 Other food I've used this meat slicer for include turkey, ham, bacon, pancetta, cheese and bread.
How to Choose a Meat Slicer for Thin Slicing
Sharp Flat Thin Blade
Adequate Power
Precision Controls
Sized to match
Built-in Sharpener
Heavy Weight for Sturdiness
I'll show you some pictures of the types of meat slicers that will not work for ultra thin slicing (won't show any brands). The type of slicing I am talking about is less than 1 mm. When you have the right equipment you can make hundred slices in 10 minutes easily.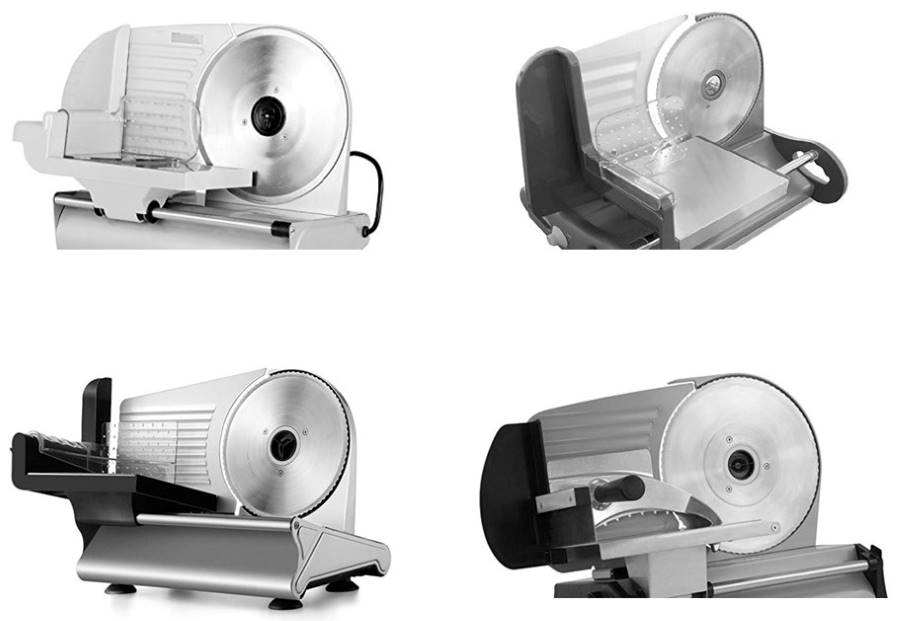 So here is a quick breakdown of all these factors and why I think they are important.
Important Factors for Choosing a Meat Slicer for Thin Slicing
Sharp Flat Thin Blade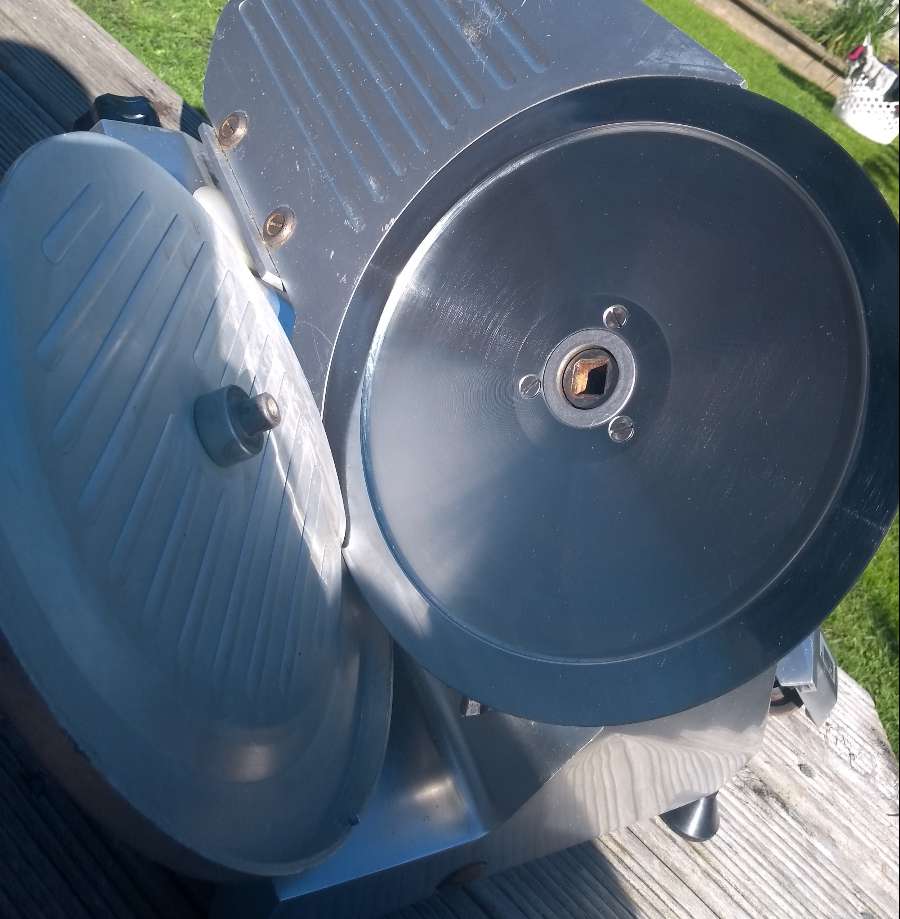 So you see a lot of meat slicers that have a serrated blade. As you check out any butcher or deli, see if you can see a serrated blade. I am sure you won't find any with them, the reason is they don't do the job for thin slicing!
Serrated blade slicers are a type of home appliance slicer designed for thicker foods like bread and chunks of meat like thick ham.
Enough Power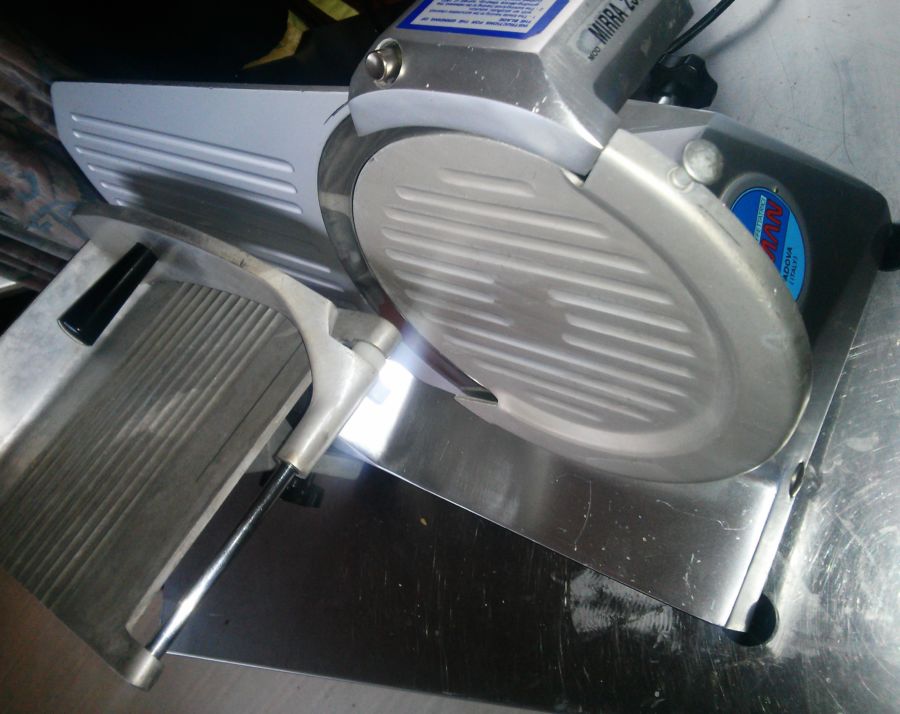 The ones that I've seen that work effectively needs at least 240W of power a lot of the mid-level commercial style seems to be around 320W.
So the ones you don't want will end up being less then 240W generally. Alot oft the electric slicers that I see friends using are 100-200W range. Great for certain work in the kitchen, not great for wafer thin slicing!
Precision Controls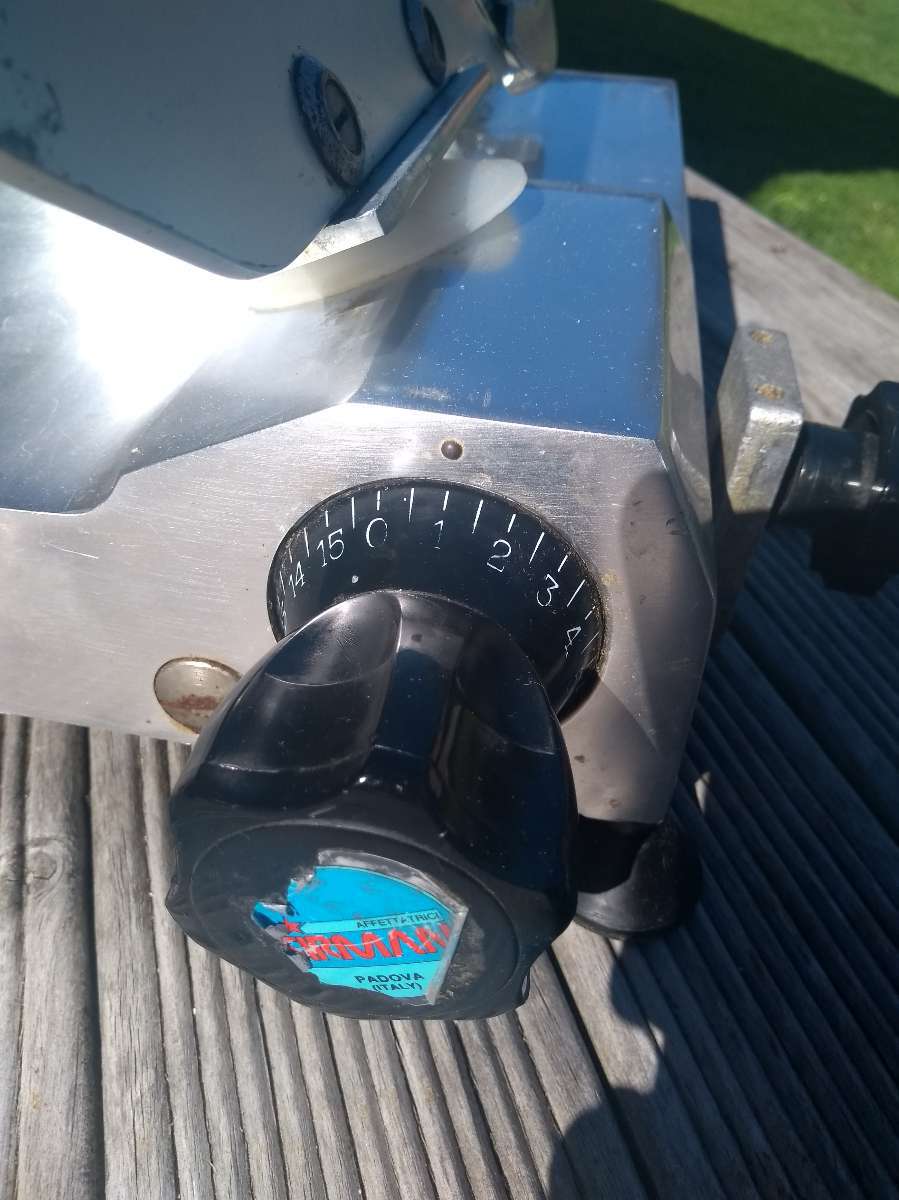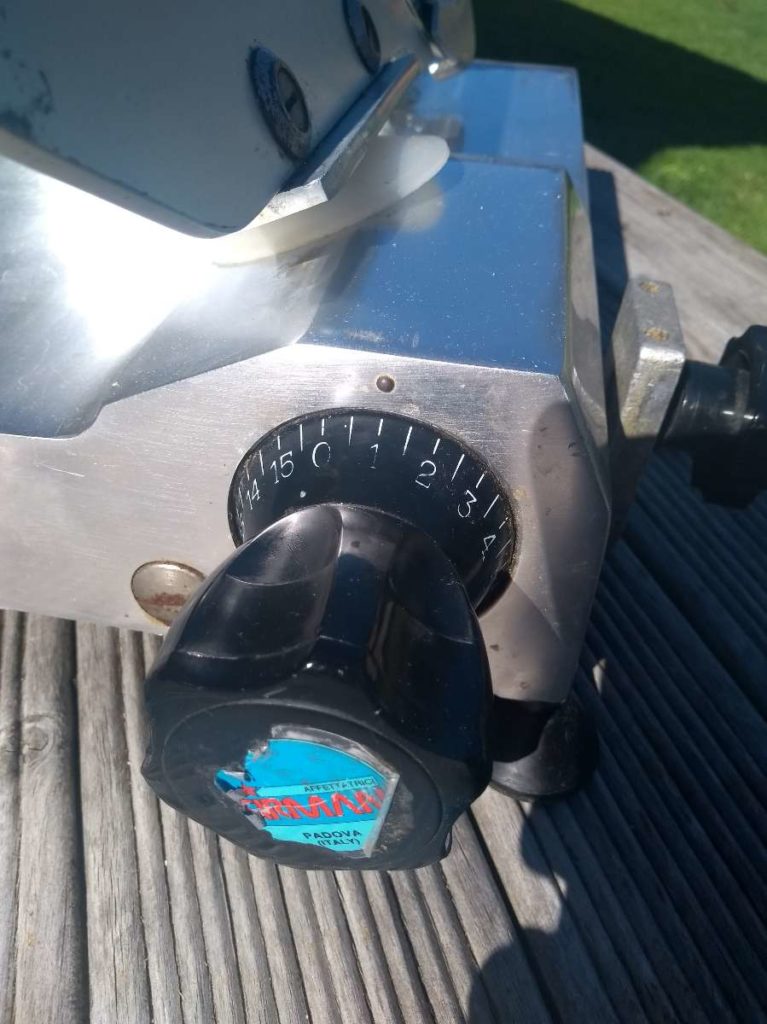 If you want a meat slicer that really does the thin wafer slicing when you turn the thickness dial it will react and change incredibly accurately. I guess this comes down to the precision engineering that's needed to produce this.
Just remember to close the blade up when you have finished a run, it just means you don't have an open blade that potentially could cut you.
There really is no other way to get the thin slice outcome. When I want to have transparent thin slices. My meat slicer has a 1 mm mark and I use about half that setting. Believe it or not, you can actually slice too thin with a precision meat slicer.
When you get down to ultra-thin slicing, but also changes the flavor and taste. So, I find myself micro-adjusting to get the best outcome depending on how all much aromatics and spices are in my cured meats.
Size does Matter, Match your Needs
There is a bit of variation with the blade size, and also the food tray which is used to guide the food toward the blade.
My meat slicer has a 10-inch blade, which I have found is able to handle anything I've used it for. Once I had a massive lamb roast, I decided to pull out the slicer and get some really nice slices.
With all the moisture in the roast it ended up being an incredible mess, so that was the last time I used it for anything which has a lot of moisture in it.
The meat slicer I can recommend generally start from an 8-inch blade which may be fine for your circumstances.
Built-in Sharpener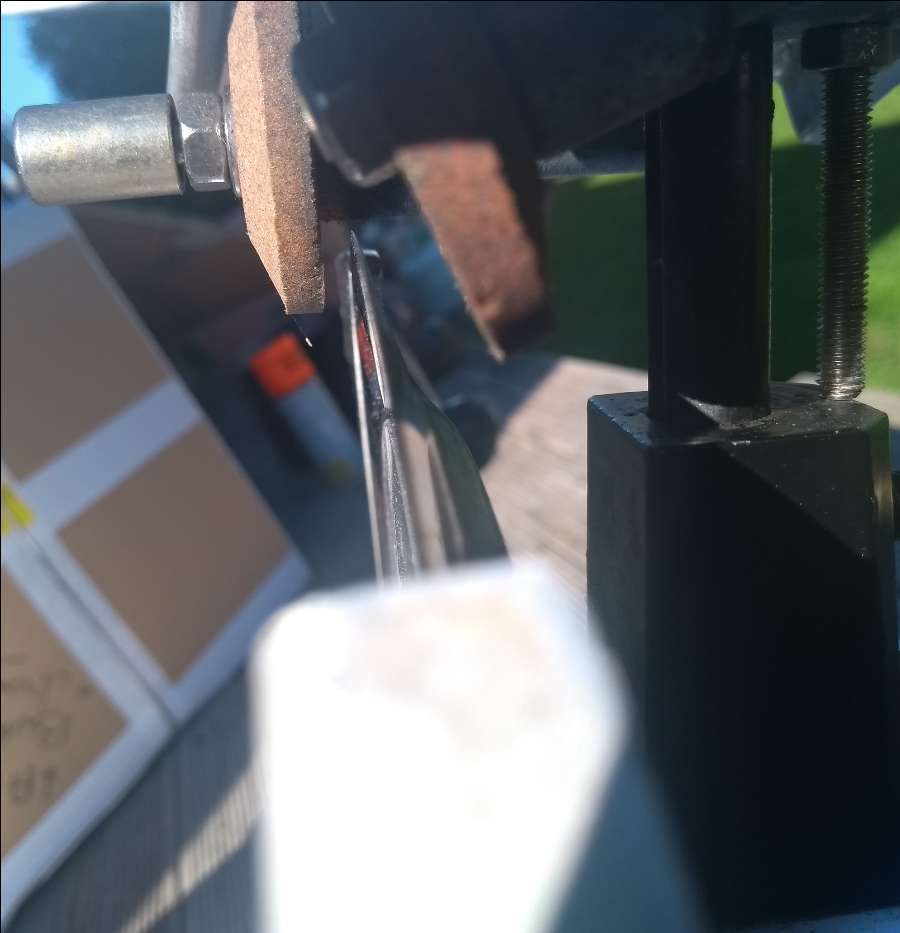 If the meat slicer doesn't have a built-in sharpener on the top, then it's probably not going to be suitable for ultra–thin slices. They are pretty standard issues when you start to get into the "semi" professional range. Super simple to use.
This is an apparent giveaway between a machine that will do the job or won't do the job of thin slicing. If you want to see some decent slicers in detail, I wrote about them here. What I have is a bit top end, but there are also some cheaper options I have recommended to friends which worked really well.
For my Sirman slicer, I hold one of the sharpening wheels down for 30 seconds, then stop pushing on that wheel and change over. The other sharpening wheel I push for 2-3 seconds, that's it. I try and do it every 2-3 or cutting session to keep it slicing smoothly.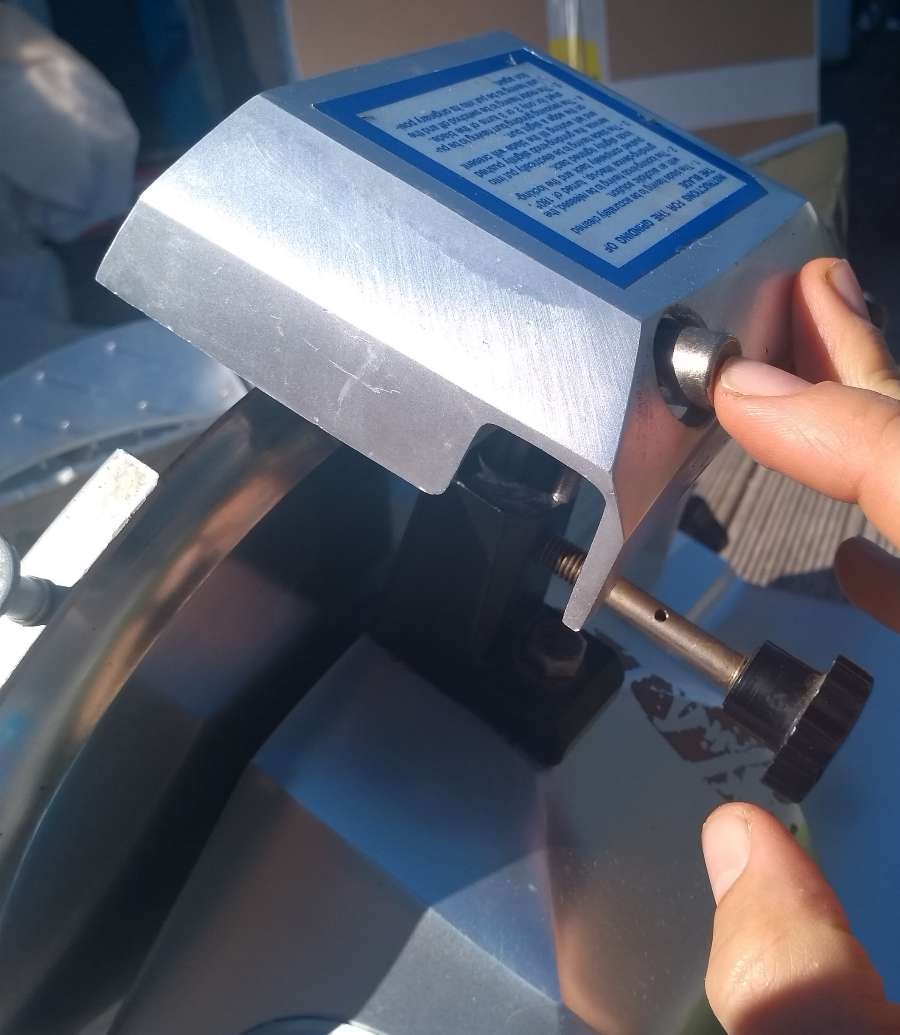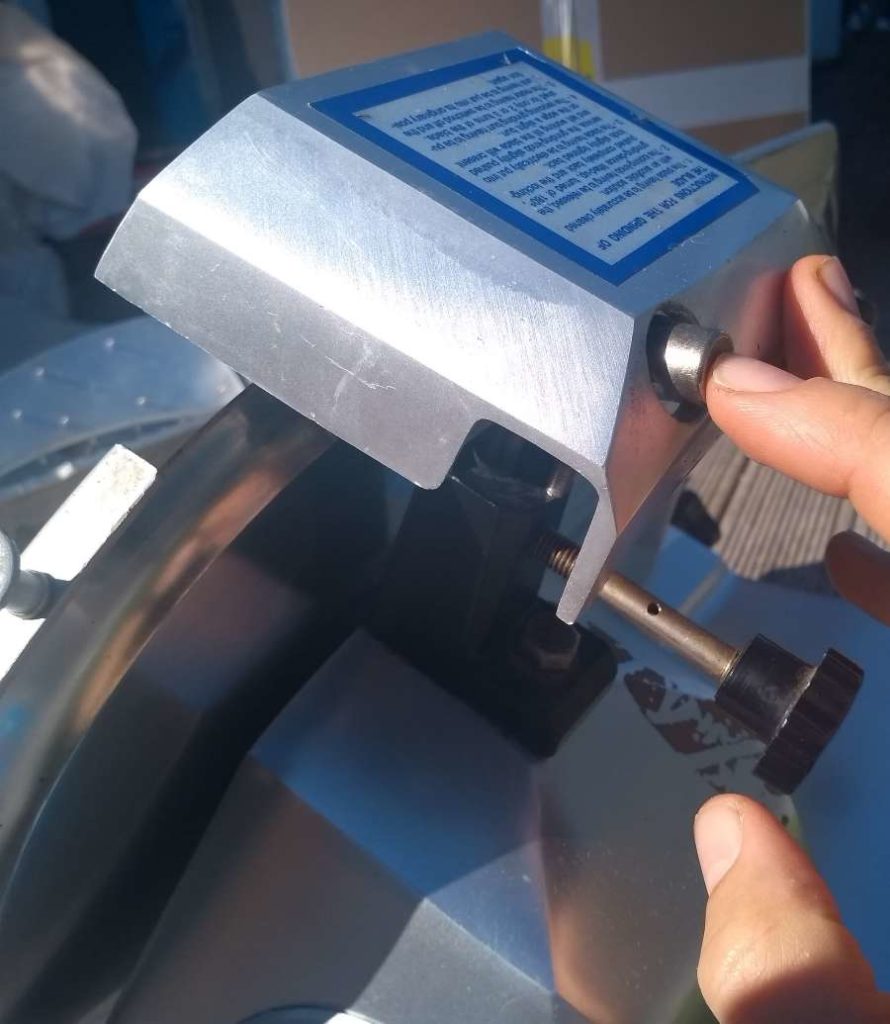 The Right Slicer will be Heavy
Any decent meat slicer will be heavy. So you might want to take this into account when you're looking at them. I just keep my meat slicer in the cupboard until I need to do a decent run with it.
I generally find that the right meat slicer will be solid alloy metal across most of the design.
Other Important Factors
Size of the Blade & Food Tray
So if you are slicing smaller diameter food goods, then an 8-inch blade could be fine. You can also cut up what you're going to slice which makes the job a lot easier.
If you're the type person that makes or buys prosciutto, you have to go 12-inch slicing. It's just a very large device with a large cutting area, 10 inches is the compromise I think.
Your Budget
I think if you're going to be looking at a meat slicer to do the right job it's a minimum of around the $300 mark.
Unless you can find something secondhand, you never know if a butchery might be shutting down in your town.
Safety Comes First, Be Super Careful
In commercial kitchens I have worked in, everyone always say, The most dangerous piece of equipment in the kitchen is the meat slicer.
I followed one really basic before, well actually I follow lots of rules.
Always switch the main power off when you are not operating the slicer.
The second main rule I use is always close the blade fully when you are having a break from slicing. Have the slicer open and the motor running is a recipe for diaster, many a kitchen mishap seems to have from this.
I reckon if you get into the habit of doing these things, you really are minimising the chances of a slice. From those I know, they are the worst injuries!
Home Slicer vs. Butcher Thin Slicer
Now I'm not saying home slices don't have their use. But this is all about thin slicing so hopefully I can give you some information about getting it right the first time.
If you want a few suggestions for the wafer thin slicers for at home, I wrote an article that gives some options and a rundowns.
Cleaning & Wipe Down
Just so you know what you're getting into, it does take a bit of time to clean up a meat slicer, but it's not a big deal, just a routine like any other but of kitchen equipment.
You do have to do it each time, and I would say it takes about 10 or 15 minutes. I guess that's not more than any other equipment I generally use in the kitchen any way.
Salumi Knife – The Alternative
So if you are just not willing to go for the slicer option, Then the alternative is a salumi or prosciutto knife – I get relatively decent results when I take my time.
I have checked out quite a few at the chef and hospitality shops, when I only have an easy dry-cured fridge project this is what I will use.
I find one of the most important factors is having a Granton blade. The Granton blade has little egg-shaped grooves along the blade. This allows more air pockets which stops the meat from sticking to the metal blade.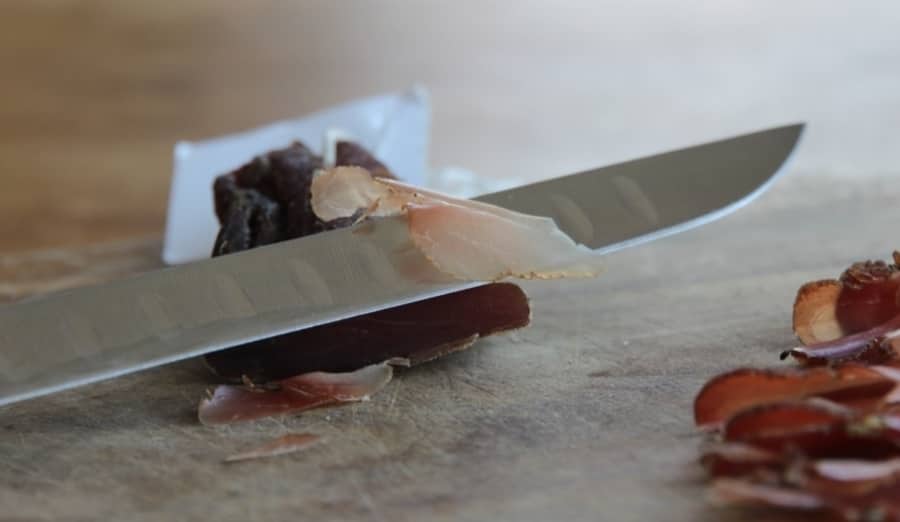 The Salumi blade is flexible; it is used to cut horizontally Iberian, prosciutto, and Parma ham. It's an ultra-sharp and ultra-thin blade, and you can get pretty good results although it also had all comes down to technique.
I just take my time, and it seems to work really well, slow & steady.
Here is an article I wrote about decent options for deli slicers at home.
Related Questions
How do You Slice Meat Thinly?
Using the appropriate meat slicer with the ability to cut wafer thin slices will help achieve success. Certain factors are needed in a meat slicer, many meat slicers will not perform thin slicing. An alternative is a prosciutto knife which can produce thin slicing.
Can you Slice Raw Meat on a Meat Slicer?
Slicing raw meat on a meat slicer can achieve uniform sizes. However, due to the moisture in the raw meat, expect the cleaning to take significantly longer then dry cured meat. Semi freezing the meat can help make slicing raw meat easier.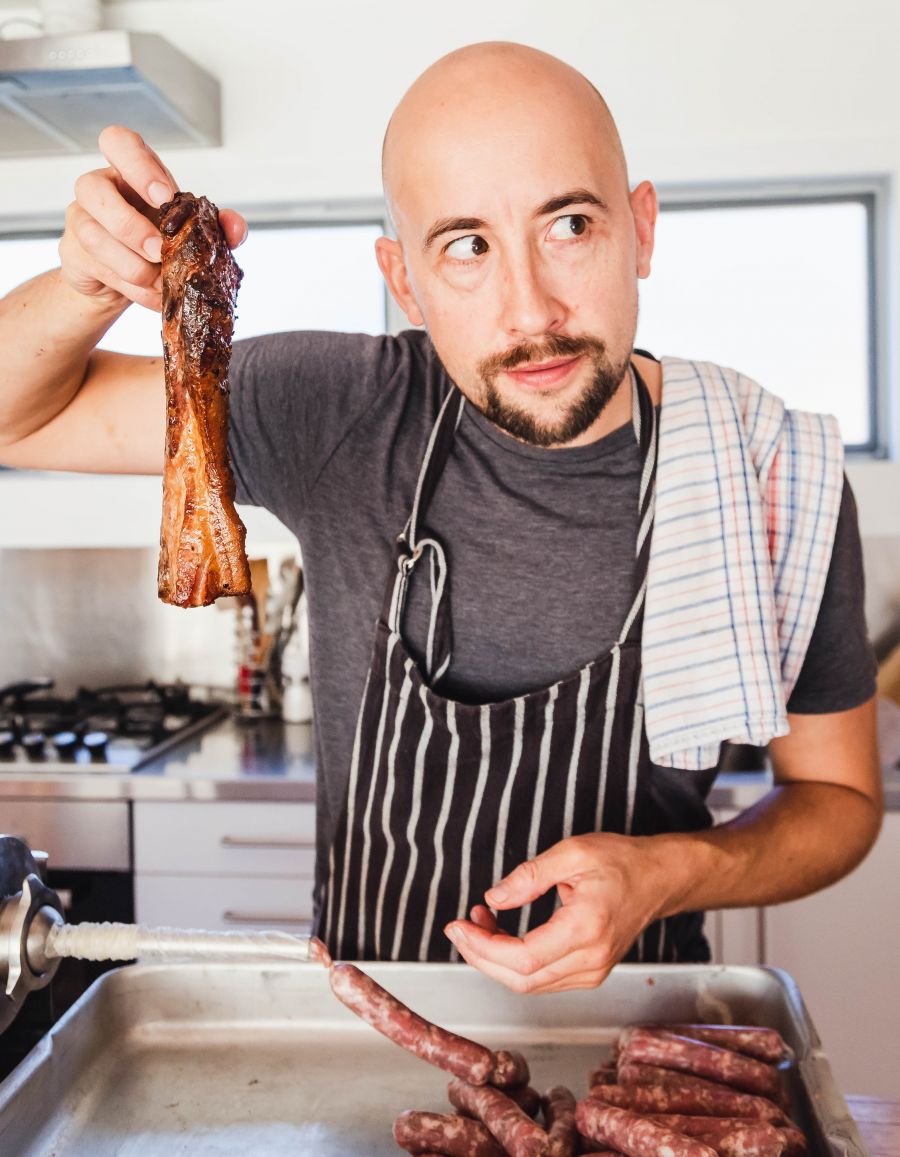 Thanks for dropping by, I've been passionate about meat curing for decades.
I Hunt, Fish, Forage, Buy, Butcher (Wannabe Norcini), Make, Savor (I'm not a Saviour), and love curing and smoking meat.
Learning and consuming in a circular fashion, I am always interested in what is happening around the curing and smoking world
Seeking the passionate behind the passion.