There are many different types of deli slicers that you can use at home, over the years I've come across a lot and wanted to share my knowledge and hopefully give you some pro-tips.
What I have noticed, is that it really does depend on what foods you want to cut and how often you need it. Ultra-thin charcuterie slicing or consistent bread slicing. My aim here is to direct people in what works with which machine. Because I've found that often the marketing claims can be a bit off.
I've spent a lot of time in Italy, at many households where deli slicers were nearly standard kitchen appliances, and I'm not talking about food slicers, which I will discuss later. The Italians buy whole pieces of dry-cured meat (pancetta, bresaola), these chunks are salted and dried (preservation/flavor) precision deli slices for wafer-thin slicing. (Often before dinner for antipasti).
Some of you folks will be after this, others will be after a machine to make easy work of cheese or bread. I'll go over all this too.
Whole Dry Cured Charcuterie and dry-cured salumi are not exactly the standard household items outside of Italy.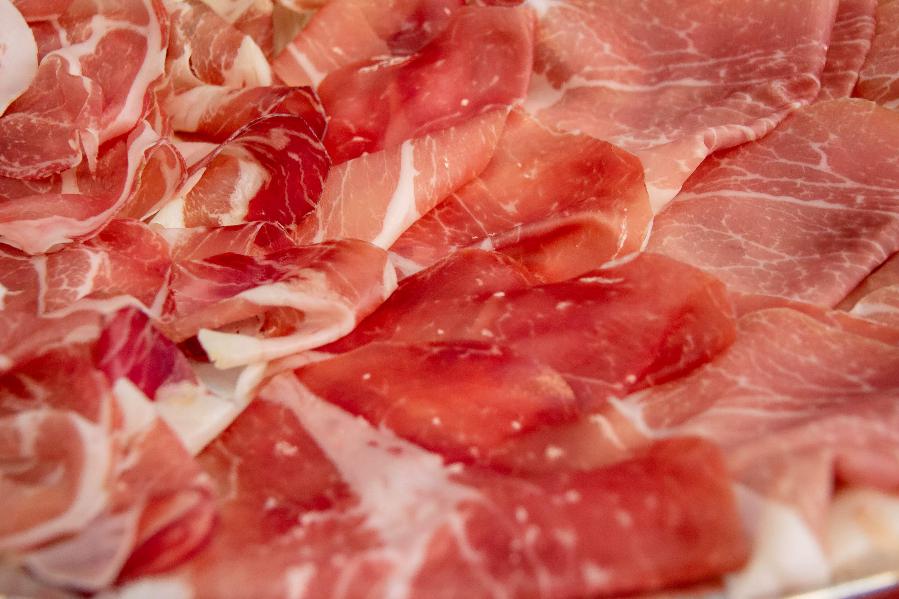 Hopefully, I can give you some direction about what factors and products you should be looking at. So let's start off with just a summary table, that highlights certain deli/food slicers and what they will suit slicing.
Then I will go into detail about why these deli slicers are represented in this table.
Note, the first two below are like the $100 price range, the precision slicers start around $300.
Deli & Food Slicers for Different Types of Home Use
| | | | | | | |
| --- | --- | --- | --- | --- | --- | --- |
| Slicer Type | Model | Weight | Blade Type & Size | Thinnest Cut | Motor | Uses |
| Food Slicer | OSTBA – SL518-1 | 8.6 PDS | Serrated / 7.5″ | 3/4″/<1mm | 150-200W | Bread, Cheese, Fruit, Vegetables or thicker deli meat or raw meat |
| Food Slicer | CUSIMAX – CMFS-200 | 10.9 PDS | Smooth / 7.5″ | 3/16″/<1mm | 200W | Bread, Cheese, Fruit, Vegetables or thicker deli meat or raw meat |
| Deli Slicer | KWS MS-10XT Red Premium | 38 PDS | Smooth Teflon / 10″ | 1/25″/<1mm | 320W | Precise slicing – Cheese, Fruit, Vegetables or deli meat, dry-cured or raw meat |
| Deli Slicer | VEVOR Commercial Slicer | 40 PDS | Chromium Plated Steel Blade / 10″ | 1/25″/<1mm | 240W | Precise slicing, commercial entry-level, charcuterie, dry-cured, raw, fruit, vegetables |
| Deli Slicer | KWS MS-6RS Premium | 28 PDS | 304 Stainless Steel / 7.67″ | 1/25″/<1mm | 200W | Precise slicing – Cheese, Fruit, Vegetables or deli meat, dry-cured or raw meat |
| Deli Slicer | Sirman 300 | 62 PDS | Smooth / 12″ | 1/25″/<1mm | 210W | Precise slicing – Cheese, Fruit, Vegetables or deli meat, dry-cured or raw meat |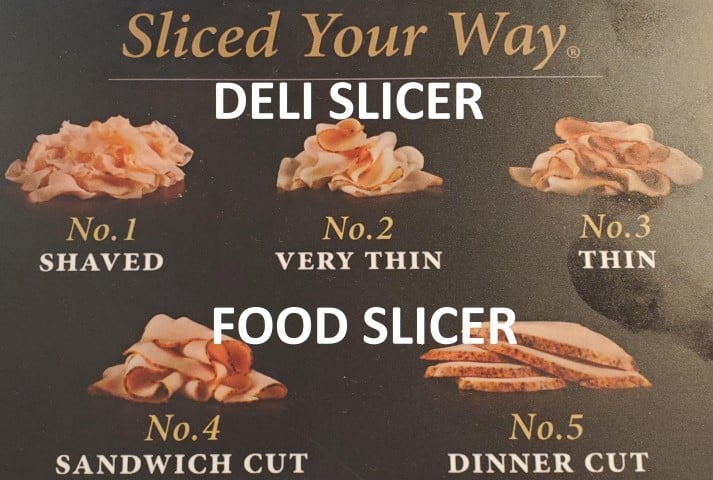 A food slicer is a lighter slicer, it has a slower speed also, and it is more akin to an automatic circular knife. A deli slicer is more like a fast-moving razor blade, you can cut dry-cured meat literally 'see through' or transparent.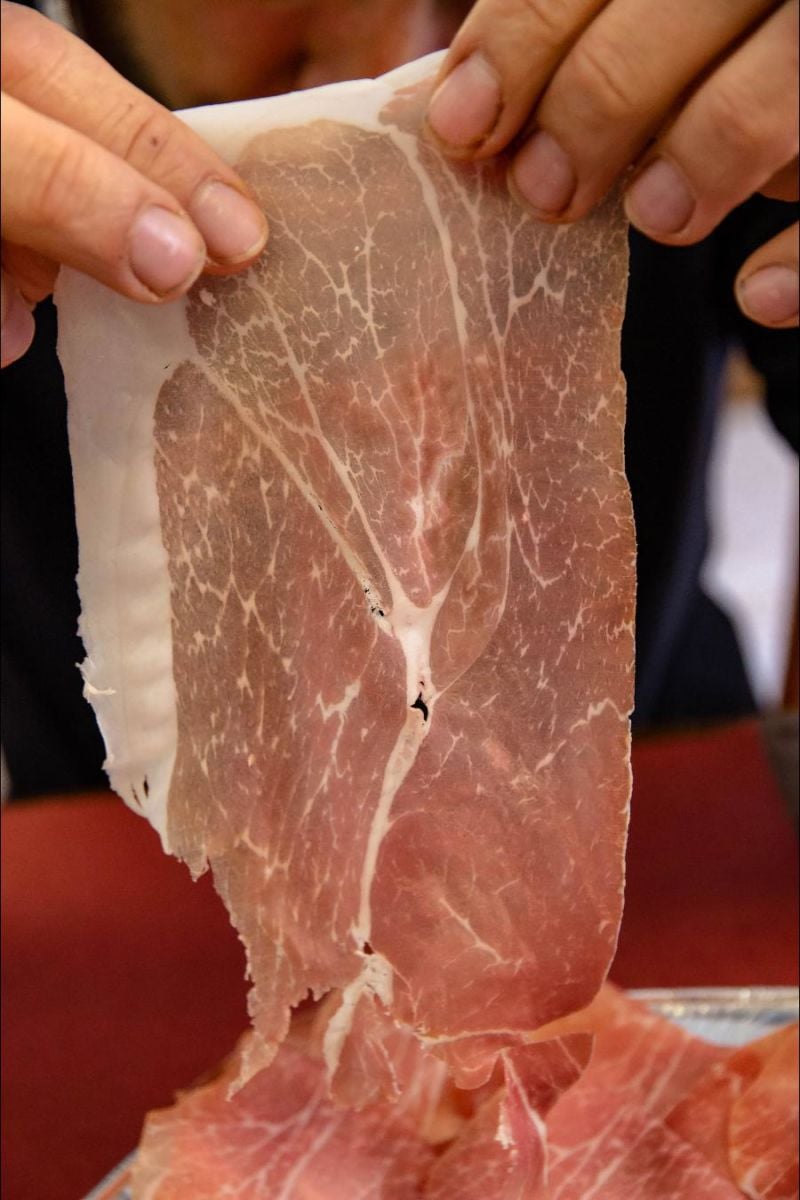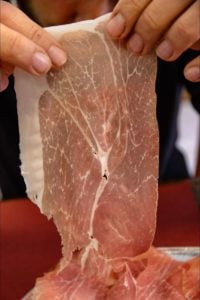 Since there is salt in the dry-cured meat, slicing thinly is important for the balance and perception of 'saltiness'.
Over a few decades, I have used the 'prosciutto' knives and other techniques but at the end of the way. If you want wafer thin-slicing, you need to invest in the right tool for the job – the above deli slicers will achieve this.
Many food slicers claim they can cut down to 0.03-0.04″ or 1mm, this s not just the case, especially with the serrated blades.
And what you can see is, if you're not worried about getting wafer-thin slicers you can buy something with a bit more plastic and lightweight which is designed for maybe a third of an inch or 5-6 mm thickness.
And these lightweight kinds of food slicers are fine for occasional consistent cheese or bread slicing, and often have a serrated blade as well.
This is why I call the lightweight ones food slicers and actually call wafer-thin slicers deli slicers since they are traditionally used in delicatessens (Norcino Deli in Italy) for the likes of Black Forest Smoked Ham (German) or prosciutto. I've been into supermarkets across Europe where they have 15-25 Deli Slicers for each different type of ured meat – Mortadella, Braesola, Pancetta, Proscuitto, etc., and the many variations of these treats!
Weight of Deli Slicers Compared
If you going to be slicing cheese and bread, and maybe thicker chunks of meat. You will be fine with one of the food slicers. The weight of the machine will indicate whether this is an occasional use for thicker bread and cheese types food slicer or something designed for precision wafer ultra-thin slicing.
I.e table above, 10 pounds vs 30 pounds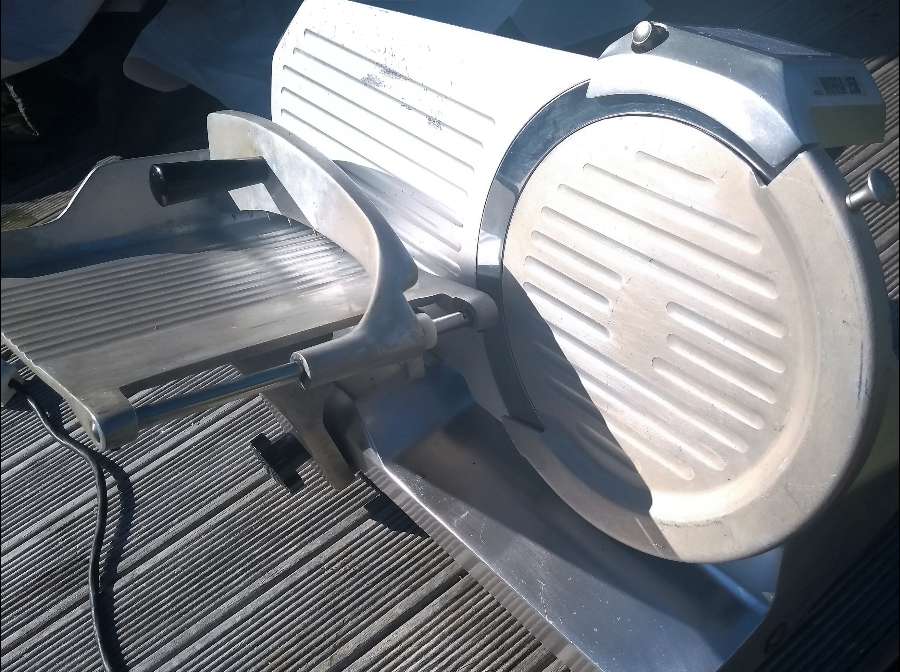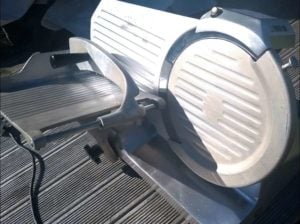 What is a Good Meat Slicer for Home Use? (Thin or Thick)
For thin-slicing a deli slicer with precision will be needed, for thicker cuts, a food slicer will perform the desired task, often a food slicer weighs less than 15 pounds or approximately 30 kilograms.
If you are slicing bread, cheese, or the odd stick salami. a lightweight food slicer would be completely fine and you can find a lot of these around a hundred dollars or less – like the above suggestions, the first 3 in the table.
If you're looking for ultrathin meat or cheese, then you got ago the deli slicer which will be $300 range.
Is Buying a Food/Deli Slicer Worth it?
As anyone knows, if you buy in bulk or by whole rather than presliced then you should be getting some cost savings.
This is also whether you don't mind cleaning the machine after each session.
Since I do things like my own dry-cured cold smoked bacon, it'll be a minimum of 10 pounds or 5 kg. In this situation, no doubt I'm saving an absolute ton of time uniformly slicing this up on my deli slicer.
Then I have a trick to freeze the slicers on baking paper using baking trays.
Once they're frozen, I throw them in a Ziploc bag and then in the freezer. So whenever we want bacon I just grab a handful enthroned in the frying pan.
No need to thaw, you can do that while it's cooking.
Best All-Rounder Food Slicer
The OBSTA 200W Food Slicer with a 7.5″ blade, has been well-proven for consistency and value for cutting many different foods consistently.
If you want a slicer that will make things economical but also get consistency out of every cut.
You can not go wrong with OBSTA for thicker slicing.
Best All-Rounder Deli Slicer
The KWS MS-10XT Premium is a sturdy and precise instrument, with a 10″ teflon blade. Suited for those who want to cut ultra-thin slices of dry-cured meats.
If you want the in's and out's of a decent wafter thin slicer, I made a video to highlight this:
All-round performance for any cutting, built-in sharpening stone which you flip around on the top.
This is a sturdy and precise instrument
Considering a deli slicer often starts around $800, this model is often under $350 – which is an absolute steal.
If you can go the extra $$$, the Red KWS, is worth it for style points – many of the folk around eatcuredmeat.com have just loved them.
These deli slicers above are serious slicers, you have to be mindful of using them and follow best practices. They are INCREDIBLY Sharp!
Two rules I live by with any slicer, is you UNPLUG it from the wall time you start the cleaning process after the slicing is complete.
Also, closing the blade completely when cleaning.
How do You Slice Thin Meat at Home?
If you do need a proper heavy deli slicer for charcuterie, it's always the fat that can be a little bit more of a struggle.
Now whether you use it deli slicer or a thin-bladed knife. You can firm up the fat by chilling the meat in the freezer.
You don't want to freeze the meat, you just want to get pretty close to firming it up. This is also the way the Koreans do it to make their wafer-thin raw slicers for adding to many of their cuisine dishes.
Best Deli Slicer for Dry Cured Meat & Charcuterie
There are full commercial slicers that go for $700-$1000+ brackets easily, but for the home enthusiast, these are great devices that will give you the precision and outcomes that just can not be reached with a manual knife cutting.
I've been using a Sirman Slicer, $700+ but worth it if money isn't an issue – here is a great buy for a 12″ Slicer that will last decades.
Another stylish often for a piece of art, is the Berkel Red Line Slicer – $1k
The traditional way was with a stand for a cured leg of prosciutto, then a very, flexible and razor-sharp knife was used, you get close, but not quite the consistency of a deli slicer.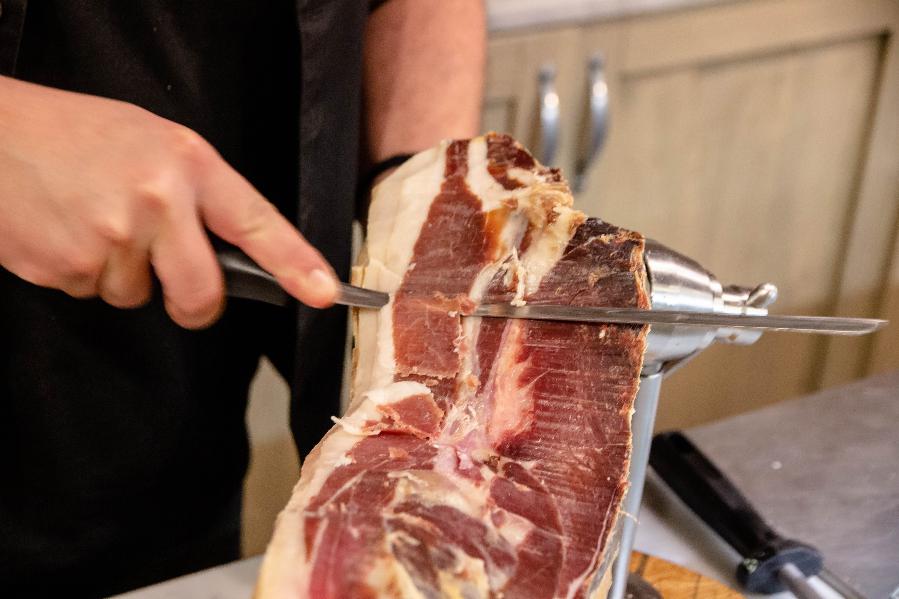 Important Deli Slicer Aspects for Thin Slicing
Having a smooth non-serrated blade that's kept sharp is ideal, or the deli slicers that I suggest for cutting dry-cured meat, salumi a charcuterie. A sharpening attachment is often on the right equipment which makes it very easy to touch up the blade and give it that razor-sharp edge.
Thinking about how you want to cut meat against the grain or with the grain is very important. This is basically how the meat muscle fibers I believe go through the meat.
And think about if you have a fat layer on your meat, and how you want it represented in your wafer-thin slicers.
When you make your own dry-cured meats, you also start with something that loses 30 or 40% of its weight so it shrinks.
Because of this, you don't want your hand getting anywhere close to the blade. Sometimes I will use half of the potato or something to create some distance from my hand on the meat just for a little bit extra safety.
Best Deli Slicer for Bacon
I personally like my bacon pretty thin, like less than a quarter of an inch or two or 3 mm.
So of course I need a decent deli slicer for this, but because I run a blog all about curing meat my deli slicer gets a good amount of use!
Now, of course, there is a difference between cold-smoked and hot-smoked bacon, and the food slicer will do fine it won't be a fast job but it will be possible to slice your pork belly or loin easily.
The lightweight food slicer that you get for around $100, will probably be better suited to half-an-inch or 6-7 mm slices of bacon.
Best Deli Slicer for Cheese
The same kind of thing when it comes to deli slicers for cheese, if you are trying to get to normal sandwich slice thickness, a food slicer can do the job. If you're looking for 1-2 mm thin cuts then you have to go to the heavier precise deli slicer to get the job done.
Important Deli Slicer Aspects for Cheese
TIP – Some people say wetting the blade can help the slicing, but really the water will be taken off the blade pretty early on. When I have done deli slicing with cheese, I haven't had issues with this.
Best Food Slicer for Bread
The borlebbi 200W Food Slicer comes with 2 blades, the serrated blade is ideal for slicing consistent bread slices.
The little serrations on a blade can help the slicer since most bread has some level of crust and it will just help get through the bread.
I've had success with bread knives, and also decent pastry knives – my partner makes high-hydration sourdough artisan baking made, which lets me do all the slicing and eating!
In a way, I think a heavy-duty deli slicer works better at softer things like cheese and deli meats or hams compared to a food slicer for lighter less dense things like bread or vegetables.
How Do You Cut Deli Meat or Charcuterie Without a Slicer?
You can use a very thin blade like a filleting knife or an Iberian prosciutto knife, however, this is a craft and skill. It takes a lot of practice to get wafter thin slices. Often horizontal cuts are made with a flexible knife,
Here is another picture of this with prosciutto ham in Spoleto, Umbria, Italy.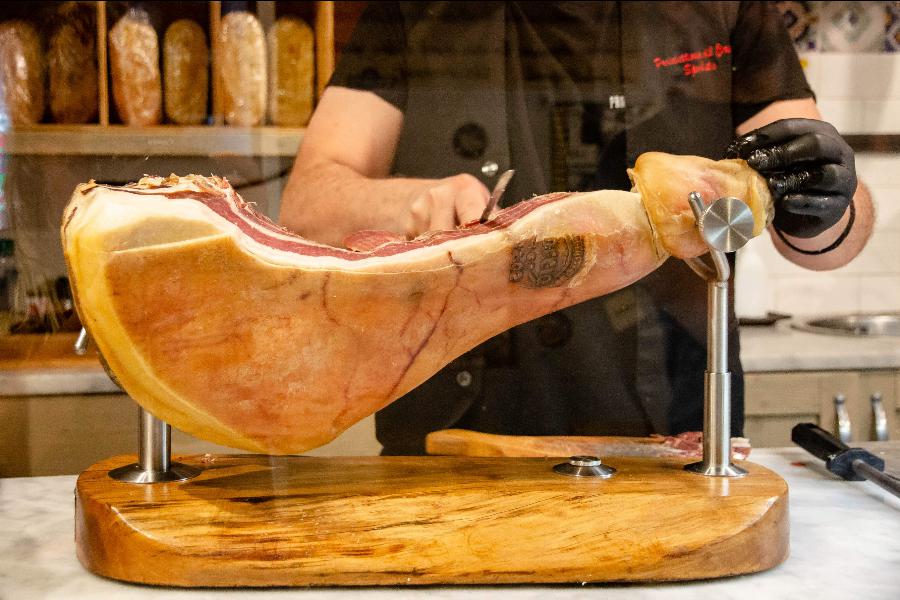 Art and Slicers
I mention this topic, because maybe as a life goal – this deli slicer could one day allow my unworthy presence to use it.
Talking $6k-$20k for a flywheel deli slicer from Berkel or Sirman.
Save some power too! Salut!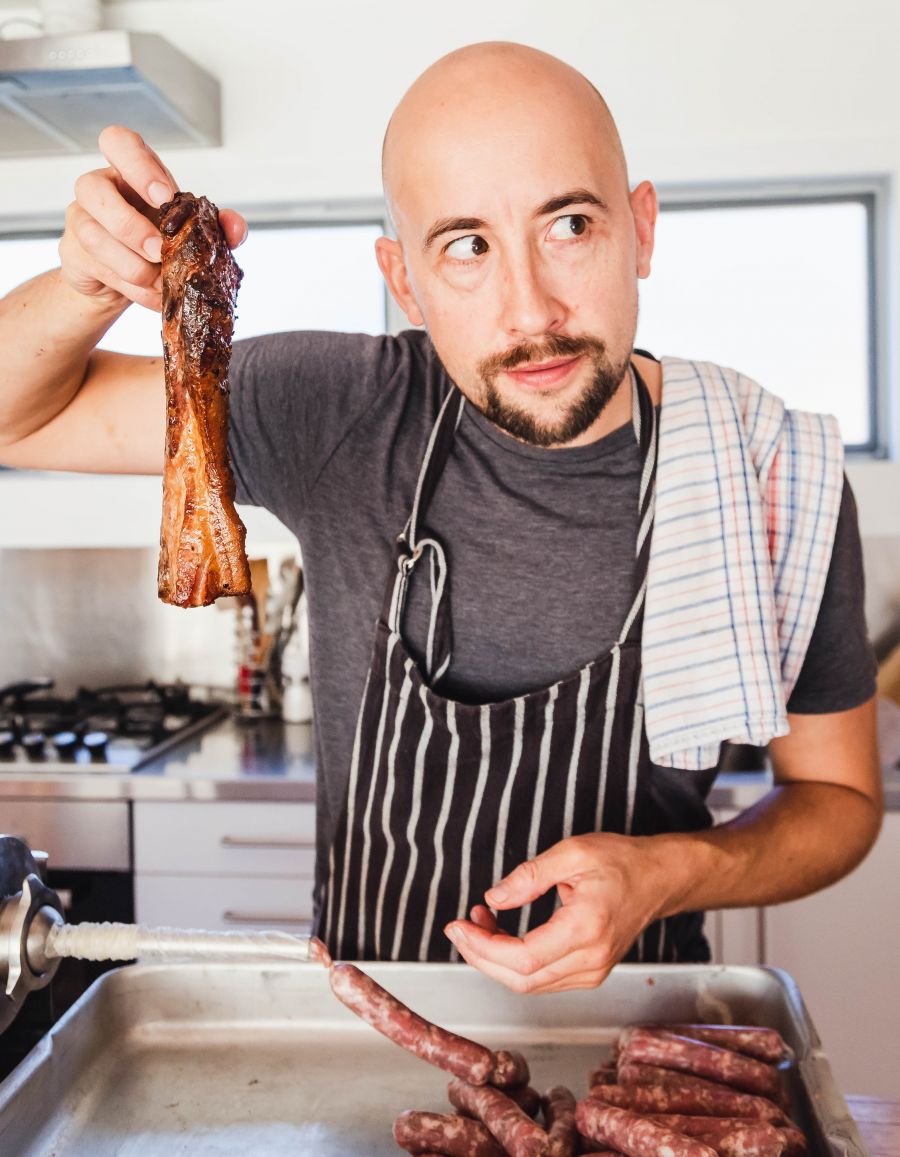 Thanks for dropping by, I've been passionate about meat curing for decades.
I Hunt, Fish, Forage, Buy, Butcher (Wannabe Norcini), Make, Savor (I'm not a Saviour), and love curing and smoking meat.
Learning and consuming in a circular fashion, I am always interested in what is happening around the curing and smoking world
Seeking the passionate behind the passion.