Nothing goes together quite like wine, cured meats, and cheese.
I've enjoyed wine for as long as I've been making dry-cured meats and cold smoking.
The combination of the refreshing spiciness of salami and the buttery deliciousness of an earthy cheese can transport you straight to the Italian countryside.
I've been making dry-cured meats and other smoked small goods for a few decades – wine and cured meats are a way to truly appreciate the craft of charcuterie.
Of course, the pairing can't be complete without the ideal glass of wine. But, what are the finest wines to pair with cured meats?
Light-bodied red wines with a strong structure are excellent matches for charcuterie platters or antipasti with cured meats. The wine's sharp acidity and fresh berry aromas cut through any fatty ingredients and don't conflict with the peppery spices.
Charcuterie boards elevate popular quality dry-cured meats and exquisite cheeses by combining texture and flavor to engage your senses.
Aged-wines do their part by tying everything together for some. But the classic fresh classic of Italy also can work!
But it can be difficult to know exactly which wines to pair with which meats. Not to worry! Keep reading to find out which wines and cured meats pair best for your charcuterie board.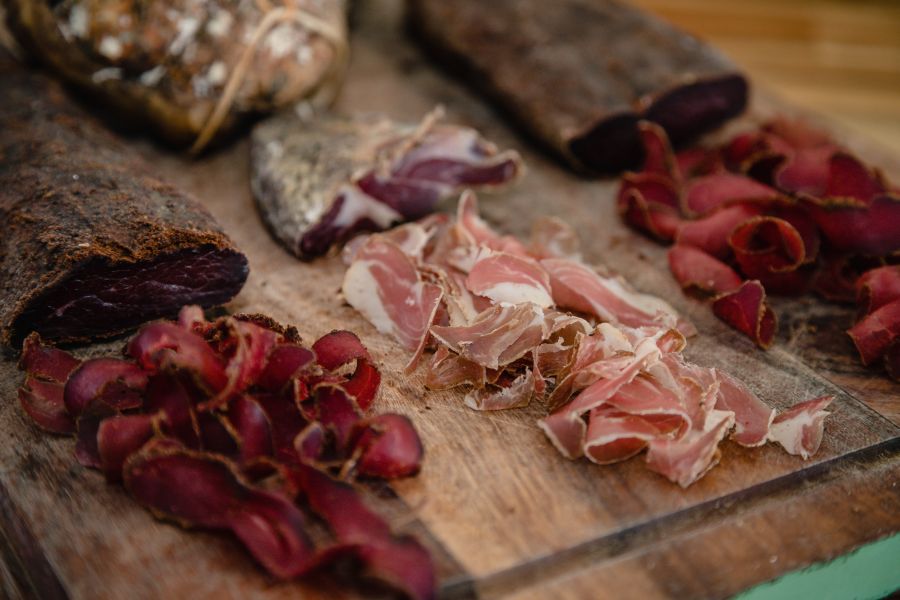 Wine Pairing with Cured Meats
When it comes to wine pairings, you'll want to take salt, fat, and acid into consideration.
As a general rule, always provide wine that is more acidic than the meats you are serving.
This combination creates the impression of a palate cleanser. The acidity of the wine cuts through the richness of the dish, while the salt from the cured meats soothes the harsher characteristics of wine, such as bitter tannins.
Foods heavy in fats or oils complement bolder red wines because the fat balances the wine's harsh tannins. However, you may also choose sharp, tangy white wines.
Aim to match the wine's boldness to that of the meat so one isn't attempting to overpower the other. If you're making a charcuterie board with delicate tastes, pair it with a wine that's also subtle.
For this young Italian red wines can work very well also, Montepolcino or Puligian wine for instance.
Also, keep in mind that wines with a high tannin content will conflict with anything spicy or bitter.
Which Wines Pair Best with Cured Meats?
Wine and cheese are soulmates and one of life's many joys.
However, dry-cured meat is just as good a wine mate as cheese, if not better. The greatest wine pairings for salami highlight the meat's best qualities without dominating it, allowing the wine to shine.
Wines for Lighter Charcuterie Boards
For lighter charcuterie boards, light-bodied white wines and medium-bodied red wines with a strong structure always complement well.
Cured meats, such as Serrano, Finocchiona, and Prosciutto have a sweet and salty balance, thus they pair well with wines that are richer, fruitier, and have lots of acidity. The wine's sharp acidity and juicy berry notes cut through any greasy offerings and creamy textures.
Try pairing these wines with light and fatty cured meats:
Gamay
Frappato
Pinot Noir
Cabernet Franc
Merlot
Lighter, fruitier red wines have a clean, fruity taste, juicy acidity, and silky tannins that also make them the ideal partner.
Think Sangiovese – one of my favorites! But I love Italian fruity wines full of antioxidants
Wines for Smokey and Spicy Cured Meats
Cured meats like chorizo picante, pancetta, or cold-smoked dry-cured meat have layers of smoky and spicy aromas.
While tasty, they may be overwhelming on their own. White wines with lively acidity and exuberant fruit flavors offer a refreshing contrast to these more intense spices and savory overtones.
Here are a few recommendations for wines to pair with smokey and spicy cured meats:
Sauvignon Blanc
Riesling
Chardonnay
Verdejo
No matter what wine you pick, look for varietals with strong acidity and aromas of ripe stone or fruitiness.
Wines that rely too much on herbal or mineral notes may come across as harsh and bitter, leaving only intense acidity behind.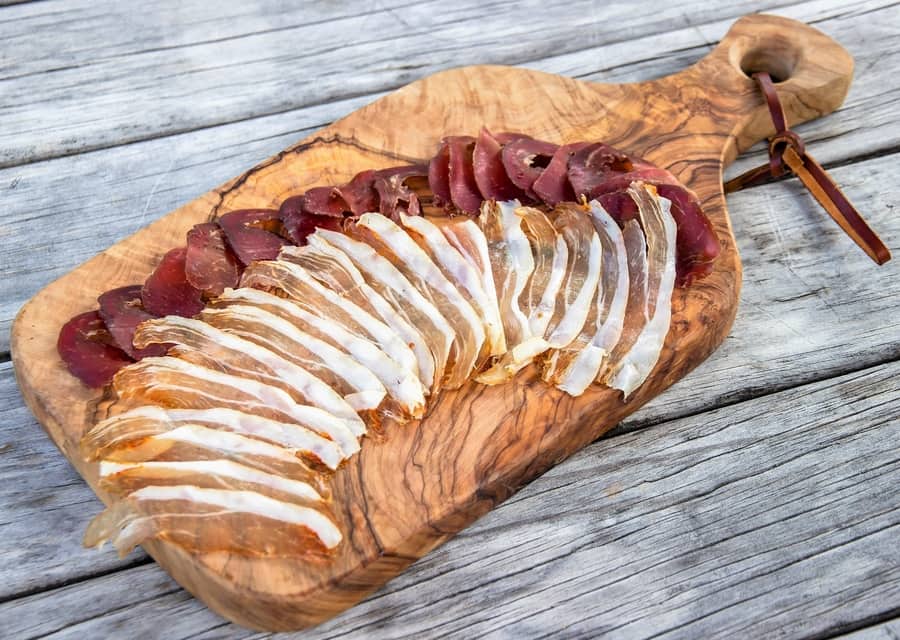 Wines for Earthy, Salty Flavors
Meats that are seasoned with earthy aromas, like black truffle salami or bresaola (classics like nutmeg/cinnamon is what I use with some other bold spices) might overpower delicate flavors. Full-flavored white and red wines have the oomph to keep up, but the acidity to compete with the indulgence of these salamis.
Here are a few recommendations for white wines to pair with earthy meats:
Chenin Blanc
Moschofilero
Arneis
Syrah
Yellow apple, passion fruit, pears, blackberries, and peaches offer cheerful acidity that provides a welcome respite from the intensely earthy truffle and salt, while also highlighting the spicy notes of garlic and pepper.
Bottom Line
These pairings should have given you an idea of which wines and cured meats work well together.
When crafting wine and charcuterie pairings, experiment with different combinations.
Subtle differences may draw attention and make something memorable.
The right wine can help level up your eating experience.
So, whether you're serving charcuterie to friends and family or enjoying one yourself, make sure to get the best wine you can find.
Sources:
My own thoughts and:
https://winefolly.com/deep-dive/chenin-blanc-wine-guide/
https://www.thespruceeats.com/about-bresaola-italian-dry-cured-beef-4114400
https://duecucina.com/why-we-use-guanciale/
https://salumeriaitaliana.com/catalog/salumi/salami/fennel-salami
https://www.winemag.com/2017/09/12/moschofilero-is-a-chameleon-of-a-white-wine-grape/
https://wineinsiders.com/collections/syrah-shiraz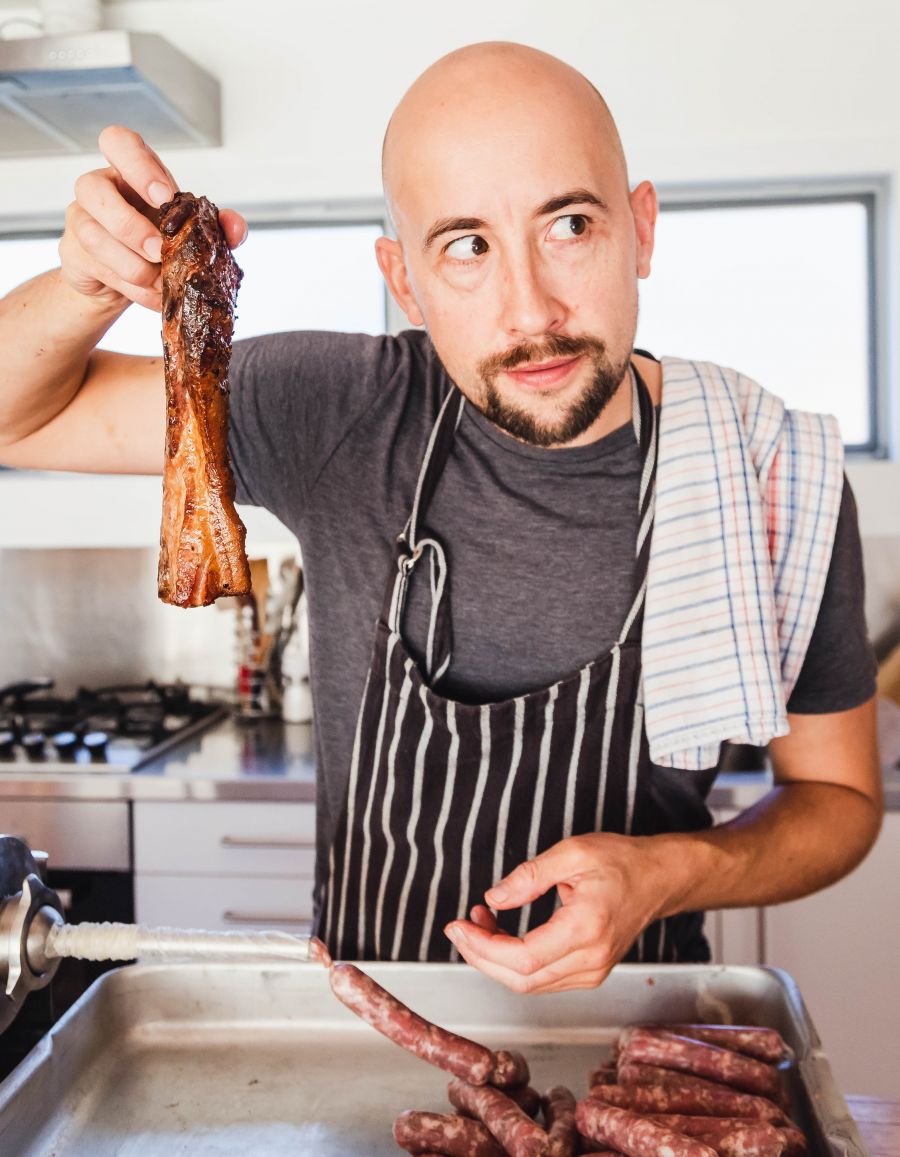 Thanks for dropping by, I've been passionate about meat curing for decades.
I Hunt, Fish, Forage, Buy, Butcher (Wannabe Norcini), Make, Savor (I'm not a Saviour), and love curing and smoking meat.
Learning and consuming in a circular fashion, I am always interested in what is happening around the curing and smoking world
Seeking the passionate behind the passion.