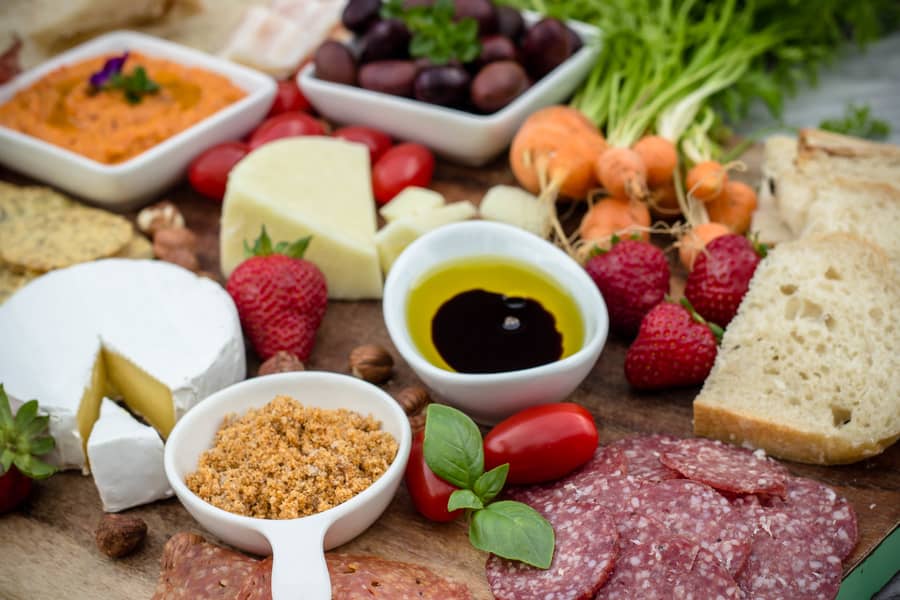 Cured meats are an essential part of a charcuterie board, since this is my passion – I have tried to come up with some unique ideas for you.
The creativeness of a charcuterie board is the key to success in my opinion. Here are some hot ideas to make your platter sizzle.
I love adding some twists & surprises to really help friends enjoy what I create. Homemade is key for me.
I wanted to write my thoughts on charcuterie boards, hopefully to inspire you to explore your own style or themes.
Having some easy cured meat ideas, always enhances my charcuterie board. Even if I don't have any cured meat hanging around.
I will always whip up a quick pickled cucumber (see below) or some other homemade delight.
Below I have a list of my favourites.
Sometimes we all just need to tap into what we know, by getting some inspiring ideas. Hopefully below does just that.
How To Make Your Own Charcuterie Board
Textures to contrast
Convenient to eat without plates
Contrasting flavors
Choose a selection of cured meats & cheese
Pair the fruit flavor with other components
Spreads & dips for flavor and color
Home crafted food is often the best
A few decades ago, I remember hearing about the meat & cheese platter. It seems the natural progression of this has happened, it has formed and morphed considerably. Most recently, into the charcuterie platter.
Now with some restaurant branding, the charcuterie board is the buzz word for a shared platter with a ton of fascinating flavors & color to entice the whole crowd. Of course, it can be done at home very easily.
I have highlighted some of the above ideas in details with some ongoing inspiration further below.
I love a 'themed' style and will highlight some of these below as well.
Then I will get onto the meat of the post, and elaborate on the finger food components that I showcase when creating a charcuterie board for loved ones.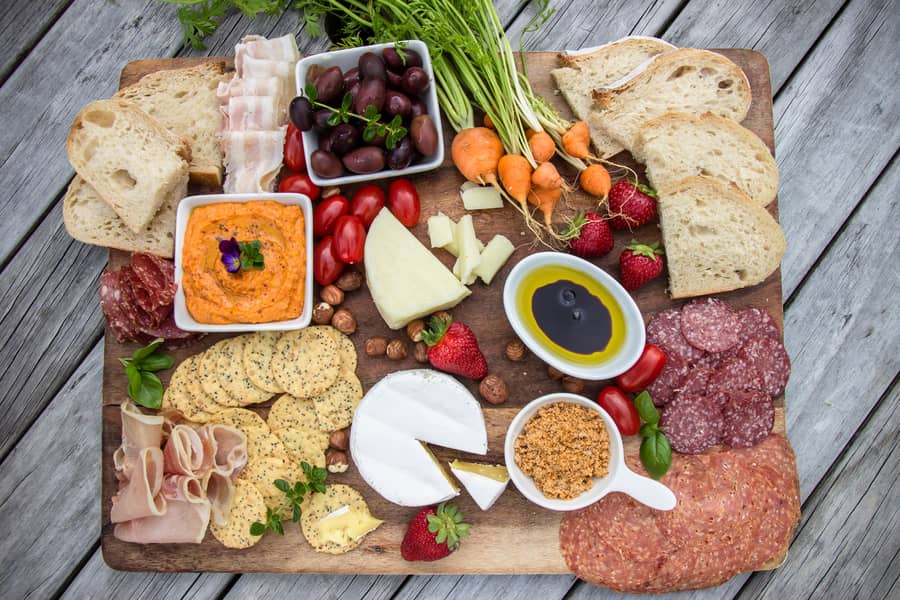 Textures to Contrast
Crunchy, soft, melting wafer thin meat, chewy (homemade Sourdough Bread) and hard textures – customise to your likely.
Easy pop in your mouth home marinated olives, which have an interesting texture. See below for more details on marinating olives.
Crunch
The crunch of baguette or bread sticks is always an easy snack food that fits perfectly on a charcuterie board.
Soft
Soft cheeses or spreadable dips of various color. I love beetroot, smokey hummus or tapenades.
These all work well in a crowd.
Melting
Room temperature brie or camembert that is melting, you can smear it on soft breads of crackers
Thin slices of quality prosciutto or homemade cured meat from your fridge.
Spreadable
Hummus for the healthier option (I did a spirulina version once, nice and green!).
Quality liver pates and rillettes that can land on any cracker or fresh bread.
Convenient to Eat Without Plates
The key to success with a charcuterie board, no plates.
Napkins or serviettes are the way to go. Some basic knives scattered around the board to cut the cheeses and smear onto crackers or breads.
Like many successfully hosted social encounters, interaction is key like Chinese steam boat or Korean BBQ communal dining & cooking goes a long way.
Contrasting Flavors
Certain things are really easy to put together. Like melon fruit with cured meat or pates with bread.
Sometimes you can get to the next level. What about a dukkah homemade (cumin, nuts and few other spices) with a good olive oil & quality balsamic. This is literally the definition of contrasting flavors with savory, acidity & hopefully a creamy oil (doesn't have to be olive oil either).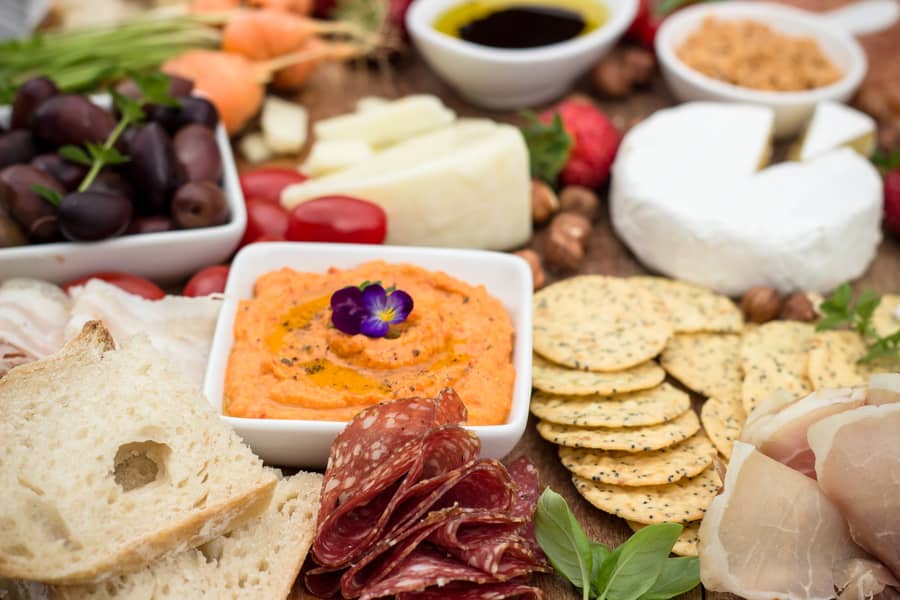 Selection of Cured Meat & Cheese
This is an area I am passionate about.
Hot Smoked fish or Gravalax – only takes 24 hours to prepare and will make a complete difference on your charcuterie board.
If you want some ideas on cured meats I found 50 interesting examples here.
Cheese – soft and hard are the obvious choices. Pre slicing does make it easier for people.
Well, it will depend on your guests I guess.
Pair the fruit flavor with other components
Melon type fruit with Prosciutto or Parma ham is all time classic Italian style, Italian's do know what they are doing when it comes to food!
Spreadable fruit pastes with tartness can also contract the strong hard cheeses nicely.
Spreads & Dips for Flavor and Colour
Beetroot based dips with awesome color.
The world of dips and spreads goes far and wide. Nice colors for contrast is what I look for.
A lot of traditional Italian delis will pre-spread the spreads before serving.
Home Crafted Food is Often the Best
The extra effort is always appreciated, here is a list we see a lot on our platters.
Hopefully, that will wet your appetite.
I will highlight some more ideas that hopefully can inspire you to either create your own style or choose a classic.
Charcuterie Board -Traditional Styles vs. Fusion
Italian Classic
Vegetarian style
Spanish
Modern American
European
Seafood Styling
UK
Italian Classic
Salumi boards which are meat focused are a highlight of any Italian region. Since there are thousands of variations of the common salumi, an area of special interest for myself.
Quality cheese & cured meats bring a lot of complexity to the charcuterie board.
My cheeky homemade cured meats in a fridge, can provide you with something unique.
Vegetarian style
Nowadays there are so many vegetarian options when it comes to spreads, dips, vegan cheeses & even vegan meat (tofu based for instance).
Hey, if is your style – no judgement here. I have created a few in my platter portfolio.
Spanish
Convenient tapas are of course classic Spanish. I like to have the Iberian & Serrano Ham, the real Spanish prosciutto is a way of describing this. The animals have a specific breed, in a specific environment with a unique diet – which I have heard includes a lot of acorns.
Oh yes, and chorizo of course, with strong flavors of garlic paprika and chilli.
Modern American
This is a melting pot of styles and flavors. Something Jamaican with some Texas Southern Style BBQ, why not.
There is so much interesting local product in just about any State., you really can put anything together here.
No rules.
European
It is a bit hard to put everything in the same charcuterie basket.
So let's say pink perfectly marinated sardines of Scandinavia.
Heavy German, Dutch or Easter European cold smoked meats.
There is such a variety of interesting food across this diverse continent.
Seafood Styling
Sicily can make a good inspiration for a seafood platter, they keep the tastes simple. Fresh and dried herbs are used to really enhance their very seafood focused diet. Some great inspiration can be gained from Sicilian recipes.
UK
Cheese & pickles, easy done.
Here is a organisation promoting charcuterie meat in UK.
The rugged Scottish coastline seems to produce the finest seafood in my opinion.
Whilst, many other mighty regional ingredients can be procured, especially from the countryside of Wales, Ireland & England.
Minimalist or Full Plump Charcuterie Board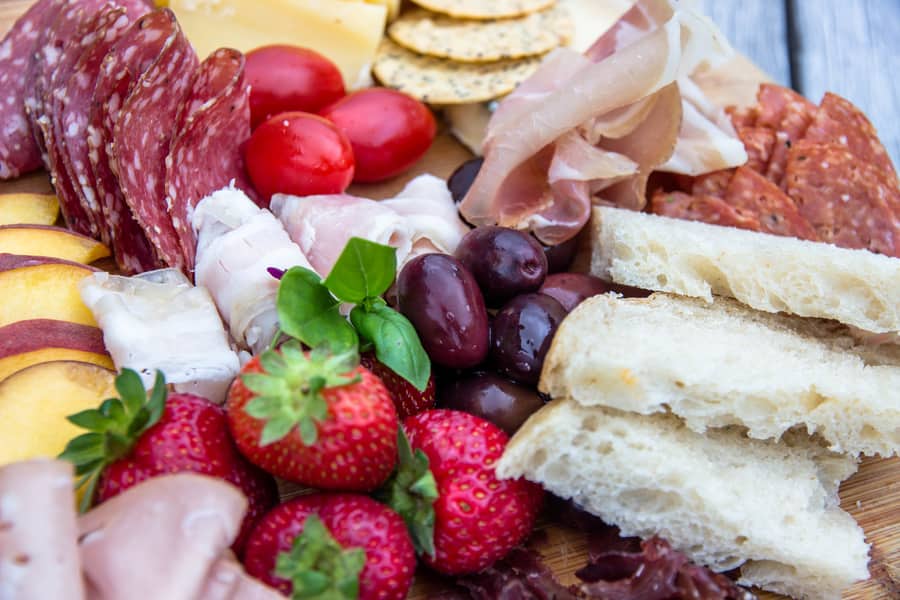 I don't believe the board has to be full of food. Sometimes, if you have special wares, you just want to highlight it and show off maybe something homemade.

Post Meat & Cheese Board The Modern Antipasti (The First Course) Platter
So, it all started with the mighty meat & cheese board in many western places. Then the Italian influence and the Antipasti platter popped up and was used predominately in restaurant environments.
The new marketing, of a more diverse platter came to be the Charcuterie Board, predominately this was the change over that happened recently in the United States.
Although, Charcuterie was 'borrowed' from the French, in the French cooking bible 'Gastromonique', charcuterie is defined as either a purveyor of deli French foods or certain offal based meat treats.
That don't sound so appealing to the main stream western market taste buds quite often. However, there are some very special products & fares.
In my humble opinion, your charcuterie board should show case what you love about food. This for myself is homemade dry cured meats, salumi, local fresh vegetables and seasonal fruit if possible.
Less Bulk, More Quality – Savoring the Savory
Again, I just want to say this is my style – I tend to not have a plump platter, piled too high. Letting certain special foods speak out, and hopefully there is a delicious and passionate story behind the food you can offer your loved ones.
Rustic styles platters with scattering of goods can look amazing also.
Homemade is Always Appreciated The Most
Following on from the above, homemade if possible, gets appreciated the most in my opinion. Just unwrapping plastic covered products and putting them on a platter, doesn't really work for me.
Home made shows you care, just one food on the board goes a long way.
Homemade dry cured meats – my passion, you can do in a normal fridge also.
Fresh Fruit & Fresh Local Seasonal Vegetables
Sometimes it's just to pair up with some cured meats, like of course melon matched to Prosciutto, Iberian or Parma ham. Fruit matching can bring out more flavor or just to have a break from rich or dense foods on the platter.
Vegetables offer variety of textures such as celery or sweet fresh seasonal carrots. Many a passionate chef talk about how the sugars are lost once the vegetables are pulled from the earth. I have noticed the taste difference, homegrown is best.
Offering ideally homegrown or super fresh vegetables can be a fine addition to the charcuterie platter.
Colors for Wetting the Appetite
Contrasting of color makes a big difference, we eat with our eyes.
Red from meats, white/browns from breads/crackers, multicolored dips, dark colored olives, bright colored fresh vegetables and creamy colored cheeses.
Different color/hue of reds – salami, salumi and dry cured meat
Be it salami or razor thin parma ham, there are many subtle variations. Of course, based on what breed and what the animal has eaten. This can have a definite effect on color.
I know a farmer who breeds pigs for personal use, he has dozens of pecan trees on the farm. The pig meat has a golden color and tastes amazing!
These factors are all relevant when I think of glorious salumi.
Wooden Boards for the Charcuterie Board
I have a small olive wood board I bought in Italy whilst exploring the cured meat countryside around Norcia. A petite board and excellent for showcasing some fridge cured meat. Less is more sometimes!
I think natural white plates work well also as a background to the creations you will conjure up.
Anything is possible, I just tend to focus on the classic. Although, hopefully I will find the right piece of driftwood along the ocean or river. Then, I can tailor accordingly.

Ideas & Inspiration
Below are some personal thoughts, just to get the thoughts flowing.
Homemade Cured Meats
Mentioned this previously, another great options is hot smoked fish, which is then turned into a smoke fish pate. Just add lemon juice, cream cheese/sour cream & maybe some herbs. Just keep tasting, until your happy.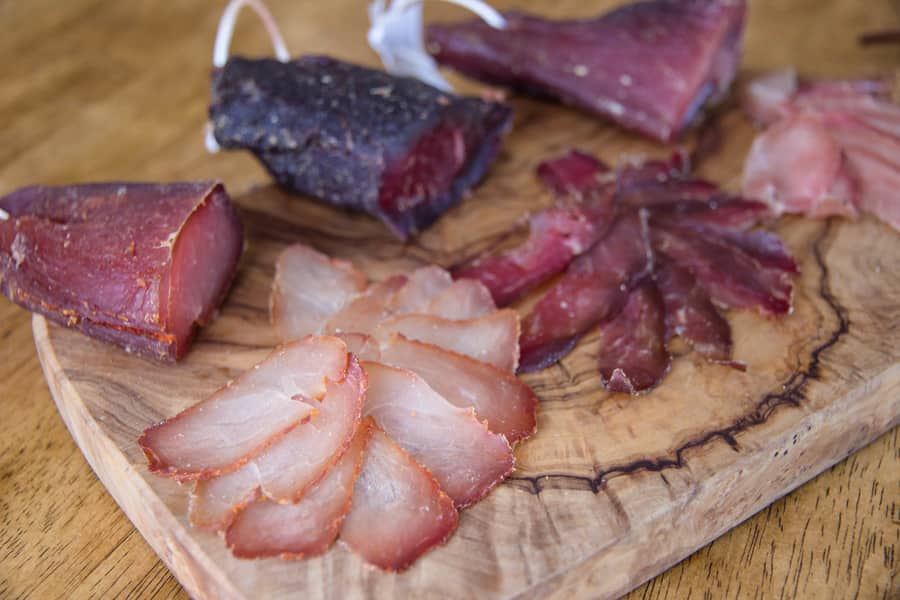 As mentioned, here is a rundown on homemade cured meat in a normal fridge.
Dips and spreads
This could be a huge list, if you a foodie you probably have your favorites already!
My favorites are smoked hummus and beetroot dips.
Dried fruits
If you can't get fresh fruit, dried fruit in the colder months can work well on a charcuterie board.
Depends of course on where in the world you are.
Preserved or Pickled Mushrooms
I found a dish from the famous Bar Tartine book, it is such a melting pot fusion of flavors. Find a link here.
In the book, it suggests making your own onion and garlic powder. So I did, in my curing chamber!
There are many pickled mushroom recipes in the world, here is an easy recipe with lots of flavor.
Pickles
Massive options, here, I love pickled gherkins, carrots or anything else that can offset some of the more fat focus of cheese and meat – which is commonly on a platter or board.
Pickled jalapenos? Why not.
Balsamic and Quality Dipping Oils
I find this one of my classics, quality balsamic vinegar with a extra virgin oil. It doesn't have to be olive try hazelnut, avocado, hemp or macadamia.
Nuts
Roasted or natural if you want the nutrients. Salty nuts contrast with a lot on most platters/charcuterie boards.
Flavor the nuts with spices to give a fresh angle.
Cheese
Again, if you're a foodie you should have your bases covered here.
The basics:
Blue cheese – in some form
Brie / Camembert – at room temperature so you can be easily smeared onto crackers or bread
Hard Cheese – an aged cheese with a bit of tang always goes down well
Olives and Sun Dried Tomatoes
Quick marinades with slivers of garlic, fresh hard herbs (rosemary, thyme & oregano and peppercorns). Takes seconds to throw together and half an hour to start bring together the new flavor.
Some many varieties of sun dried tomatoes, sweet concentrated flavors that can work with cheeses.
Sometimes, if the marinating oil is good, you can use this for dousing with bread. I also use the sun-dried oil to fry up beautiful trout – thats another story altogether.
Breads and Crackers
Crusty or soft. Thick and seedy crackes or soft rice cracker styles. No need to go into depth here.
Pâté
Liver pate is one of my favorites with a lot of cracked pepper. Wild game pate can be excellent also.
Forcemeat/offal showcased on all it glory. Thanks again France.
Rillettes
The French came up with this around 1845 supposedly, as per wiki. Salt cured meat (commonly), which is cooked and stored in fat.
Hopefully, some inspiration has come from this post, if you want more information on curing meat. You will definitely find it around here!
Related Questions
What goes on a Charcuterie Board? Comes down to personal preference, the common platter should include a selection of cured meats, cheese, bread & olives. The modern definition of a Charcuterie Board allows a plethora of condiments. A focus should be on food that does not need a plate or bowl.
Is Charcuterie French or Italian? Traditionally Charcuterie is French. It is defined as products based on pork meat or offal. The word also designates the shop where such products are sold and also the group of tradesmen who sell it.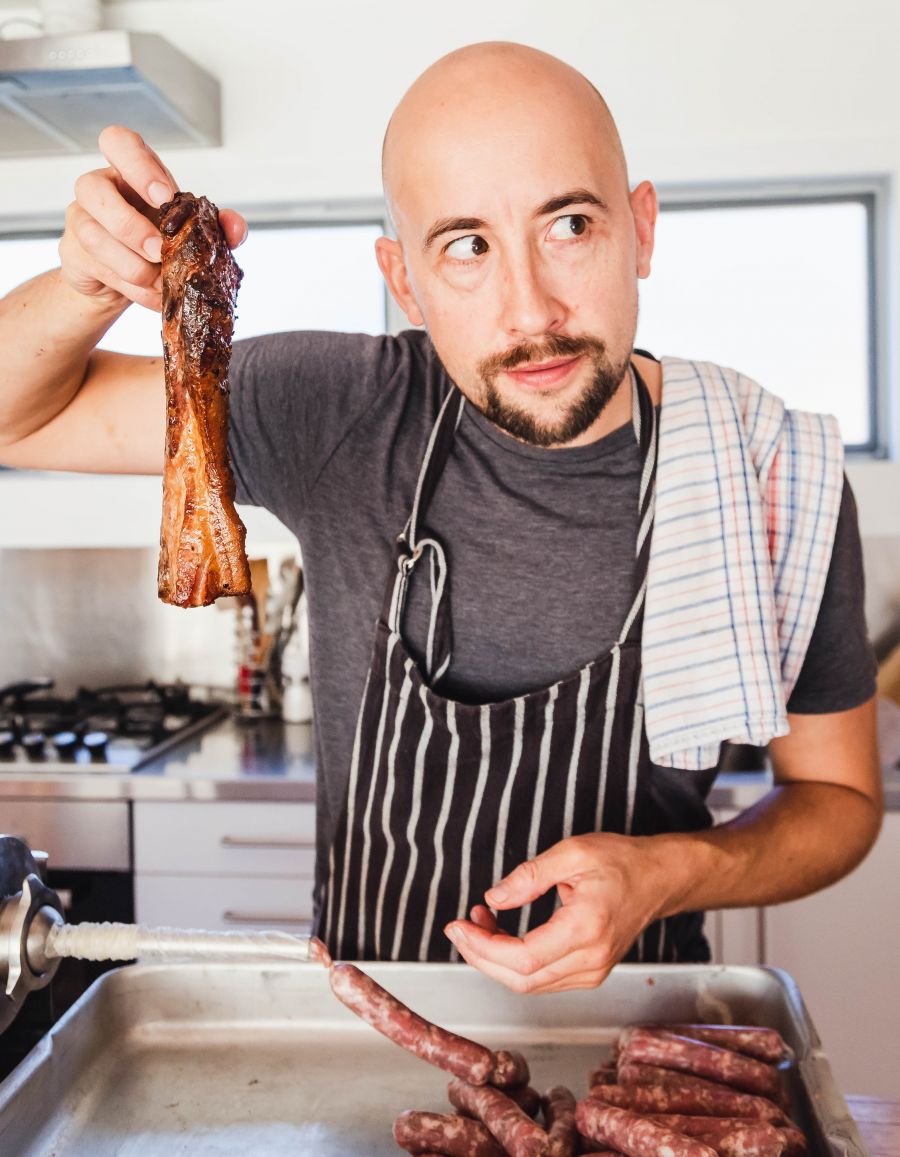 Thanks for dropping by, I've been passionate about meat curing for decades.
I Hunt, Fish, Forage, Buy, Butcher (Wannabe Norcini), Make, Savor (I'm not a Saviour), and love curing and smoking meat.
Learning and consuming in a circular fashion, I am always interested in what is happening around the curing and smoking world
Seeking the passionate behind the passion.