So I'm going to talk about heaps of the best wooden boards for charcuterie and a lot of things I have learned about making charcuterie and using a multitude of styles to bring out the best in food.
There are a bunch to avoid and many variations as I'm sure you know. Don't worry here is a guide about what works, is universal, and will last a long time.
It's amazing once you start looking around, how many charcuterie boards there are online.
Many are not from a sustainable source or will take on some funky flavors due to their absorbing porous nature (softer woods especially, more on this later).
So let's start with a summary of what's ideal and expand on it a bit.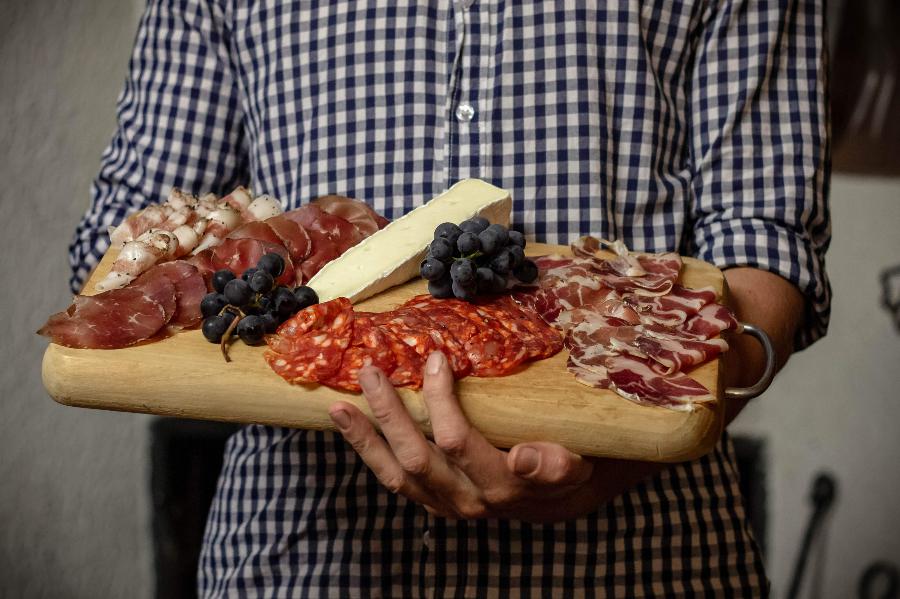 Best Wooden Board for Charcuterie
Non-porous hardwood wood is the best for charcuterie boards. Woods such as teak, hard maple, American Cherry, Olive, and acacia are ideal. Other materials that make the best charcuterie boards include kitchen slate, marble & bamboo.
It's funny because technically, bamboo is a hard grass – and it's up for debate how environmentally friendly it is.
Generally speaking, it grows a lot faster and offers an incredibly hard material and it does make a great charcuterie board, as long as it's from a sustainable source that hasn't been planted by chopping down the rainforest.
When I make homemade cured meats and charcuterie I think a lot about how I can present it, since you know most people eat with their eyes, as they say.
I've thought long and hard about what I would suggest to you guys and also touch on what I've found out about making your own charcuterie board.
I will mention at the end of this post a bit more about DIY boards. First off – let's list the ones that are fit for purpose and the ones to avoid.
(Heard of live edge board? More on these as well – they are a real piece of art!)
Best Woods for a Charcuterie Board
Hard Maple
American Cherry
Olive wood
Acacia
Walnut
Teak
Bamboo
Ok, if you have had enough reading – here are some of the finest charcuterie boards for your spreads
With the grains of different woods like the ones below, you basically get a unique style on every board.
Here is the dream board – I gave this as a present to a close friend and really regret it, not really. 🙂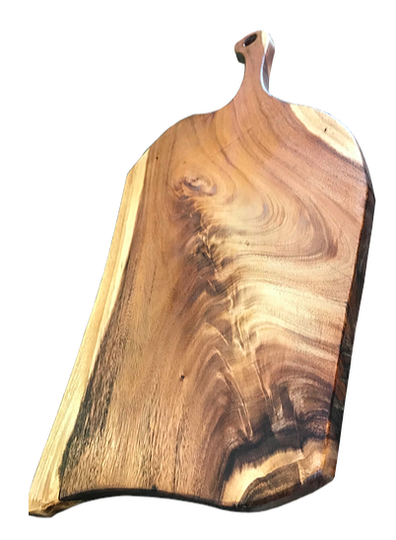 But when I saw it, it's got so much class!
If you are willing to invest this walnut board will serve you, your family, and your friends for many years to come. Have a look a cuttingboards.com here. It's reversible too!
The Class Act
You kind of need the 20″ x 10″ – but there are options for smaller. Mine is about 10-12″ (mine is below with homemade cured meat of course!).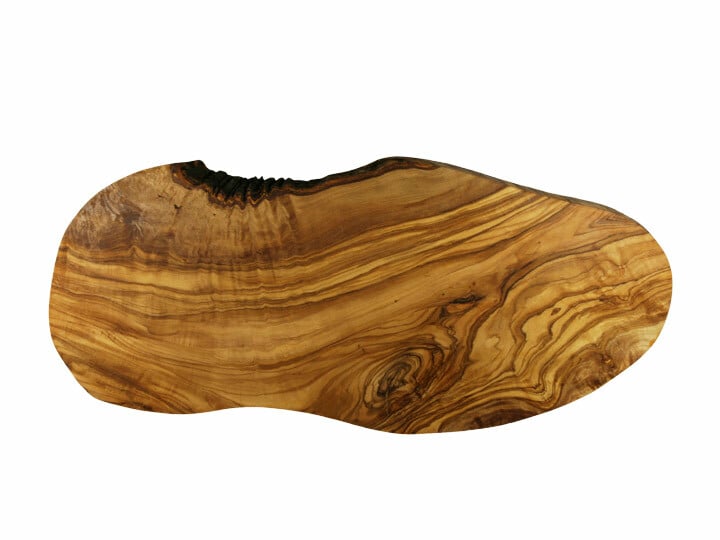 Olive wood is so distinct – this is such a fascinating wood and holds up beautifully with charcuterie red for meat /yellow for cheese. Grains on olive wood are insane – and of course, this is antibacterial and antimicrobial naturally from the wood.
Here is another beauty from cuttingboards.com the Montolivo Olive Wood Cutting Board.
The All-Rounder Olive Wood Slab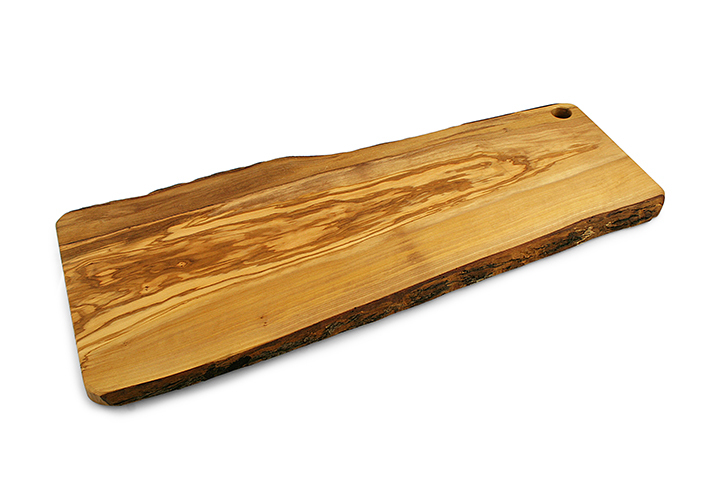 Minimalist this can serve many uses but is simple enough to present a delicious charcuterie platter on.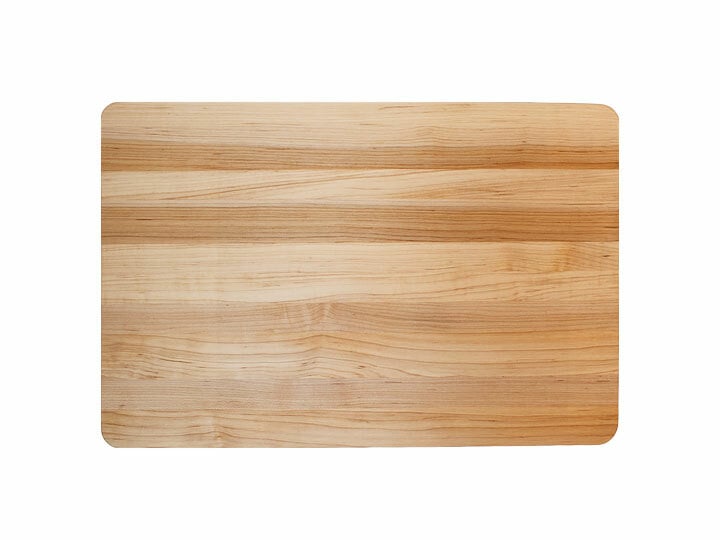 Another reason why I love cuttingboard.com they can custom engrave like this (add an image or writing), the above-board is perfect for this as a gift or for yourself: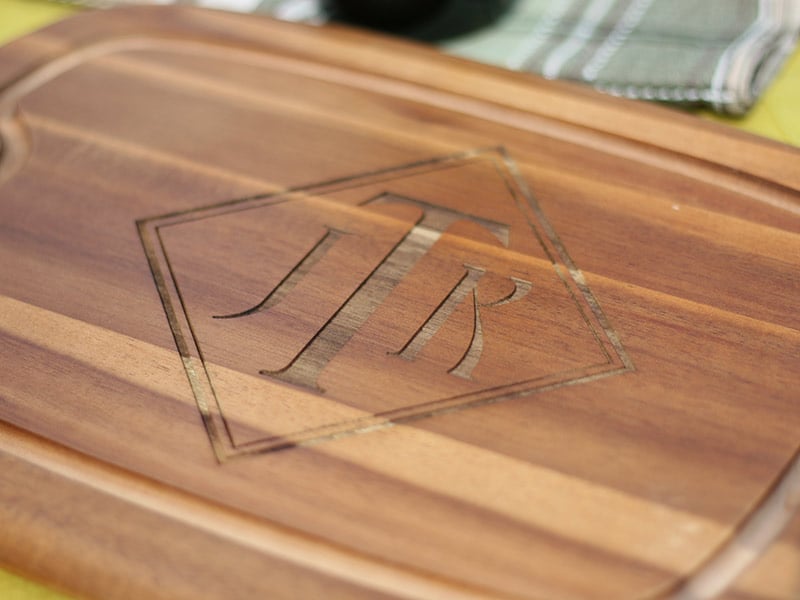 The live edge is amazing.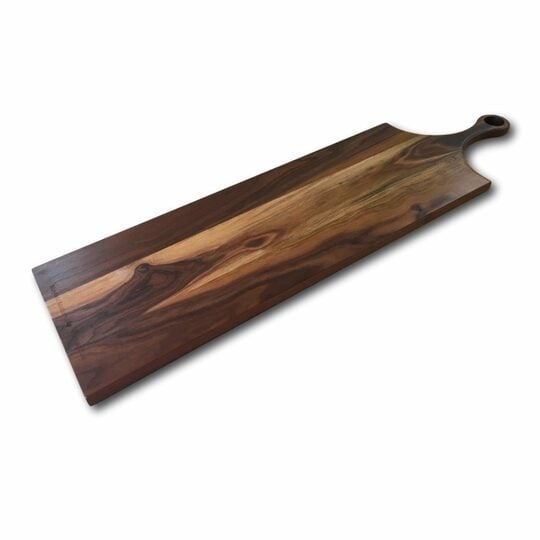 If I could call a charcuterie board sexy – the extra-long charcuterie walnut board would be it!
What Characteristics Do you Need for a Charcuterie Board?
Solid Wood
There are all sorts of other types of wooden cutting boards that belong in the kitchen. Really to be used with your chef knife a lot of these boards are for cutting, like end grain boards, and self- heal.
Now don't get me wrong, I present charcuterie meat and cheese platters on these too. But I definitely prefer something that looks a bit more uniform and enhances the style and look of the charcuterie that is placed on. If you going to make an effort, it may as well be all in.
You will find these solid wood boards with tight closed pores and grains that are best suited to this form of presentation.
The checkered pattern look of in grain for me doesn't quite match up with my charcuterie styling and it a chopping board anyway.
Hardness (Porosity)
Ash and Oak are examples of soft pore wide grain that would not really suit a charcuterie board either. They can take on bacteria and even though they still are available online as charcuterie boards. They really don't suit the purpose of putting fermented cheeses or meats.
Little story time
I have some super cute olive wood boards from southern Italy. When we were doing a major driving trip through Tuscany and Umbria. We were quite amazed at how reasonable the cost of all of the wood boards was, even in the touristy castle towns. But they are kinda small and suited for 2-4 people max.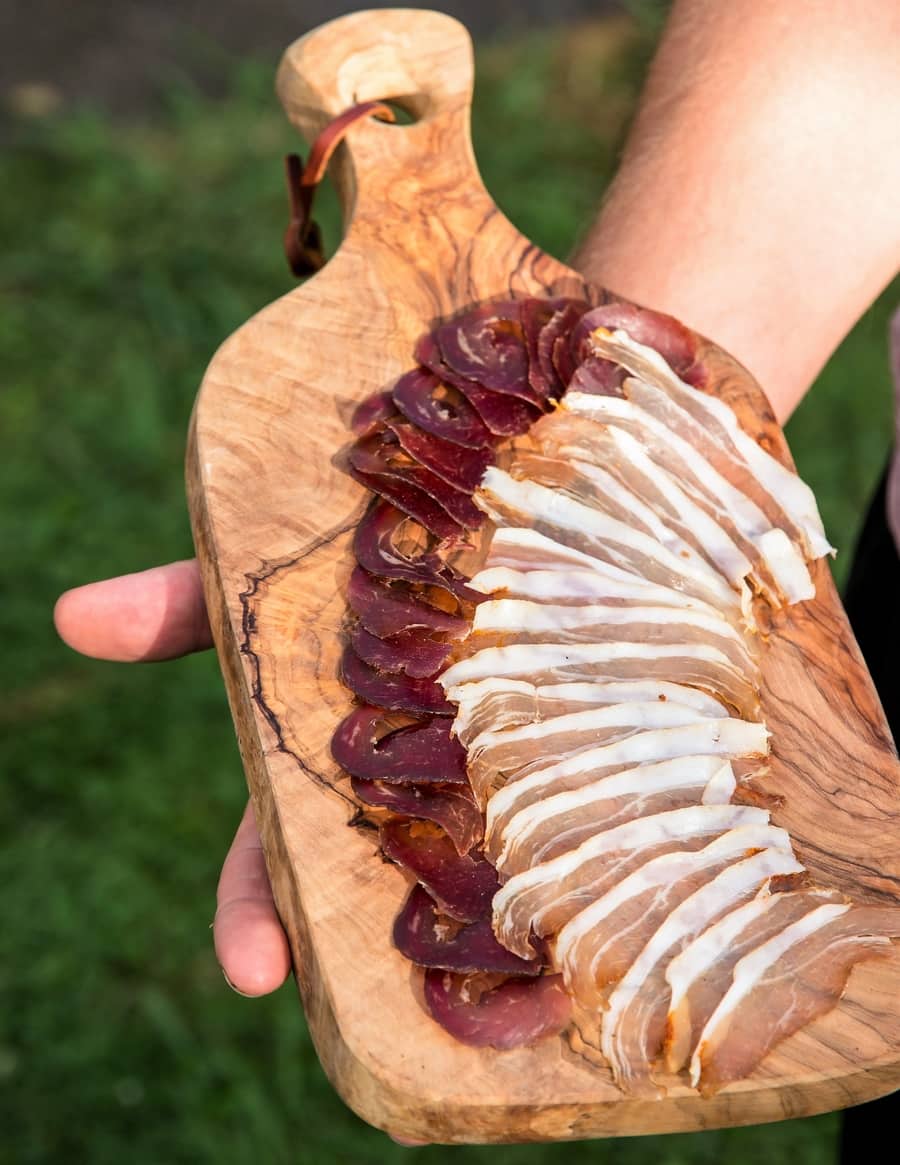 But since we've driven to the bottom and the top of Italy over 3 months you start to realize that a fair majority of the countryside is covered with old olive trees which end up being tourist cheese boards.
The above-cured meat I did in my regular kitchen fridge if you want to see how (size and technique are key, but it ain't that hard) – I wrote a whole post about it here.
Porous vs Non-Porous – What's That
It's kind of like where the material will absorb water or odor, as you can imagine this is something you don't want for your charcuterie board.
Non-porous doesn't absorb, porous does.
Woods to Avoid
Just get you on the right track, some boards need to be avoided giving certain flavors like oak, and most softwoods
Mahagony
Cedar
Cypress
Walnut (certain types – Black is ok)
Fir
Larch
Pine
Especially Avoid Oak – it's all about porous or non-porous (Oak does suck in the stuff you don't want).
Varnishing and Lacquering
Apart from chunks coming off, they can also impart not very pleasant flavors
Some of these 'avoid' woods can make amazing boards, but it's a pain in the butt to maintain – trust me. Most of them are not considered 'food safe' unless special coatings are applied – avoiding I think is best.
Hardwood and Softwood Charcuterie Boards
Small vs Large
As we all know bigger is not always better, and quite frankly a charcuterie board that is absolutely covered and full of every type of nuts, seeds, spread, fruit, vegetable, cured meat, and cheese I find a bit overwhelming. But you see so many photos of these around for some reason.
As I experienced in many regions of Italy less is more when it comes to cured meats and cheeses. I guess you have to remember that products were made traditional to be truly savored.
Here is an example of a charcuterie antipasto board some Italian friends and I compiled in Northern Tuscany around Lucca (but high in Porcini Mushroom country). As you can see the board was basic but it worked nicely for the local cured salumi & cheese.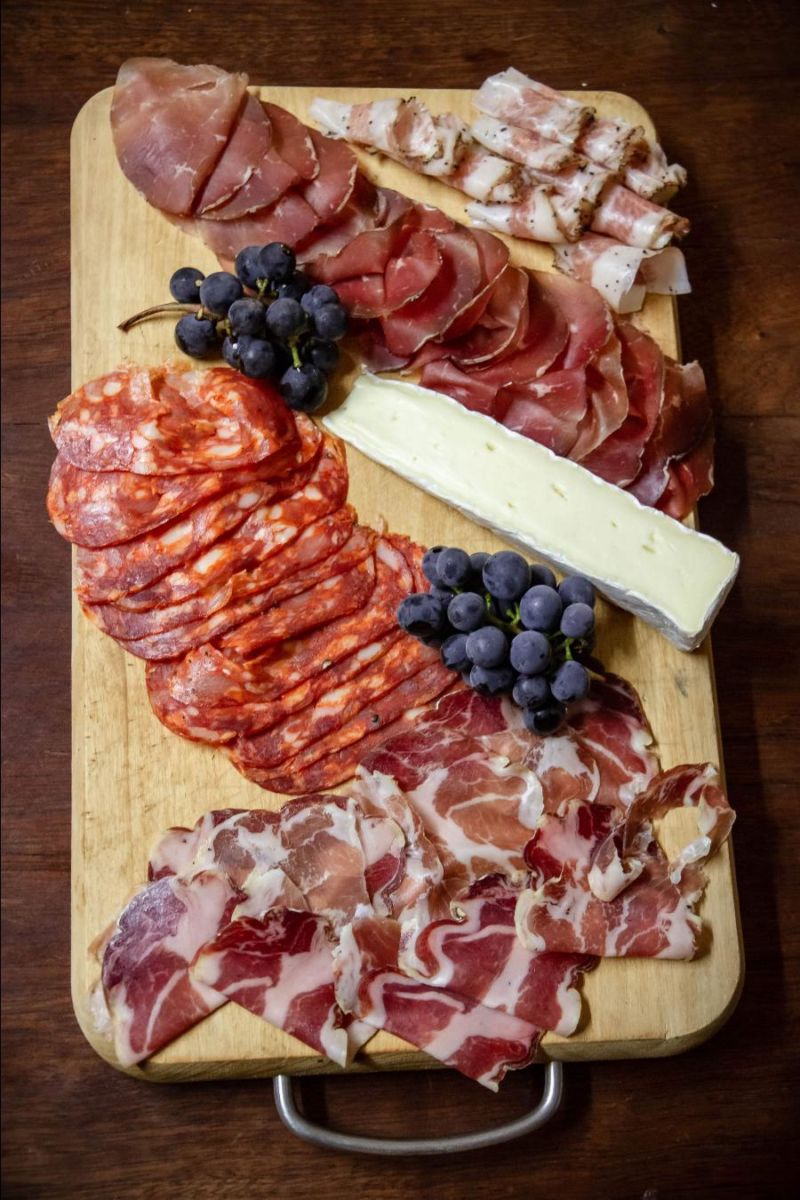 Dishwashers & Wooden Charcuterie Board Cleaning
And when it comes to dishwashers and wooden boards basically it's a big huge no.
Warping, drying, and damaging the wood is quite often an issue when it comes to the detergents and high temperatures that are usually inside a dishwasher.
But that doesn't mean you can't dishwasher your charcuterie board, but you have to choose a non-wood option – my suggestion would be kitchen slate (many sizes, and this one comes with soap chalk for a bit of wow factor). And they do seem to be getting more and more popular for presentation at restaurants I've been to all over the world.
The thing about slate is that it is one of the few dishwasher-safe boards that has a beautiful dark color that seems to highlight the cured meats and cheeses. When you think about it it's kind of like having a dark black background and putting some color on top of it.
Another cool trick is to use a little bit of chalk and you can even create labels on the board so you can member all those fancy cheese names.
Stone, Granite, Marble Charcuterie Boards
Cheese Boards for sure – marble is amazing, makes a top cheese board due to thermal heat retention ie. and keeps the cheese cooler!
Don't Blunt a Knife with Stone – Use a Cheese Knife/Plane
Specifically, this relates to marble but really granite and stone also will do a really good job of blunting any knife. So don't even think about using a sharp knife as a cheese cutter on your charcuterie board if you get one of these.
But there are some purpose-built cheese charcuterie knives, if you want the top of the pops – this cheese knife set is awesome (magnetic acacia board and 4 purpose-built knives). But if you want something a little bit more mid-range, does the same job and is still a showpiece – this set is solid.
I quite recently discovered these things called 'cheese planes' and for cheese slicing, they do an excellent job of slicing uniform thickness each time. So you can either have one for the cheeses on the board or just use the cheese plane to do all that easy cheese cutting beforehand.
I reckon the cheese plane's most important factors are thickness and sharpness. The one I really like that is a bit more of an investment, is the Boska Holland Monaco Cheese Plane. But if you're on a bit of a budget another good looker that does a great job and has all the best reviews is the Boska Copenhagen cheese plane.
Marble
The acid in tomatoes can be an issue with Marble – It really is for your classic meat and cheese platter.
I'm pretty conscious of what I spend money on (those simple choices make our family's futures – yes that's pretty deep but true), so I was glad to check out that slate is environmentally friendly.
Here is my fav marble charcuterie board, it's also a pastry board for its non-stick aspects.
Lastly – How to Make a Wooden Charcuterie Board for Home
Certain planks of wood, luckily my friend has an Alaskan saw we used to make 3 x 9′ – 3 inch thick sheets of wood. There was actually a problem tree that was becoming dangerous on his property. And he ended up reusing the wood that we procured from chopping the tree down to make his children a very nice epic treehouse!
Anyway, here is a rundown on live edge DIY making a charcuterie board I found useful.
The Art of Doing Stuff Gives an Excellent Breakdown below.
https://www.theartofdoingstuff.com/cheese-board/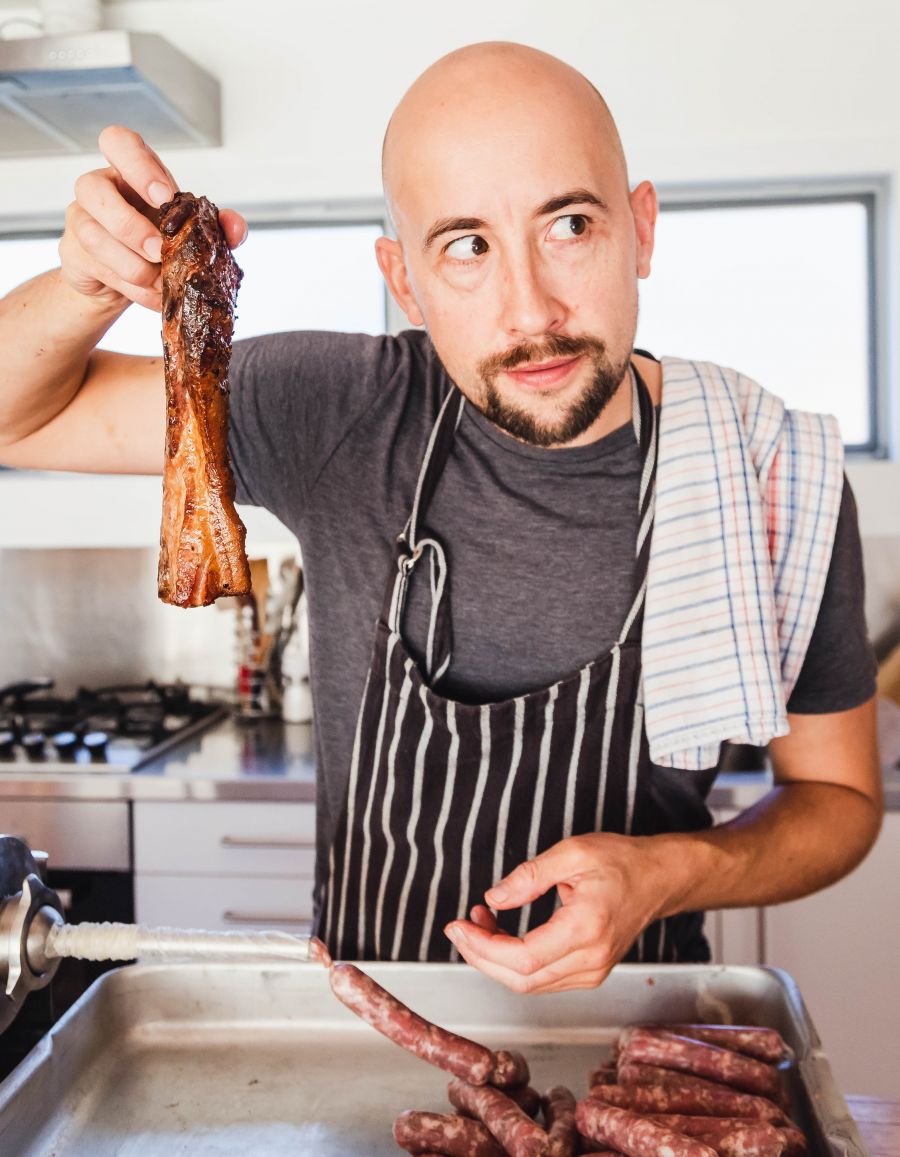 Thanks for dropping by, I've been passionate about meat curing for decades.
I Hunt, Fish, Forage, Buy, Butcher (Wannabe Norcini), Make, Savor (I'm not a Saviour), and love curing and smoking meat.
Learning and consuming in a circular fashion, I am always interested in what is happening around the curing and smoking world
Seeking the passionate behind the passion.