Cold smoking food is a passion, the preserving effects on the food I have experienced first hand for quite a few different foods. It's been amazing cold smoking various meats and also different types of dairy & vegetables.
It's one of those questions that so many people ask when I tell them about cured meat, "is it cold smoked?". Dry Curing vs Cold Smoking is the same but different!
Cold smoking is one of the oldest forms of preserving food and helped civilization prosper when they didn't have fridges, some literature I have read mention, the preservation of meat was quite the technological leap for our planet.
When I first started learning cold smoking from a Dutch butcher, it was an incredibly simple system (which most cold smoking setups are). A massive metal double door 'smokehouse', with a pile of sawdust on the ground, slowly smoldering. I thought, is that it? But there are key factors I have studied over the years that I will go over below.
So if you just came for the short answer, here it is.
Does Cold Smoking Preserve Food?
When the meat is cold smoked it becomes preserved and will last months longer without freezing. Cold Smoking is a form of drying the meat to a point where the bacteria does not have enough moisture to thrive. Cold Smoked non-meat foods are not preserved, this is for flavor enhancement.
When you cold smoke in higher humidity at a lower temperature, you are in fact 'drying' the food, I guess you can look at this like slow 'dehydrating' the food. But using the properties inside the smoke vapor to protect the meat.
The smoke also helps avoid the meat going rancid, certain compounds in the smoke help the preserving effect.
Of course, when it comes to cold smoked foods there is a heap of options. Through living and traveling across Europe, you can see a very strong cold smoked food culture in many parts.
What I have found is that you can have a super simple setup. For examples, a metal tube smoldering inside the hood of my gas grill BBQ.
What is Cold Smoking?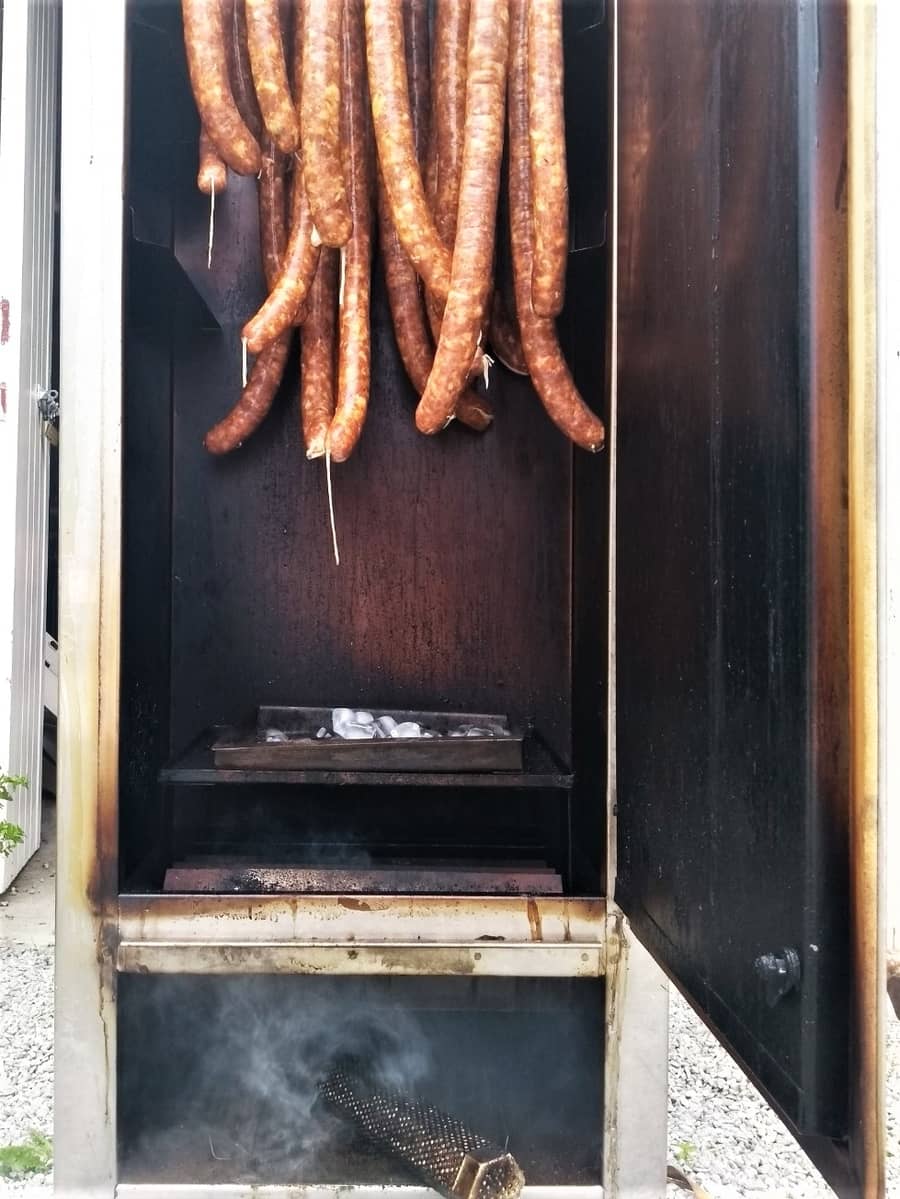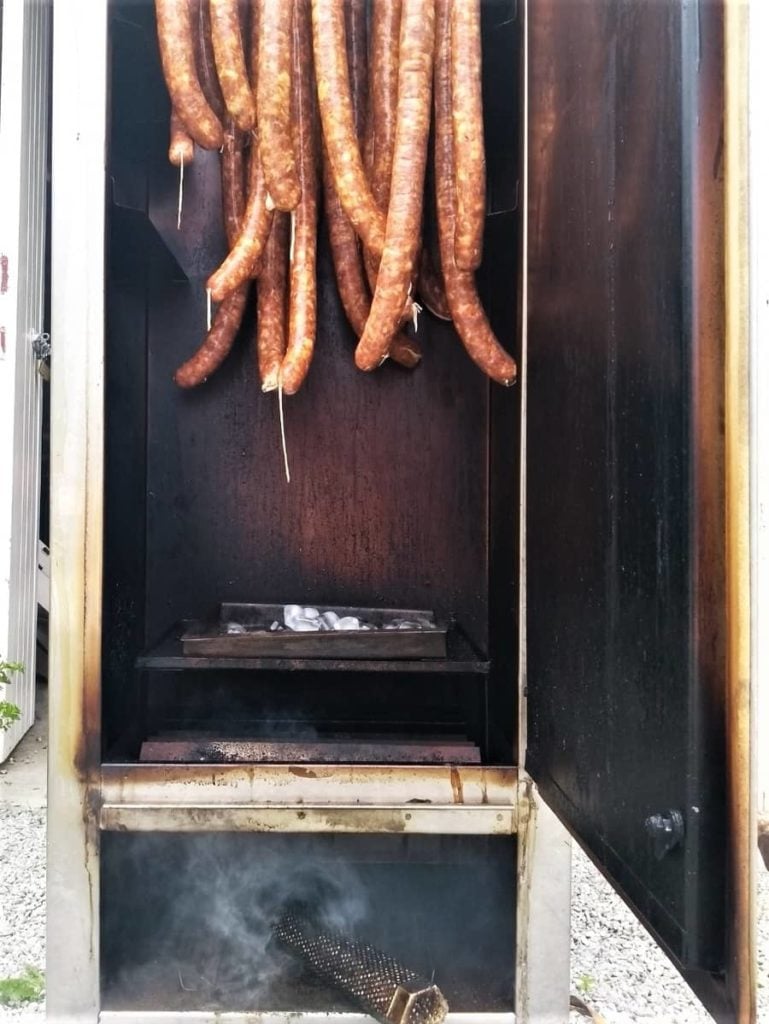 Using salt to remove moisture, which creates a hostile environment for bacteria that can spoil the meat
'Drying' the meat through exposing the meat to smoke in a ventilated smoking area that is under 86°F/30°C (I prefer most meats around 50-68°F/10-20°C.
Through the reduction of moisture and preservation properties of the smoke, your meat reaches a point where the types of bacteria that spoil the meat are minimized.
Temperature & the humidity are both factors that need to be figured out to have successful cold smoked meat.
Non-meat – easier since it's about putting smoke flavor into the food, most recipes I have read and tried, say less then 1 hr when you are smoking vegetables or dairy.
During the process, the temperature needs to be cool, between 50-86°F/10-30°C. So I generally will choose cooler nights to let the meat smoke for 4-7 hours, it is going out. It just ends up drying out a little during the night.
A huge light bulb moment was when I read a book called 'Cured' by Lindy Wildsmith. She checked out some commercial smokehouses and the concept of humidity is rather important.
The smoke carries certain properties that help preserve and remove the ability for the meat to spoil.
It's similar to the concepts of dry curing meat ie. prosciutto & pancetta. Which I have been practicing for decades, the goal is to lose moisture weight through drying at least to 35%. It can be done in open air conditions, but generally, those who practice this as a hobby has built a DIY Curing Chamber for control the temperature & humidity during the process.
I have had some success doing this in a regular fridge, just using smaller cuts of meat, if you're interested I wrote a post here about it.
Different Cold Smoked Foods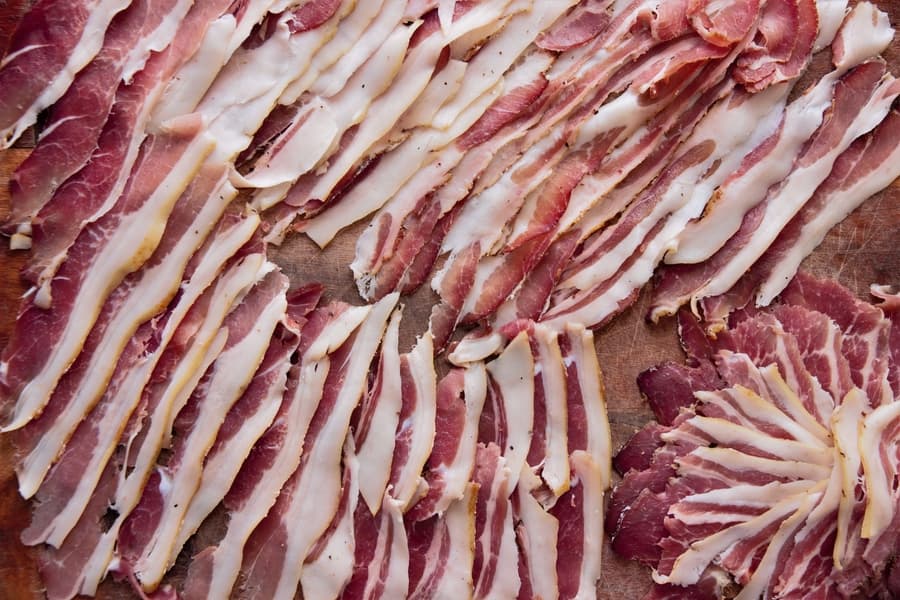 Different meats react differently to cold smoke, but once they have been cold smoked. You put them in the fridge and they should last months ideally without air/oxygen around them. It is also how much meat is exposed or it has been cut into.
But for stuff like precut smoked salmon, once you have opened the package it can have a shorter shelf life. If it was a whole cold smoked salmon, you could just hang it up in winter more then likely it would last for months!
Cold Smoked Fish
When I first heard that a caught fish lost weight as soon as it was out of the water, it was an interesting observation. Since curing for cold smoked meat is about the removal of moisture so spoilage bacteria cant grow. I think the moisture need that needs to be removed before it is preserved by drying through cold smoking can vary.
Common cold smoked fish like salmon, from what I have read about commercial production, has a 20-25% of weight loss when it is considered 'preserved'. But there is a difference between how dry it is – I would say just read the package.
If you are making your own, that is a whole different story of course.
Cold Smoked Red Meat
I harvest red meat and experiment with it, the quality of the meat may also have some factors toward the preserving aspects. In the book, Cured – Charles mentions that meat that hasn't been altered or 'commericalized' may carry more beneficial bacteria for preservation, hence 1,000 years ago there wasn't such a need for nitrates to assist in minimizing the bacteria that could spoil the food.
Cold Smoked Vegetables
This is purely for flavor, my favorites are eggplant and beetroot – but I have found you have to use lighter flavored woods, like fruit woods. Had to salt the eggplant to draw some of the moisture out, then into the kettle grill, with a cold smoke generator attached – easy.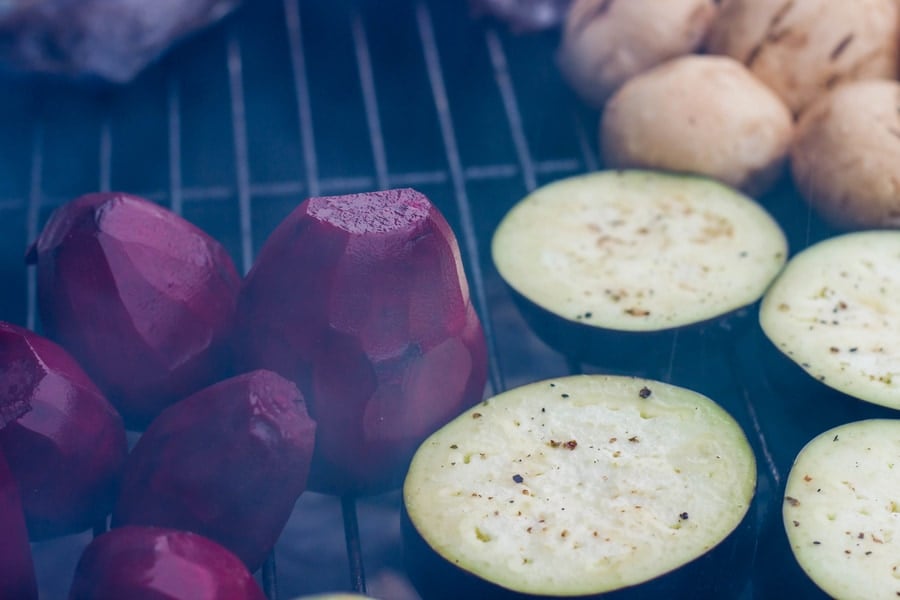 If you want a quick guide on different woods and how I have choose and used them, check out this post.
Cold Smoked Dairy
Had some interesting experiments with chocolate & cream – with some unique flavor angles. A recipe in the book … for smoked cream potatoe Gratin came out amazing. The cream was just cold smoked in a bowl for 1 hour using apple wood, at about 59°F/15°C.
Cold Smoked Dry Cured Salami
Like Hungarian style salami for instance, I made recently got about 3-4 days/sessions of cold smoking from around 15-25°C, they came out amazing! Used a translated recipe which really was strong flavored by quality Hungarian Paprika (sweet compared to most, we bought it in Hungary of course!) and garlic.
Cold Smoking at Home – Options
If you want to get into cold smoking at home, you just need a little bit of space outdoors and suitable environmental conditions (winter is best in many places)
Mid to Higher humidity (not so important for non-meat products)
Temperature – 50-68°F/10-20°C
But hey, you can turn a cheap sieve inside out, and just light one end of a circular pile of chips or wood pellets (haven't tried it but hear it works).
Pellet Tube smokers are a super simple portable was of cold smoking to add a whole new dimension to your favorite cheeses (highly recommend cheese for beginners). This can be placed inside reasonable size BBQ, and provide cold smoked capabilities! I tried it inside my small kettle grill, it was actually producing a little too much heat, so I used the 5 burner gas grill with a hood instead.
One big tip is once you have cold smoked whatever you wanted, putting it covered or a container overnight in the fridge will always intensify the flavor.
AND another big tip is less smoke is way better then too much smoke. So, go easy to start with and do a short session with dairy or cheese, say 30 minutes, then try it the next day and see what you think.
Curing meat is a craft and an art, it doesn't quite fall into the same category since you have a more diverse set of parameters that will influence the outcome.
I started with a smoke generator, which basically meant I could pump smoke into any area/chamber I wanted. It's awesome since, the air pump is variable, so I can choose the level of smoker.
If you can get the right temp conditions ie. under 86°F/30°C with relatively high humidity, then you can use super simple equipment to cold smoke.
For vegetables, cheeses or chocolate even, it takes no prep and you just let the smoke do the work. Humidity isn't as important either for an hour of cold smoking.
For meat, it's always important to setup it up properly, since cold smoked meats take days generally (1-14 days or like 1 to 14 smoke sessions including drying in cool areas when not smoking).
Here is a quick short breakdown of the process I have learned.
How to Cold Smoke Meat
Fully cure the meat using the saltbox, brining or equilibrium curing method
Create or adhere to the right temperature/humidity conditions (humidity more important for meat)
Create smoke and let the meat smoke
Dry in between smoking session
Meat is cold smoked once desired weight loss has been reached.
If you want to know more about cold smoking, check out a beginners post I wrote here.
Related Questions
How Does Cold Smoking Preserve Meat?
By reducing the amount of moisture in the meat through salt curing. The drying effect preserves the meat during the cold smoking process. The smoke has beneficial properties aid the preserving. Once moisture levels are reduced to a certain degree, the meat is preserved.
What is the Best Temperature for Cold Smoking?
For meat or other foods the best temperature for cold some is between 10-30°C / 50-86°F. Above 30°C meat begins to cook, humidity is also a factor that needs attention during cold smoking meat.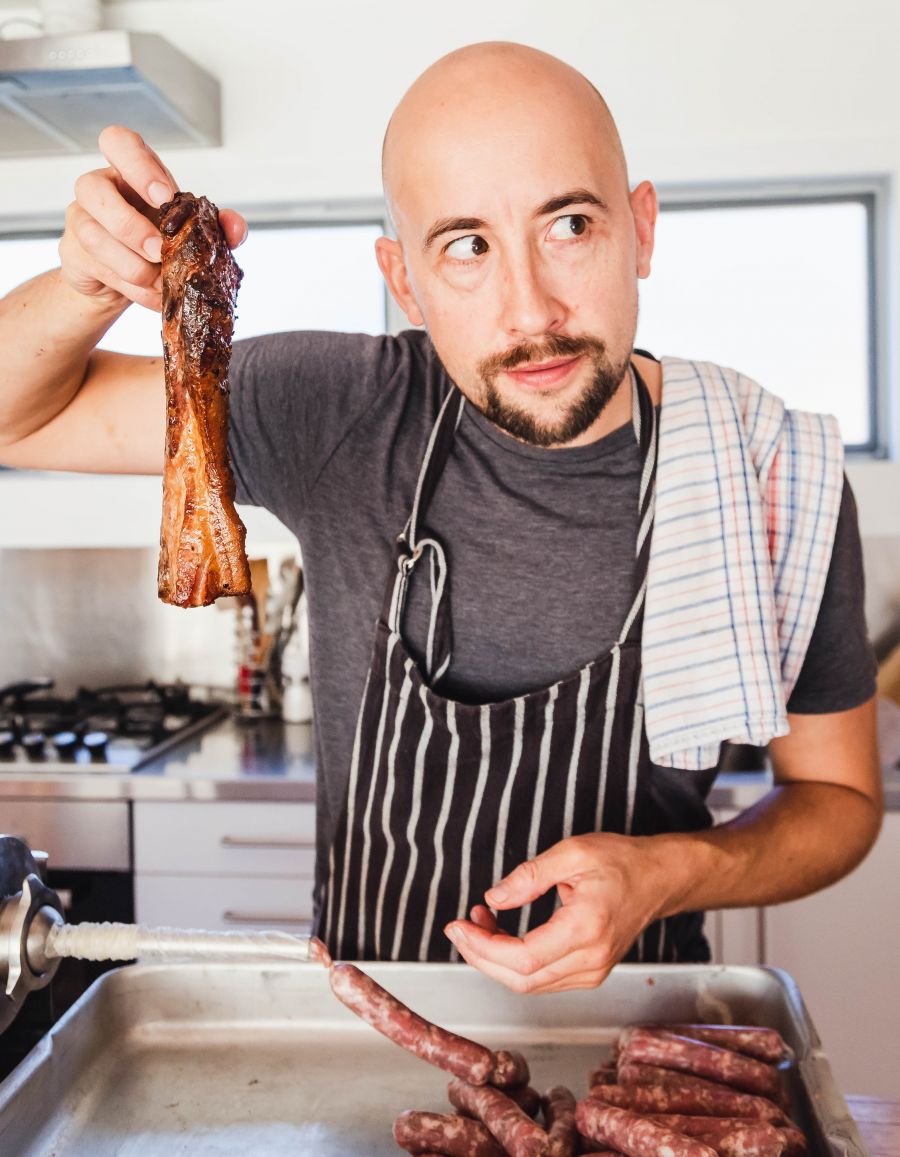 Thanks for dropping by, I've been passionate about meat curing for decades.
I Hunt, Fish, Forage, Buy, Butcher (Wannabe Norcini), Make, Savor (I'm not a Saviour), and love curing and smoking meat.
Learning and consuming in a circular fashion, I am always interested in what is happening around the curing and smoking world
Seeking the passionate behind the passion.