This equilibrium curing guide will cover off everything I've learned and know in the past 10 years of using it for making cured meats at home. The 'secret sauce'! It isn't that much of a secret these days – but I want to expand on it.
I really wished that this guide existed when I started, would have made things a lot easier.
I will also include a link here to my equilibrium cure calculator and tool, which is located at the top of each of these web pages. Here is a bit more about equilibrium curing before jumping into the calculator.
The beauty of equilibrium curing with either wet brine or dry cure is consistent salt flavor levels. As long as you have a minimum percentage of salt and follow the process it creates solid outcomes. As long as, you have cured the meat for long enough, then you will consistently have great results.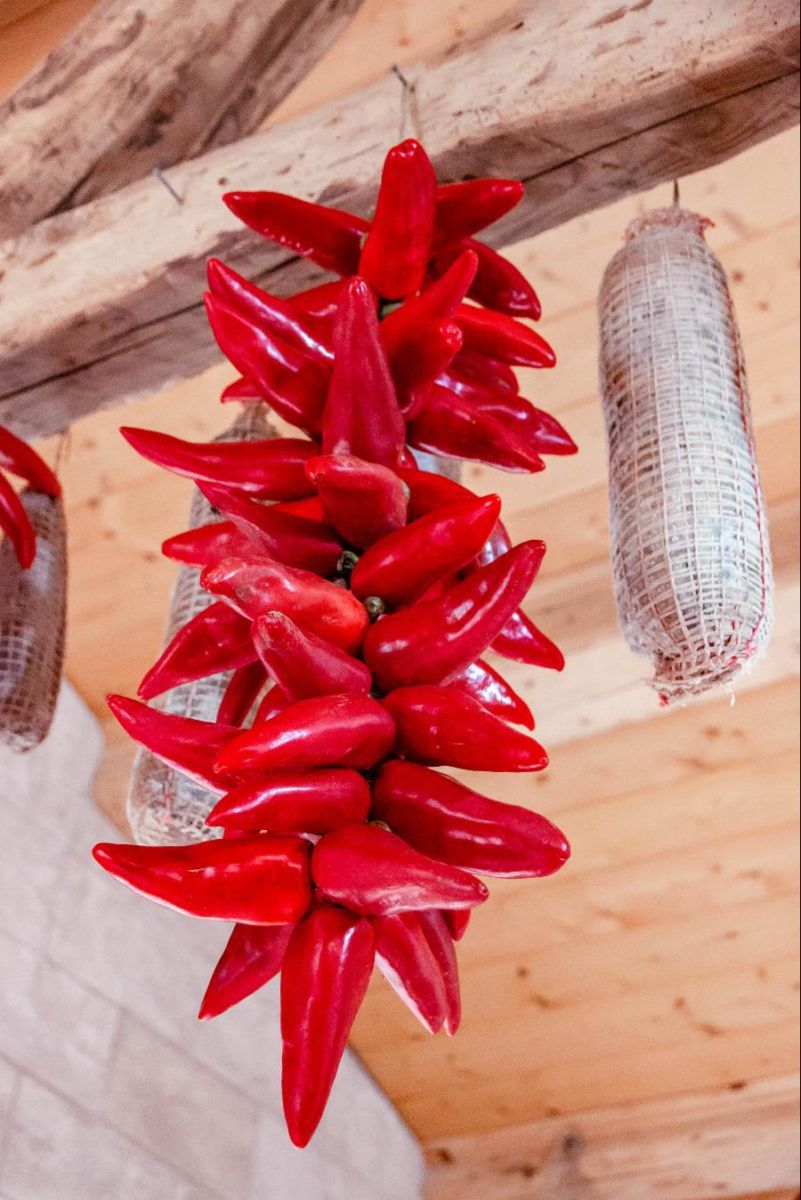 So I'm going to really dive into the what, how, why, process, equipment, and anything else I can think of when it comes to equilibrium curing.
What is Equilibrium Curing?
Equilibrium curing – using a percentage of salt to the weight of the meat. (And also using a percentage of the weight to work out the volume of water if you are wet brining).
ie.
2.5% sea salt = 1,000 grams meat
0.025 x 1000 = 25 grams of sea salt
Pretty simple! Using the metric system with grams and kilograms is much easier than using the Imperial system.
Just be careful around the decimals when calculating, that's also why the calc link is good to use.
How is Equilibrium Curing Meat Different from Salt Box Excess?
The old method of saltbox or saturation is to cover the meat completely with salt. Now for one, it uses a lot of salt with this method.
I still use this method, but for large meat muscles or making something like salt pork.
Things like salt beef, salt fish & salt pork fall into this category.
For me, the minimum I like to use for dry curing whole muscle meat like salumi would be 2.25% salt. This often includes the 0.25% of pink curing salt 1 or 2 – for dry curing.
I think that the saturation methods of salt curing make a lot of sense if you're using the whole leg for something like prosciutto or multiple 20lb slabs of pork belly for bacon, for instance – I'm talking huge muscles.
Why Use Equilibrium Curing for Meat?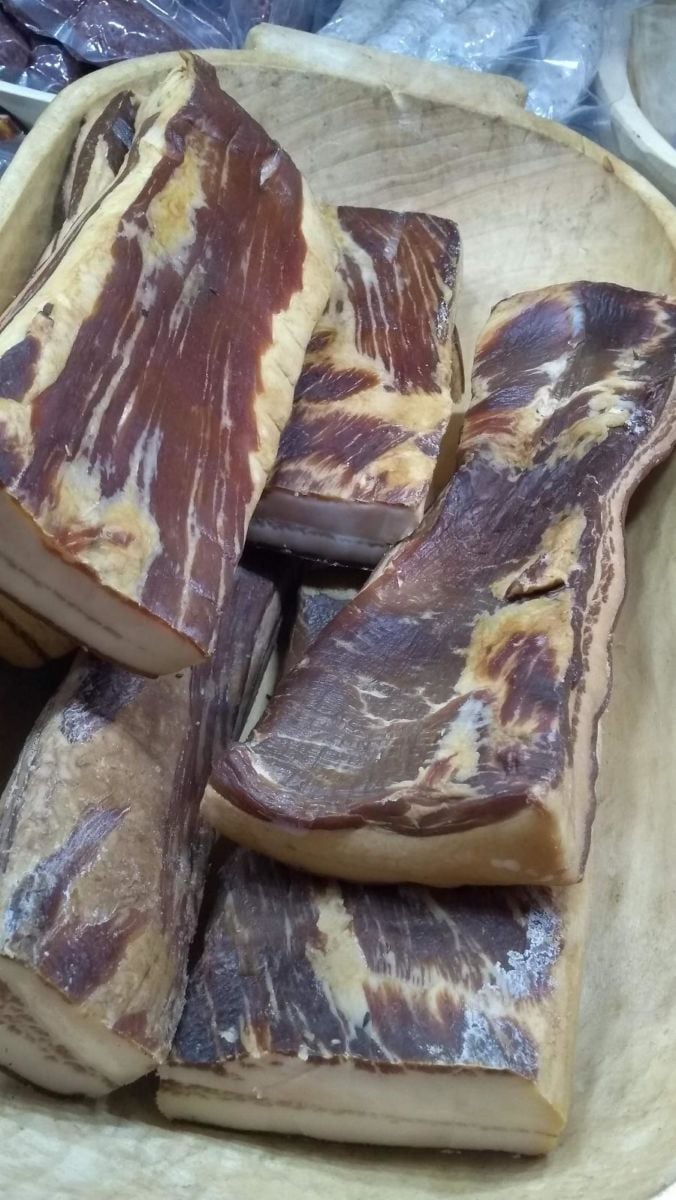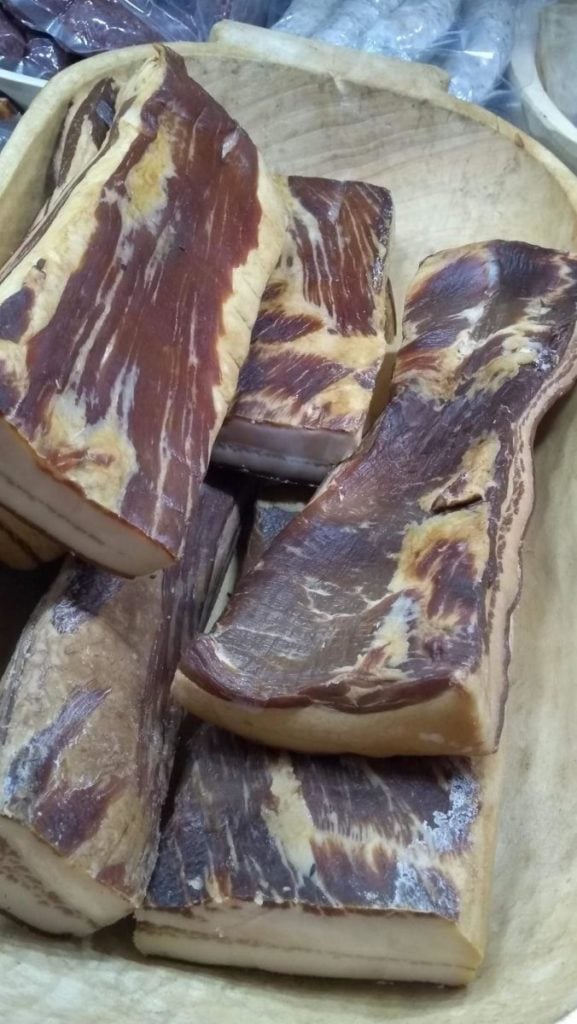 As mentioned above and you probably already know, it's more efficient in terms of how much salt you're using.
Equipment needed, having precise accurate scales so you can measure out the amount is crucial. I'm talking 1 or ideally 2 decimals places (ie. 0.x or 0.xx). It's kind of funny as well because so many recipes in just about all my cooking books have a volume amount.
Like 1 cup of this and 3 tablespoons of that.
With salt, for instance, all the different brands and types take up different amounts of volume and therefore can weigh different amounts. In general, it's a far more superior way to use volume for consistency in the kitchen for many a recipe. But cups and teaspoons are still the generally accepted norm.
Curing Time
How long you leave something in the cure of course varies, but it's more forgiving with equilibrium curing as well.
I did quite a small chunk of pork belly to make cold-smoked bacon last week using equilibrium curing.
One week is enough, probably for a pound or so of pork belly.
But I also like to put a bit of weight on top, this time it was some antique clothes iron I found lying around. This just helps to push the cure into the meat, often I just used cans of food as well.
It's kind of weird, with saltbox and saturation methods you draw or pull moisture out of the meat, sometimes disposing of the excess slurry water mixture as part of the process.
But with equilibrium curing, you end up extracting some of the liquid in the meat, but then it reabsorbs back in. It's a type of precision salt brine surrounding the meat – in my opinion (because a lot of misinformation is out there that says salt draws moisture out which leads to curing and drying and this is a yes/no kind of answer).
What Can Equilibrium Curing be Used for?
The main uses for equilibrium curing around my house, are for making dry cured meat either whole muscle or salamis.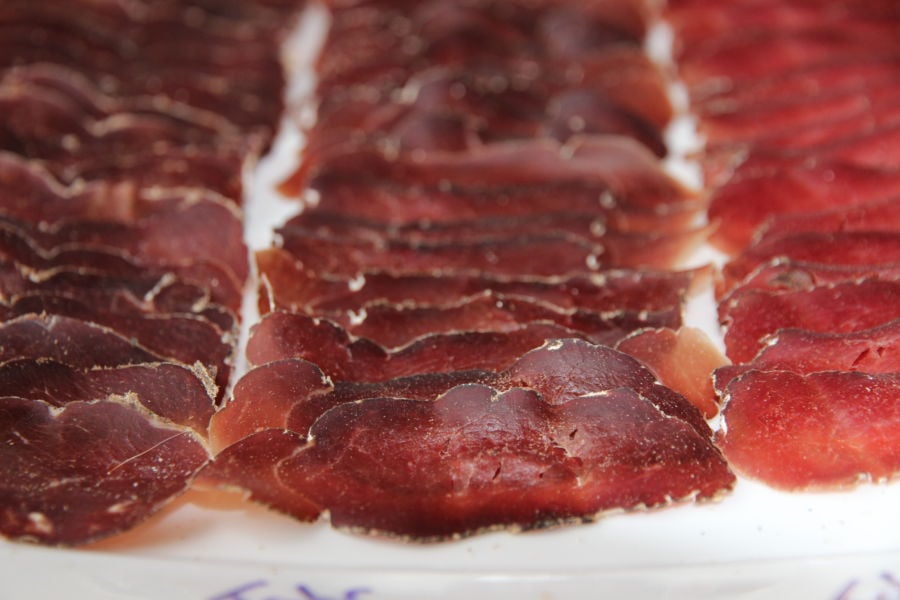 Bacon, pancetta, bresaola, lonza, or pork, venison salami, Hungarian paprika salami etc. For any dry-cured salami, it helps to work out the percentage of salt and other spices (for repeating the recipes).
Basically, it's all equilibrium cured unless it's huge.
Dry & Wet Equilibrium Curing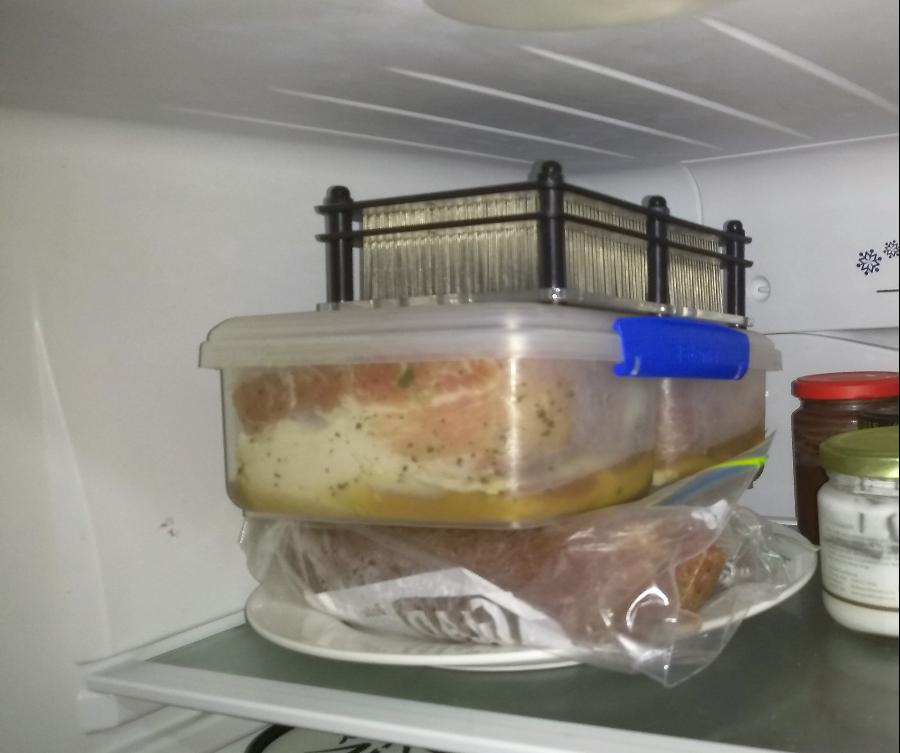 From the community and those groups I'm part of, dry curing using equilibrium curing seems much more popular than wet brine equilibrium curing. Whenever you add brining to the recipes, you are kind of diluting flavor as well.
But the equilibrium curing calculator my brother put together takes into account both.
So whether you want to wet brine cure or a dry cure is up to you of course.
Dry curing I find creates a deeper and more pronounced taste from spices and aromatics. Everything seems to be a little bit smoother and subtler when it comes to using wet brining.
My friend's property up a brackish /salty / river which gets quite a lot of sea fish. We put a small net out from the jetty and catch a bucket of fish overnight.
Then we make up a heavy 80° degree brine, which is quite a huge amount of salt to dilute. (Note this isn't equilibrium brine curing, but I thought I would highlight how I use non-equilibrium cure wet brine personally).
But it only takes 12 to 13 mins before the salt penetration brining and curing is done in small/medium-sized fish less than 1″ thick.
This was an old traditional commercial method. I read a 1970s book on curing & smoking. In this scenario, you can see it makes sense.
Process of Equilibrium Curing Meat
Weigh the meat
Calculate the salt (and nitrates if applicable)
Calculate the water for the brine (if applicable)
Use accurate scales to measure all ingredients
Use bowl or container to massage and rub cure mix completely into meat (no leftover cure ideally)
Place meat in a bag and remove air/oxygen (using reusable silicone bags is better than single-use plastic – but you need to invest)
Place in the fridge or in a similar temperature for an allotted time depending on weight/size.
Using the Right Sea Salt for Curing
Sea salt comes in many different forms and sizes, when you look at it – there are so many brands on the market.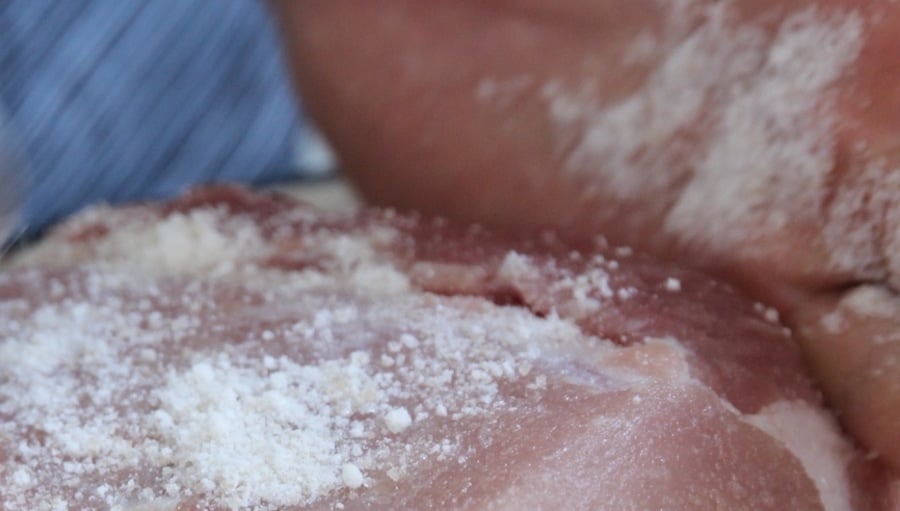 But when it comes to curing meat, you always want to have salt that doesn't have any additives. So ideally no iodized salt or any other thing like an anti-caking agent, which is pretty common should definitely be avoided.
Rock salt verse fine sea salt measured by the cup will be a completely different weight, therefore, saltiness will vary greatly.
I use a spice grinder, like one of these (electric or manual) – it makes quick work of any salt or spice mix – and a kind of powder I find preferable for equilibrium curing my meat.
Essential Equipment for Equilibrium Curing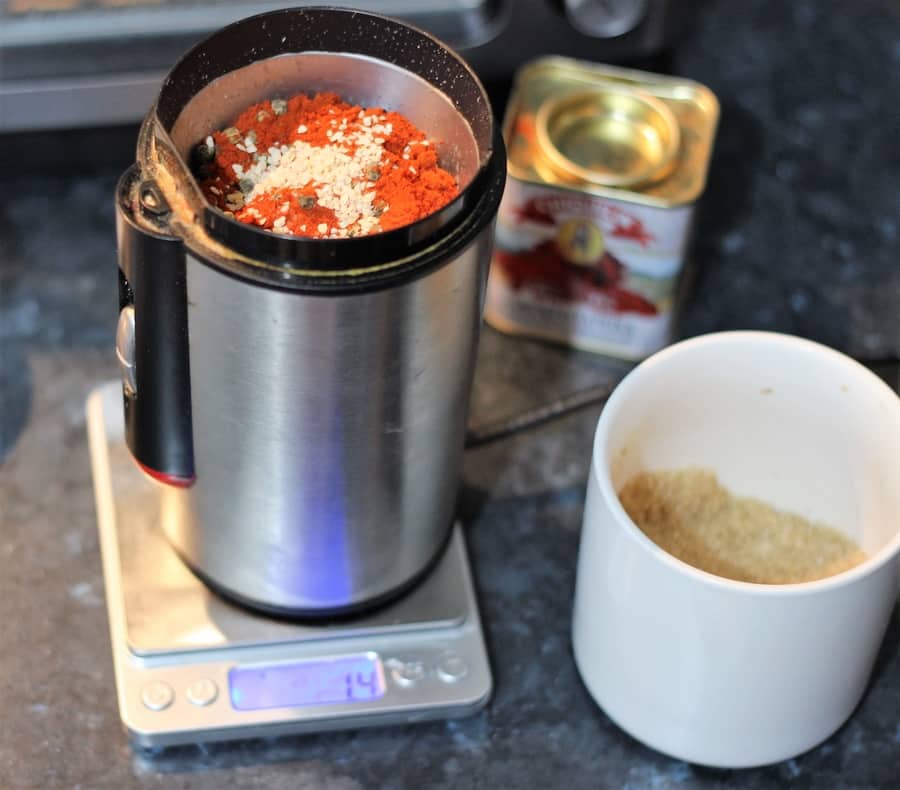 Digital Measuring Scales
I will keep harping on about it, but this is really important for equilibrium curing and pretty much essential.
You can go for something really precise and invest a bit of money or you can get something that goes to 1 or 2 decimal places but still is actually around $30 – here is a page on some recommendations.
Getting the degree of accuracy is the most important thing.
My partner bakes all sorts, especially sourdough, and the scale she uses have generally an accuracy of + or – 2 g which is completely unacceptable for equilibrium meat curing.
Spice Grinder or Mortar & Pestle
TIP – if you have a small grinder, you can place this on your scales and just TARE Zero In, as you add the ingredients.
You can get away with a mortar and pestle for crushing/mixing the cure, just a little arm workout needed. It takes much longer to get a finer salt and spice mix.
For many meat curing projects, a finer powder which can be done in seconds with an electric spice (coffee) grinder makes quick work of the job.
Best to dedicate a spice grinder to meat curing, coffee beans can linger in the grinder! Here are a few recommendations I wrote about for spice grinders & scales to do the job.
I find the finer spice mix allows you to spread it across more areas of the meat. Sometimes it feels like you don't have enough cure volume when equilibrium cure. You just have to trust the calculations you have performed.
Covering all areas across the meat into every crevice you can find.
Container or Bowl
This seems pretty basic, but getting the right size container or bowl for your piece of meat really helps.
My favorite is to use a stainless steel mixing bowl which is rather rounded which means I can use the meat to wipe up every last bit of equilibrium cure from the bowl.
One like this works really well for most of the meat-curing projects I do.
Which leaves the bowl reasonably empty.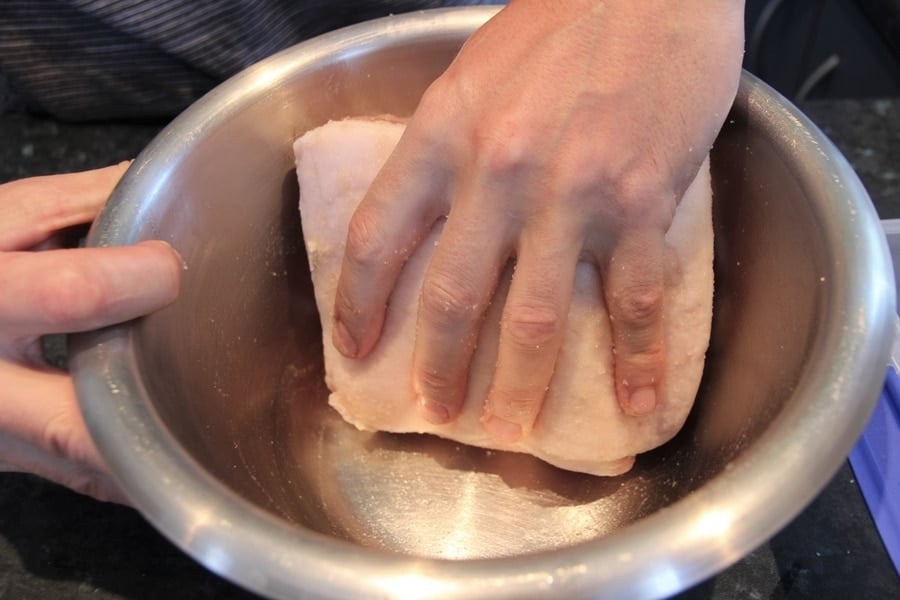 Airtight Bag (Reusable Silicon maybe)
Most guys that are equilibrium curing, use a ziploc bag and roll out as much air and oxygen as they can. Another common method is vacuum packing the meat.
I have a few issues with single-use plastic and try to avoid it if possible. There is actually a method of using a reusable silicon bag inside another larger reusable silicon bag and sucking the air out of the primary bag.
This 2 min vid of a guy shows you how…
So for this you need:
(Outside Sous Vide Hack Bag)
Vac Pac Set & Hand Pump (largest bag I could find – 13.4″ x 11.8″)
and
(Inside Curing Bag)
Stasher Bag – Half-Gallon or other size (size 10. 25" x 8. 25" x 1. 5)
Dishwasher and Microwave safe as well
You can do so much more with the silicon bags too!
Silicon "cooking" bags, put them in the oven, boiling water, freezer or sous vide styles. Initially, they cost more to invest in, but having something that's reusable better for the environment makes me feel a lot better about what I'm using.
Equilibrium Curing in a Regular Fridge
There will be quite a few guys out there who don't use a meat curing chamber and may have a suitable environment with a high level of humidity and the right temperature somewhere around the house. If you don't know much about temperature and humidity – check the post out here.
Another option and I've had some good success at, is based really on the size of the meat with equilibrium curing in a regular kitchen fridge, If you want to full guide a rundown of this please find a post here.
Preservatives for Equilibrium Curing
I strongly advise you do your own research when it comes to using nitrates, I'm not looking to get into a discussion of detail -it's a decision and research each should do themselves.
For me personally, I know the traceability and source of meat I use whether it's wild or farmed. If I'm doing whole-muscle things like bresaola or pancetta, personally I'm happy to use salt and spices without pink curing salt.
When I make dry-cured salamis I use the appropriate 0.25% pink curing salt due to the slightly higher chance of issues with ground/minced meat.
Spices & Flavoring Equilibrium Curing
This is really probably the most exciting part of meat curing, The sweet smell of bay (leaf) laurel or the pungent flavors of juniper berries maybe the various paprika's of the world – they can create entirely new flavor angles.
At some point in the future, I will be sending out an email list of my top favorite meat-curing recipes.
Length of Time to Equilibrium Cure
Factors do influence such as:
The amount of fat present
Temperature
Salt Concentration
My general rule is 1 week per 1 inch of meat for Equilibrium Curing
But in saying that if you have truly taken all the air/oxygen out of the curing bag. Then you could leave a piece of meat for a month or two in a vac pac.
Equilibrium Curing – The curing will wait for you, not the other way around like with traditional saturation or excess salt methods, which always creates some unknowns for me.
Now for Salt Box or Saturation Curing (with or without wait)
For the simple answer, it is:
2 Days Per Pound for a small cut of meat
3 Days Per Pound for a large cut of meat
Hope this has given you a little more background.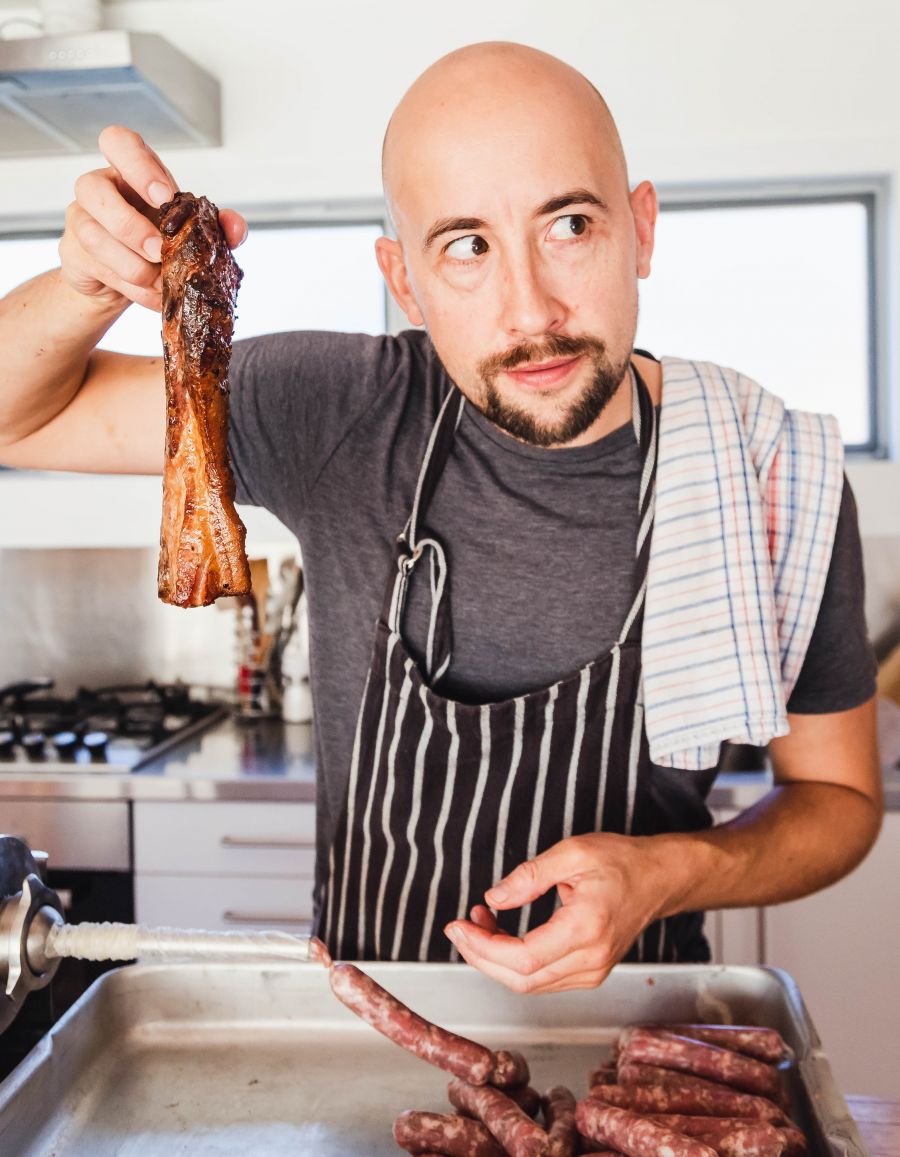 Thanks for dropping by, I've been passionate about meat curing for decades.
I Hunt, Fish, Forage, Buy, Butcher (Wannabe Norcini), Make, Savor (I'm not a Saviour), and love curing and smoking meat.
Learning and consuming in a circular fashion, I am always interested in what is happening around the curing and smoking world
Seeking the passionate behind the passion.