The equipment for curing and smoking meats can be quite simple, and you may already have what you need. It is a vast category that has evolved into a skill and craft with numerous options that can be done at home.
We will break down all the necessary steps, whether you want to dry cure, hot smoke, cold smoke, or make a healthy protein snack that will last for a while, such as jerky (which can be stored in a cardboard box if desired).
It's all cured meat!
To start with I will talk about what you need to begin with, which isn't much. Then, I will tell you about some more advanced equipment.
Meat curing also covers a very wide topic, whether it is dry curing, hot or cold smoked foods. There are some exceptions, for instance low & slow beef brisket is not cured before the moderate low smoking is done.
You may just want to take a portable smoker camping in case you catch a fish. It's all part of the curing topic.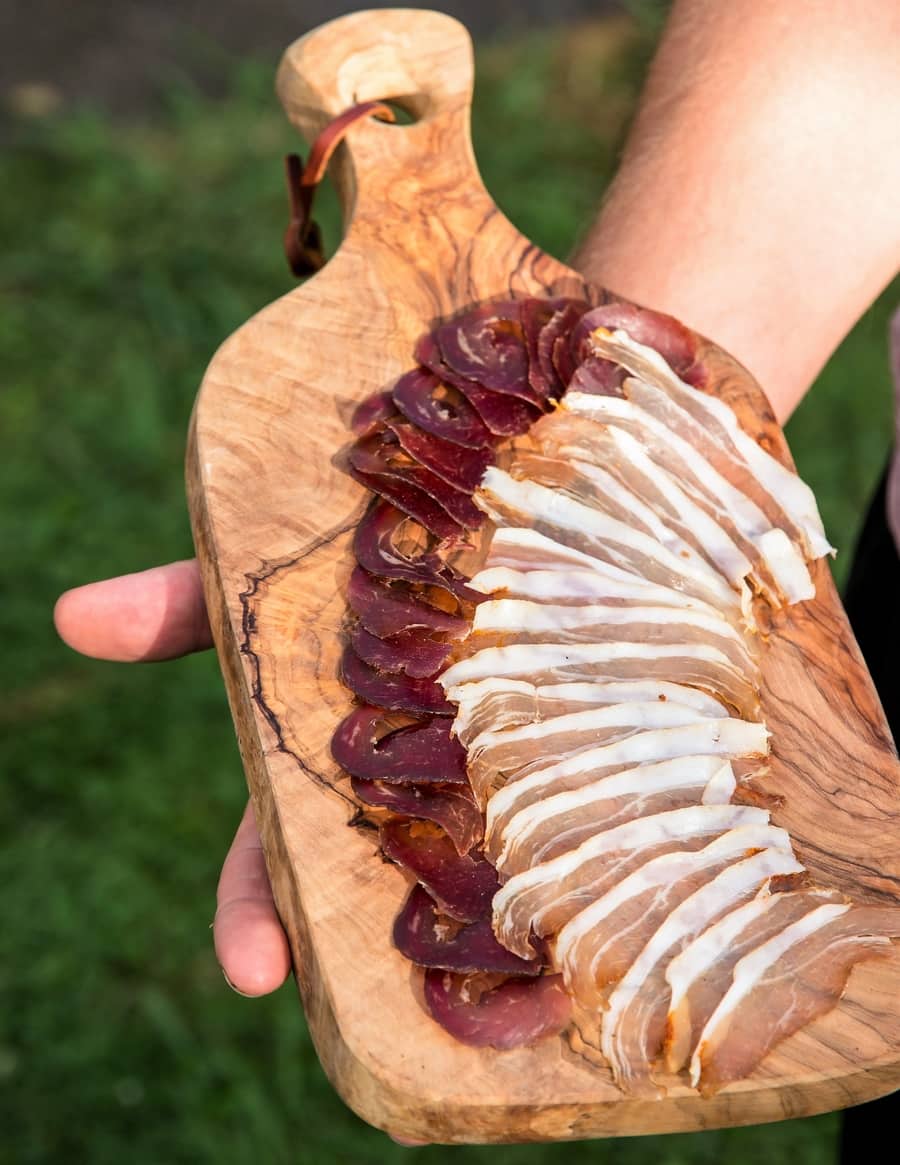 What Equipment do I Need for Meat Curing?
A cool area & or a fridge is the basic are you need. There are many types of meat curing categories. For making jerky, a dry or warm area is needed. Smoked meat needs some sort of smoking device, cold or hot smoked. Dry-cured meat can also be made in a standard fridge or curing chamber.
Meat curing and smoking are ancient forms of cooking & preserving. If you have a cool area with air flow, you can do certain dry-cured meat projects.
These wer made in my standard kitchen fridge, took about 2 weeks. Including fully curing, and hanging them in the fridge at the back.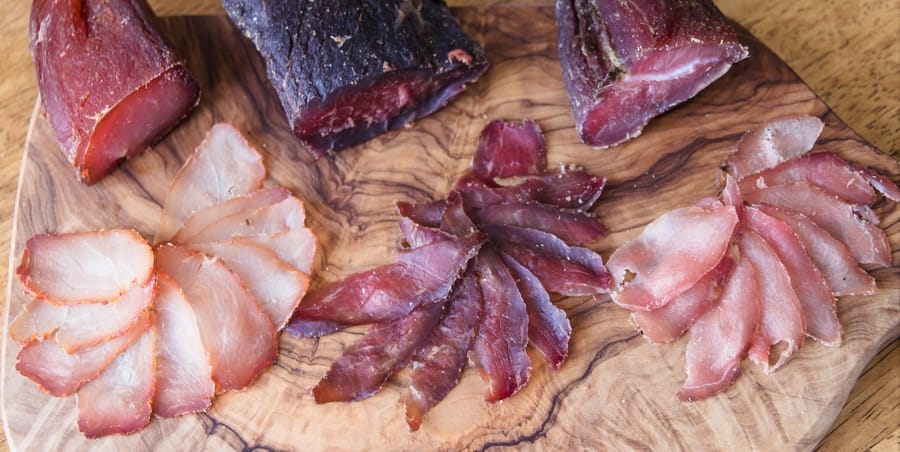 Actually, I wrote a whole article on using a regular fridge, please find it here.
Also, you might like to look at (fast – not low & slow)hot smoking fish, which I have done for many years and have experimented with a few different techniques through trial and error.
Will cover Advanced Equipment further down the post, and mention the gear needed for salami and salumi equipment.
Beginner's Guide
So you want to start meat curing, it isn't hard. To start with you may have what you need lying around at home already. Go for some biltong (or jerky).
Biltong & Jerky
Biltong is a high-protein snack or addition to salads etc that doesn't take much effort. Great for traveling, backpacking or camping (my pick of cured meats for outdoors here).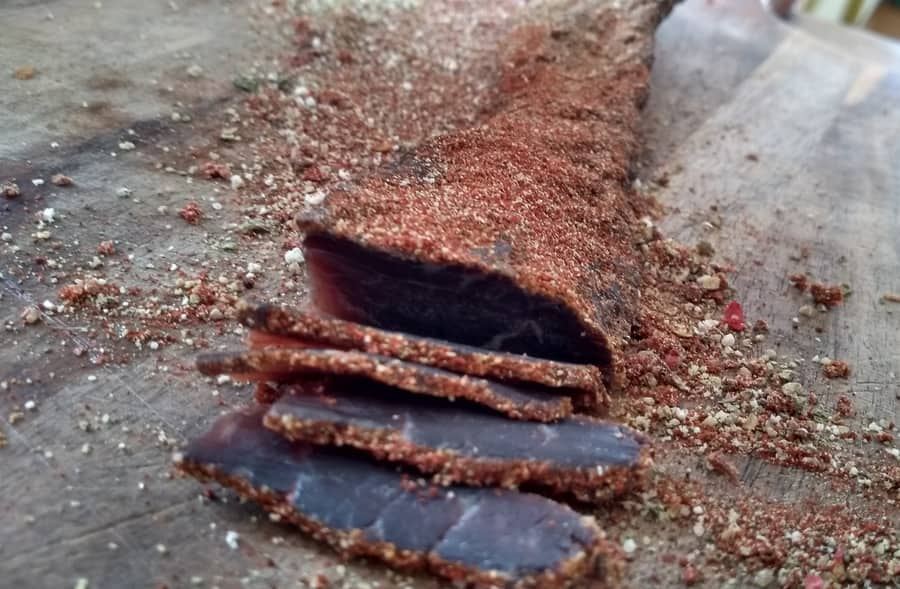 Cardboard Box, Light & Fan
I started with biltong before jerky, so I was always hanging the chunkier style of meat. You can use a cardboard box if you are so inclined.
Basically, you have some air circulation and a little bit of heat from a low wattage say a 40-60 watt bulb.
The classic recipe is salt, vinegar, and crushed coriander. Narrow strips of beef are then tied with string and hung.
Here is a super easy guide I wrote on biltong.
Biltong Box
For the next level up, the concept is the same as the cardboard box method above, a commercially bought biltong box is generally made of perspex, with a fan and light in it. My good friend is a chili biltong madman- some smoked paprika and other bits make this a great treat when on a hunt, or you just have a lot of red meat to deal with.
Essentially a meat curing chamber is a biltong box the same as a cardboard box, light bulb, and fan. You just don't have as much control over temperature & humidity. For jerky & biltong, you don't need it
Curing Meat in a Normal Fridge
In just a normal fridge, green bacon (unsmoked), pancetta or hot smoked meat can be made (pellicle formation in a fridge – for more info on this, please find a link here.
Gravlax
Can be salt-dry cured for 24 hours, and put in the fridge to cure. Then washed off and used. Will last about 1 week after curing from my experience.
Beetroot gravlax or citrus are great flavor combinations.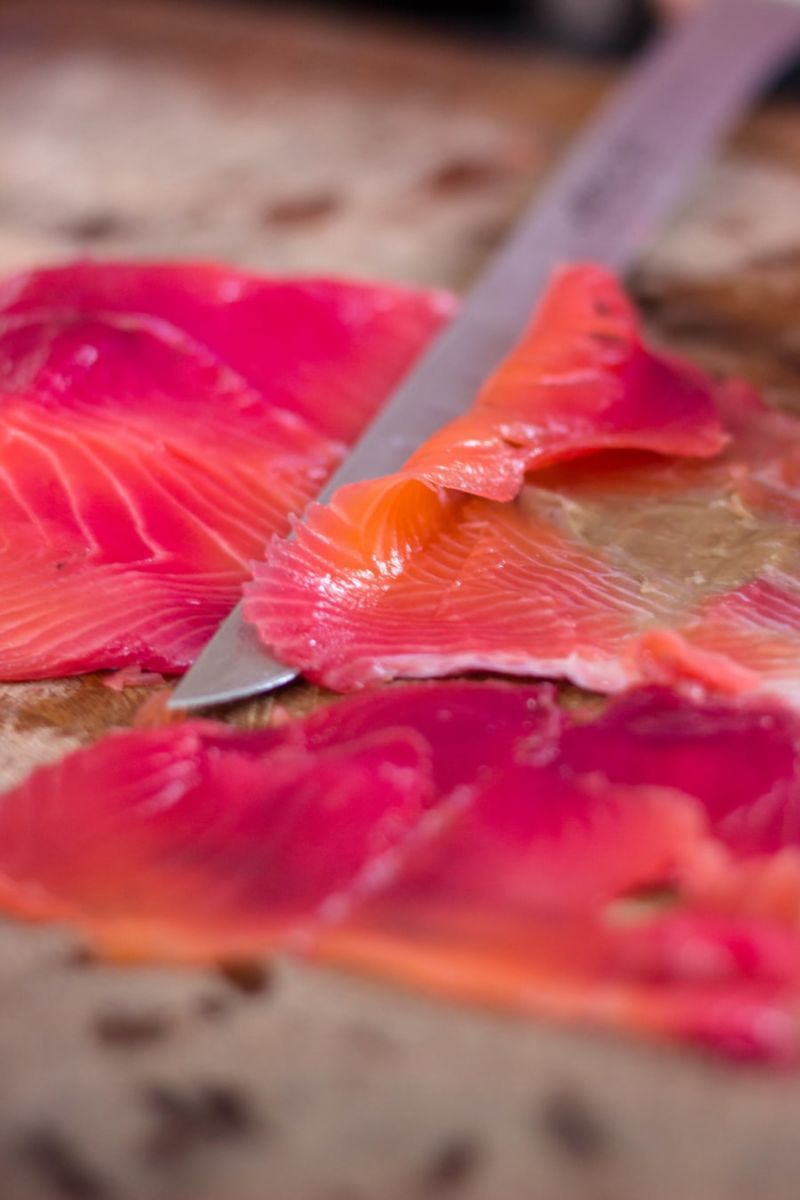 Small Dry Cured Meat
If the weight is under about 7 oz or 200 grams, I have had some success with small meat-curing projects in a normal fridge.
Hot Smoking Equipment
Pot/Wok Tea Smoked Meat
If you want more info on hot smoking fish here is an easy guide, check it out here.
All you need is some foil, wok, rice, and tea you can smoke some fish. It's a Chinese style of tea smoking that can yield some incredible results. You can do this inside, but sensitive fire alarms might be an issue!
It's a style of smoking where you don't need a smoker. It's directly heated, similar to the portable smoker below, but you can do it indoors.
Portable Smoker
By using direct heat in a confined smoking area, a portable smoker can be an effective way to cook and smoke meat or other foods. I use a gas burner or the BBQ burner, if you don't have a BBQ, even a portable gas burner can be used. Great for fishing and camping trips.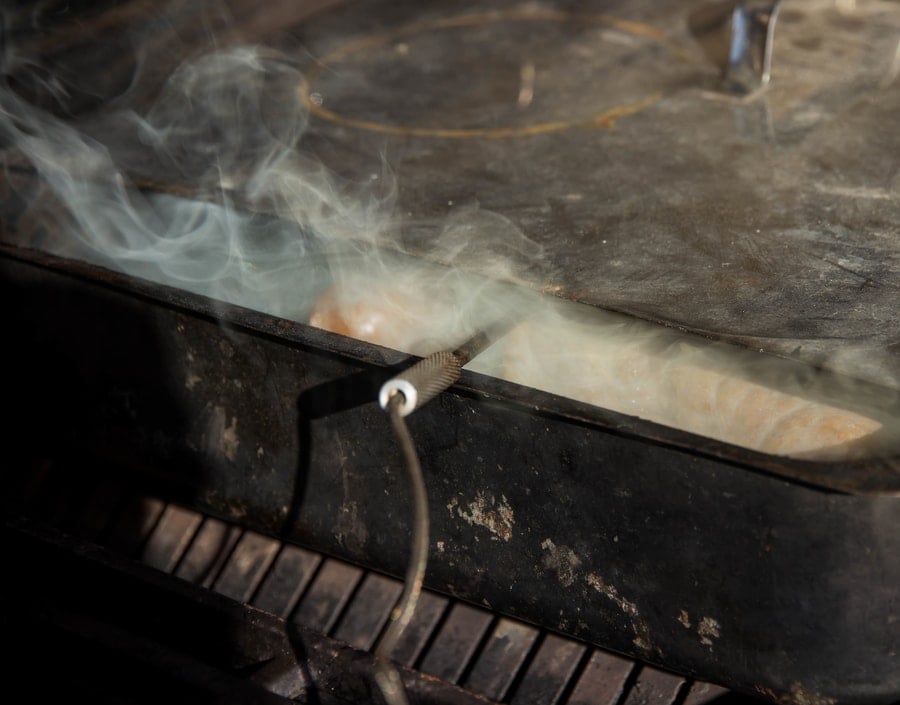 They are simple tools, but there are a few design aspects you want to look out for. If you are interested in more details, please find a full review of a few portable smokers here.
Recently, I hot smoked some chorizo sausages I bought – very happy with the result (try and get a transparent light smoke, not a heavy white smoke for the best flavor from a portable smoker).
Charcoal BBQ or Gas BBQ for Smoking Meat
Once meat is cured in the fridge, for hot smoking you can use a BBQ with a hood or a portable hot smoker with a direct heat source, like on a gas grill.
Electric Hot Smoker or Gas Hot Smoker
For low & slow smoking I love this style, you can really play around with many forms of smoked meat, dairy and vegetables. These varieties are easy to use and set & forget operations.
Adjusting with a knob control or thermostat really does help make this a set-and-forget option.
Some of these offer cold smoking options that are very easy to operate. However, cold smoking is a subject that definitely goes in the advanced category of meat curing. You want to get your meat-curing training wheels going first.
If you want a comprehensive post on cold smoking, please find it here.
Pellet Grills
The also has a dual purpose, being able to smoke meat with wood pellets, whilst also being a direct-heat gas grill. The auto feed mechanism really doesn't make it a set & forget smoker. As long as you have power available to plug it in.
If you want to find out more about why I think the pellet grill is the easiest smoker to use, here is a post on the easiest types of smokers.
Charcoal Smokers
The selection of charcoal smokers is intense on the market, it generally starts with a bullet, kettle or barrel-shaped smoker.
Then it advances to a fully gravity-fed charcoal smokers for very hefty price tags for the serious pitmasters. Also, in this skill level, offset charcoal smokers are seen as the highest honor for the enthusiast. If you don't mind standing or sitting next to them for 10 hours or more whilst smoking a brisket, which for some is a true pleasure.
Some people just love it!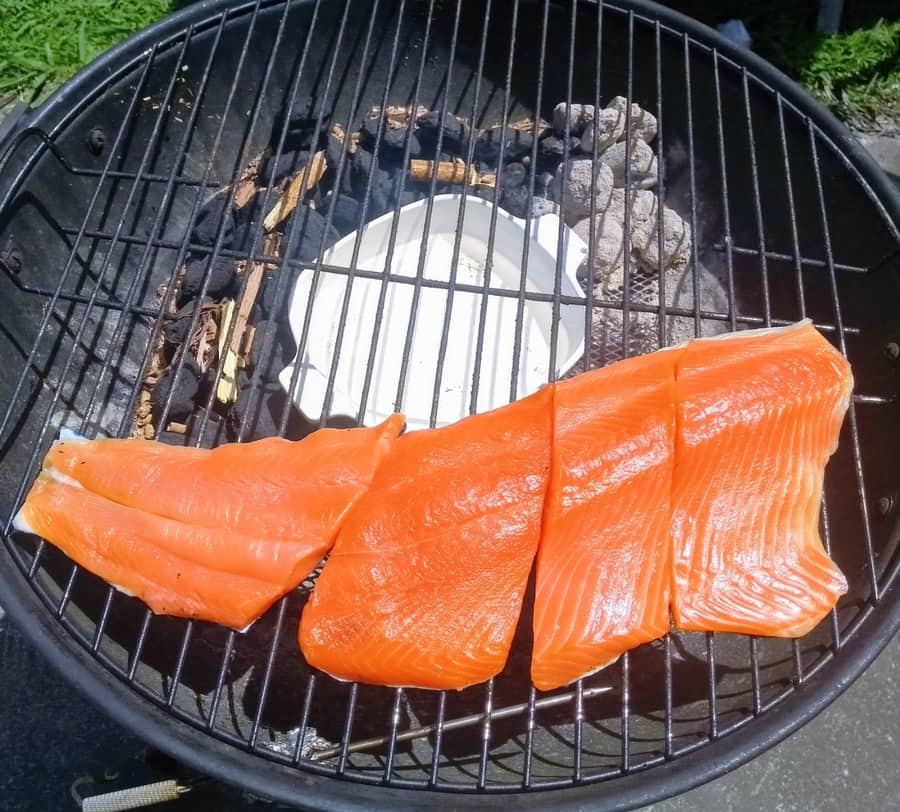 Advanced Equipment
Cold Smoking Equipment
Meat Slicing – Knifes & Butcher Slicer
DIY Curing Chamber – components
Salami – Meat Grinders & Sausage Stuffers
Cold Smoking Equipment
There are a lot more factors to cold smoking mainly making sure the meat is fully cured and creating a consistent environment with smoke generated from 6-8 hours to 4-5 days (refrigerating overnight is common and doing multiple sessions).
Smoke Generator – great for both hot and cold smoking using pellets
Cold Smoker- it is all about consistent smoke and an environment under 77°F/25°C.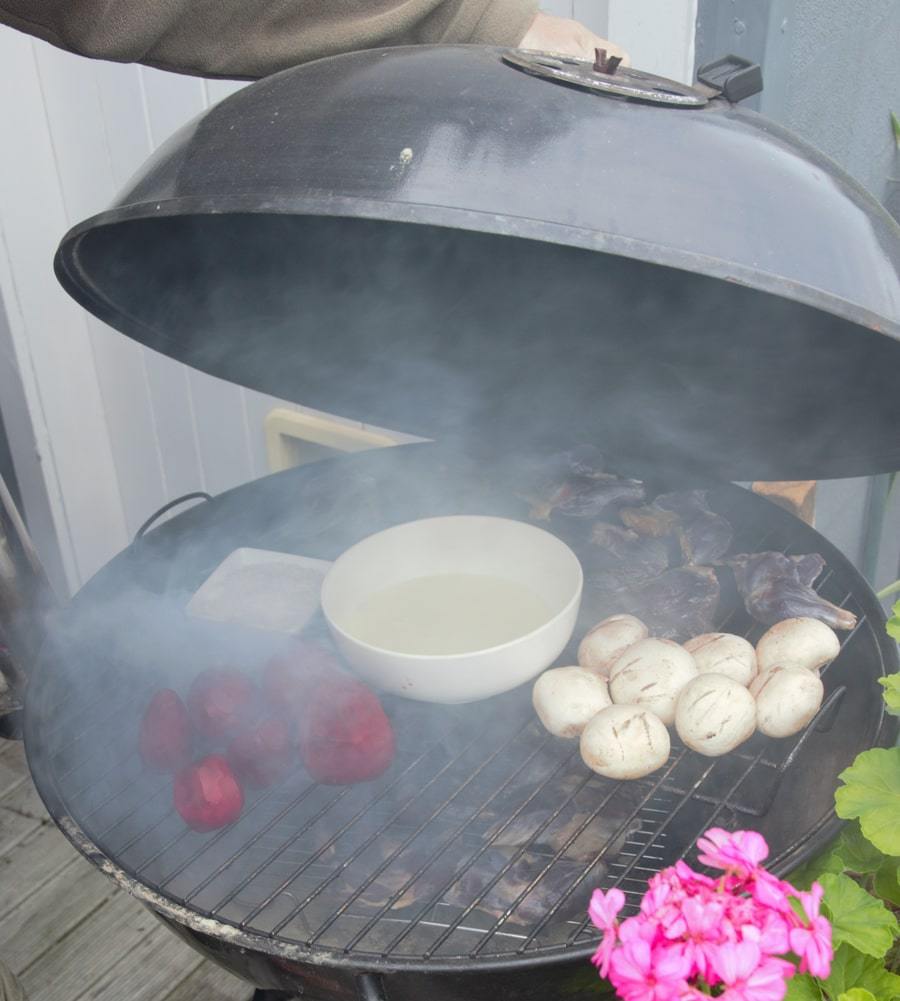 Meat Slicing
After the time and effort to make cured meat, gravlax, or lonza pork loin in your fridge, I believe you want the right tool to showcase something you are proud of.
So I did some research and have bought quite a lot of equipment over the years.
Getting those wafer-thin slices makes a massive difference with specifically dry cured meat like this.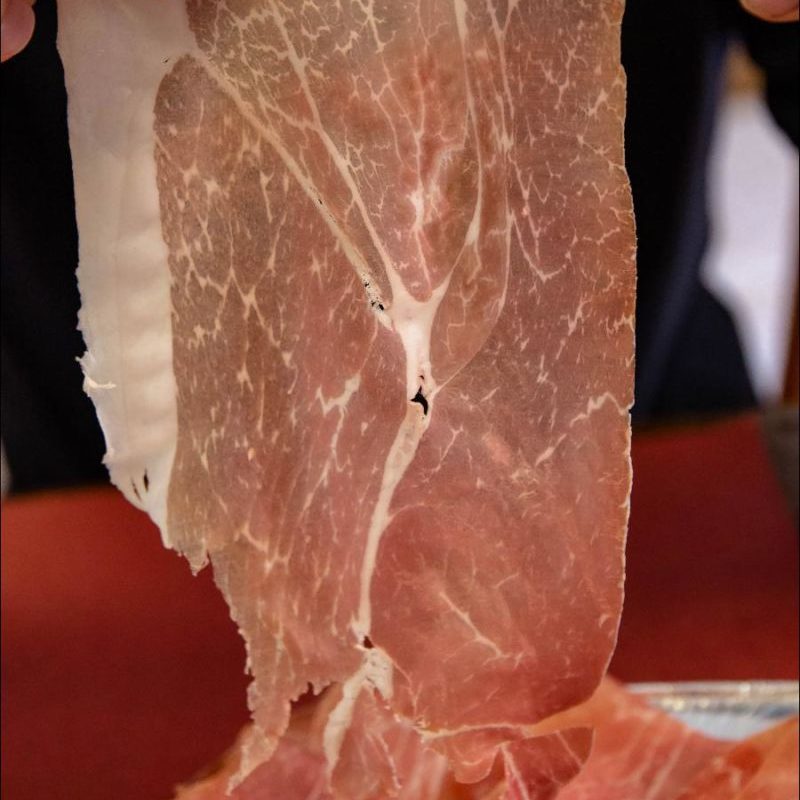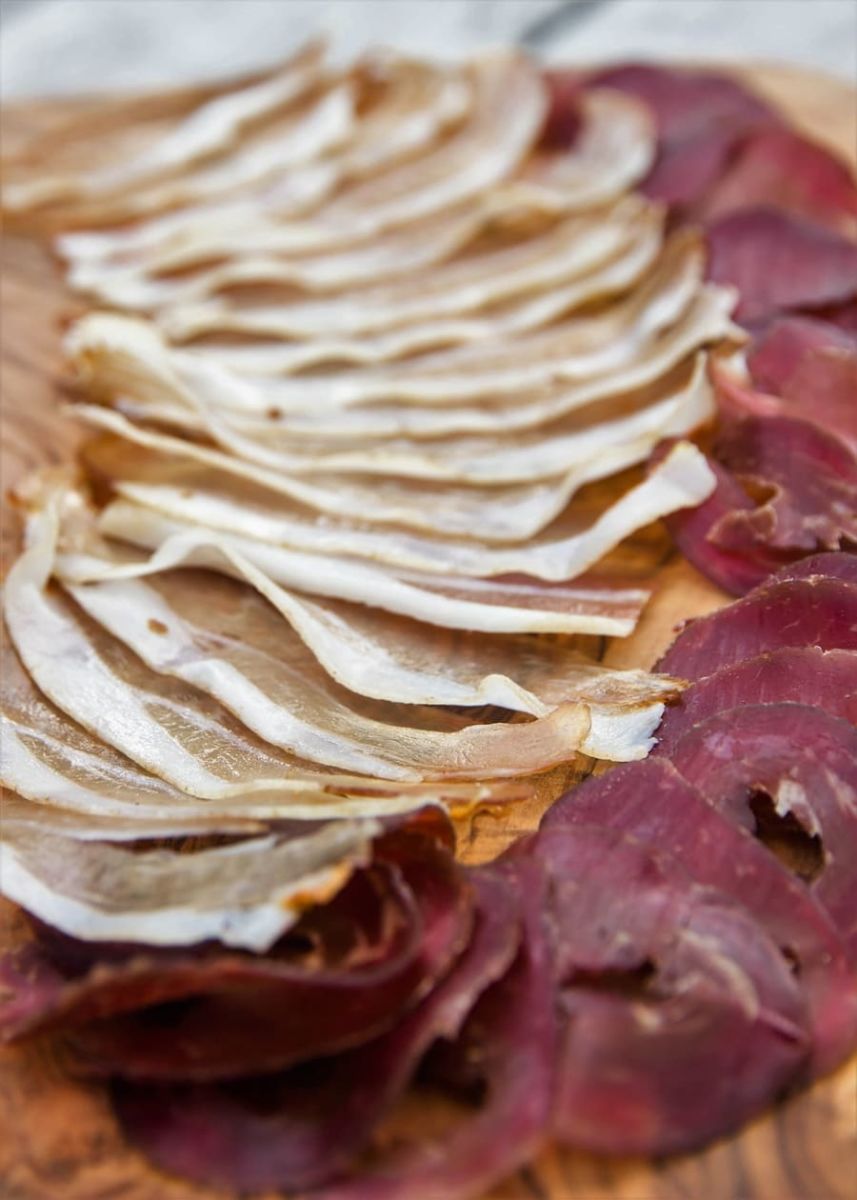 Knives for Slicing Cured Meat
It's a game changer when you can cut wafer-thin cured meats for homemade lonza and pancetta it was just awesome.
The Iberian knife for ham & prosciutto is the best option in my opinion. Here are a few I have reviewed & can recommend.
The right technique also will of course give the proper results.
Knifes for Large Smoked Meat – Brisket / Ham
The hours of work to produce a beautiful smoked brisket and you then want to present it, in all its glory. Here are a few brisket & ham knives I have and reviewed in full.
Do It Yourself Meat Curing Chamber
Salumi Meat Curing – long-term meat curing over 30 days approx or for other projects that need a control climate.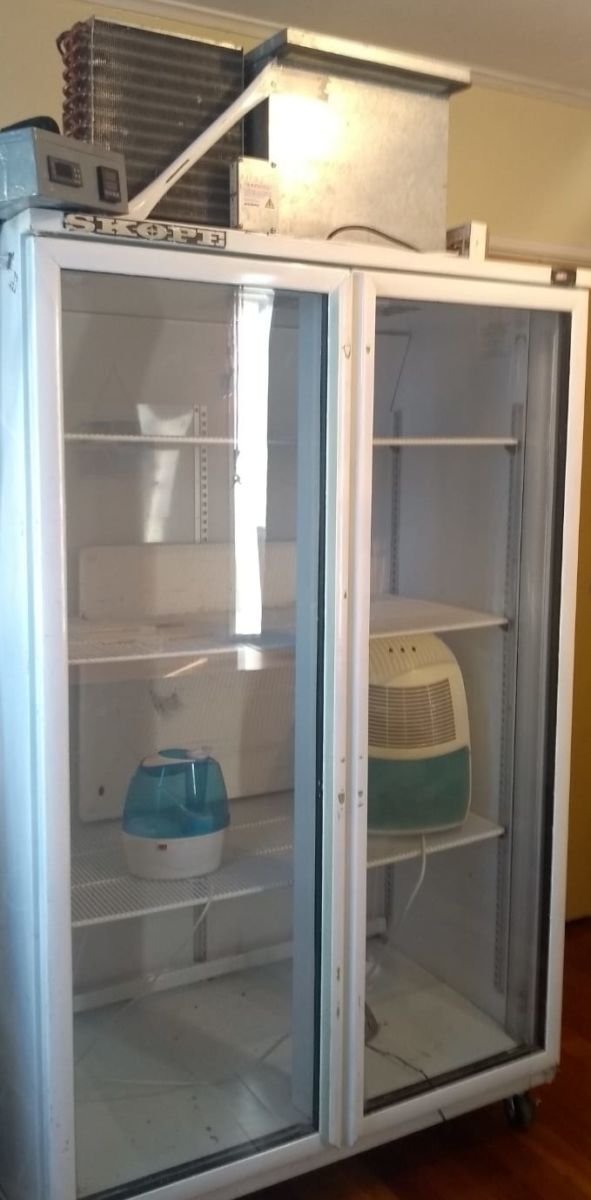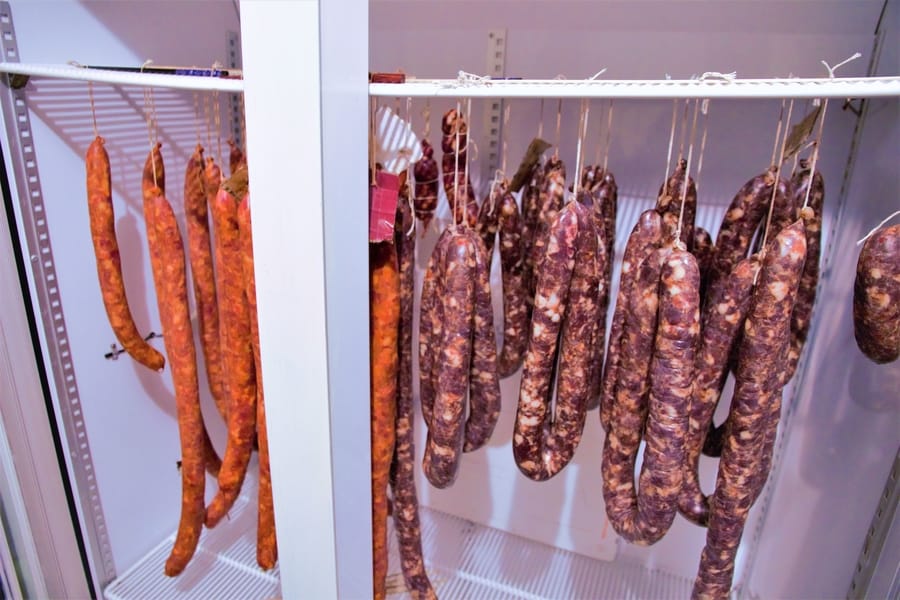 I will write a full post here on this with my design thoughts, currently, my large double-door chamber works great. Currently, I have a 6 ft tall and 4 ft wide curing chamber, it does seem like an overkill sometimes. With the added heater panel at the rear, I have dried garlic, fruit, and also grown oyster mushrooms in it.
Here is a breakdown of the equipment needed:
Controllers – Temperature & Humidity
Humidifier – for moisture
Dehumidifier (dependent on design) – less moisture
Cooling Unit (built-in fridge compressor often)
Heating Source (maybe)
1. Controllers – Temperature & Humidity
These will generally have built-in hygrometers and thermometers.
I think it is a good idea to have a quality analog version too to confirm readings.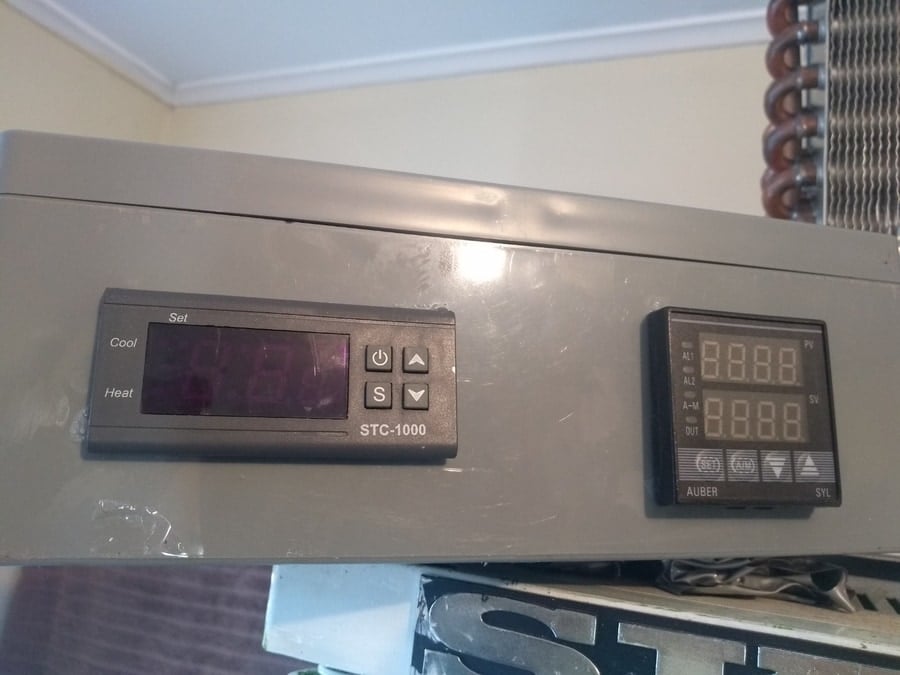 2. Humidifier – for Moisture
Compressors can have a drying effect, and overall a humidifier will be much more important than a dehumidifier. But it, of course, depends a lot on design. See here for more details on this.
2.5 Dehumidifier (dependent on design) – Less Moisture
The dehumidifier in my large chamber has worked really well for storing game (venison, ducks etc), drying/dehydrating fruit, and making organic garlic powder & onion powder. This function has worked because I installed an eco-panel heater at the back of the chamber!
3 Cooling Units (Built-in Fridge Compressor Often)
You will have this wired up to the controller, so it will cycle on and off to keep within range.
3.5 Heating Source (Maybe)
Works for the above reasons, but also you can be more precise for fermentation temperatures of dry-cured salamis inoculation!
Other aspects that you may want in your curing chamber:
Drill, drill bits, screw fixtures possibly
Secondary thermostat & hygrometer to make sure the environment is accurate
racks for hanging or hooks
butcher's twine for rolled meat and keeping the meat in a uniform shape (can help to expel air especially)
Depending on the project, I will generally wipe down the entire chamber with diluted bleach to make sure it remains relatively sterile.
However, remember meat curing is about good bacteria/penicillin – once this is present in the meat curing chamber it should hopefully help inoculate near meaty creations.
Salami (Advanced Continued)
Making a great salami isn't hard, it's just a process. However, there is a defined process for dry cured salami (not cooked salami)
Also, the addition of good bacteria before fermentation, means this process is definitely in the advanced section.
Meat Grinders/Mincers – Manual or Electric
Investing in a quality mincer should be important if you are going down this path. The 3/4 Horsepower that I use with a friend is a beast, being all alloy metal, we can chill all the components, which helps during the whole sausage/salami process (it stops fat binding with meat).
Good old old-fashioned cranking mechanism, lot of options out there. I believe you want a large funnel area so you don't have meat falling out of the mincer.
Having control over speed can help, the issues I have had have always been around the binding of meat and fat.
If you want some recommendations around mincers I have reviewed some here.
Sausage Stuffers
Whether you are making salamis or sausages you need to get your head around this equipment. Horizontal or vertical stuffers can all work well in my opinion.
I prefer to have the right tools for the job. Here are a few sausage stuffers I have used or have used with friends.
There are some ingenious thrifty ways I have found online to do this.
There are a lot of toys and equipment available, but it comes down to what you want to make and of course the resources you have available.
Related Questions
How to Cure Your Own Cured Meat? Start with fridge-based recipes. Pancetta and green bacon are good options, these are simple projects that use salt to create osmosis and prevent spoilage. Then, if you have a hot smoker you can add another element of flavor.
How Long Does Meat Take to Cure? Depending on the recipe and end goal, It can take 30 minutes to cure a fillet of fish. For more involved projects it can 30 days to cure meat. It all depends on the meat project and the end goals.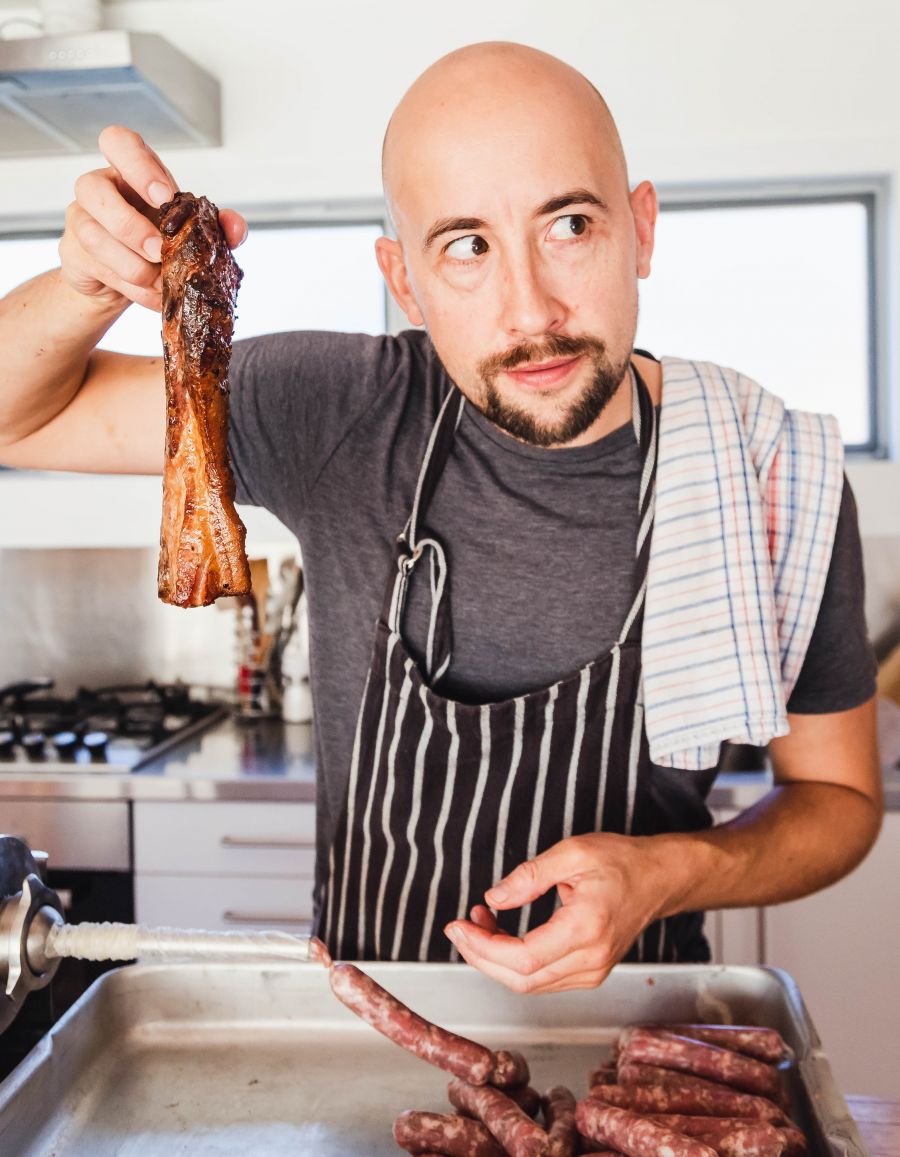 Thanks for dropping by, I've been passionate about meat curing for decades.
I Hunt, Fish, Forage, Buy, Butcher (Wannabe Norcini), Make, Savor (I'm not a Saviour), and love curing and smoking meat.
Learning and consuming in a circular fashion, I am always interested in what is happening around the curing and smoking world
Seeking the passionate behind the passion.