Charcuterie (cured meat) is all the rave, but how much do you need per person? Especially when it comes to charcuterie boards and antipasti platters.
Delightfully delicate, savory, and rich, charcuterie and all that this cured meat platter has to offer will wow your guests. If you are the host, using charcuterie is an amazing way to provide food for everyone's varying palette while still pleasing their appetite. 
I've revelled in cured meats both making them myself and exploring the world in the hunt for specialities (3 months in Italy was epic).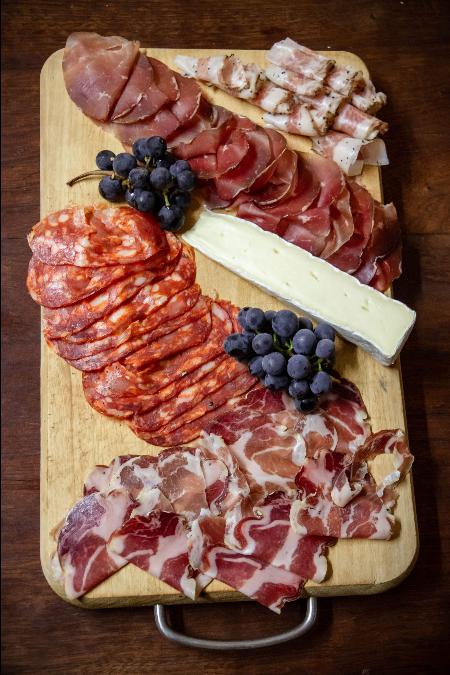 So here's the short answer as a guide and then onto whether you are doing a full 'grazing' main course or starter options.
But, portions matter.
How Much Charcuterie (cured meat) is Needed per Person? If Charcuterie (cured meat) is being provided as an appetizer, 3 oz of meat per person is sufficient. 6 oz per person when the charcuterie is the main course. Varying non-meat additions will help the platter to go farther.
Of course, it is always safer to over-purchase than to run out of food to serve your beloved family and friends.
In this case, you might keep some additional cured meat in storage before bringing it out to the platter. Then, if your supply begins to run low, you will have plenty to go around.
Whole dry-cured salami is a good option, since it's preserved anyways and can be used for weeks or months in the fridge before drying out to much.
With dry-cured meats like salami and pancetta, prosciutto – remember this has lost 35% of its fresh meat weight. So, less goes much further for a charcuterie board! It's really compact protein!
How Much Charcuterie Do I Need for a Party?
If you are the clever host who has decided to serve charcuterie for your party, then you are sure to please your guests and create that socializing factor that only comes from shared plates of food.
They will be wowed at the delightful presentation that comes with your savory cured meat and additional garnishes (fold the meat maybe like this:)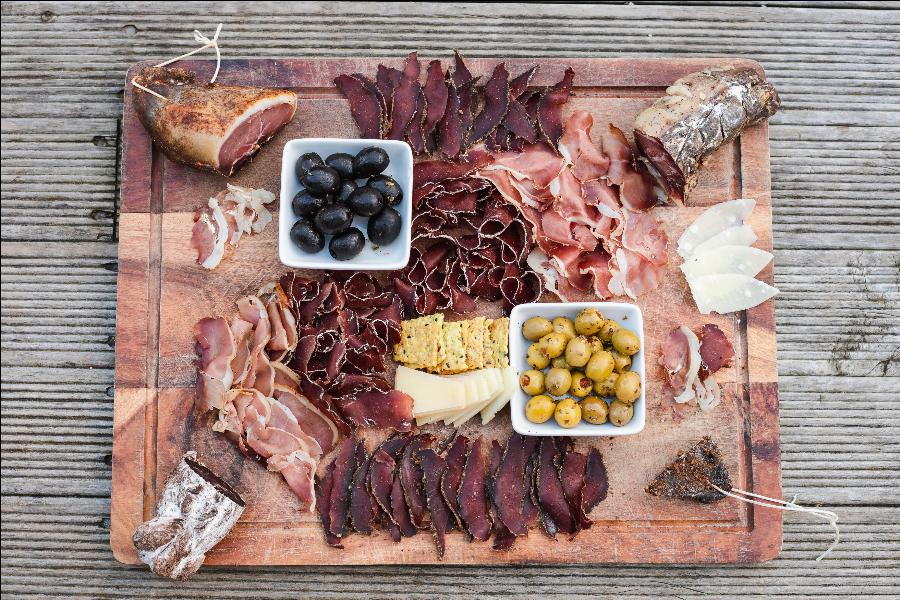 I love color contrasts also like this: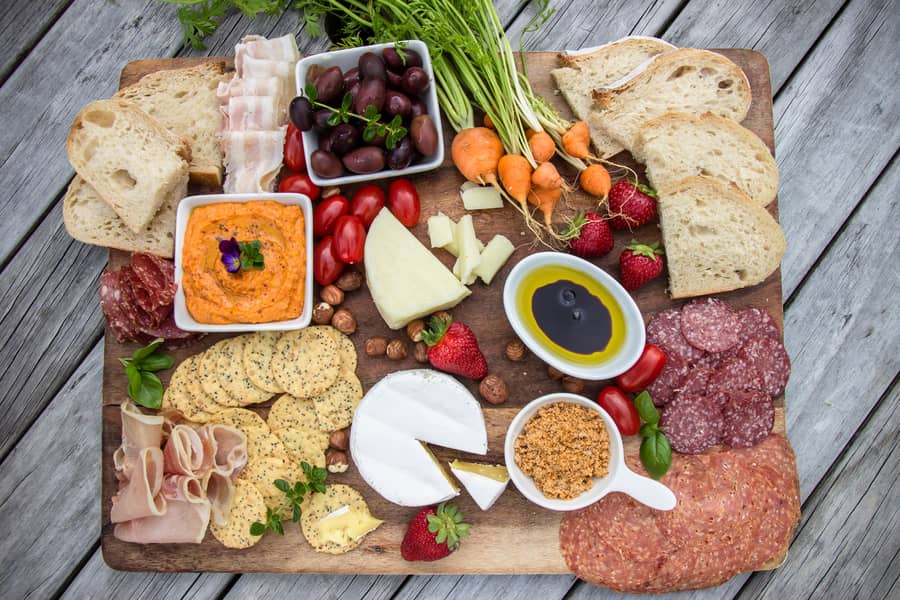 Regardless of their natural food inclinations, this option is sure to hit the spot.
With that said, there are a few additional things to keep in mind when serving the Charcuterie as the main course or not.
You will want to consider foods that will complement the cured meat, any beverages that you would like to serve, and the flavor profile that you hope to create in your sole component or the spread of many.
How Much Charcuterie Do I Need When it is the Main Course?
6oz or about 180 grams per person
When hosting a gathering and planning to feed your guests solely with a charcuterie display, you will need to double what you would otherwise offer if this were simply a tasting.
In this case, you should consider no less than 5oz of meat per person with 6oz being more standard.
Even if you are considering the charcuterie as the main course, you should still provide additional foods to complement the rich, savory flavor that will come from the various cured meats you choose to include. 
You can keep it simple with bread, cheese, and a full-bodied glass of wine. Or, you can spice it up with a myriad of other choices.
nuts
dukkah
balsamic in olive oil
pestos – sundried tomato or basil
seasonal fresh organic (or homegrown) sweet vegetables – carrots, cherry tomatoes
Either way, when you are serving charcuterie as the main course, your guests will be assuming that they will go home full from a delicious tasting on this platter.
Though it is a different form of serving the traditional dinner, its purpose remains the same. This is why you are now seeing charcuterie spreads pop up on fine dining menus all over the world.
How Much Charcuterie Do I Need when it is Not the Main Course?
Perhaps you have decided to just use charcuterie as the appetizer before you begin the rest of your meal.
In this case, you can expect to use much less cured meat than you would have if the platter were the main course.
When serving charcuterie, not as the main course, you can estimate roughly 3oz of meat per person.
This should always be accompanied by additional charcuterie board components such as cheese, bread, nuts, fruit, or other selections. Paired with a nice drink, your guests are sure to be pleased.
Again, you can get creative here in what you choose to include on the charcuterie board when serving it as an appetizer like the above little list.
There are plenty of non-meat options for charcuterie boards that will add some flair to your presentation as well as the flavor profile included in your meal.
As people become more and more creative, you can really enjoy the new twist on a French classic tradition.
How Much Does Charcuterie Cost?
Depending on the size of your guest list, charcuterie can be a realistic option, or it might seem a bit out of reach.
Fortunately for you, there are ways to make charcuterie work for your menu regardless of the size of your budget.
Charcuterie platters can cost as little as $30 to create for a small gathering,
Or you can spend more than $100 creating a more luxurious spread.
The choice is ultimately up to you as you decide on the types and quantity of cured meats as well as additional charcuterie board components. 
To make a budget-friendly charcuterie board, be sure to consider additional options that your guests are sure to love.
Bread is a good filler, just make sure its fresh and quality – easiest way is to know the maker was passionate!
At the end of the day, one of the beautiful things about serving charcuterie is that there will be a flavor for everyone, and you get to showcase your personal style in serving it. You choose the meats, the additional food selections, and how the food is displayed.
In turn, your guests get to enjoy whichever foods they feel up for that day.
If they are looking for a higher-quality, more dense type of meal, then they can load up on the carbs and protein options available on your charcuterie board. 
But, if they are looking for a light snack, then hopefully you would have added this type of selection as well. The creative decisions are in your hand – fruit or vegetables are not evil!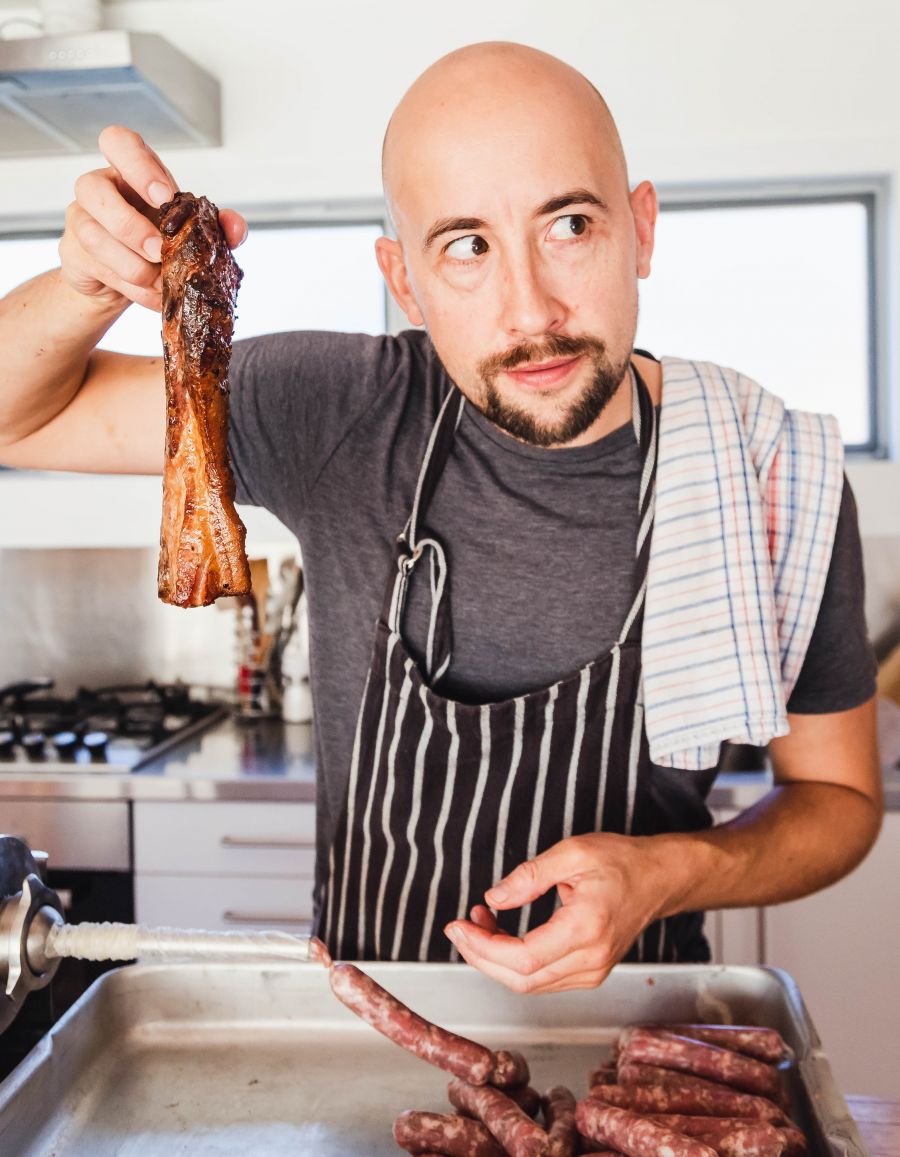 Thanks for dropping by, I've been passionate about meat curing for decades.
I Hunt, Fish, Forage, Buy, Butcher (Wannabe Norcini), Make, Savor (I'm not a Saviour), and love curing and smoking meat.
Learning and consuming in a circular fashion, I am always interested in what is happening around the curing and smoking world
Seeking the passionate behind the passion.