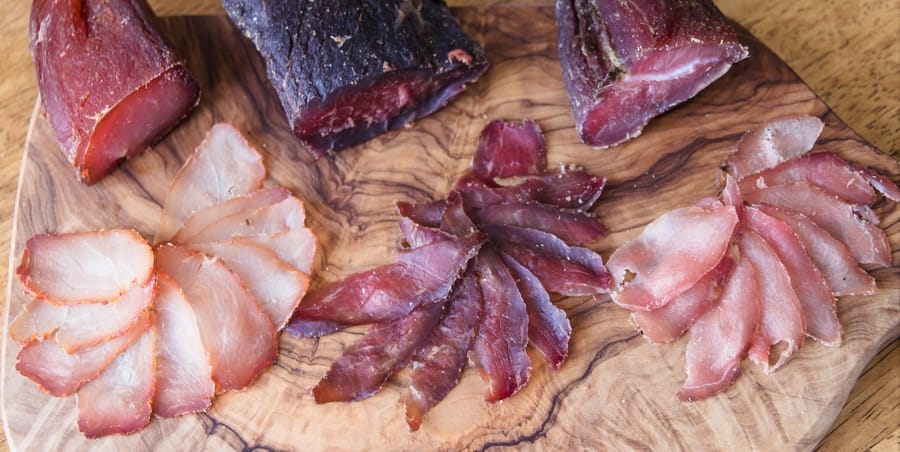 Charcuterie boards should be made of some kind of hardwood that enhances the presentation of the dry-cured meats, preserved vegetables, and cheeses. Though, this is a very traditional view I know.
It's interesting how charcuterie has come to mean different things over the years, but what it should do, is enhance the food on display and give an interesting background.
Generally speaking, wood is what charcuterie boards are mostly made of, and certain woods in that as well (but some alternatives that make sense are below as well).
And there are aspects like hardness, toxicity, food safety and lifespan that should be thought about as well when you choosing a charcuterie board. So keep that in mind, although the below I have picked take all of this into account, to make it easier to decide.
One of the things that's very important is the difference between softwood and hardwood. Softwood refers to Evergreen wood that generally has cones on the tree (and stays green throughout the year, hence the name).
Hardwood refers to trees that lose their leaves in winter. Hardwood is really what you want a charcuterie or cutting board made out of. Because it doesn't impart in funky flavors, it is hard-wearing and certain woods tick all those boxes of things you want on the board.
Since I have been involved in meat curing for around 20 years I have seen many variations on many continents when it comes to an antipasto offering.
Personally I would say less is more, just like all the thousands of adverts we're exposed to every day. Too much of a good thing is just not enjoyable.
Having a charcuterie board that isn't overloaded and just highlights a few delicious things, helps to focus attention on quality over quantity.
Providing a much more appreciative offering, rather than cramming as much as you can on a board and thinking that this is an appealing offer.
Here is an example which gets quite a bit of attention on my Pinterest account, pretty simple: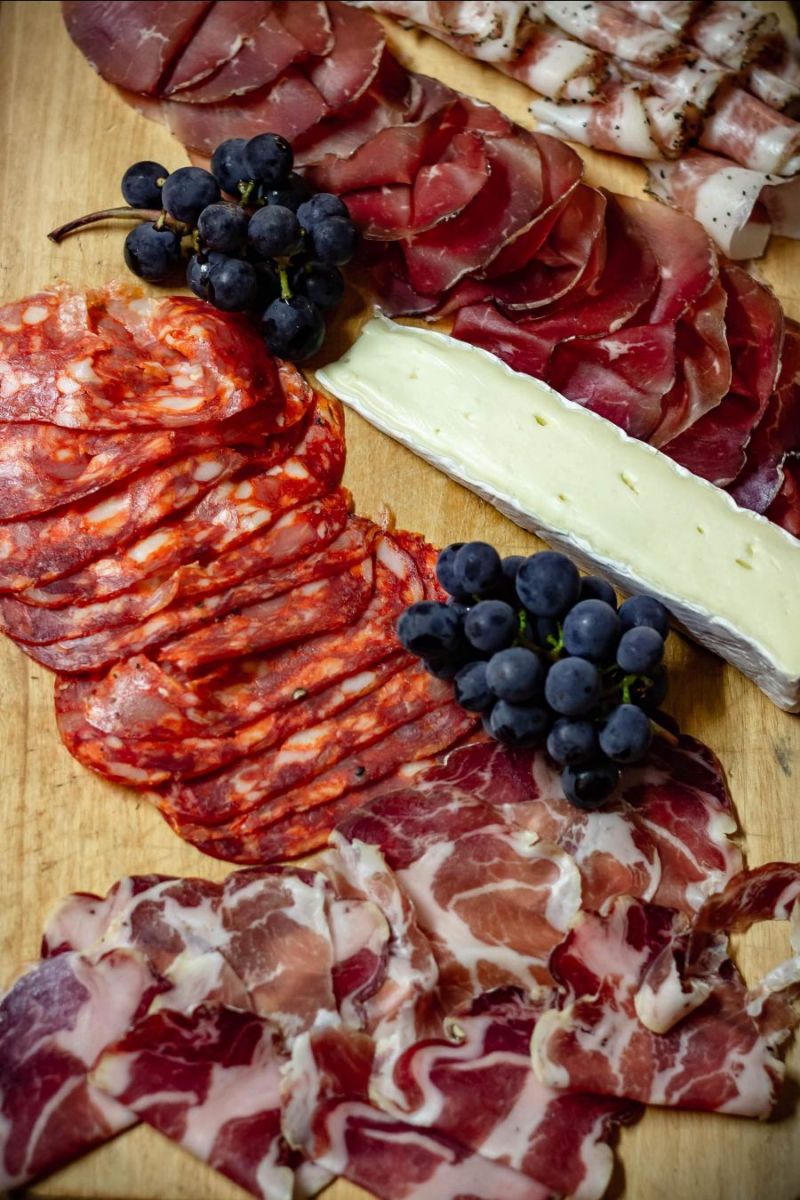 A smorgasbord is probably more appropriate to describe what an overloaded charcuterie board feels like. You can probably consider a smorgasbord little bit of everything. If you haven't heard of a smorgasbord, it's basically a Scandinavian buffet-style offering of many different dishes together on the table. I know this is a little judgemental, but that's just my humble opinion.
Even though charcuterie is traditionally a French term (to do with offal, rillettes, pates, and very funky French sausages Andouillette de Troyes Sausage, the modern interpretation of the charcuterie board seems to encapsulate a type of cured meat, fine cheeses, figs, grapes or preserved vegetables, like a platter or Italian antipasto type of offering.
So I will do is highlight some of the most popular and stylish things that a wooden charcuterie board is made of and give some suggestions if you're in the market for one.
What Should Charcuterie be Boards Made of? Chacuterie boards are made of hardwoods that enhance the display of the cured meats, preserved vegetables, cheeses, and other common components. These hardwood charcuterie boards are often made of acacia, hard maple, teak, olive & cherry.
Charcuterie boards can be made of many different types of wood, there are some that are ideal and some that you definitely want to avoid which I will list below.
Ideal and Popular Charcuterie Board
Acacia
Hard or Sugar Maple
Teak
Bamboo
Black Walnut
(Many fruit & nut trees are suitable)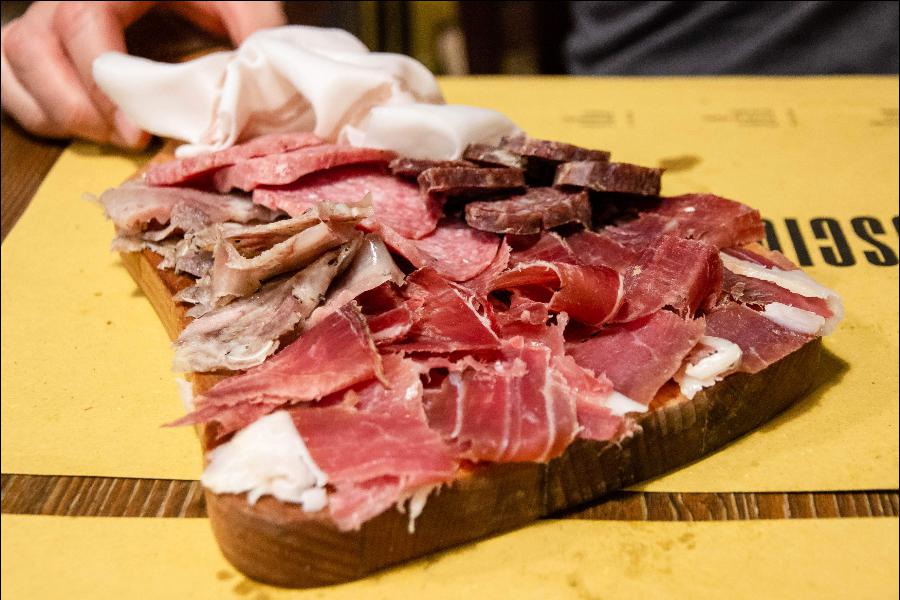 So here are my favorites for wood charcuterie boards that can enhance food displays and will give you a decent lifespan, are food safe have a good hardness rating so they don't easily scratch. Later on below there are a few slate ones I love aswell and why (dishwasher safe is a biggy).
These woods are antibacterial & antimicrobial. It's a bit crazy, but these woods have some form of natural antibacterial properties.
Ok, here it the dream board – Gave this as a present and really regret it, kinda, I wanted to keep it! But when I saw it, it's got so much class.
If you are willing to invest, this black walnut board will serve you, family, and friends for many years to come. Reversible too plus it has a grove for cracks in the lighter section of the wood.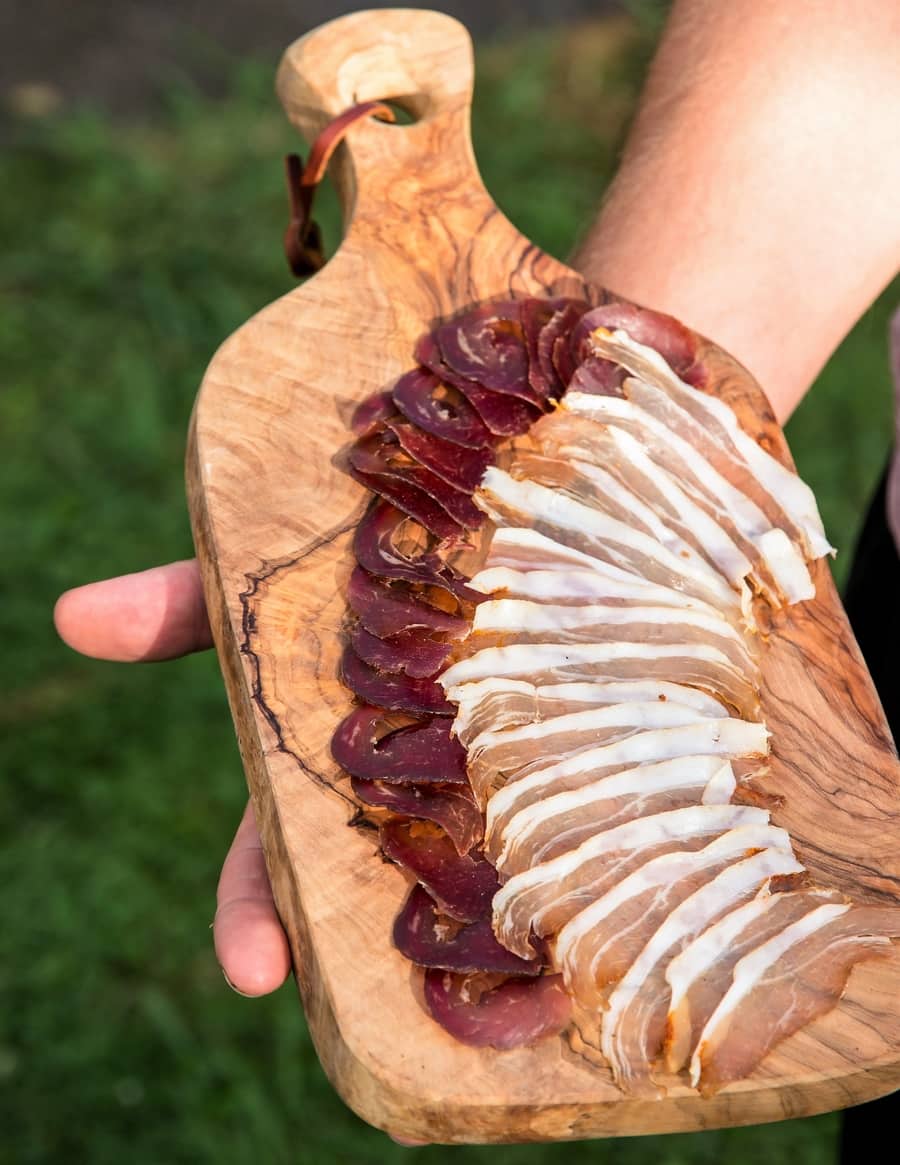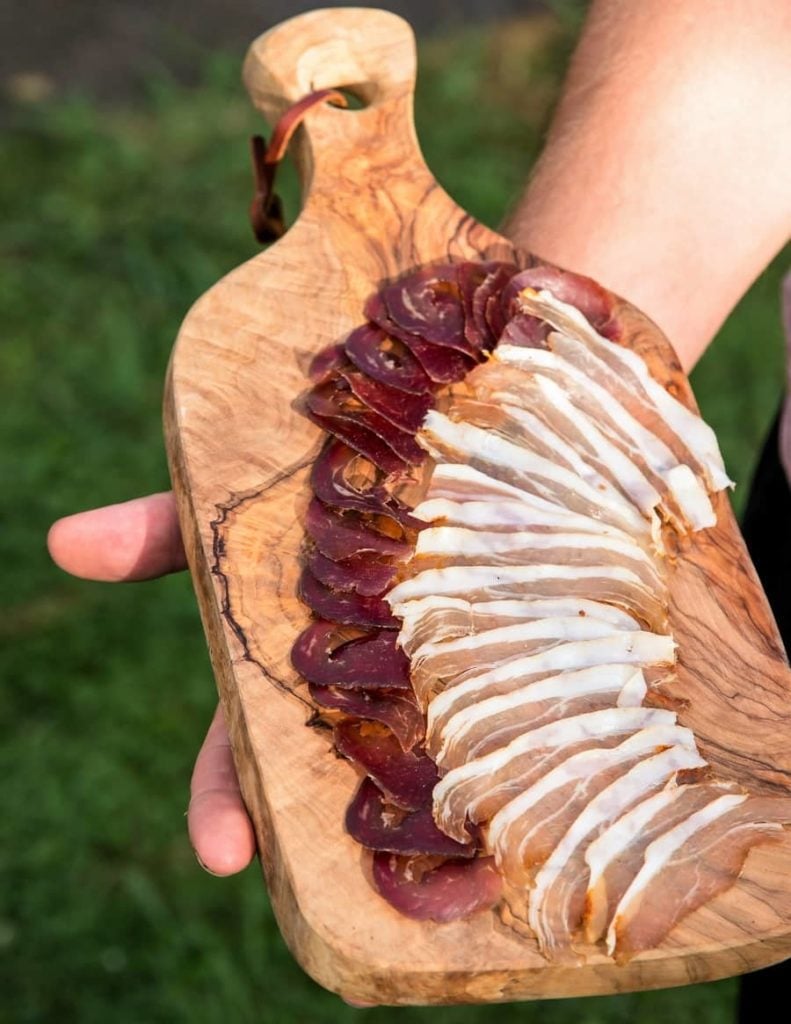 Expect some variation, since nature doesn't produce the same twice. But you won't be disappointed with olive wood. It has a mystic look and shows true character.
I love the grains and detail of olive wood – it has so much to offer over most other woods. And it's a fitting match for a charcuterie board. Though size wise they are small to moderate generally, like 20″ I think tops.
It's compact but does a great job. It's a go to for $20 too.
Charcuterie Board Wood to Avoid
Mahagony
Cedar
Cypress
Fir
Brazilian Walnut
(As mentioned anything that has cones on it, is not suitable)
Wooden Charcuterie Boards & Oil
You can actually use some of these woods that generally better avoided, but it gets a bit more complicated because you have to use food-safe oils or some kind of wax to create a seal.
My advice would be just to avoid any of these complications and keep it simple.
Lacuqer & Finishes
Any board with a mirror or shiny finished can look great but is ornamental. These are very unnatural chemically and not to be used for food.
Hardness of Wood for Charcuterie Boards
There is a hardness rating for all woods and it kind of comes into play, it's the same as choosing a cutting board. We want a board that is not too soft and not too hard.
Balsa wood is one of the softest woods and has a Janke rating of 22, the really superhard boards have a rating of four or 5000. To give you an idea of scale.
Many of the most popular charcuterie boards are made of cherry (1,000), approx)), walnut (1,000), bamboo (1,200), maple (1,400).
Less is More
The other thing you better remember is the main event of a charcuterie board is always going to be the cured meats and the fine cheeses used.
And if this is used in abundance, it doesn't quite seem that special. Things that should be appreciated but generally things that are quite scarce in the world need to be savored I feel.
Having Feet on a Charcuterie Board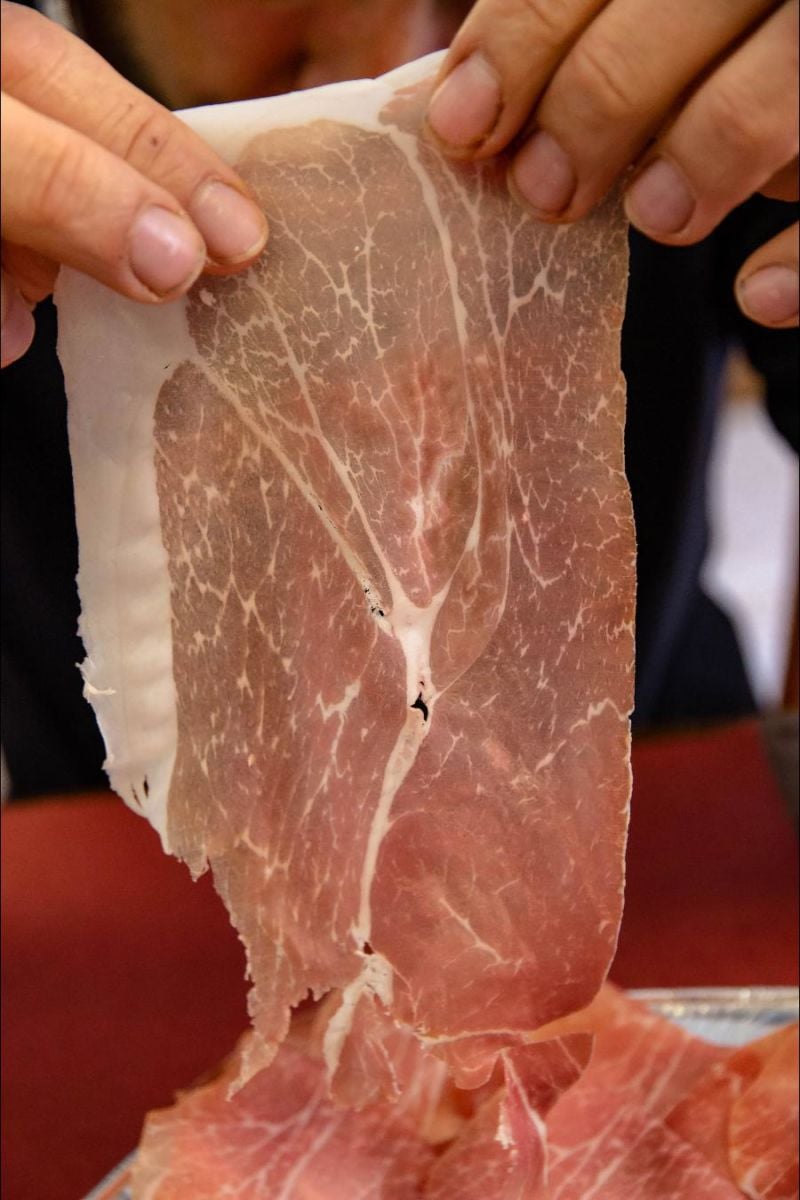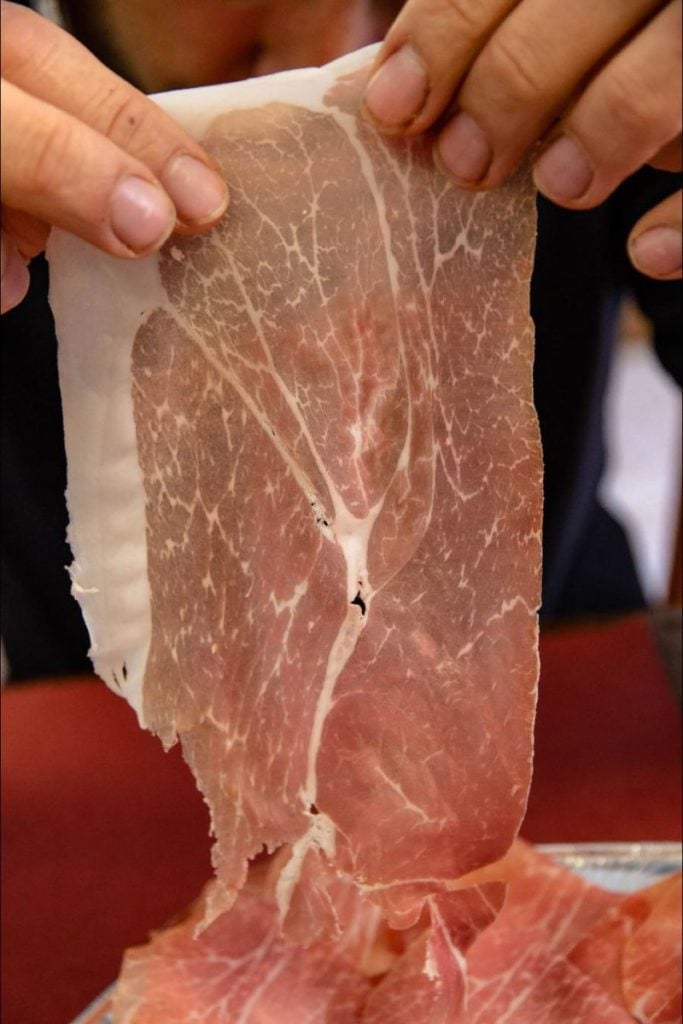 This may seem quite trivial, but there is some practicality and thus.
It's quite nice to present something with a little get in between the surface and the board. But more it's about the practicality of drying it.
Because airflow can go all around the board is it slightly elevated with some little feet.
Slate & Marble Charcuterie Boards
There are a lot of alternatives as well – which can be very useful depending on what you want.
When it comes to marble, this is really mainly for cheese and also cured meats. But there is a lot of variation in marble and one would really have to be keen on marble to be presenting the charcuterie on it (too heavy for my liking).
Granite is something that has been around for a while, but to be honest, I don't know much about it and haven't used it at all – so I prefer to not comment on it.
Then we have the mighty slate, which you do see a fair bit now around restaurants all across the globe. It's used in fine dining and other molecular restaurants (you know the places that deconstruct food, then reconstruct it into a foam or something, to be honest not my cup of tea).
But they do represent something quite interesting in terms of a nice dark background and you can see here in this example that it's quite a contrast when you put food with some color on the start background (this is one of my favs).
With knives and chalk this is quite the set for under $40!
My father was a marketing guru, and I remembered his marketing program design was pure black with white writing to really make it stand out. So you get a really contrast.
And it can be written on as well with chalk, which can be incredibly useful when you have hard to remember fancy unpasteurized local cheeses with quirky names!
Dish Washer Safe Charcuterie Boards
Basically if you don't already know, any wood board should not be put in the high heat and concentrated detergent area like your dishwasher.
Plastic, ideally avoided but still part of our living environment is considered to be okay in a dishwasher but doesn't make a very nice charcuterie board.
Although it' scary the research happening on micro plastics in our food, water and we are actually breathing too maybe!
Slate is dishwasher friendly, so its a good choice also if you want that level of convenience.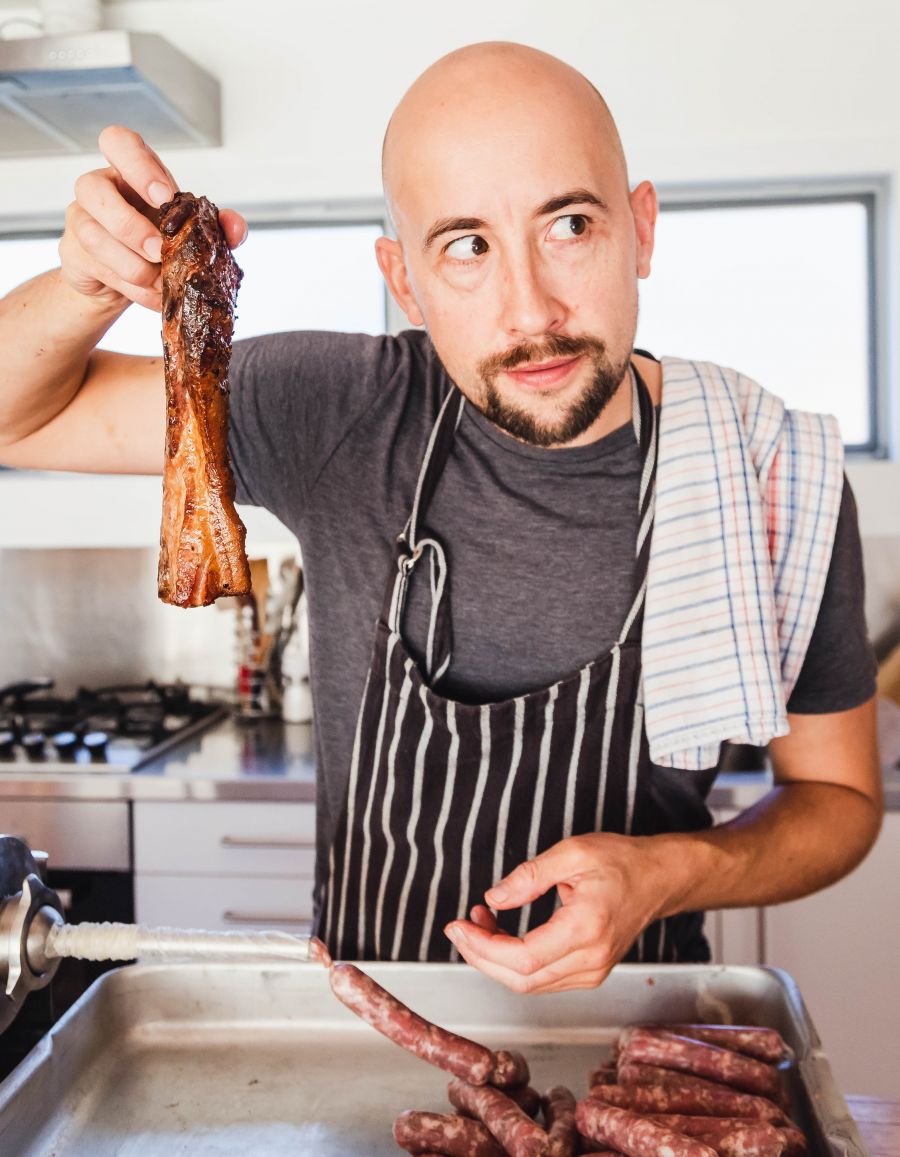 Thanks for dropping by, I've been passionate about meat curing for decades.
I Hunt, Fish, Forage, Buy, Butcher (Wannabe Norcini), Make, Savor (I'm not a Saviour), and love curing and smoking meat.
Learning and consuming in a circular fashion, I am always interested in what is happening around the curing and smoking world
Seeking the passionate behind the passion.