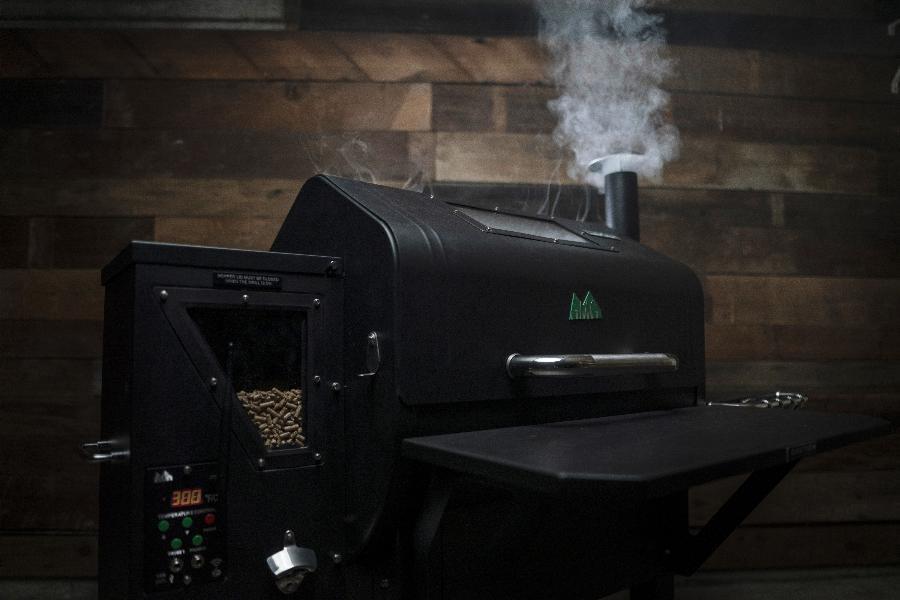 Here is a handful of easy to use smokers that could suit either the beginner or someone who just wants simplicity and great smoke flavor.
I've always been curious about the meat smoker technology changes and how it is evolving; there are nearly a dozen different smoker types on the market that you can buy.
I get asked a lot what the easiest to operate is, so here is an comparison of what I think are the key features to compare the 'set & forget' style smokers.
What are the Easiest Smokers to Use? Pellet grill smokers, electric, gas, gravity fed and portable smokers offer the easiest process of smoking food. Direct temperature control on these smokers makes the process simple. Most of these smokers can also replenish wood externally.
There are a range of factors when it comes to how easy a smoker is to use. You may have a different criteria, I have attempted to list the most logical to make comparing smoker types easy for you.
There are now a variety of designs available, however I have chosen the 4 easiest to use. Below I have then briefly mentioned why the remaining smoker types are more labor intensive. The focus here is on set & forget smokers.
5 easiest Smokers to use that I will cover in detail, these all generally have easy access external wood fuel top up features:
Pellet grill smoker
Electric smoker
Gas smoker
Gravity fed smoker
Also, below you fill find a breakdown on portable smoker style. You will find these can be really easy to use. They are more designed for short intense hot smoking. You will find the best use for these when you are camping or fishing.
Tasty Fish fillets is simple with a portable smoker.
Reasons these are the 5 Easiest Smokers To Use
Each smoker is set against the same criteria, hope that helps.
Of course, the brand will mean features vary.
From what I consider the easiest to more involved.
Pellet Grill Smoker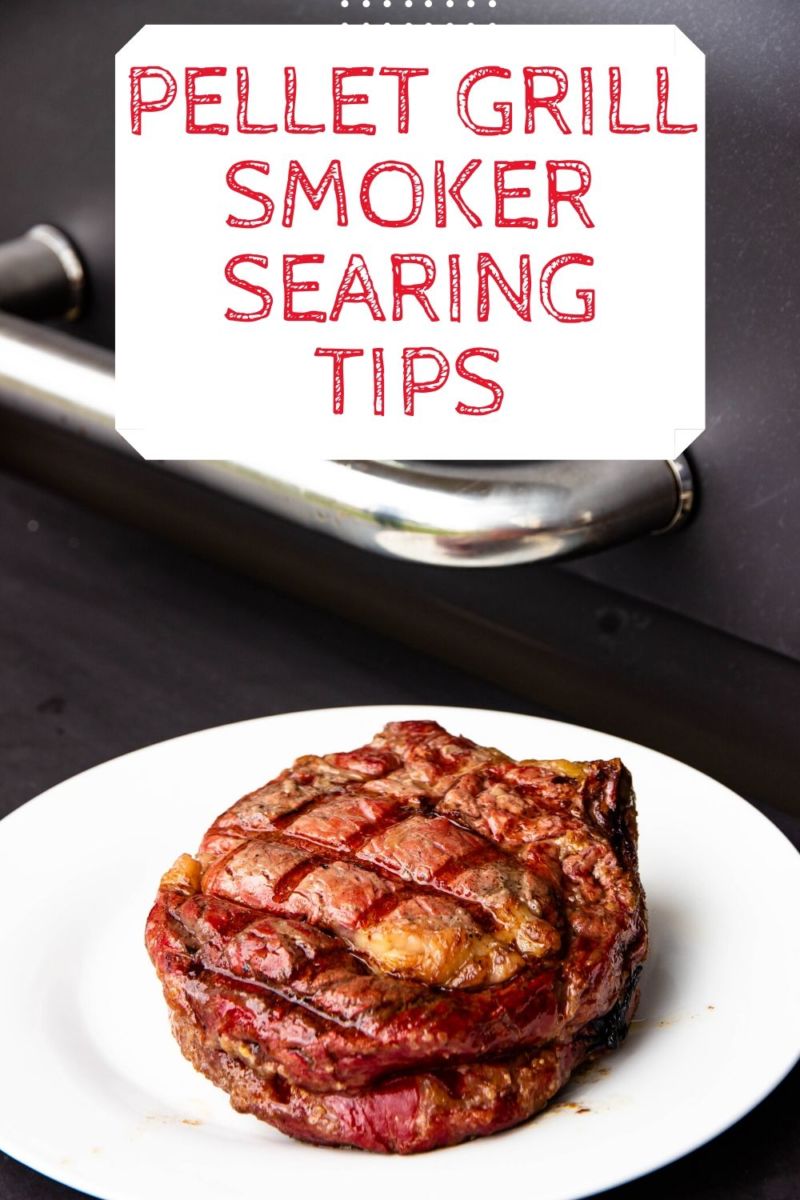 | | |
| --- | --- |
| Easy to Use / Set & Forget | 10/10 |
| Temperature Control | 10/10 |
| Smoker Fuel Type | Electricity |
| Size of Smoker | Moderate |
| Weight of Smoker | Moderate |
| Grill Function | Yes |
| Water Pan | No |
| Drip Pan | Yes |
| Ease of Cleaning | Moderate |
| Types of Wood | Pellet only |
Generally, your investing more in the automation and design of a pellet smoker grill. This is the easiest set and forget design you will come across.
From using a pellet grill, I can say that if you want the lowest amount of work, in regards to 'smoke & heat management, this is it. You externally add the pellets to a hopper, which can run all day or night for 'low and slow style cooking.
The digital thermostat certainly does make life simple. Traeger is a brand I am familiar with, it has a good range of pellet smokers. I prefer the high-end models. Another pellet smoker that has been tested out by my buddies would be the Camp Chef, these guys have been around for quite a while.
The grill option works well and gives the pellet smoker a whole new dimension. You can really BBQ or bake whatever you want on these.
Since the design will mean a certain direct heat area, it won't cover the entire grilling area at the same temperature. Any gas/propane grill I have used generally has hotter spots and cooler spots.
Here are a couple of pellet grills I wrote a full analysis on.
Most pellet grills have some sort of table area for prepping food, I find this really helpful.
Cold smoke accessories can be added to many pellet grills. This means you can produce some rather special backyard specialties.
Electric Smokers
| | |
| --- | --- |
| Easy to Use / Set & Forget | 9/10 – have to add wood |
| Temperature Control | 10/10 (with thermostat) |
| Smoker Fuel Type | Electricity |
| Size of Smoker | Compact-Moderate |
| Weight of Smoker | Light-Moderate |
| Grill Function | No |
| Water Pan | Yes |
| Drip Pan | Yes |
| Easy of Cleaning | Easy |
| Types of Wood | Wood chip, pellet, saw dust |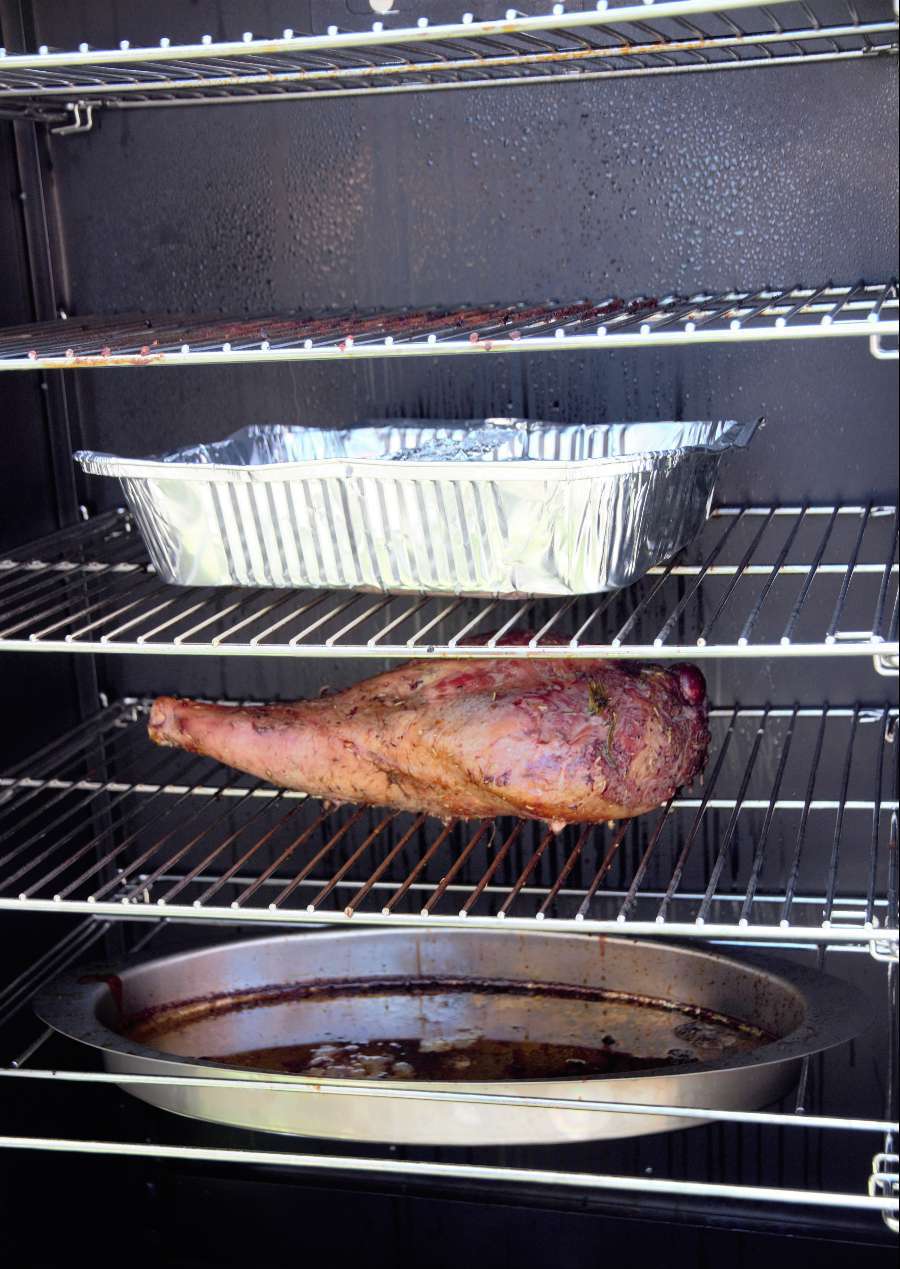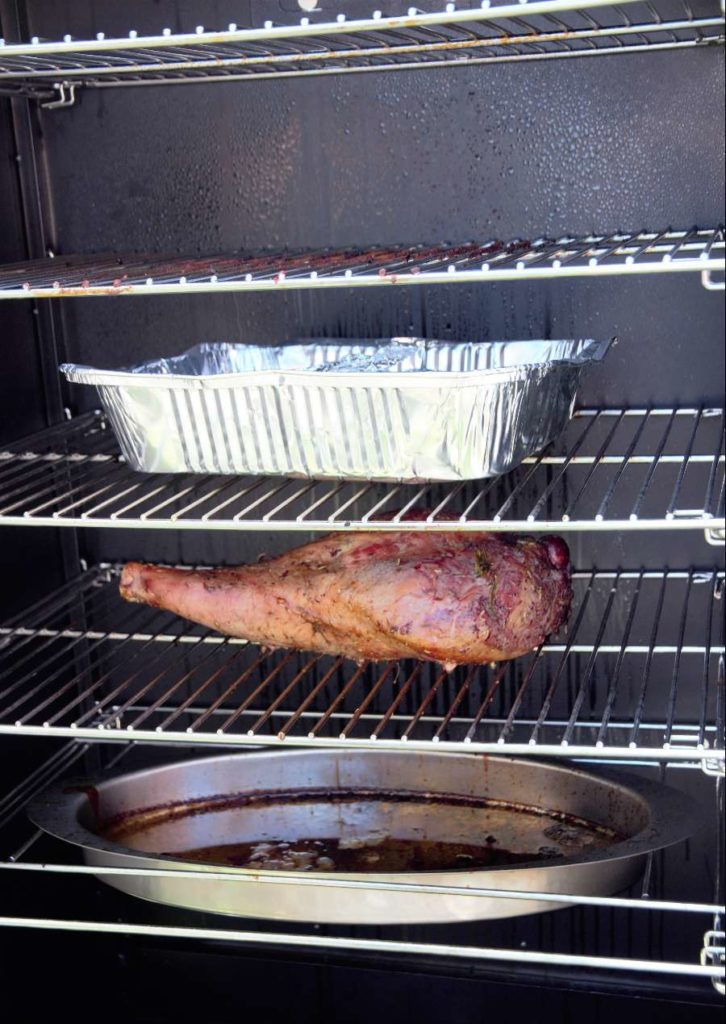 You may want an electric smoker because they are easy to use and quite a reasonably priced starting point.
The thermostat control model I use makes this set & forget. Depending on the price, there are either analog or digital thermostat control types.
As with any smoker, insulation is very important, but with a thermostat, if it does a good job of keeping the temperature in a certain range, it's not so relevant.
I tend to use the electric smoker more often I find. Because it is so easy to set up and go.
The design doesn't have to be heavy-duty thick metal, which is needed for offset charcoal smokers to manage the heat more effectively.
Since there is a delayed effect when fuel is added and the resulting temp increase.
You do have to have electricity, which shouldn't be an issue. These can be run off a generator also.
The electric smoker I have has a wood-burning area, you load more wood from the outside. It's a slide-in and slide-out feeder. This is a feature you definitely want, to make it easier. Here is a summary I wrote about my smoker.
You will need to replenish wood for long smoking sessions, This may only need to be done every 4-6 hours depending on the model. When I do smoked salmon, for instance, it's done in 1/5 to 3 hours with no added wood.
Generally, electric smokers can be considered portable. Many people like to unplug put in the car or truck and it away to the holiday home.
Some people even use a lump or 2 of charcoal into the burning area, for a certain flavor angle.
Gas or Propane Smoker
| | |
| --- | --- |
| Easy to Use / Set & Forget | 9/10 – have to add wood |
| Temperature Control | 9/10 |
| Smoker Fuel Type | Gas |
| Size of Smoker | Compact – Moderate |
| Weight of Smoker | Light – Moderate |
| Grill Function | No |
| Water Pan | Yes (Generally) |
| Drip Pan | Yes |
| Ease of Cleaning | Easy |
| Types of Wood | Pellet, chips, sawdust |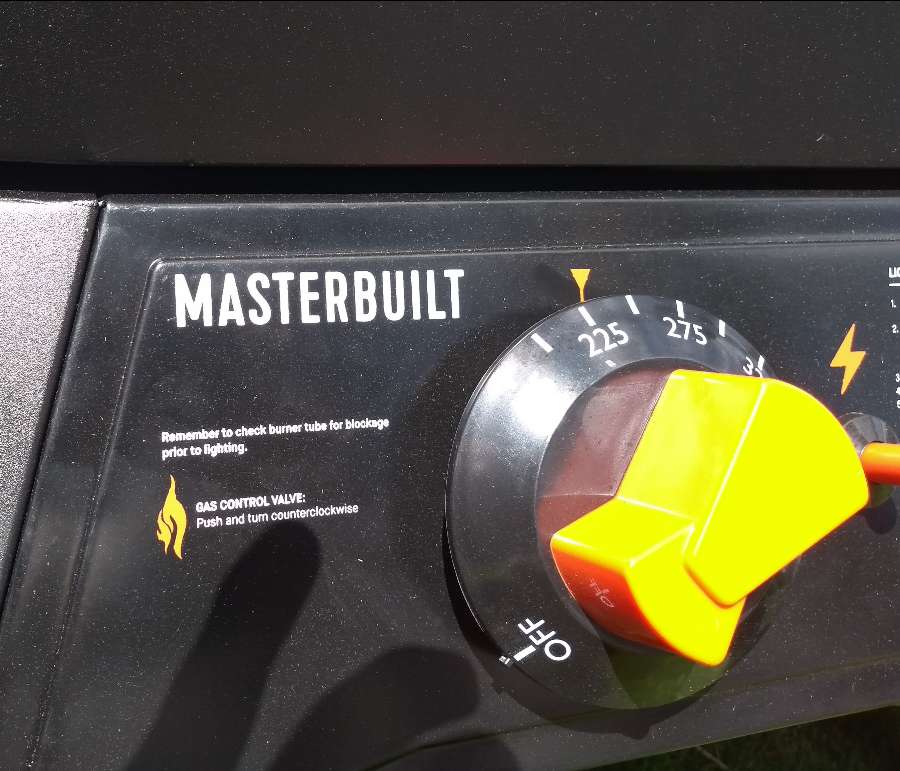 Once the gauge and control are set, these don't take a lot of operating. Apart from adding wood for smoking every 3-5 hours depending on what type of wood you using.
Like the electric smoker, these are oven design with racks. They also tend to be portable. You can literally take the gas bottle & the smoker anywhere.
If you are looking for the easiest gas smoker, I have reviewed a Masterbuilt model that has a thermostat-controlled propane system, further details are here.
Some say there is a ham-style taste that comes from gas smokers that some people prefer. This has something to do with the combustion aspects I presume.
Gravity Fed Smoker
| | |
| --- | --- |
| Easy to Use / Set & Forget | 8/10 |
| Temperature Control | 8/10 |
| Smoker Fuel Type | Charcoal |
| Size of Smoker | moderate-large |
| Weight of Smoker | Heavy |
| Grill Function | Yes |
| Water Pan | No |
| Drip Pan | Yes |
| Ease of Cleaning | Difficult |
| Types of Wood | Any |
These are interesting systems, you fill a chute up with charcoal. Have to get it lit. But from then, gravity feeds the charcoal into a burning chamber. They are considered offset and can come in horizontal and vertical.
I have hung around with a few people that own them, and they are incredibly happy. They do come within the thousands of dollars, they are built incredibly robust, heavy, and strong.
The brand I know is Stumps Smokers, check them out here.
Easy but a very decent investment!
Portable Box Smoker
| | |
| --- | --- |
| Easy to Use / Set & Forget | 7 /10 |
| Temperature Control | 8/10 |
| Smoker Fuel Type | Gas, Electricity, Open fire |
| Size of Smoker | Compact |
| Weight of Smoker | Light |
| Grill Function | No |
| Water Pan | No |
| Drip Pan | No |
| Ease of Cleaning | Easy |
| Types of Wood | Pellet, chips, saw dust |
This is not indirect low & slow smoking. Using direct heat from below the smoker, you have a small grill inside. You place the smoking wood in the box, then place the grill on. The meat (fish generally) goes on the metal grill.
I have used the portable smoker for brined wild turkey breasts also, they came out fantastic. Used a wireless thermometer to make temperature control a little easier.
If you want something portable and easy, maybe for camping or fishing, this is a decent option. Less dense meat works very well.
These are incredibly simple in terms of design. However, they suit short hot smoking like fish or other less dense meat or food.
This gets confused often with the below box smokers. I am talking about a portable smoker where the food and wood are in the same chamber. It is also directly heated from underneath via a bbq burner or source of heat (ie. gas & electric)
I have found these work great for camping, especially fishing trips.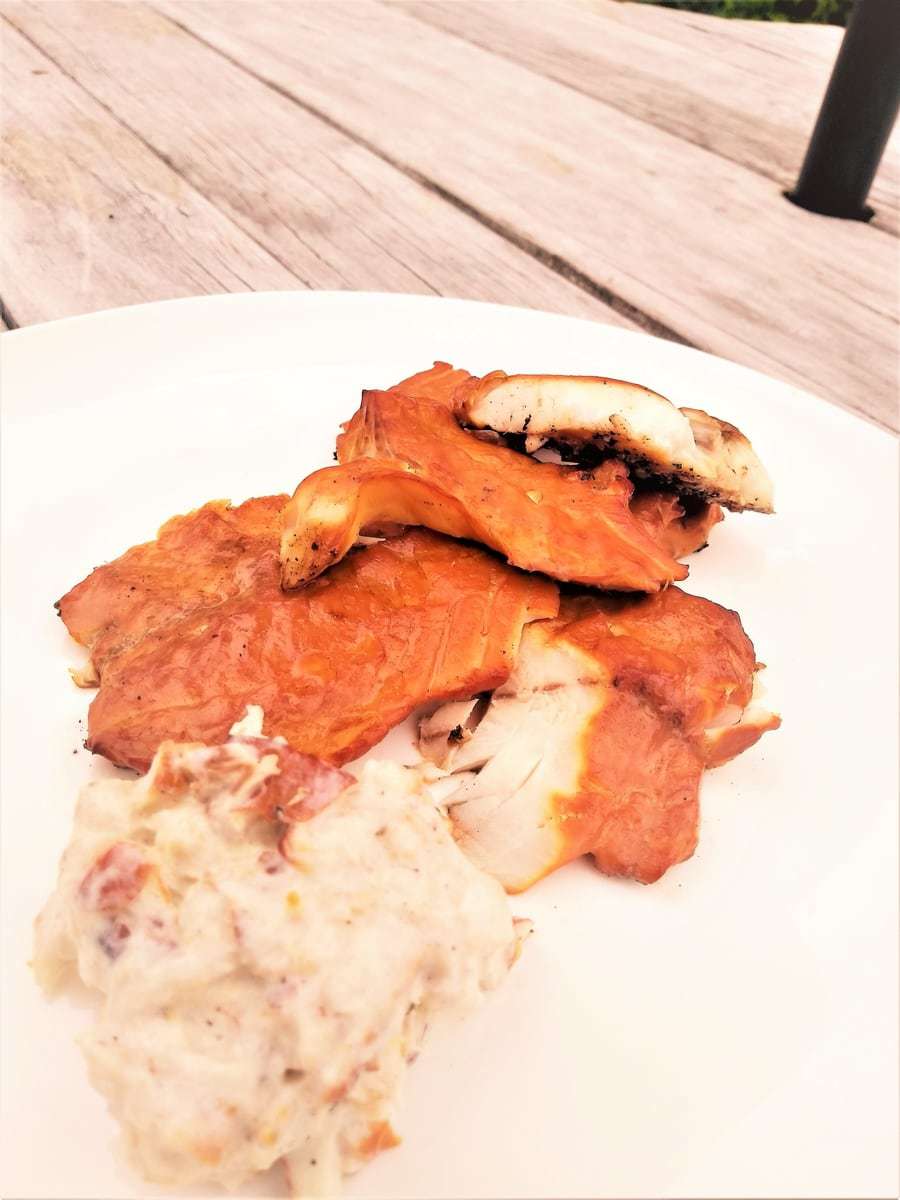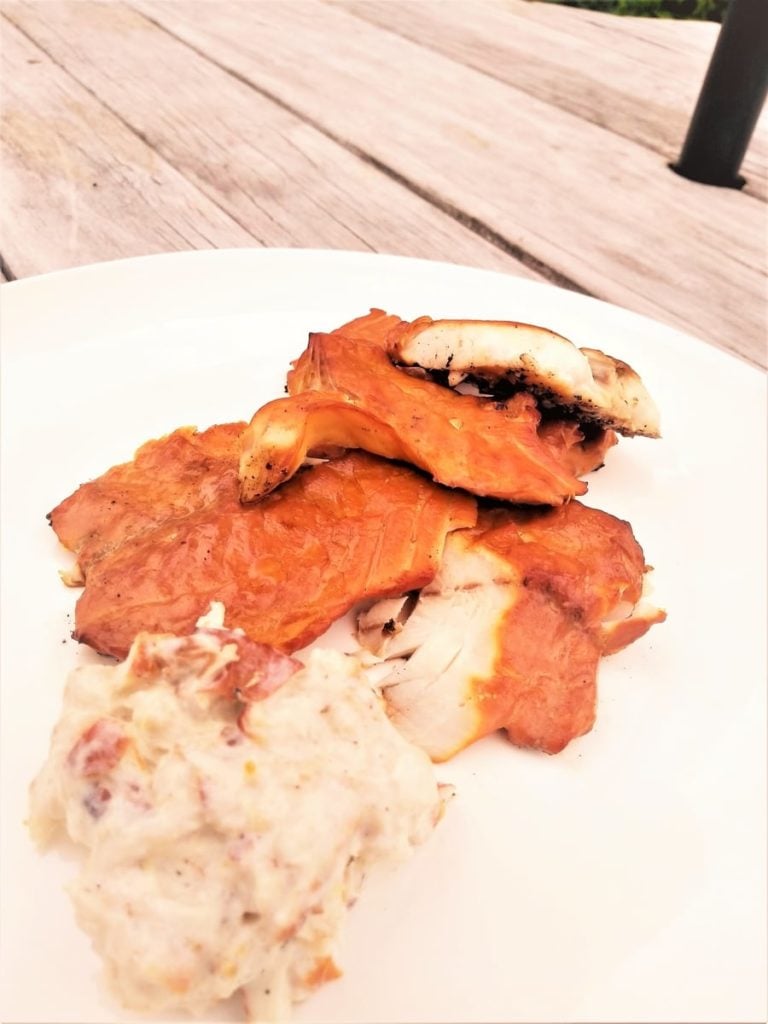 Other Portable Easy Smoking Options
BBQ Box Grill Smoker
This is the box grill smoker you please on a gas grill BBQ. You place it inside a hooded bbq or a kettle bbq. Direct heat from below starts smoking the wood. It's an easy way to add some smoker flavor.
When smoking on a bbq, there is generally lots of air holes & exhaust areas so the BBQ doesn't overheat. With a smoker, it is a much more enclosed, and hopefully insulated environment. These are important factors for long slow smoking sessions.
I can smoke a trout or salmon in about 10-30 minutes with a portable smoker.
Tip You want to go easy on the wood you put in a portable smoker, it doesn't need a lot since everything is packed together tightly in the box.
It can provide you a light smoke flavor food inside the BBQ. Having a hinge helps a lot, since you can use metal tongs to pop it open easily.
Here is are few I have near the gas grill – portable smokers.
Pellet Tube & Maze Smokers
Pellet tube & maze smokers are another simple tool you can use on a BBQ for adding smoke flavor technically they can be used for BBQ hot smoking and cold smoking.
These can produce plenty of smoke, the pellet tube can take more smoke management generally. The Maze smokers just need to be lit and smolder away happily. I do find that you have to keep an eye on these, they are great wee inventions.
Please find further details here, if you want to read more on these.
What are the Easiest Foods to Smoke?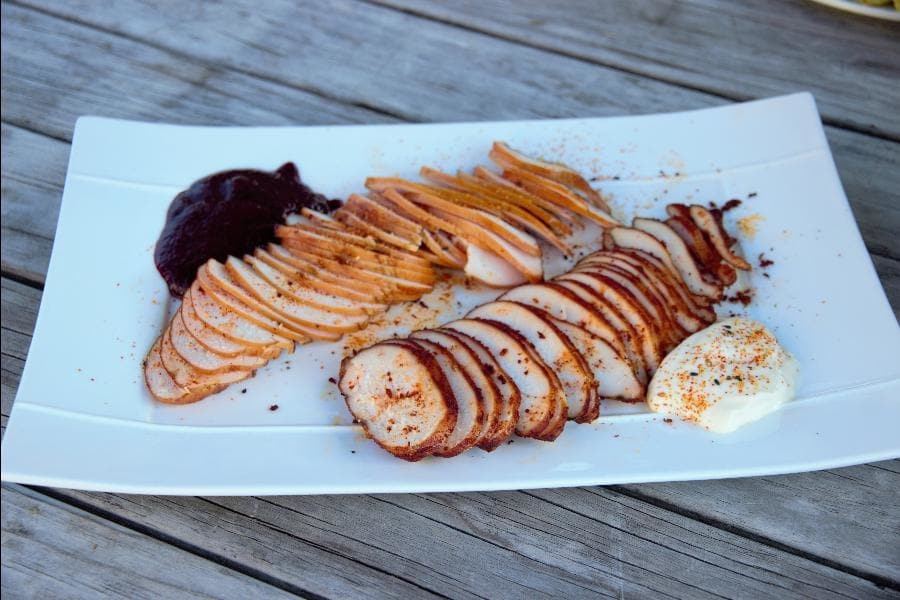 Here is a list of meats that I have found really easy to smoke. Mainly based on the shorter time to smoke them.
Sausage
Pork chops
Fish fillets
Steak – thick cut (1 inch+)
Turkey – breast
Chicken – breast or thigh
If you are following the above advice, then you should be able to follow a decent recipe and conjure up beautiful smoked flavors. If you want some more information on one easy smoking option, please click here.
Smoking Wood that Works for Most Food
Again, there is a lot of controversy chatter about different woods. I completely agree there is a big difference between mesquite and cherry wood. Generally, hardwoods are on a spectrum from light to strong.
You can't go wrong with nearly all fruitwood, like those listed below. You can make these work with just about any meat. They are generally lighter and sweet, whilst mesquite is a strong wood which is quite often better mixed. Sometimes adding heavier wood and having a base of light fruitwood means you don't risk over smoking.
Here is the list of light & medium wood I used from my full post on smoking wood:
Apple
Cherry
Apricot
Pear
Pecan
Alder
Maple
Oak
If you want more information on universal wood and sizes of wood that fits many smoking projects, please find the link here.
Easy Pellicle Formation
Pellicle formation when hot smoking meat is very important, it allows the smoke flavor to adhere to the meat.
If you want an easy guide on pellicle formation, please find it here.
Tools to Make it Easier
Thermometers
The inbuilt thermometer that comes with a smoker is reasonably accurate, however, it can vary considerably.
When I started meat smoking, I had one cheap thermometer probe, I used it to get the consistency using a portable smoker or anything I had that didn't read temperature very well.
I would insert it into the meat and wait until it had hit the target internal temperature. Whilst, also using it to check the smoker's temperature.
If you have a thermometer inserted into the meat at the center, it becomes incredibly easy to know when it's cooked.
If you want some thermometer reviews, looked at the budget options, and also got something special for a Xmas present, find more info here.
Other Styles of Charcoal Smokers
These below are the opposite of easy smokers and if you want easy, then managing fire and smoke is a whole other story.
I realize some people find charcoal smokers really easy also. However, in terms of the attention, you need to give them. They all require input regularly, sometimes I love and sometimes I prefer set & forget.
Purists of BBQ smoking have issues with non-charcoal sometimes. At the end of the day, pellet grills win a lot of competitions.
Different Vertical Charcoal Smokers

Weber Grill
Bullet Smokers
Barrel Smokers
Komodo Grill / Smoker

Horizontal Offset Smokers
Cabinet Smokers
Related Questions
What is the Best Smoker for the Money?
An introduction pellet grill or electrical smoker will be a cost-effective option for smoking. For less convenience, vertical charcoal barrel smokers will also be a cost-effective option. Barrel smokers will involve more fire and wood smoke management.
Do you Soak Wood Chips in an Electric Smoker?
It has been proven that it slightly decreases the time until combustion starts. This does not serve a benefit when smoking food. The wood will steam for some time, and then combustion will occur to create the smoke.
How To Use a Smoker
Depends on if the style of the smoker. The target temperature of the smoker needs to be reached and smoke generation has commenced. The food can then be placed in the smoker. The time it takes will vary greatly based on what food is being smoked.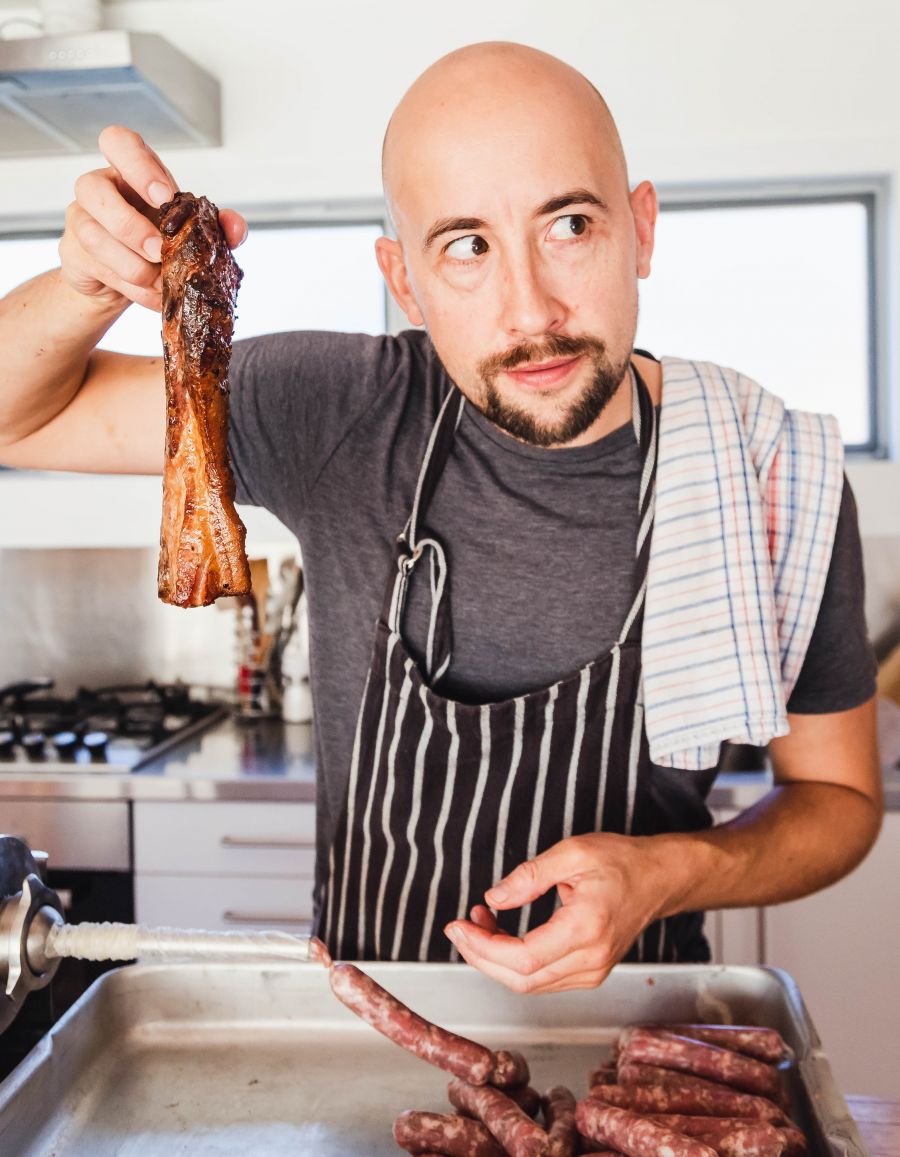 Thanks for dropping by, I've been passionate about meat curing for decades.
I Hunt, Fish, Forage, Buy, Butcher (Wannabe Norcini), Make, Savor (I'm not a Saviour), and love curing and smoking meat.
Learning and consuming in a circular fashion, I am always interested in what is happening around the curing and smoking world
Seeking the passionate behind the passion.