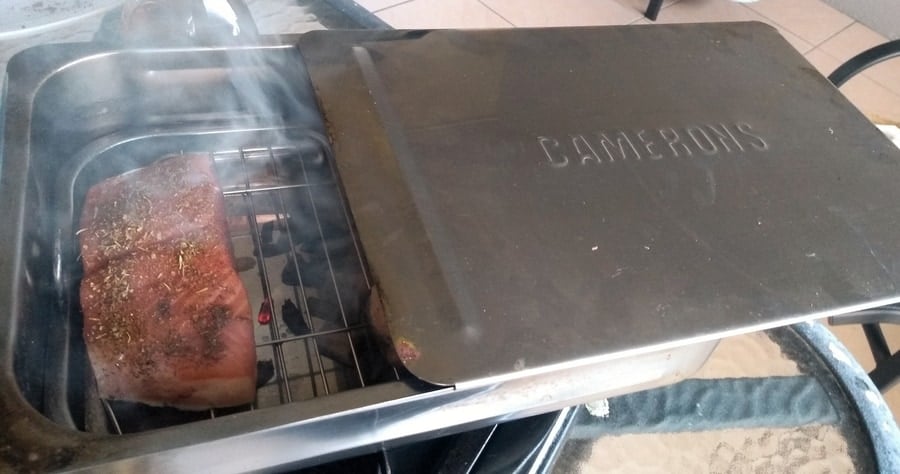 I love to bring a portable smoker camping, I've check out a lot and reckon that I've come across the best around. There was a fair bit of analysis that went into portable smokers, and some smokers are best for different types of scenarios.
I love to smoke trout and a host of other fish when on camping trips (but I have found out there are a bunch of other things you can smoke in a portable smoker too).
Sometimes it's just a good old fashion camping trip in a car to a camping ground or sometimes its a bit more remote camping trip to the mountains or forest ("bush-whacking" in a 4WD).
As I mentioned, I did a bit of analysis with the smokers and created a rating system, to compare them, so the criteria that I used was,
Weight
Portability
Ease of Use
Fuel You Can Use
I will go over what I discovered using these criteria for each portable smoker.
Space in the back of a truck is always at a premium, so when I looked at the different types of portable smoker's I was thinking about not just the smoker. But also what fuel it uses and what it could be smoking size-wise as well.
I guess versatility and portability were the key. You aren't going to stick a chunky backyard smoker in your car for a camping trip.
To run a smoker you need a fuel source, wood, and stuff to clean it. Tried to keep this stuff in mind, when comparing these portable smokers.
Direct Heat & InDirect Heat Portable Smokers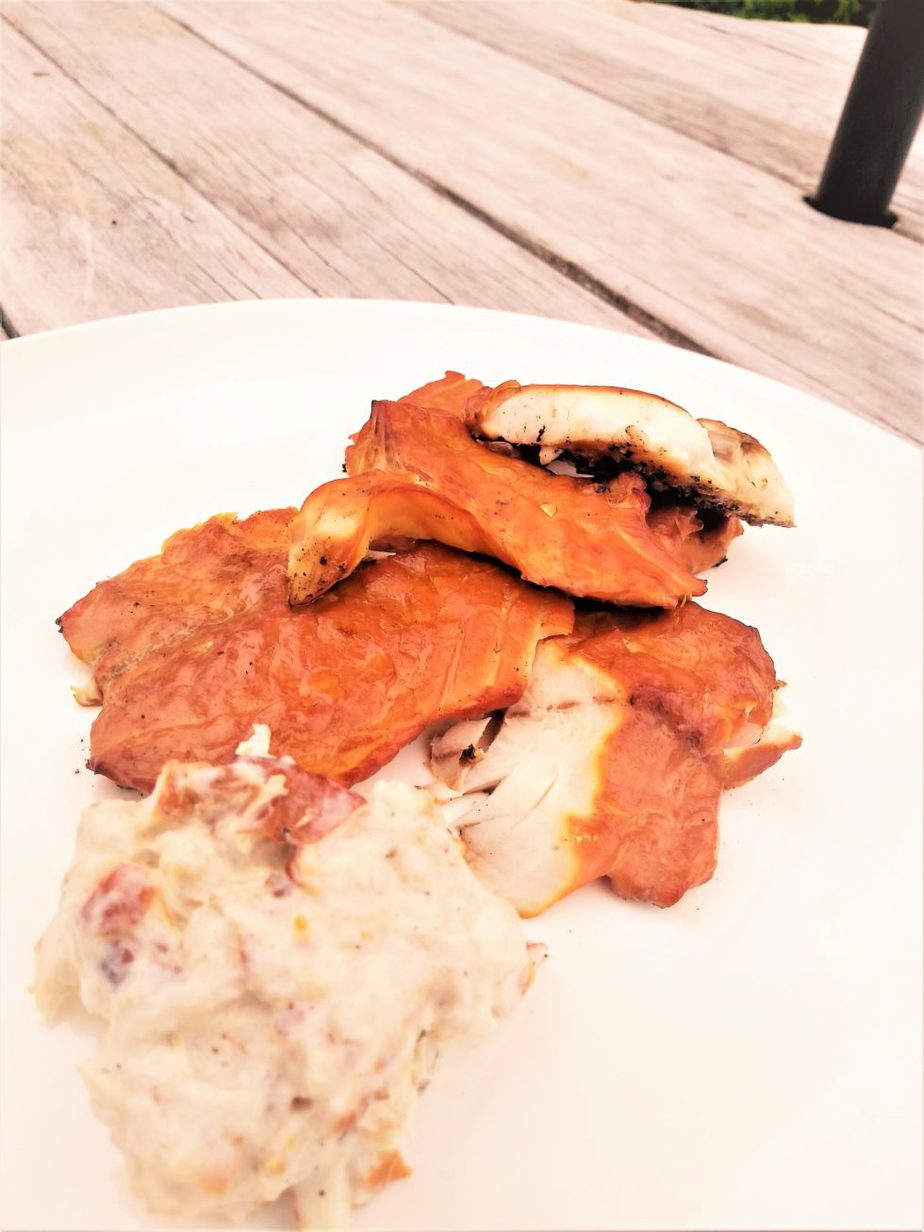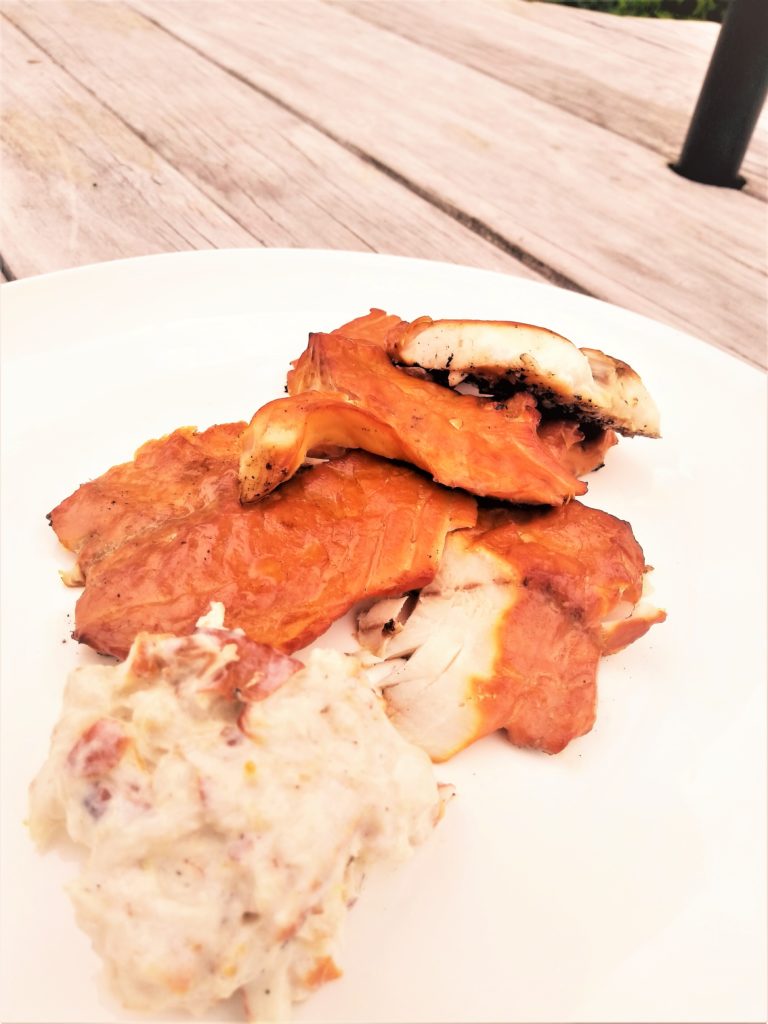 I've picked out 2 direct heat smokers and 1 indirect smoker.
I've mentioned these different methods, of hot smoking throughout this website, but will give a quick summary.
When it comes to portable smoker's if you're really after the smallest most compact unit then direct heat is the way to do this.
The direct heat portable smoker is something I've been using for about 20 years, there is a little bit of a learning curve but as long as you don't use too much wood, that is the key to getting some tasty outcomes.
There are also cheaper portable smoker's with direct heat but you'll find where they are riveted together not in a one-piece basket type design. Then depending on your fuel, this can influence the flavor as well.
With direct portable smoker's you really just have to play around a little bit with the temperature and every now and then having a bit of a look to see how your smoking and cooking is going.
Another one of the big things about direct portable smoker's is that it's not about airflow going through the smoking chamber, like many other types of low & slow smokers.
I've had the best success with direct portable smokers for fillets of fish and whole fish like trout or salmon. Even for fresh sausages, you want to cook and give some smokiness too, work really well in a portable smoker.
And quite often I have brined and then smoked some wild turkey breasts in a portable smoker using a temperature probe keep an eye on when turkey breasts to hit the finished internal meat temperature.
Indirect Smokers
As mentioned indirect smokers are generally the ones that are diffusing the heat, so the heat isn't going directly into the cooking area or straight onto the meat.
Electric smokers or pellet grills are a good example of this indirect smoking/cooking. Or the classic offset barbecue low & slow smoker. But I'm not talking about these I'm talking about camping and portable smoker options, so here they are followed by the basic rating system – then finally tips and trips for each type of smoker.
3 Best Portable Smokers for Camping
1.Camerons Large Stovetop Smoker
2.Charcoal Companion KitchenQue Stovetop Smoker
3.Char-Griller Akorn Jr Kamado Kooker Smoker
Why Are These the Best Smoker for Camping
| | |
| --- | --- |
| Weight | A+ |
| Portability | A+ |
| Ease of Use | B |
| Fuel You Can Use | A+ |
| Versatility | C |
The Cameron 'Stovetop' Smoker is pretty sure about as portable as you can get.
It's sleek and as narrow and you can (different sizes, smallest is the Gourmet Mini (7″ x 11″ x 3.5″) fit everything you need inside the smoker.
It has a folding arm and a great build quality.
All you need is some heat generated from the wood fire, propane or any other little heat system when your camping. This is simply the easiest and best direct cook smoker I know about, especially for fish or sausages of my favorite.
| | |
| --- | --- |
| Weight | B+ |
| Portability | A- |
| Ease of Use | B+ |
| Fuel You Can Use | A+ |
| Versatility | B |
Again this is very compact and portable, but what it does have that the Cameron smoker doesn't is the clearance/height inside the cooking area & a built-in temperature gauge.
What this means is if you want to smoke and cook a chicken or some other larger chunk of meat, this gives you the next level flexibility but is still portable for the camping trip.
The built-in thermometer is useful because you bit of an idea what's going on inside the cooking area but also it gives you the option of longer baking or roasting.
They say this is kind of built for kitchen smoking but I think it's better in the outdoors. But you do want to note that it can run on induction, gas or electric (a small open fire on the embers as well, will need something to wrap it up with though).
Its got versatility with this type of device, it can also just be used as a straight baking oven as a sealed unit. You can add water to the bottom just like you do with the roast to provide some moisture for pork or chicken (and for smoking that's where you out the wood).
You can't do barbecue grilling on the KitchenQue, but you can the oven style cooking or smoking – so the middle of the picks for versatility. If you wanted searing grilling option with your smoker then you been look at the charcoal acorn kamado below.
| | |
| --- | --- |
| Weight | C |
| Portability | C+ |
| Ease of Use | B |
| Fuel You Can Use | B |
| Versatility | A+ |
If you never heard of a green egg grill or kamado cooker, it's basically a very efficient insulated smoker grill that the Japanese invented. These are quite the envy in many BBQ smoking communities, they are a awesome way of grilling or smoking (my brother has a giant version of this one).
This is basically the smallest version, it can keep very effective airflow control (the key), once you set it at the temperature you want, it will stay that temperature for a considerable amount of time I've talking hours and hours, easily 7 – 12 hours of low & slow smoking is normal – which is incredible for a small device. The key is to use good quality lump charcoal to get this long smoking time.
So if you like to have 'the best' and get the quality you will need a bit more room in the car or truck. But these kamados are stylish in design as well. You will use a very small amount of lump charcoal per session, but you can also use this as a traditional grill barbecue for searing in the thing you want. They can get up to 700°F/370°C – which is amazing for whatever you want to caramelize, getting crispy pork chops is easy with this machine.
Details on Each of These Smokers
These are made sturdy and even my mother has one, believed it or not. She uses it on a simple gas cooker outsides on her apartment porch patio.
Although the funniest thing I remember she smoked was carrots or should I say over smoked. They were completely under edible because she made the mistake of using too much wood chips, it's so common.
I learned the hard way too with this and also used to over smoke many beautiful condition fish that I caught when I was younger in body (never older in mind).
A little bit goes a long way with this type of portable smoker.
A French gentleman made the most fantastic smoked sea fish, I think of ever tasted, said that he only used 1 tablespoon of strong smoking hardwood – I think it was oak. A sprinkling of chili cayenne, pepper and I'm pretty sure something else he never told us about.
You can use an open fire if you are pretty hard-core, you do have to micromanage a fair bit and just do it over not too hot embers.
I like to have some kind of blanket or another type of material to wrap up the smoker, if you use an opened fire as a fuel source, it'll get black and charred on the outside.
The cleanest way to use the Cameron smoker is a gas cooker / propane cooktop, camping portable ones work perfectly. I just put the gas on medium and use less than half a handful of woodchips.
I leave the lid off and wait until it just starts to smoke, and then I turn it down to pretty much as low heat as possible (whilst still producing some smoke). Normally put in the fillets of fish that have been lightly cured or brined using the equilibrium method to choose the salt level (need to measure the salt very accurate though).
The old method I used, was just a light sprinkling of sea salt and a very light sprinkling of brown sugar, leave it in the fridge overnight. Then it's ready to smoke up the next day.
My brother sometimes prefers no cure or brine, for a fine specimen of trout, he just wants the true taste to come through.
If you don't know what the equilibrium curing and brining is, you can check out the post on it here.
I find most fish fillets that are half an inch or less, take around about 10 to 12 minutes on this direct heat smoker.
I've tried a bunch of smoking wood types for a portable smoker like, wood pellets, sawdust, woodchips, grapevine branches that have been chipped and even a little bit of black tea leaves. You don't need much and can play around with the mixtures of smoking woods of course as well.
Best if you are starting out, to go for light fruit woods like apple, peach etc..
Check out the different size and it's kind of inexpensive too, here is the link to Amazon.
You can do everything that the Cameron Smoker above can do with this bad boy, but it just has a lot more versatility in the kitchen or camping with that higher clearance for larger chunks of meat or vegetables.
The reason you paying a bit more money for this option, is as well as the insulation being better, it's enamel coated so you got something that will last a lot longer and be a little bit easier to clean as well.
I definitely still consider this a portable camping type apparatus, but with its tight seal gives a bit more flexibility when it comes to the kitchen use.
Check out these dimensions: 20.5 x 21.5 x 25.3 in
That is crazy for a kamado egg style ceramic smoker.
This brand is popular, Char-Griller has been around for ages and this little Junior Kamado Acorn is much talked about much in the barbecue smoking community, as an exceptional small compact smoker and griller.
Whether you want to get some searing steak happening or whatever low & slow smoking you want to do this little beast has the room for. With a rib rack, you can get a few sets of pork ribs or a small brisket for a long smoking session.
You need lump charcoal and it can be transported inside which helps add to the portability and keep the messy charcoal somewhere. I've never found it hard to get a kamado started just using the basic techniques with charcoal lighting.
As mentioned the seal that goes around that lid is an important part, it helps keep the airflow and is tight. And once you have the bottom vent control set, then your really just adjusting the top vent.
Definitely a little bit heavier than these other options, but the versatility and success of kamado barbecue smoking and grilling give this device a lot of versatility and portability.
If you're going seriously off-road to get to camping, it may not be best – being made of ceramic. But if your heading to the lake camping ground or a cabin this could still work very well.
In terms of the weight, we are talking about around 40 pounds sort of 20 kg. So bear that in mind that it's got a bit of weight to it. But if you're on sealed tarmac roads to the camping spot then this is a great option.
You just need to check out the nearly 500 reviews pretty much all amazingly positive about this product. Here is a link to Amazon to read a bit more about it, you won't regret this decision.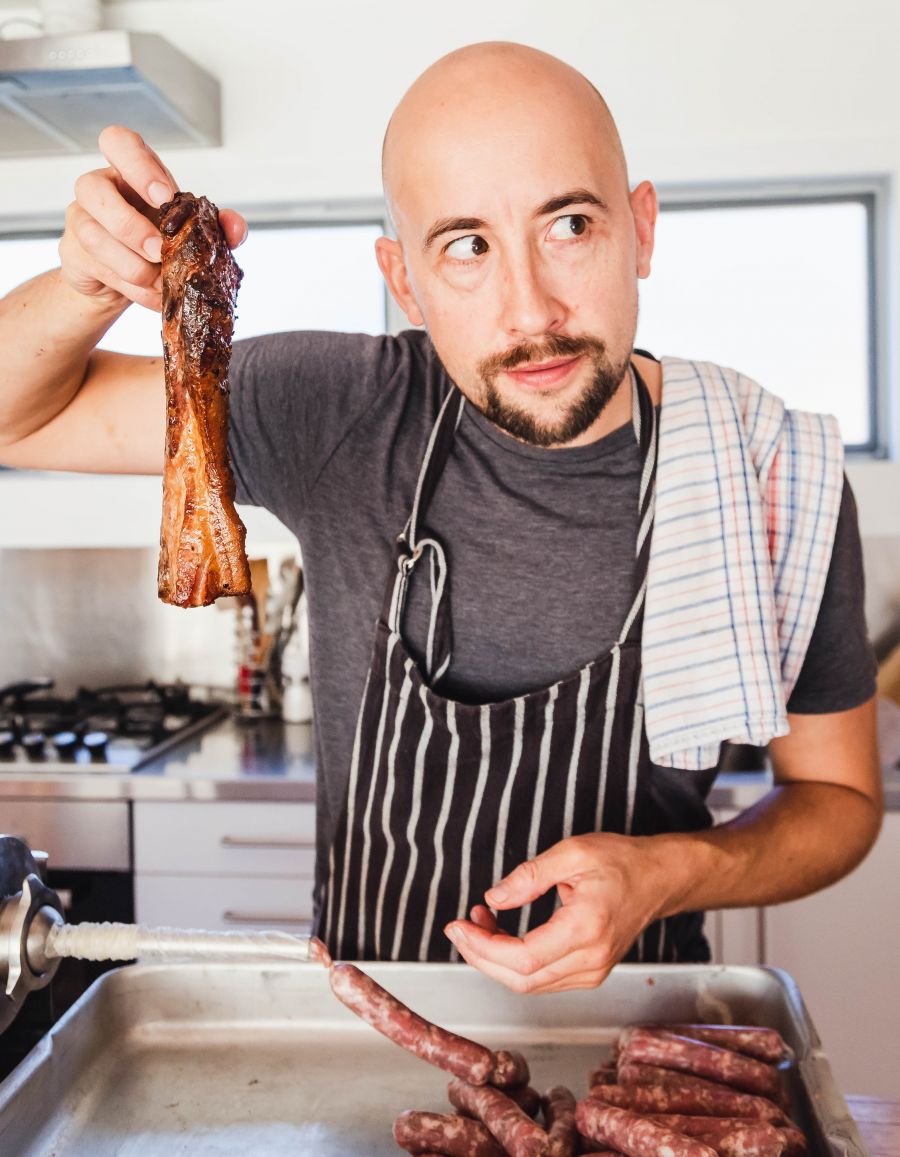 Thanks for dropping by, I've been passionate about meat curing for decades.
I Hunt, Fish, Forage, Buy, Butcher (Wannabe Norcini), Make, Savor (I'm not a Saviour), and love curing and smoking meat.
Learning and consuming in a circular fashion, I am always interested in what is happening around the curing and smoking world
Seeking the passionate behind the passion.