Many different combinations of alcohol can work with charcuterie and dry-cured meats. I've tried alot of combinations and wanted to share some insights I've had to match the dry-cured or charcuterie meat.
Since charcuterie, salumi, antipasti, or dry cured meats has thousands of variations and types, I've grouped the charcuterie together to be a little more helpful. You'll find a table that should help with the matching you are going for.
After savoring, buying, and making so many different types of charcuterie, they'll be some generalizations, since everyone tastes and perceives food (and the world) slightly differently!
These are the generally accepted matches that have been proven over the years.
What Alcohol Goes with Charcuterie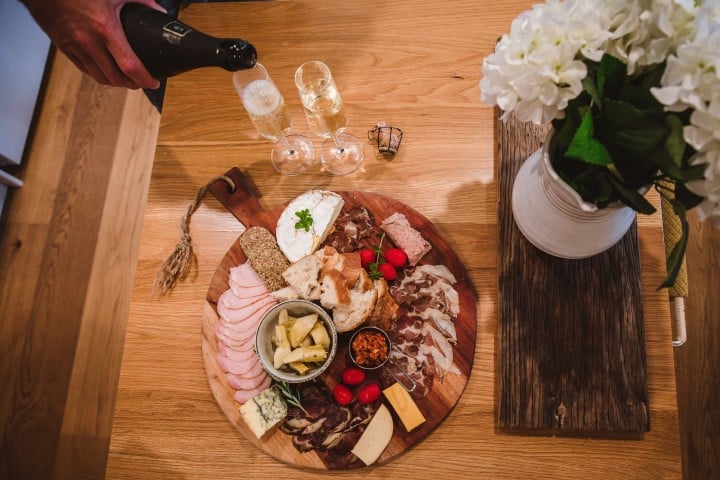 The simple guide is – the lighter the flavor, the lighter the alcohol you want. Keep away from sweet wines.
What I mean by lighter flavors, is charcuterie that has simple spices is not gamey, and without having heavily smoked flavors.
Lighter dry cured meats like pancetta, prosciutto, lonzino/lomo, spalla, and coppa are easily matched to dry good quality sparkling wines or unoaked white wines
This is often the easiest matching you can do!
Salami with more robust flavors like soppressata – with garlic, pepper, or chili pair more with medium-bodied red wines like the below listed.
Dry rose styles can also work across the entire charcuterie/antipasti board from my experience.
| | | | |
| --- | --- | --- | --- |
| Charcuterie Type | Charcuterie Example | Alcohol Match | Alcohol Example |
| Dry Cured Pork & Red Meat | Pancetta, Prosciutto, Lomo | Dry Sparkling Wine | Prosecco, Lumbrussco (Dry Not Sweet) |
| Spicy Dry Cured Salami or Salumi | Picante Salami, Spicy Salami Styles | Medium Body Red Wine | Merlot, Zinfandel |
| Cooked & Smoked Ham | Smoked Ham, Hot Smoked | Dry Sparkling, Un-oaked dry white, medium red wines | Moscato, Chardonnay, Riesling |
Smoked ham is often sweet and salty,
Simplest Pairing Choice for Charcuterie – Dry Sparkling Wine
Why Does dry sparkling wine pair with charcuterie meat?
Acidic and dry wine cuts through some of the fat and salt flavors.
What Does Prosecco Pair With?
Salt and Fat of the dry-cured meat and the acidity of prosecco have long been proven with Italian antipasti or antipasti pairings (not Antipasto – that is not actually a word in English).
What Does Lumbruscco Pair With?
Be careful, the cheap version of Lumbrussco which sort popularity in the 1970s was incredibly sweet, quite like the RTD (sweet ready-to-drink, high alcohol) fade that is targeting the younger generations nowadays.
Proper Lumbrussco/Lambrussco should not be overly sweet, you will have to do some research on this type.
Popular in the Emilia region, since the grapes are very widely grown.
"amabile" is used for wine in Italy to mean semi-sweet.
Red sparkling light Italian wine is a wonderful delicious choice, to cover most foods on a traditional, dry cured meat, cheese, and bread-type charcuterie board or antipasti.
https://www.matchingfoodandwine.com/news/pairings/the-best-food-pairings-for-lambrusco/
Light Dry White Wine for Smoother Charcuterie Flavors
Light and dry white wine will not overpower the subtle flavors of well-aged, dry cured meats – Parma de Prosciutto has ingredients of only pork and salt (although thousands of years of tradition, quality, and craftsman are also part of the 'recipe').
White Wines to Match Charcuterie Meat
Beaujolais Cru
Gewürztraminer
Chenin Blanc
Pinot Grigio
Sauvignon Blanc
Medium or Fresh Red Wines for Pungent Charcuterie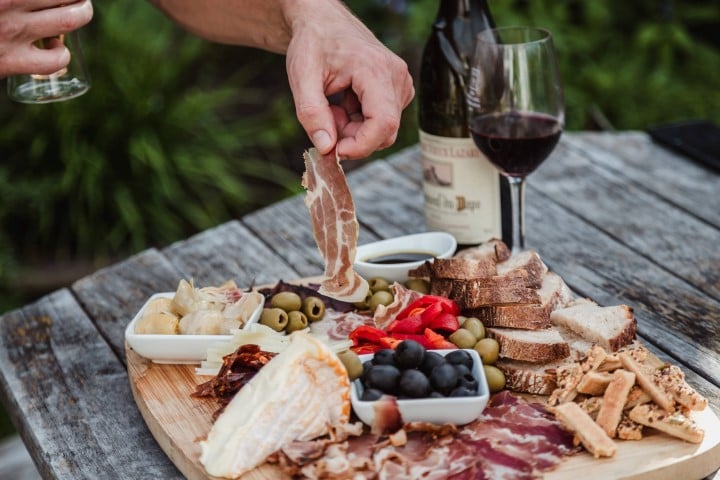 The simplest match is dry sparkling wine such as prosecco. For umami-rich charcuterie board flavors like salami, garlic, and black olives match with light/medium fresh red wines.
Red Wines to Match Charcuterie Meat
Zinfandel
Malbec
Merlot
Syrah
Cabernet Franc
D'Abruzzo
Sangiovese
You can see that lighter and drier types of wine, often unoaked or lightly oaked are a superb option when it comes to matching dry cured meat and charcuterie.
Different Charcuterie and Alcohol Pairing/Matches
Cold Smoked Meats – Peaty Whisky
You can probably get the idea that something 'smoky' like whisky/whiskey. I don't mean bourbon either, I am mainly talking about single malt or scotch whiskey is my preference.
Smoke Flavors to match each other, although medium to light peaty not overly peaty like Lagavulin (I like it, but is compared to drinking to ashtray by some).
How to Pair Spirits and Charcuterie
Rye 100% Whisky and nice fat-based salumi, like prosciutto or lardo for whole muscle meats, is what Jeff suggests, who seems to be quite the mixologist.
Beer and Charcuterie Meat
I've always found simple and proven classic Germany Pilsner or Lager the choice for me. I've heard of IPAs or APA being matched to stronger and spicier flavors. I find the hoppy natural overwhelming to the taste of the meats.
Here are some more matching ideas I've found if you want to be bold!
What Cocktail To Pair with a Charcuterie Board?
Things get tricky since you are using multiple ingredients, which leads to different outcomes depending on how the mix is made with either more boozy, sweet, or sour/acid.
On an Italian site, I found these 2 options also:
Proscecco, Elderflower syrup and soda
As you can see nothing to heavy with alcohol.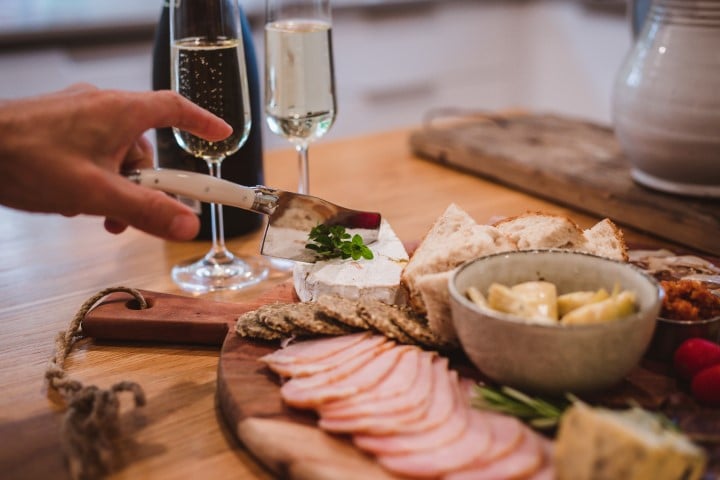 Other Resources I Read to Help Write This:
https://www.matchingfoodandwine.com/news/pairings/the-best-food-pairings-for-lambrusco/
Host with the Most – pairing some wines on a picnic
Italian Antipasti (Charcuterie) Wine Pairings – classic Italian!
https://www.sandanielemagazine.com/en/product/whats-best-drink-enjoy-prosciutto-di-san-daniele/ – basic ideas
https://vinyang.com/blog/sangiovese-food-pairing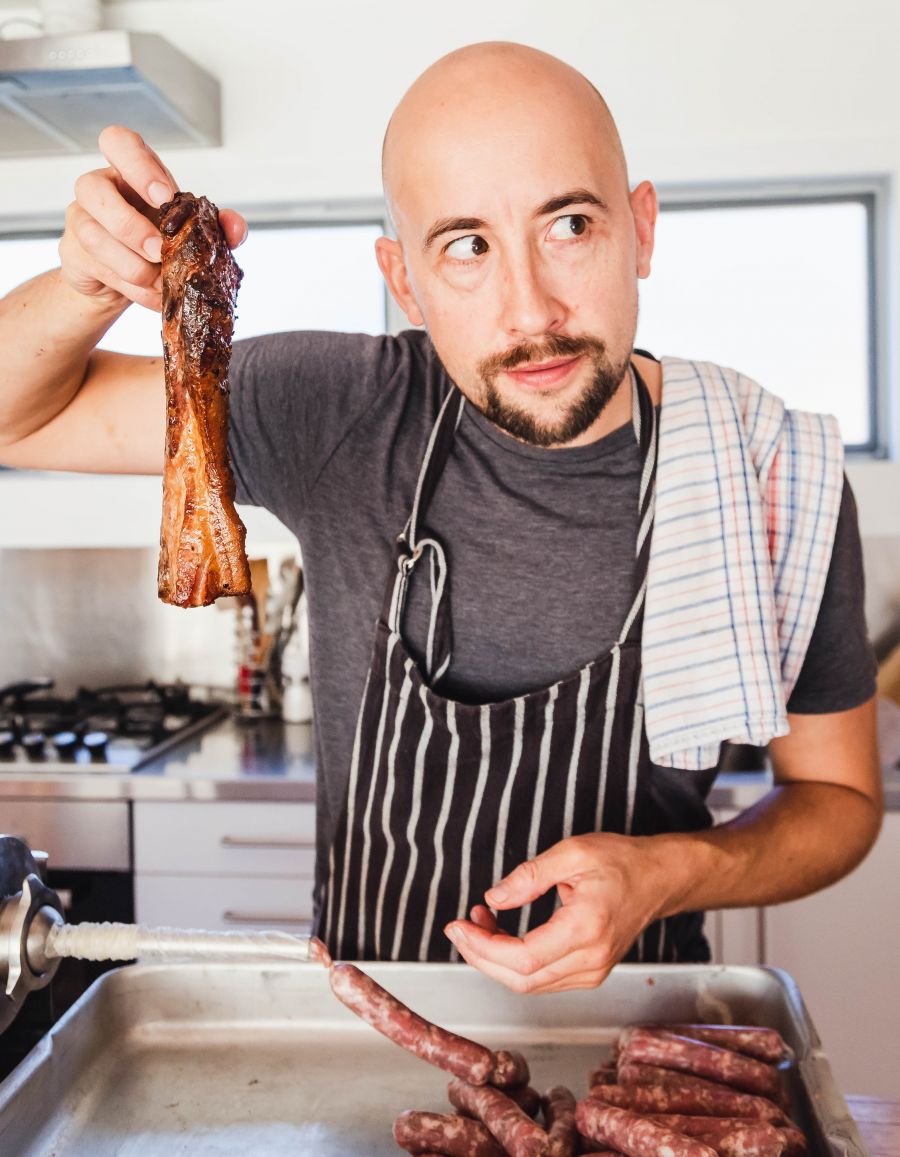 Thanks for dropping by, I've been passionate about meat curing for decades.
I Hunt, Fish, Forage, Buy, Butcher (Wannabe Norcini), Make, Savor (I'm not a Saviour), and love curing and smoking meat.
Learning and consuming in a circular fashion, I am always interested in what is happening around the curing and smoking world
Seeking the passionate behind the passion.