The Inkbird Wifi IBBQ-4T Thermometer is quite the contender when it comes to a Wi-fi multi-probe thermometer. The market has a few of these that are true Wi-Fi, and what I mean by this, is that they connect to a wireless router at your home and then you can log in to the thermometer via a smartphone app (iOS or Apple).
It gets a little confusing because some thermometers claim to be Wi-Fi but actually they just have a direct connection from the thermometer to your phone via Bluetooth.
I have played around with a small handful of BBQ probe thermometers over the years. What got me interested in this Wi-Fi thermometer is its simplicity (small compact, simple – hey it's just a thermometer come on) and also I was getting some other Inkbird products (which I'll mention below). Specifically, temperature and humidity plug then controllers for a new meat curing chamber.
But I also love to do low n slow smoking and other bits and pieces where the thermometer can and has been useful.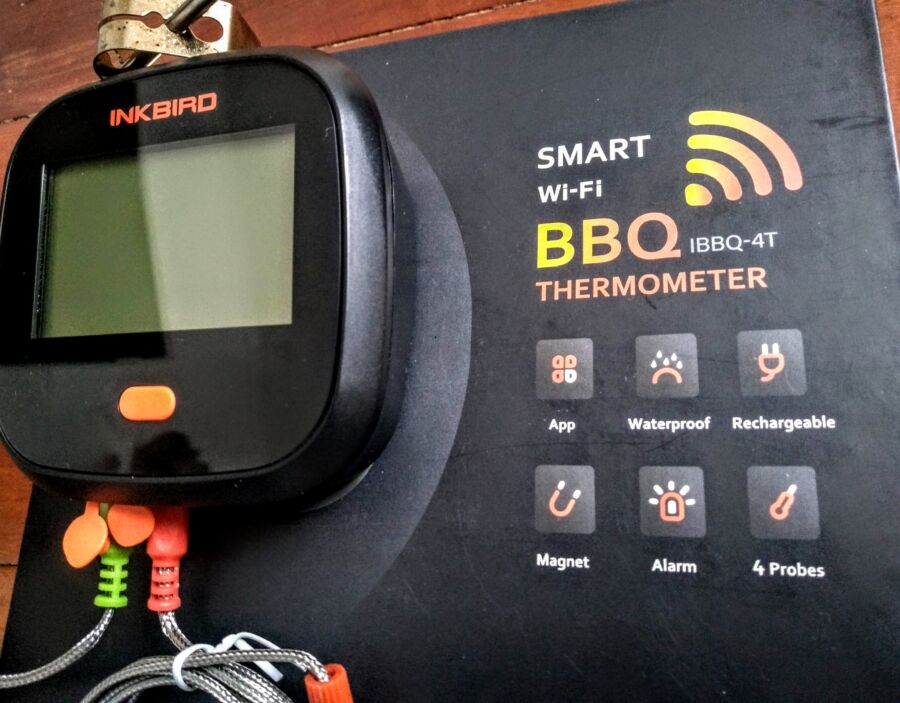 First up, I couple of short summaries about what I think and the review of this product. Then I will crack into some detail about what I thought and how I used it, as always I will try to be as impartial/neutral as possible.
Inkbird Wireless Probe Thermometer Review
The Inkbird Wifi IBBQ-4T true wifi thermometer performs to a reliable standard, accuracy is consistent as well. The 4 color-coded probes allow many probe projects. 2.4Ghz Wifi connection to a router means you can leave home and still see data, which is logged in a graph on the app.
Review in Detail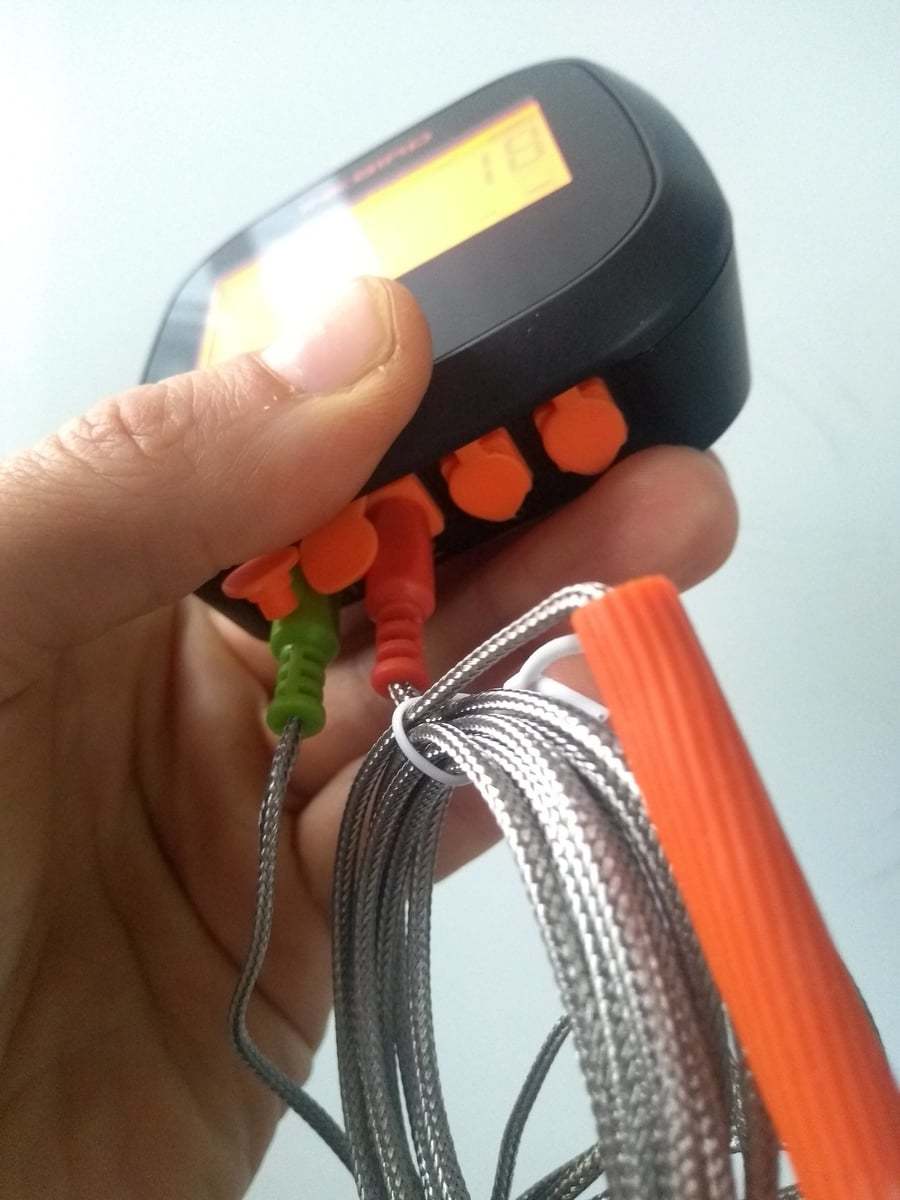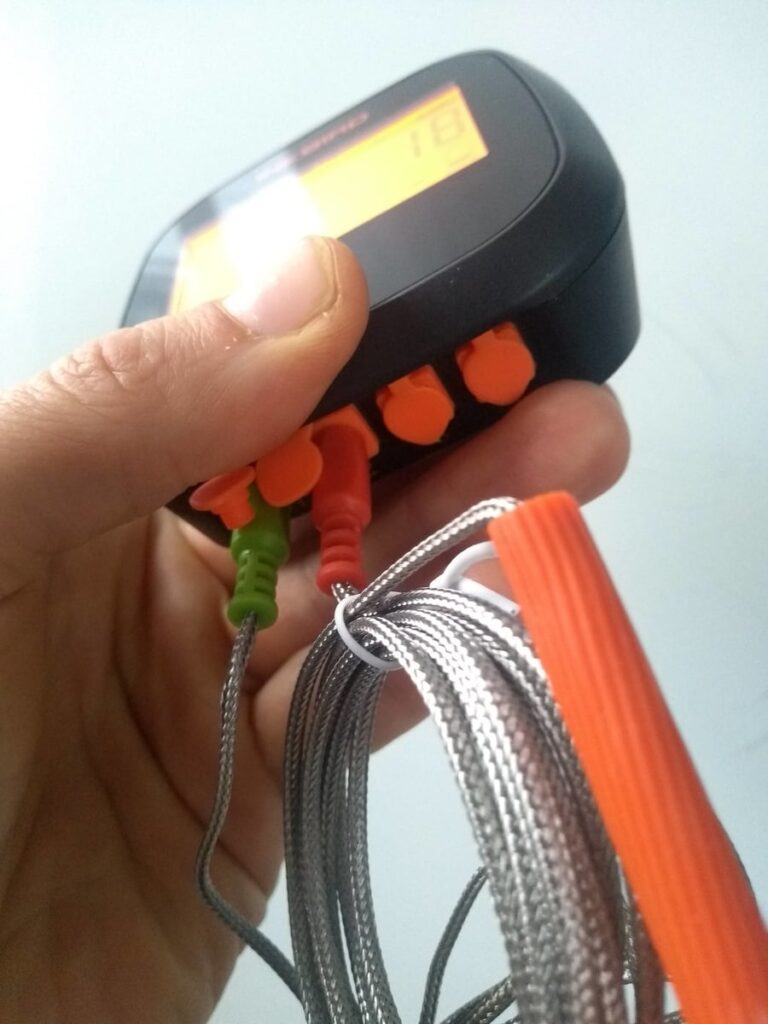 Here is a Table Summarizing my Review of the Inkbird IBBQ-4T:
| | |
| --- | --- |
| Characteristic | Rating |
| Reliability | A |
| Battery Life | A |
| App & Functionality | A |
| Design/Weatherproofing | B |
A rather decent review indeed, I think it's one of the best I've given on the blog!
(These links below are an amazon affiliate, so I get a kickback, but it doesn't affect the price for you)
Grab it from good old Amazon here.
Reliability of the Inkbird Wifi Probe
Probably one of the most important factors when it comes to a temperature probe, especially if you are cooking for many hours like with BBQ indirect smoking.
And after about a dozen meaty projects, I did come to the conclusion that this unit was "the business". When I had it making pulled pork for the first time, I was on the 2.5 GHz Wi-Fi or my 4G phone data connection. It was always telling me what was going on, we actually went out foraging for some wild mushrooms in a park nearby and the connection was solid to keep an eye on it.
I was looking at the data logging graph on the app, showing me how quickly the temperature was increasing.
I actually made a rough guesstimate of how long it would take, therefore how long we had to forage. So basically I timed it so we got back 5 to 10 minutes before it was hitting target temperature, supercool use of technology in my opinion.
And other projects using this temperature probe for cooking and or checking temperature verse other devices (like the temp and humidity controllers), have so far highlighted a reliable product.
The reliability is probably the key factor when you do a bit of research about the other offerings for Wi-Fi temp probes on the market, and sadly alot don't cut it.
Even though Inkbird isn't the most well-known brand around, this design seems to tick quite a few boxes.
They had a previous IBBQ model, but this one seems to be upgraded in many aspects.
Inkbird have been producing the controllers for at least like 5 years I think.
Recharging the Inkbird IBBQ-4T
A lot of the other wifi thermometers I've seen have a docking system, this Inkbird IBBQ is more minimalist and has a built-in battery and a reversible USB C type charger.
To give you an idea of how long the charge lasts when I made pulled pork, after eight hours of operation it's still had 60% charge.
So for a small compact multi-probe thermometer that was actually quite surprising.
As I read through the instruction manual (now) to confirm I'm not making it up, they say the battery should last 26 hours without backlight once it is fully charged.
It takes about 4 hours to charge the battery. When the battery gets to 20% charge it starts flashing the symbol on the unit, when you think about it that should still give you another 3 to 4 hours at least without the backlight on (so no need to panic during the cook).
I actually even left it on in the kitchen drawer overnights accidentally, and it was surprising that it was still at 80% in the morning!
Inkbird App & Userability
The system runs through the app, unless you only want a temperature reading.
The design of the unit is pretty minimalist and straightforward as well.
As you can imagine all you're doing is setting the temperature either using some of the shortcuts for the different types of meat. Or you can custom set it for that specific type of doneness you want for pulled pork for instance.
There are two ways of connecting to the app, there is a full separate instruction for these. Just to point to note only 2.4 GHz Wi-Fi is supported. I was trying to connect to the 5 GHz Wi-Fi home and it doesn't work and is not supported. (Pretty sure most home wifi routers have 2.4 options?!)
I'm a practical geek are not sure why that is.
Here is a quick 1 min vid to see the interface of the Inkbird Temperature Controller.
Features I Appreciate with Inkbird
Believe it or not, I'm more of a 'constructive critic' than someone who just churns out positivity when doing reviews. However, as I write this, I'm still trying to find some faults in this product which escape me.
So here's the stuff that I like about this unit.
Magnetic and Minimalist
Not over or under engineered even though this device has 4 color-coded temperature probes (both ends coded which helps), it's compact and minimalist which I actually really appreciate.
The old saying less is more in some cases applies.
Having a magnetic backing was useful, so you're able to stick it on something vertically or on a magnetic flat surface which I've used to my gas grill on one of the side shelves and it doesn't get knocked around.
Presets or Customized Temperature Targets
As you see on the video, the pre-sit internal temperatures are useful, but quite often I will be using the customized dial. Literally you just dial it in and set it on whatever the probe you want, boom you're away laughing.
You have to set on app, there is only 1 button on the unit for on, off or back-light.
Constructive Feedback About the Inkbird Wifi Controller
I really thought I could come up with something but it's been a struggle and that's kind of a good thing as well.
If there was one pet peeve or suggested improvement it would be the plugs that go over the four probes. After a few beers, I can imagine myself easily tearing off the small bits of rubber that the plugs have down the bottom. I haven't pulled them too hard but they just feel like a beery tug could rip with off (at least I'm aware of my faults).
The Type C USB charger on the top of the unit also has a weatherproofing plug of course (unit is water-resistant not submersible) that you have to just push quite firmly to make sure it's in.
Overall these are really minor aspects and I might just be nitpicking.
You also get 2x grill clips for at grill level temp probing.
Or grab it from good old Amazon here.
Other InkBird Products I Use
The temperature and humidity plug and play controllers are what I use for meat curing, these are the IHC – 200 and the ITC 308 which also got Wi-Fi models recently.
Basically I plug my old secondhand fridge into the temperature controller and it turns on and off the fridge to keep the temperature around 50°F or 11°C for making pancetta, lonza or drying out some cold smoked bacon!
The humidity controller, I plug in a humidifier to which keeps that moisture up around 70-75%, this helps long-term dry curing projects immensely.
Both the controllers have 2 plug in sockets for increase or decreasing via a appliance through a sensor I place in the fridge!
If you want to read an intro to meat curing, here is a post I wrote.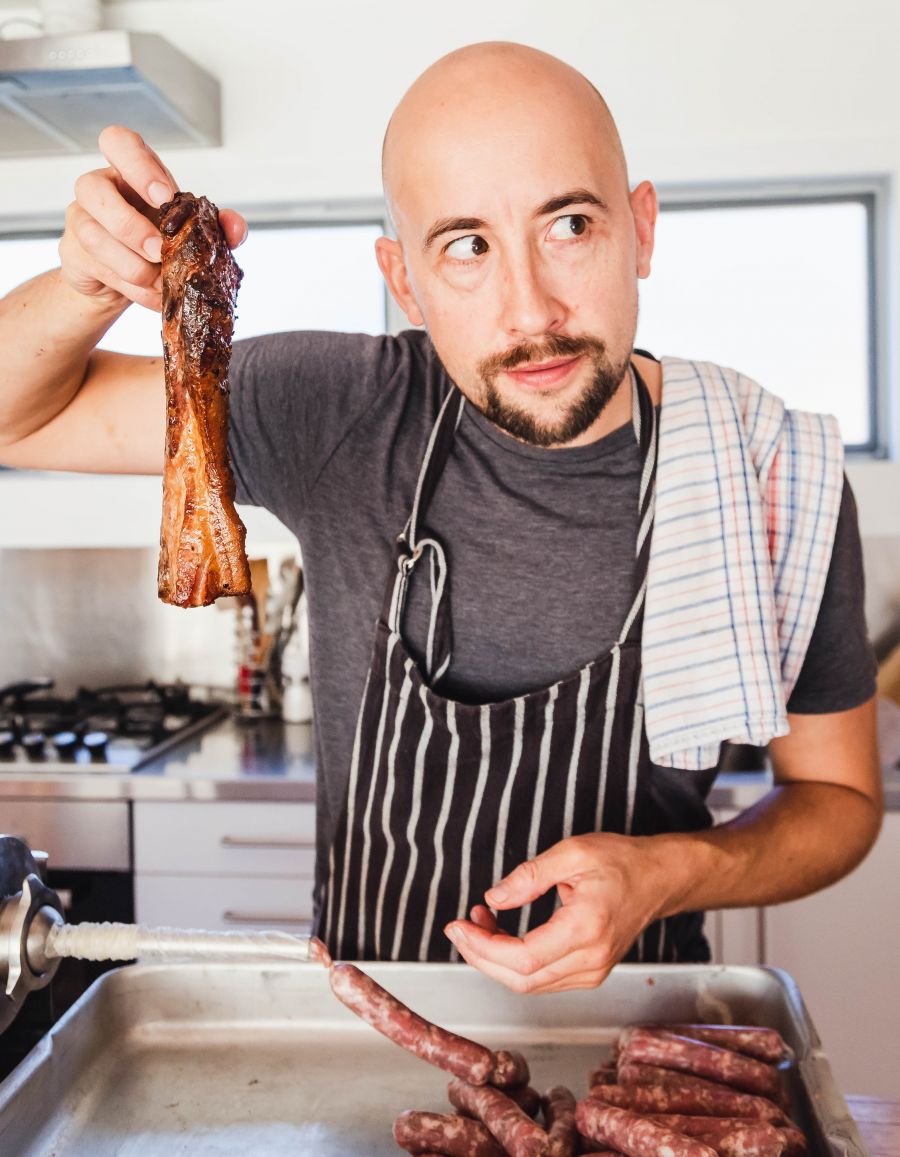 Thanks for dropping by, I've been passionate about meat curing for decades.
I Hunt, Fish, Forage, Buy, Butcher (Wannabe Norcini), Make, Savor (I'm not a Saviour), and love curing and smoking meat.
Learning and consuming in a circular fashion, I am always interested in what is happening around the curing and smoking world
Seeking the passionate behind the passion.