For the important aspects of temperature control, I've been 'reviewing' the INKBIRD ITC-308 for many years now and using it to get a target temperature range. I've used this for charcuterie, dry cured meats and many other temperature controlled environment projects at home which I'll talk about.
For about 20 years I've had many hobbies (food and alcohol based) that need a temperature controlled setting for consistent results.
I've been using a INKBIRD controllers for 8 years now or longer, so I thought it might be a good idea to breakdown down how it works, what it can be used for, and how it has performed over time – since INKBIRD wanted/requested an article.
There are reasons why it's currently the top seller on Amazon for temperature controllers.
Full Disclosure – INKBIRD contacted me about a sponsored review and offered the product for a review. I advised them I've been using the products for 10 odd years! So I didn't need it and we agreed that I should highlight the product and my experiences using it!
INKBIRD ITC-308 is a simple temperature control for various domestic environment controlled settings. It has the ability to control a heating or cooling appliance. Other useful features include alarms, compressor delay, °F or °C display and a simple user-friendly interface.
Many folks will probably use this temperature controller for various projects at home. I will highlight what I've used it for the most. Whilst, also covering the many side projects that needed a controlled environmental area.
How INKBIRD ITC-308 Temperature Controller Works
To buy an 'out-of-the-box' drying charcuterie fridge with temperature control or ,lets say, environmentally controlled fridge which can adjust temperature. Prices start from about $1,200 USD (doesn't control humidity at this starting price).
I have used INKBIRD temperature controllers and a few other appliances, it has cost me under A$300.
You set the temperatures you want, and it will turn on and off the devices you plug in, either heating or cooling – it has 2 outputs.
I can have a domestic fridge setup in less than 2 minutes.
I have like 4 or 5 temperature and humidity controllers from INKBIRD for various projects, more on how I've used them later.
Here is the functional Information from the INKBIRD ITC-308:
| | |
| --- | --- |
| Feature | Value |
| Temperature Control Range | -50°C to 120°C / -58°F to 248°F |
| Temperature Resolution | 0.1°C / 0.1°F |
| Temperature Accuracy | ±1°C (-50 to 70°C) / ±2°F (-58 to 160°F) |
| Compressor Delay Protection | Yes |
| Buzzer Alarm | High and low temperatures, abnormal probe performance |
| Heating/Cooling Settings | Separate |
| Display Units | °C/°F |
| Temperature Display | Current and Set Temperatures simultaneously |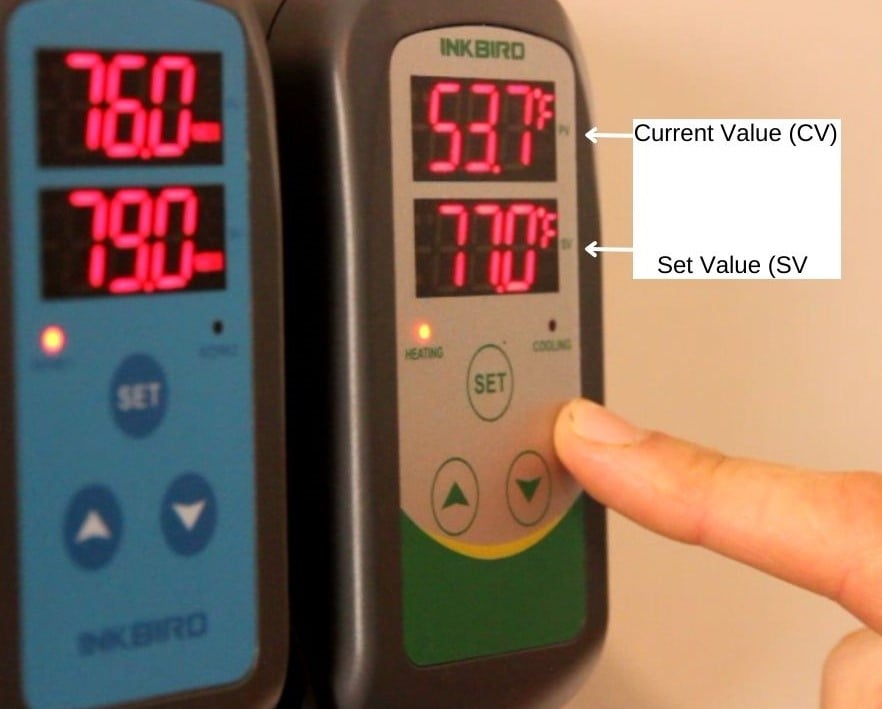 Temperature Controlling Scenarios for the INKBIRD ITC-308
homebrew
distillation base spirit low wine
aquarium
pet breeding
incubation
seedling warmth
terrestrial heating
fermentation
dry charcuterie
germination
Just take note for a sensitive environment such as animal breeding, aquariums or reptile incubation, I would recommend the INKBIRD ITC-306A with 2 temperature probes.
This means you have a backup as well as 2.4GHz WIFI to phone notification for alarms. It also has temperature calibration for specific environments.
Basically in the box is:
Controller – Plug and Play
Temperature Probe
Also note, you can order the controller in ANY of the power plug configurations across the world.
I've used the Controller in Some of the Above Scenarios for:
control heat with an eco panel heater for fermenting dry cured salami
control fridge temperature specifically for dry cured meat
eco heater for drying fruit, spices, biltong/jerky in a enclosed fridge
controlling temperature for growing mushrooms in an enclosed fridge with an eco panel heater
beer, wine and spirit low wine/wash fermentation with an eco panel heater
germinating microgreens and having a ceramic heat bulb controlled
Often for these projects humidity needs to be controlled, so I have the 'blue' INKBIRD humidity controller (INKBIRD IHC-200), too.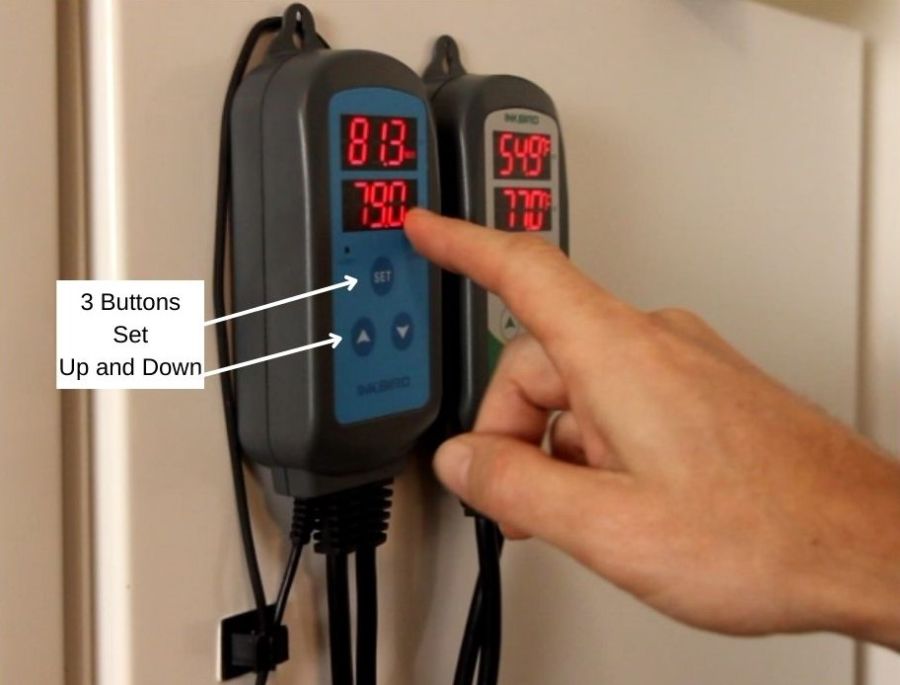 As you can see, I've used these products in many different ways, in many different environments!
How I Currently Use the INKBIRD Controllers
Fermentation Controlling Temperature
For consistent dry cured salami certain recipes need a starter culture. Basically, this is a 'good' mold which is inoculated after into the salami meat before being stuffed into the casing.
This is a layer of protection to discourage unwanted bacteria, primarily done through lowering the pH, which is increasing acidity. Unwanted bacteria doesn't like an acidic environment.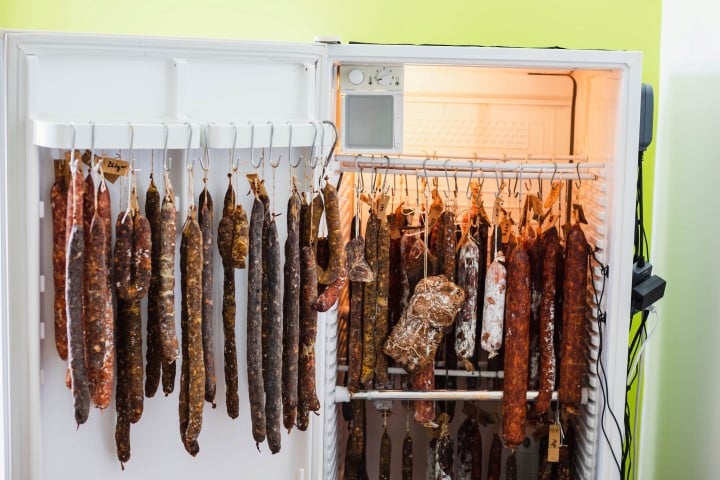 For every 'starter culture' I've used, you need a higher fixed temperature (Often 68-86°F-20-28°C) than for the drying stage. You also need higher humidity. A simple ceramic heater is plugged into the 'warm' output of the controller. A humidifier is used for the other humidity INKBIRD controller.
I use INKBIRD Controllers to make this task simple and well-controlled!
Drying Charcuterie Fridge Controlling Temperature
Here are some pictures of how I used the INKBIRD Controllers: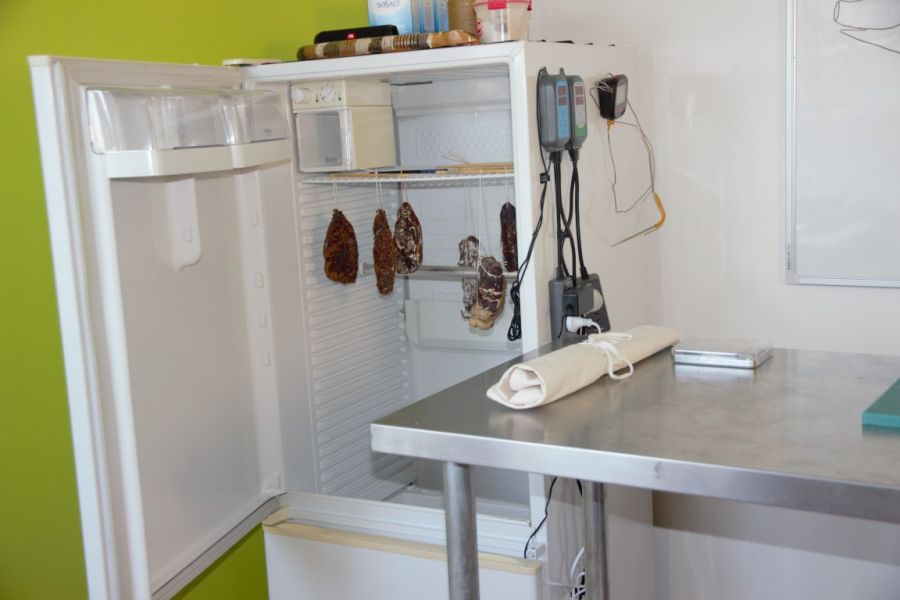 Here is a diagram from my online course about how to setup the controllers for a charcuterie drying fridge.
Some airflow also helps.
Setup & Mounting the INKBIRD ITC-308
Using the controller is simple, just hold the button and it will go to the menu, then up and down and select the variable you want to change. Click the same menu button to select.
Then hold menu button to exit and save.
Here is how simple it is to setup and why I call it plug and go:
Plug in devices you want to control temperature with
Set the threshold for turning on/off
Monitor and tweak as needed
High and Low Alarmed Built In
Just set an alarm if you want to make sure the temperature is within you're desired range.
For the ITC-308 WIFI version you can get notifications to your phone. (I have the INKBIRD app WIFI connectivity for temperature/humidity controllers, sous vide, and IBBQ-4T Meat Temperature Probe).
Refrigeration Delay
If you have a fridge compressor turning off and on constantly, there is a setup parameter to adjust the delay; you set it for 10 minutes or more then it won't switch on and off too frequently which is bad for any compressor fridge, specifically for DIY dry curing charcuterie conversions.
I've done 4x Fridge DIY Conversions with INKBIRD controllers, and also the hardwired controller system before the plug and play controllers existed!
How Accurate is the INKBIRD ITC-308?
Within 2°F variation from tests I've done with other thermometers present.
If you choose the metric system with Celsius on the controller, then you have 0.1 control instead of 1.0 degree.
Why I use the INKBIRD ITC-308
Very Easy to Use
Proven Reliable Over Time
Excellent Value for Money
If it sounds like you want it, here is a link (I get a small commission through this link from Amazon) –
Thanks for taking the time to read this, you'll be happy with this INKBIRD controller! I am.
Here are the links to the Amazon INKBIRD Controllers
INKBIRD ITC-308 (WIFI and Non-WIFI)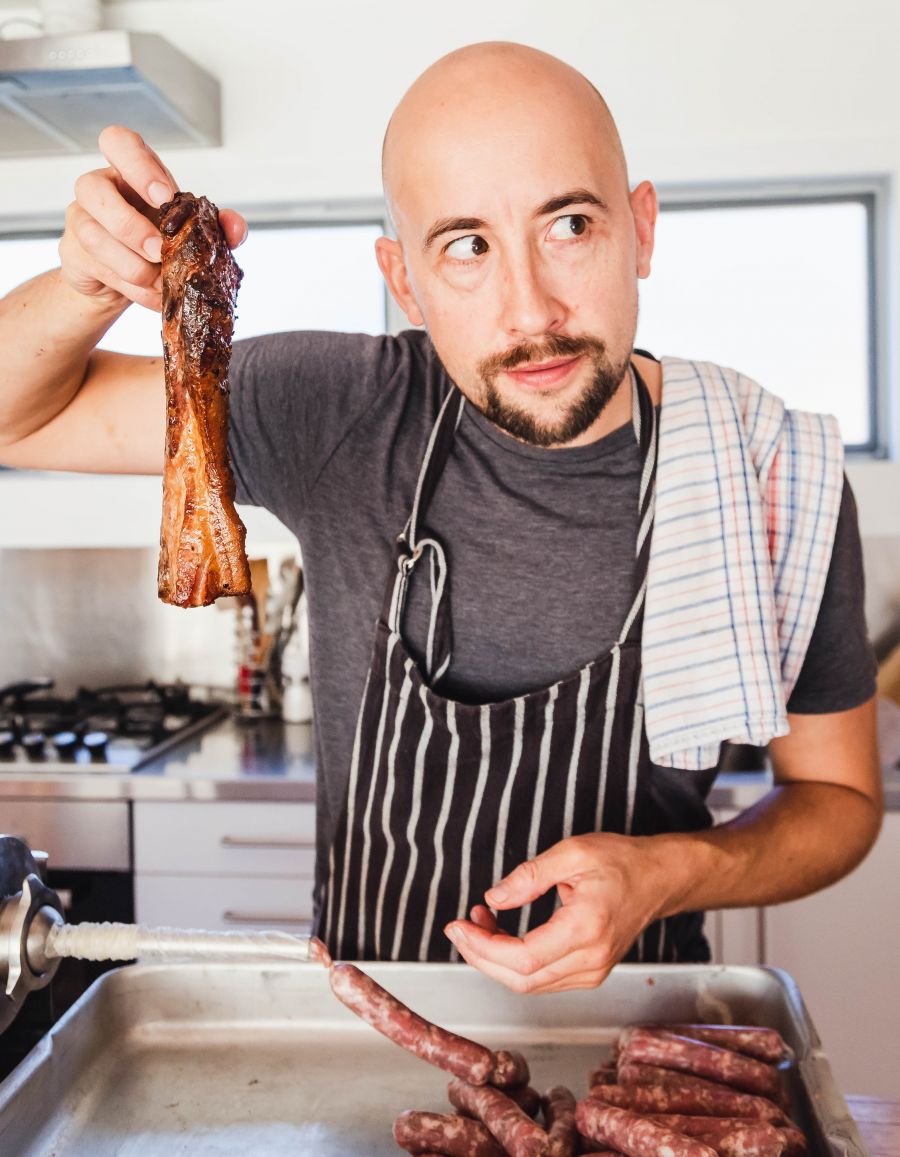 Thanks for dropping by, I've been passionate about meat curing for decades.
I Hunt, Fish, Forage, Buy, Butcher (Wannabe Norcini), Make, Savor (I'm not a Saviour), and love curing and smoking meat.
Learning and consuming in a circular fashion, I am always interested in what is happening around the curing and smoking world
Seeking the passionate behind the passion.