A cured sausage can have many types and variations, most people I come across don't really even know what a cured sausage is!
Defining a cured sausage, specifically needs to be done to categorize it, there is wide interpretation I've foundboth online and offline.
I've been curing and making sausage, even uncured sausages for more than a few decades. I've come across variations from Europe, Asia, and the new-age creations of America!
I am going to give a quick definition of each type of cured sausage.
Then try and highlight some tables with these different types, with a brief description of each, many of these regionally based styles have lasted the test of time.
Some have been protected by law due to the cultural significance of them. I like classics, though I do like to create my own styles and see what new-age cured sausages and salami are being created.
Different Types of Cured Sausage
These are examples of the 4 main categories of cured sausages, there are actually thousands of variations and recipes for the cured types.
Then there are many thousands more variations of fresh sausage recipes as well! Fresh sausage is seasoned raw meat, that you then cook on a grill, bake or by other cooking means.
All the below-cured sausages/salami are ready to eat.
Here is a breakdown of the 4 types of cured sausage/salami.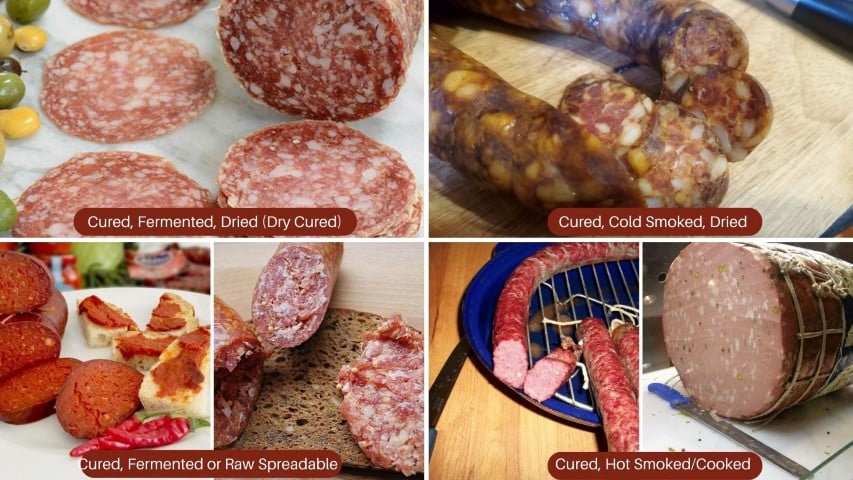 | Type | Example | Time to Make |
| --- | --- | --- |
| Cured, Fermented, Dried | Dry Cured Salami | 4 to 26 weeks |
| Cured, Cold Smoked, Dried | Hungarian Kolbász Salami | 4 to 26 weeks |
| Cured, Fermented, Raw | Spreadable Cold Smoked Mettwurst | 1 to 2 days |
| Cured, Cooked/Hot Smoked | Kabanosy, Cabanossi, or Kabana | 1 day |
Now, let's get into examples, descriptions, and some more detail about cured sausage types.
Cured, Fermented, Dried
Origin
Name
Meat
Description
Italy
Genoa Salami
Pork
Pork, A classic, coarse-ground salami
Italy
Milano Salami
Pork
Finely ground, mildly seasoned salami
Italy
Soppressata
Pork
Spicy, coarsely ground salami
Italy, Parma
Felino Salami
Pork
Medium-grind, seasoned salami
Italy, Tuscany
Finocchiona
Pork
Flavored with fennel seeds
Spain
Dry Cured Chorizo
Pork
Smoked paprika/pimenton, tangy
France
Saucisson Sec
Pork
Air-dried, flavored with garlic
France
Saucisse Sèche
Pork
Air-dried, flavored with garlic
French, Lyon
Rosette de Lyon
Pork
Coarsely ground, garlicky salami
French, Lyon
Jésus de Lyon
Pork
Small, dried, and seasoned salami
North America
Pepperoni
Pork or Beef
Spicy, peppercorn, cured sausage
North America
Hard Salami
Pork or Beef
Generic Name, Firm salami
Spain
Longaniza
Pork
Garlic, Peppercorns, Cumin
Croatia
Kulen
Pork
Garlic, Pepper
Serbia
Sudžuk
Beef or Lamb
Dry, spicy sausage
Chinese
Lap Cheong
Pork
Sweet, dried salami for cooking
Switzerland or
Germany
Landjäger
Pork
Air-dried, seasoned snack sausage
Cured, Cold Smoked, Dried Sausage
There is probably some natural fermentation happening with some of these traditional cured recipes.
| Origin | Name | Description |
| --- | --- | --- |
| Hungary | Kolbász | Paprika, Garlic, Pepper Classic Salami |
| Spain | Salchichón | Mild, large-diameter sausage |
| German | Thuringia | Eichsfelder Feldgieker garlic, coriander, slightly acidic |
| Greek | Pafos | Loukaniko, Red Greek Wine, Lentisk Seeds, Cumin, Coriander |
| South Africa | Droëwors | Dried (not smoked), Coriander Seed |
| Serbia | Sremska kobasica | Beef/pork, light smoke |
Cured, Fermented, Raw
Some of these are cooked or poached, whilst also you can get spreadable salami liked Njuda from Southern Italy. Other, many of the below which are Germany of Origin – are not dried and are just eaten raw.
| Spreadable Sausages | Description | Main Ingredients |
| --- | --- | --- |
| Teewurst | Smoked and spreadable sausage with a smooth texture | Pork, beef, bacon |
| Mettwurst | Raw and spreadable sausage with a minced pork and beef base | Pork, beef |
| Leberwurst | Liver sausage with a creamy texture and rich flavor | Pork liver, pork meat, fat |
| Blutwurst | Blood sausage with a spreadable texture and robust taste | Pork blood, pork fat, fillers (e.g., barley, breadcrumbs, rice) |
| Schwartenmagen | Head cheese with a gelatinous texture and tangy flavor | Pig's head, skin, meat |
| Zungenwurst | Tongue sausage with a spreadable consistency and savory taste | Pork tongue, bacon, other pork cuts |
| Hackepeter | Seasoned raw minced pork, often enjoyed spread on bread | Minced pork, onions, salt pepper |
| Njuda | Dry Cured, Hot Spicy Calabrian speciality | Pork Pepperocinio |
Cured, Cooked/Hot Smoked
These styles of cooked/hot smoked sausage, last slightly longer than fresh meat. With the addition of a reasonable amount of salt. However, it is like a few days maybe up to 5 days.
More salt than you would get when seasoning the food you were cooking. but not as much as you would use for preserved curd/fermented meat like the above first type.
| Origin | Name | Description |
| --- | --- | --- |
| Poland | Krakowska | Allspice, Coriander, Garlic |
| Portugal | Linguiça | Rich spice blend |
| Poland | Kabanosy | Nutmeg, Caraway spices |
| Switzerland | Cervelat | Known as Thuringer or USA Summer Sausage |
| Poland | Wiejska | Hearty Polish Smokey |
| Poland | Kielbasa | Classic Polish, Garlic, Pepper |
| Ukraine | Tourist sausage | Caraway, Garlic |
| Ukraine | Podhalanska | Pepper, All Spice, Garlic |
| Germany | Jagdwurst | Mustard, Mace, Coriander, Ginger |
Brazil, Linguiça Calabresa, Smoked, Paprika, Fennel, Chili
Similar sausages are found in other countries as well, notably the Czech Republic (spelled "klobása", or regionally "klobás"), Slovakia (spelled "klobása"), and Slovenia (spelled "klobása"). In Croatia, as well as in Bosnia and Herzegovina, Montenegro, and Serbia, this sausage is called "kobasica" or "kobasa", while in Bulgaria and North Macedonia it is called "kolbas".) In Austria it is called "Klobassa" (similar to the neighbouring Slavic-speaking countries). In South Africa, this type of sausage is known as the "Russian" sausage, and is often deep-fried and served with chips as fast food.

https://en.wikipedia.org/wiki/Kielbasa#Explanatory_notes
The basis of this list is research I did online, but also the book Home Production of Quality Meats and Sausages by Miranski and Mirianski. Experts in Home and Commercial Cured Sausages and Salami
There are many subvariations of these main variations of cured sausage I could go into also!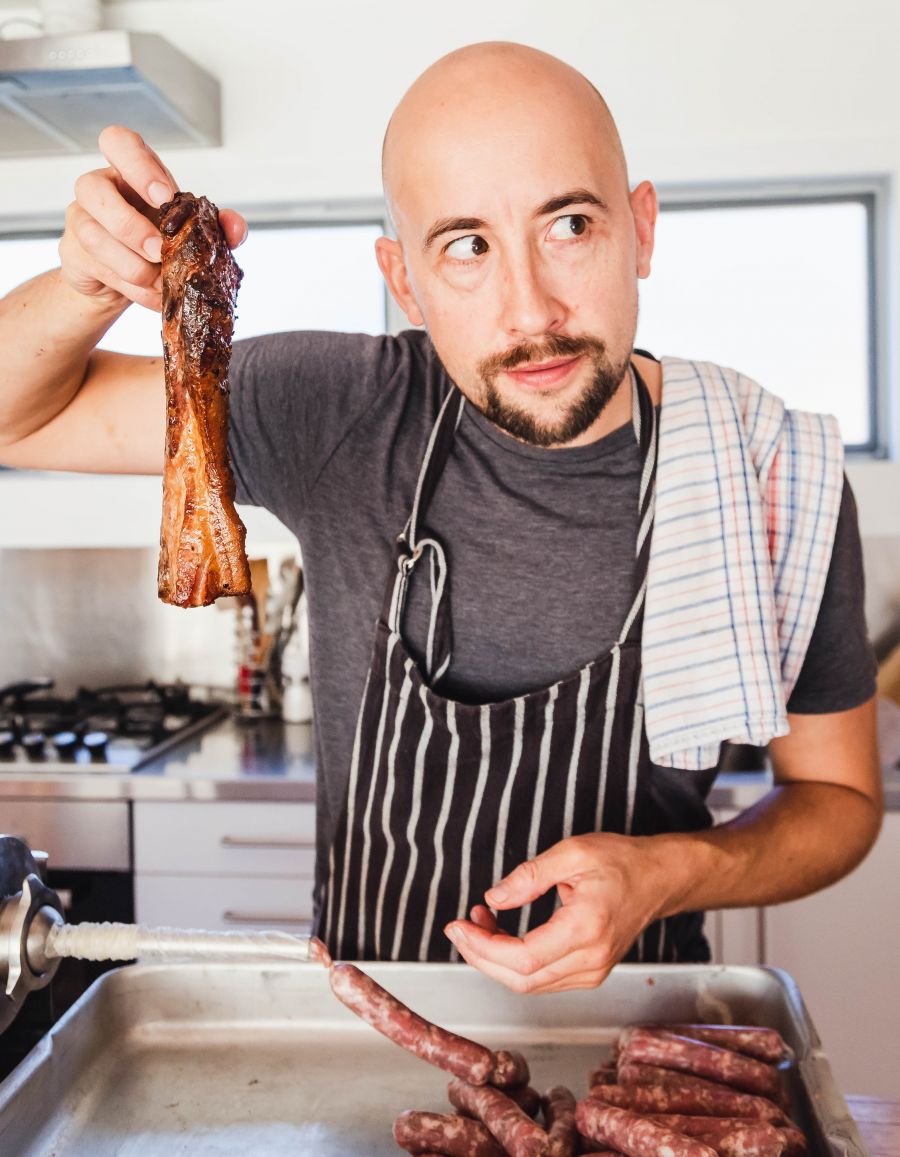 Thanks for dropping by, I've been passionate about meat curing for decades.
I Hunt, Fish, Forage, Buy, Butcher (Wannabe Norcini), Make, Savor (I'm not a Saviour), and love curing and smoking meat.
Learning and consuming in a circular fashion, I am always interested in what is happening around the curing and smoking world
Seeking the passionate behind the passion.