(note- no cost to you, but buying through one of these links give me a small kickback to support the site.)
2 of the Best Inspiration/Info & Pure Information
For both an intro and inspiration to meat curing, Salumi is a fantastic book, it's not long but covers major muscle groups and dry curing the classic Italian salumi way. Then there are classic matches and recipes – it's more a culinary introduction.
The mythical or magical craft of meat curing can be felt with Ruhlman's book. It is about the craft of creating salumi and salami.
Great book.
In-depth and Comprehensive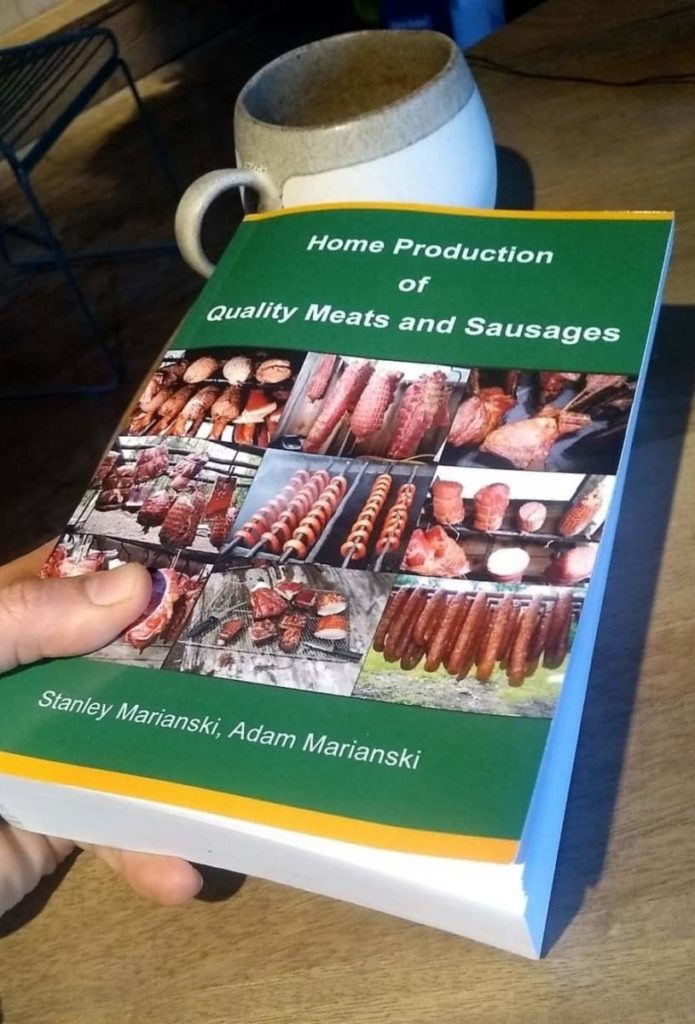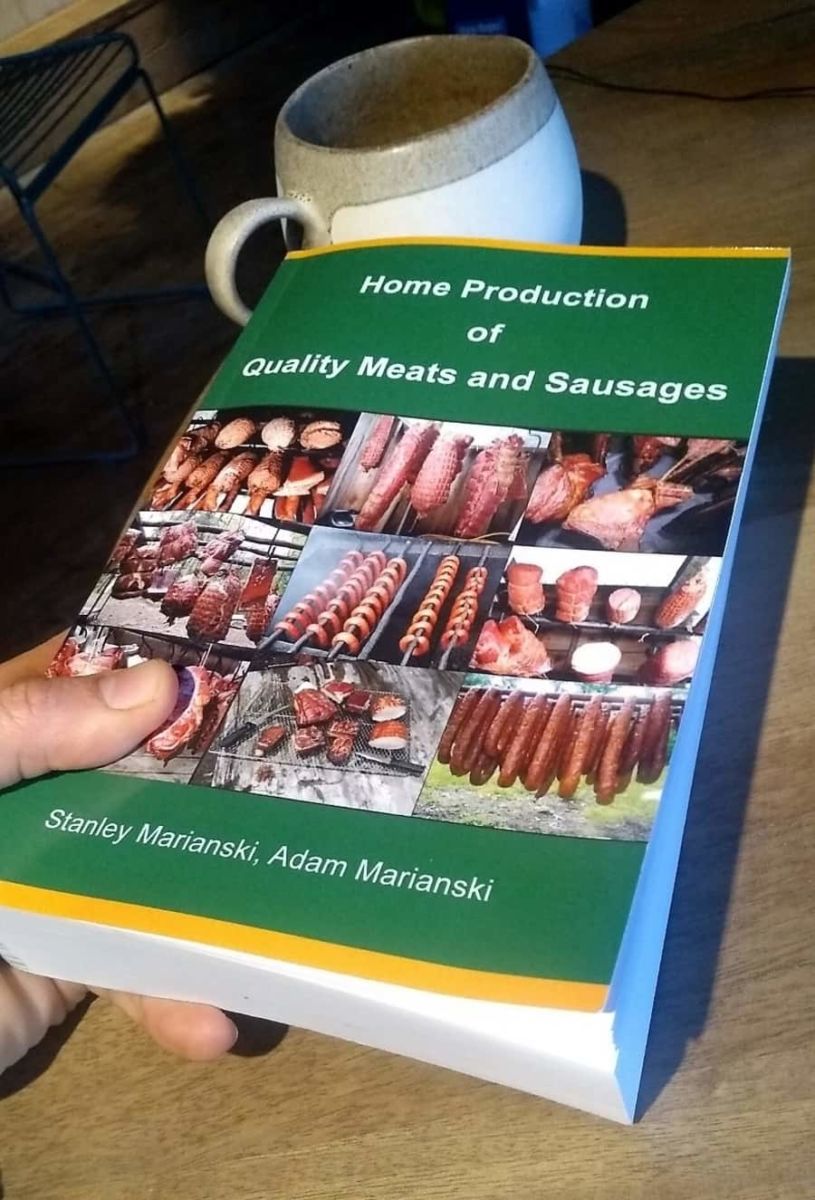 Felt like I was studying full time again when I received this Home Production of Quality Meats & Sausages is solid, scientific and in-depth. If you are someone who really wants to completely under meat curing, smoking, and the science – this is the 700-page beast book that will tell you everything.
This book mainly covers salami and sausages with anything from classic German wurst sausage to Thai fish sausage (fresh) or rabbit sausage ideas.
From a US or a Polish perspective, these are true experts in the field and the go-to-guys when I forget something or need to brush up on something.
This book is all about the detail!
A great balance of inspiration and information, Ruhlman & Polcyn try to demystify the complex and variations of Italian dry-cured salumi and salami.
Concise and passionate book that is all about dry curing meat (think how to make coppa, lonza or a dry-cured salami – some emulsified recipes for mortadella as well).
From how to butcher a pig the whole muscle way, classic whole muscle dry curing recipes, salami recipes (cooked and dry-cured) plus some dishes to use the cured meat in. It kinda has it all, enough detail to really get stuck in. I have used many of these recipes as the basis for my home-cured experiments.
These same guys produced another superb book prior to Salumi called Charcuterie, another brilliant book, it focuses more on classic French charcuterie with some aspects of dry curing. So expect like some intro to dry curing but also pates, rillettes, confit, and savory forcemeat recipes.
Salumi book – buy (for inspiration and recipes)
Charcuterie book link to Amazon
These polish guys are scientific and love sausage and salami.
Covering off just about every imaginable question about curing meat and smoking. The science behind it and just all-round encyclopedia of the craft.
When someones asks me a question and I need a reminder, this is the book I look for the answer.
The thickness of the 700 pages, gives you an indication of the depth of content included with a ton of recipes as well. The authors put the recipes in to encourage folks to use them as a base, and come up with your own favorites.
Buy it through Amazon here.
Lamb, Steven
Many years ago I visited River Cottage, back in the day I had every DVD they had put out (Smaller Holder / Down-Sizer TV Series). My brother and I did the introduction to the meat curing and smoking course. A beautiful experience, but in 6 hours you can't really cover off such a massive area, we walked away with some basic ideas and knowledge.
But then came Steven's book which is a beast! Very comprehensive and well researched. In terms of a reference book, this River Cottage book and Salumi would be my picks.
The River Cottage Curing and Smoking Handbook – Link to Amazon
(Other worthy mentions I have found interesting – but are harder to get)
Cured: Salted, Spiced, Dried, Smoked, Potted, Pickled, Raw
Wildsmith, Lindy
Covers a much wider area then just dry-cured meat. There is a mixture of cultures and flavors from across the world. For expansion into various cultures, this is not detailed but gives some great recipes.
Home smoking and Curing: How to Smoke-Cure Meat, Fish, and Game
Erlandson, Keith
1970's classic cold and hot smoking book that is written by Keith, who knew about the more traditional aspects of commercially smoking fish across the United Kingdom and Europe.
The new age science of equilibrium curing and the like, is not present of course. But, if you want to see some of the history and get some ideas – it's a great short book to pick up.
(Buying through links doesn't cost you anything, but supports the site – since I get a small kickback)