Salt pork is a form of cured meat, originally used for long term preservation before refrigration.
In the sailor & prairie days, salt pork was very popular, I love to make and use it because it's easy and tasty. It's a simple recipe which you can do at home with really just sea salt. You can definitely give it some spice angles of course!
I love this type of cured meat because it really is the back-to-basics in the form of cured meat. Great for outdoor adventures fishing, and hunting and it can be used for that meaty intense flavor in meals.
What is Salt Pork?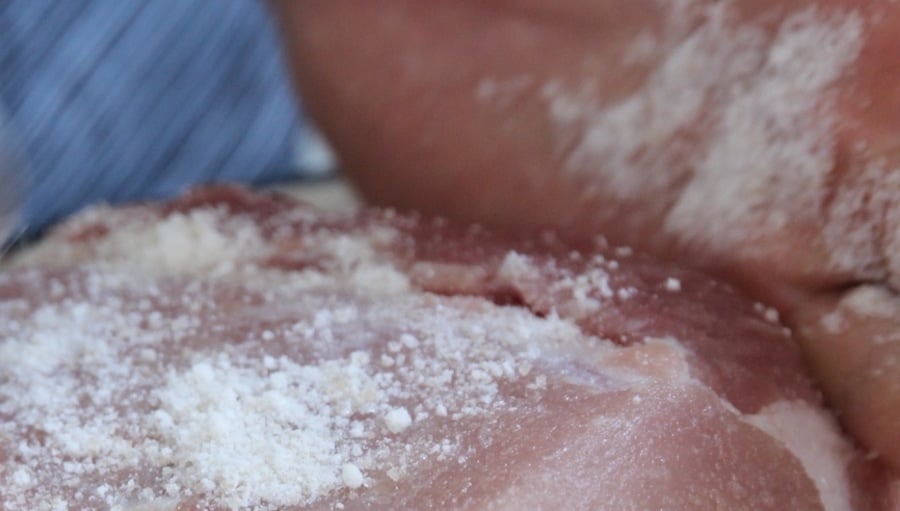 Once you take enough of the moisture from meat it is preserved, through using salt (& sugar if you want). It can't spoil very easily.
So this is why they used it on the boats sailing around the world hundreds of years ago. I have also read that it was common in many military campaigns because of its long shelf life.
Uses for Salt Pork
Stews
Casseroles
Fried with Greens
Baked Beans with Salt Pork
Seafood Chowder with Salt Pork
Clam Chowder with Salt Pork
How to Make Salt Pork
Acquire pork belly, chop or keep whole muscle (fat is important)
Cover salt pork completely with sea salt & brown sugar (ratio 5:1)
Leave in the fridge for 2-3 days or longer
For larger pork bellies drain and repeat step 2 & 3
Rinse pork & dry
Store wrapped in fridge or cool area
To use soak or simmer in water before use
As you can see from the above quick guide, salt pork is really easy to make and can actually last for 6 to 12 months in the fridge. Or salt cure longer to store outside the fridge.
Slow Cooking & Cheap
Whether you buy it or make it, the best thing about salt pork is that it is relatively inexpensive.
So if you're on a budget you can add heaps of flavor and also throw in a few extra spices if you wish, which I'll list down below.
You don't need to use a lot when you add it to your cooking to get some flavor, because it has an intense porky and saltiness.
I always have some pink curing salt No. 1, this can give the pork another level of flavor. Pink Curing Salt No. 1 is for less than 30-day projects or meat that you are going to cook.
I always use if for making bacon and other cured good. When I add pink curing salt to the salt pork, it adds that hammy/bacon flavor. Here is a page about pink curing salt I wrote.
If you haven't tried it, here is a complete guide to bacon making (hot or cold) and the various techniques I know of.
Salt Pork -Step by Step
1. Acquire Pork Belly, Chop or Keep Whole
So you have a couple of options here to either keep the belly whole or cut it into 1-2 inch chunks. I find if you chop it up, the curing will happen a bit faster because more surface area is exposed to the salt.
Keeping the pork belly whole means storing it makes it a little easier.
2. Cover Pork Completely with Sea Salt & Brown Sugar (ratio 5:1)
Lay down some of your cure mixture on a tray, and put the pork on top. Then put more of the cure mixture on top. I like to use a pretty decent thick layer.
If you decide to cube up the pork, then you can sprinkle salt, put pork pieces in, sprinkle more salt, more pork, etc – keep doing layers.
Lots of options to give the pork some flavor angles, these are some of the most common I like to throw in.
Optional Spices
Bay leaves – fresh or dry
Thyme
Garlic
Pepper
3. Leave in Mixture for 2-3 days
If you are going to be using more salt pork in the short term over the next few weeks or months you probably can just use a two-day cure for 1/2 pound
But if you're looking for something to store for longer like 6 to 12 months, then you should use step 4 below and re-salt the pork.
4. For larger Pork Bellies Drain and Repeat Steps 2 & 3
Sometimes you get 3-inch or thicker pork bellies depending on how old the pig is (& fat it was), so you can repeat the process to make sure that you have fully cured it so it's preserved.
5. Rinse Pork & Dry
After the curing process give the pork a good rinse under the tap, then I use a few paper towels to pat off the excess.
Muslin cloth is good for wrapping the salt pork a few times so that it holds in a bit of moisture.
It will dry out a bit more in time, once you put it in the fridge, but I find that's all good.
6. Store Wrapped in a Fridge or Cool Area
If it's winter you can keep it hanging somewhere on a hook, but I like to use a fridge since I have one. I will generally have cooked a few months and eat the salt pork in a few months. Just by cutting off chunks as I need it.
7. To Use Soak or Simmer in Water Before Use
Generally, all I need is about 30-60 minutes soaking in water for the amount of pork I am going to cook with.
When cutting a chunk of salt pork to use, testing with a bit of a fry-up helps work out out if you need to draw more salt out with soaking. Soak in water for 20-30 minutes and test it again.
Another method I have heard is similar, where you blanch the pork you want to cook with for 5 minutes which also extract a lot of the salt.
I've done this with salt fish in Italy, but not with pork – same same but different.
A Base Flavor for Many Dishes
As I mentioned I love to use this when I'm camping because it can be kept in a cool environment for a few weeks easily. Adding it to wild game stews for an extra porky flavor.
Of course, just remember that you don't need to add any salt to the recipe if you using salt pork. You can always add the salt at the end to finish it off.
Salt pork is also a great ingredient to have if you do a bit of slow cooking/crockpot style, it can boost the flavors of the dish and again, you only need to use a small amount.
Boston Baked Beans
This is a Boston classic and if you want to try, it can be done in the slow cooker or not. The salt bacon really gives it that angle with all the other spices combined.
This awesome recipe fro Pioneer Woman doesn't soak the salt pork, it depends on how salty it is though!
New England Fish Chowder
I don't know what it is about the flavor of pork with chowder but it just goes together incredibly well. Using clams, scallops, mussels or other seafood can produce amazing flavors.
Substitutes & Alternatives for Salt Pork
Similar but different being more refined, fancy substitutes for basic salt pork: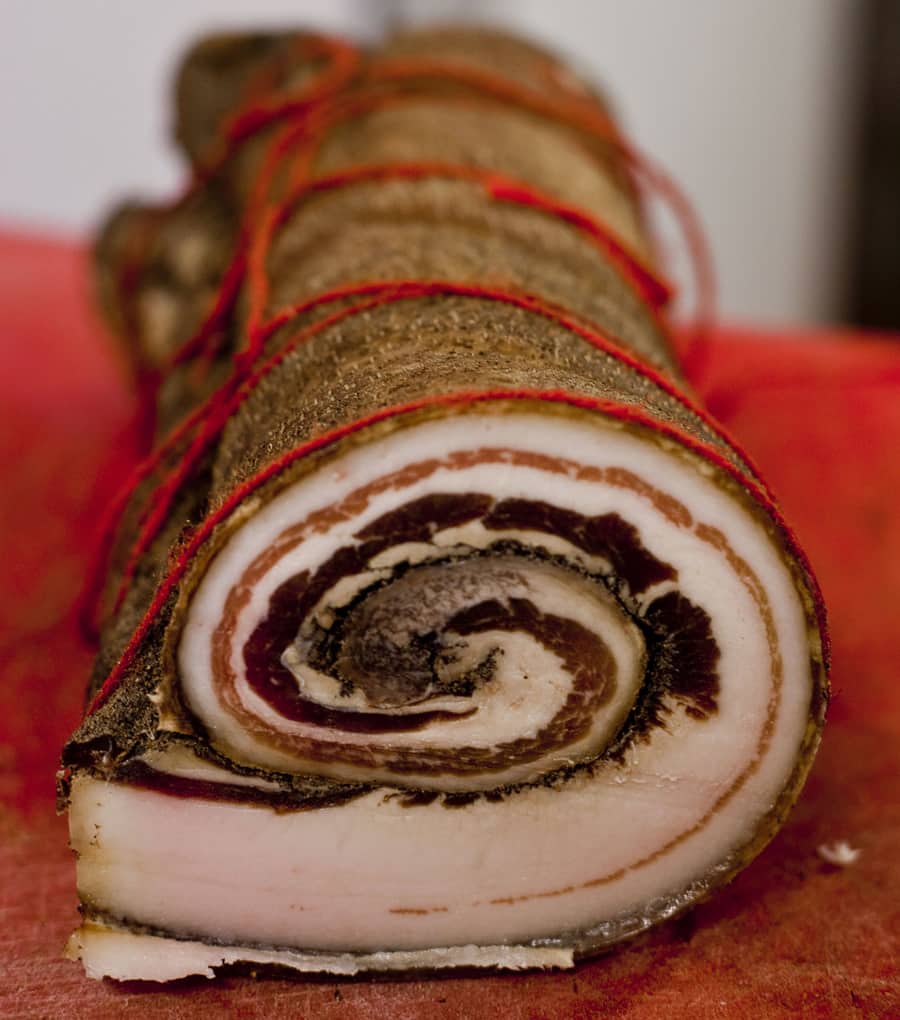 If you want to learn more about dry-cured meat, here is the category of all the blogs I have written about.
If you want to try a slightly more sophisticated thing than salt pork, here is a page I wrote about dry-curing meat in your regular kitchen fridge.
Related Questions
How Long Does Salt Pork Last?
Salt pork will last 2-4 weeks with a 2-day curing in the fridge. If drained and cured a second time, salt pork can last 6 to 12 months in the fridge or a cold area.
It really just depends on how long you leave it in salt to draw out and cure.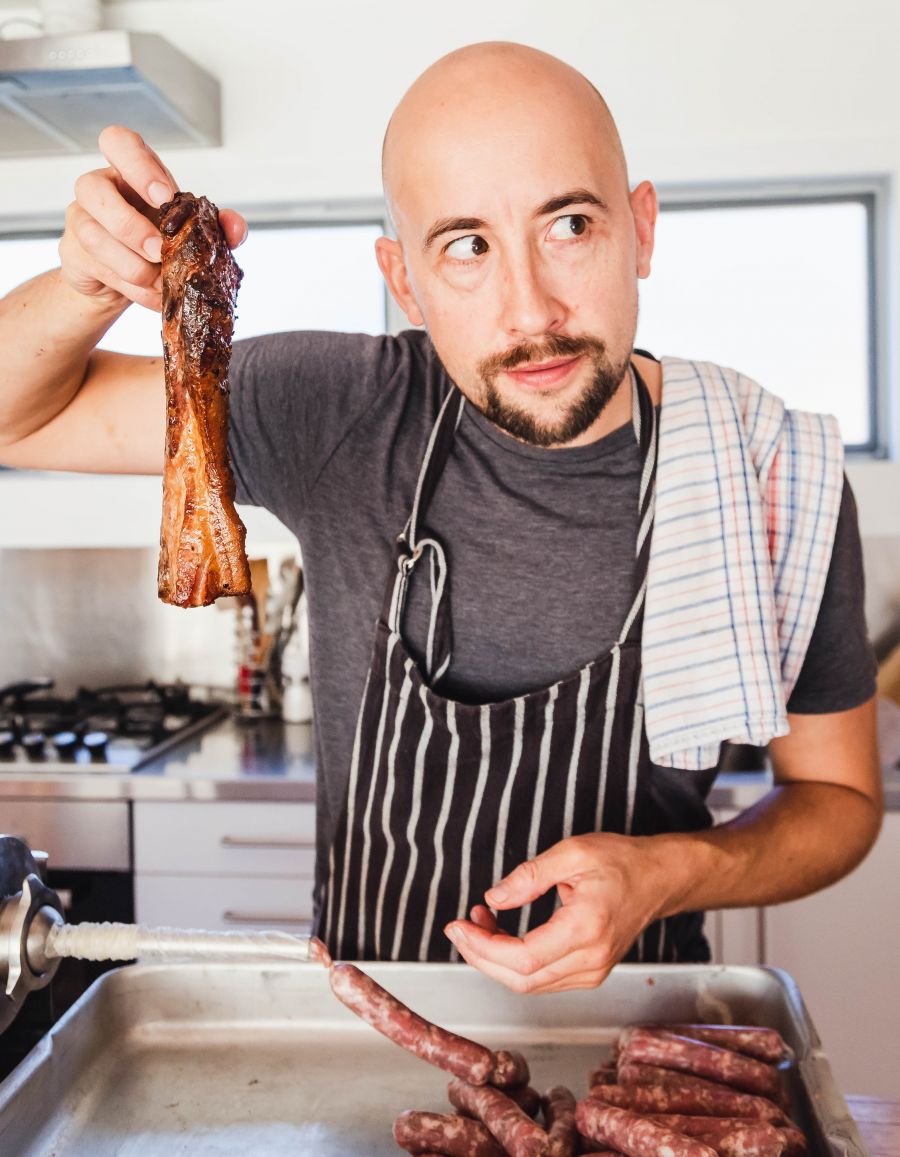 Thanks for dropping by, I've been passionate about meat curing for decades.
I Hunt, Fish, Forage, Buy, Butcher (Wannabe Norcini), Make, Savor (I'm not a Saviour), and love curing and smoking meat.
Learning and consuming in a circular fashion, I am always interested in what is happening around the curing and smoking world
Seeking the passionate behind the passion.