For decades, immersed in studying, working, learning, and teaching the art and craft of meat curing, now sharing his passion with you through his content.
(Last Updated On: November 28, 2023)
I have seen and tried many salami styles from Italy and Spain, reproduced in America and worldwide – common variations such as Picante, Feline, Pepperoni, Genoa, and Italian styles of dry-cured meats.
Undoubtedly, they are good, and some are great; however, they are still mimicking mainland Europe. For thousands of years, they have been loved across Europe -often using traditions that have lasted centuries.
As a judge, I was lined up for the World Charcuterie Awards in London. Comparing old and new styles would have been phenomenal, but unfortunately, it got postponed. I'll have to wait for that experience and report back.
Most countries, like Italy, have strong food cultures; they respect the recipes that have been proven over time.
It's about the unique salami that is naturally part of the evolution.
What I'm focussed on writing about here is unique, exciting, and different salami that tastes epic.
In Europe, traditions have kept recipes consistent with subtle variations across France, Italy, and Spain. Let's also realize Southern, Central, and Eastern Europe have specialties.
Are there unique and special salami flavors in America? I found out on my recent visit that a company, 'Smoking Goose Meatery,' was one of the top Food Awards in America.
By conversing with Chris, Mollie, and the 'Smoking Goose Meatery' team, I found out they have unique insight and passion to create unique flavors. Passion caught my interest many years ago at Smoke Goose, and I've kept an eye on it ever since.
By far, these are the most exciting and unique flavor combinations I've seen around (the world). They get showcased across America in many restaurants and hotels.
Most Interesting & Unique Salamis
Dodge City Salami
Saucisson Rouge
Gin & Juice Salami
A salami like Dodge City has lots of pepper, garlic, and fennel pollen, creating a 'porchetta' explosion in your mouth.
Porchetta is a traditional 'food truck' food of Tuscany; it is pork belly rolled in aromatic herbs, including the pricey fennel pollen.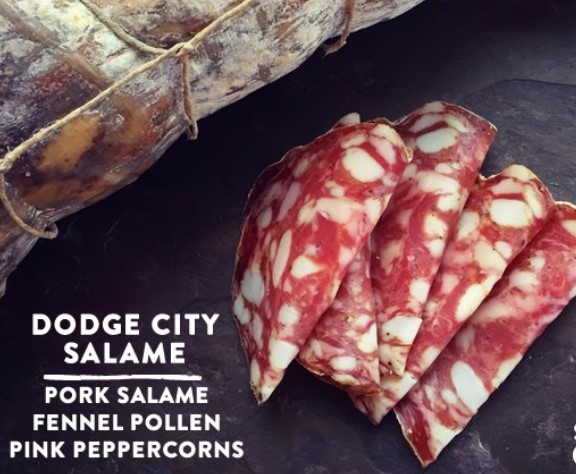 I'm presuming this is a 'porchetta' inspired by cured salami. Dry-cured salami intensifies flavors, which is evident in this unique combination.
This is unique, and this is flavor.
Liver and Heart add to the richness of this intriguing and unique salami; this particular mix of flavors brings out an authentic umami flavor.
Nose to Tail style salami, with pepper and chili to take on those intense offal flavors.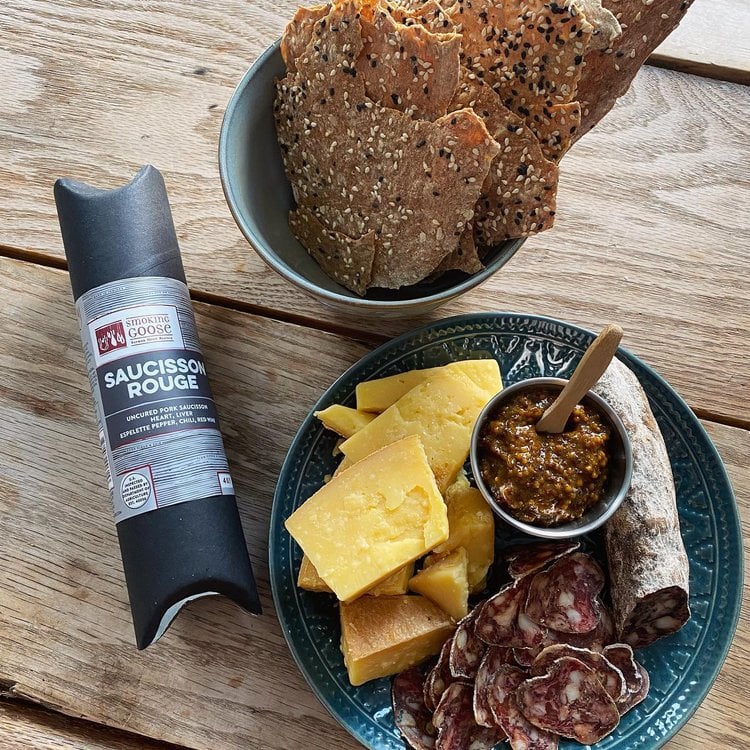 You'll struggle to find a flavor so distinct as this anywhere in the world.
Also, nothing tastes so good as this, where all goes together so well.
Gin, Lamb, and Juniper is a rich and robust salami. Many of these salamis have been refined over many years.
This salami has a slightly pleasant bitterness; I've found it unique, nothing I've tasted before.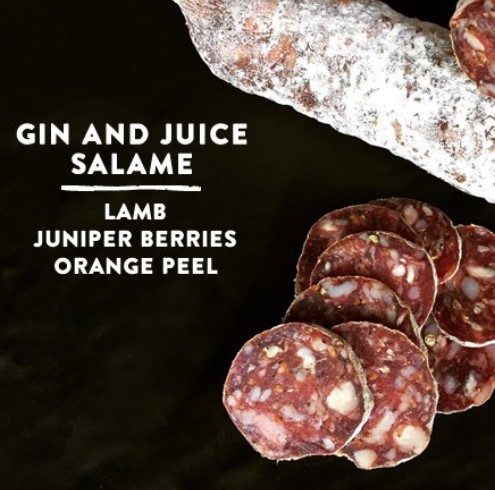 A flavor bomb is about the next level of salami, challenging all the flavor norms.
Orange peel, coriander – you've got a blend of flavors that sing together. Lamb has a more robust meat flavor and pairs well with juniper since juniper is known to match strong meats and gamey flavors.
What Makes These Salamis Unique & Interesting?
I make salami and have tasted salami in America, across Europe, and throughout the Pacific.
Here is my interpretation of what takes salami to the next level.
Spice Forward Flavor
Most classic Italian, Spanish, or French dry-cured salamis are subtle and have hints of flavor. Maybe this appeals more, but I'm not sure.
Chris & Mollie at 'Smoking Goose Meatery' said they use the description spice first – which I agree with. This is a style and design of salami that most producers worldwide are too scared to tackle since it's unknown to most people.
We are not talking about flavors that don't match; we are talking about pairings.
It's challenging, but there is also a reason why these salamis have had years and years of success across America.
I love to get the flavor spice hit, but I do it the subtle, smart & savvy way.
Unique Combination of Flavors
Lamb, Juniper, and Gin – I mean, this doesn't come to mind for 99% of salami lovers.
With salami, the blend of flavors for a quality finished product is melding, combining to create more than just the sum of its parts.
You get to experience new flavors. I often try to 'pick' out the flavors or deconstruct them, but I've learned over 20-odd years of smashing salami and whole-muscle meats that you can potentially find tastes you can replicate with cooking.
This may be related to the microbial and possible fermentation aspects some of these products experience during production.
Quality Meat
A cornerstone of dry-cured products is that all flavors will be intended during fermentation and drying.
'Smoking Goose Meatery,' making the unique salamis above, has two primary pig farm providers from the State.
Gunthorp Farms and Fischer Farms in Indiana.
Passionate Creators
I have reached out specifically to Chris due to the chance of meeting on the way back from Europe to New Zealand.
The hospitality of Chris and Mollie, plus the buy-in of the team/staff – shows why they are creating such unique and special products in Indianapolis.
If you can try these unique salamis above, you are fortunate; you can order online also. Chris and Mollie are open-hearted and open-minded, small enough to care and not large enough to lose focus on quality.
Smoking Goose is worth connecting with, big time.
I've been looking for intriguing salami far and wide, and these unique offerings above are worth checking out.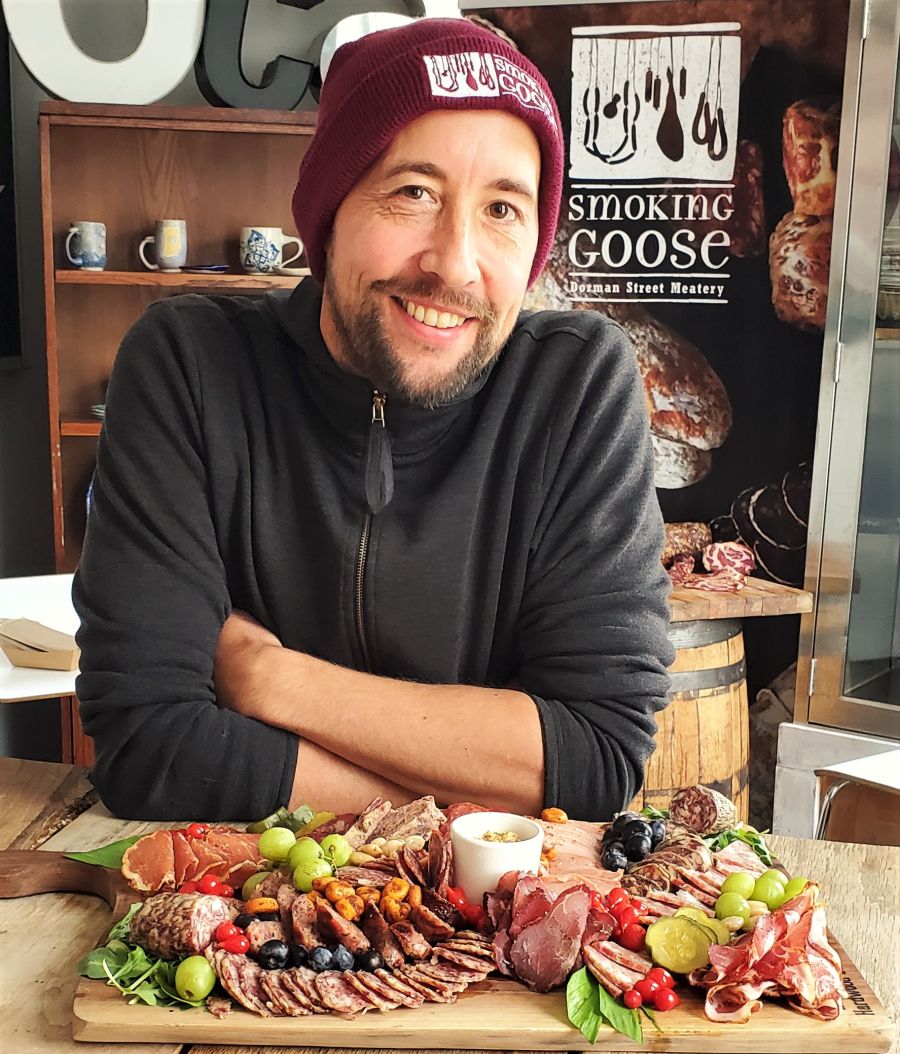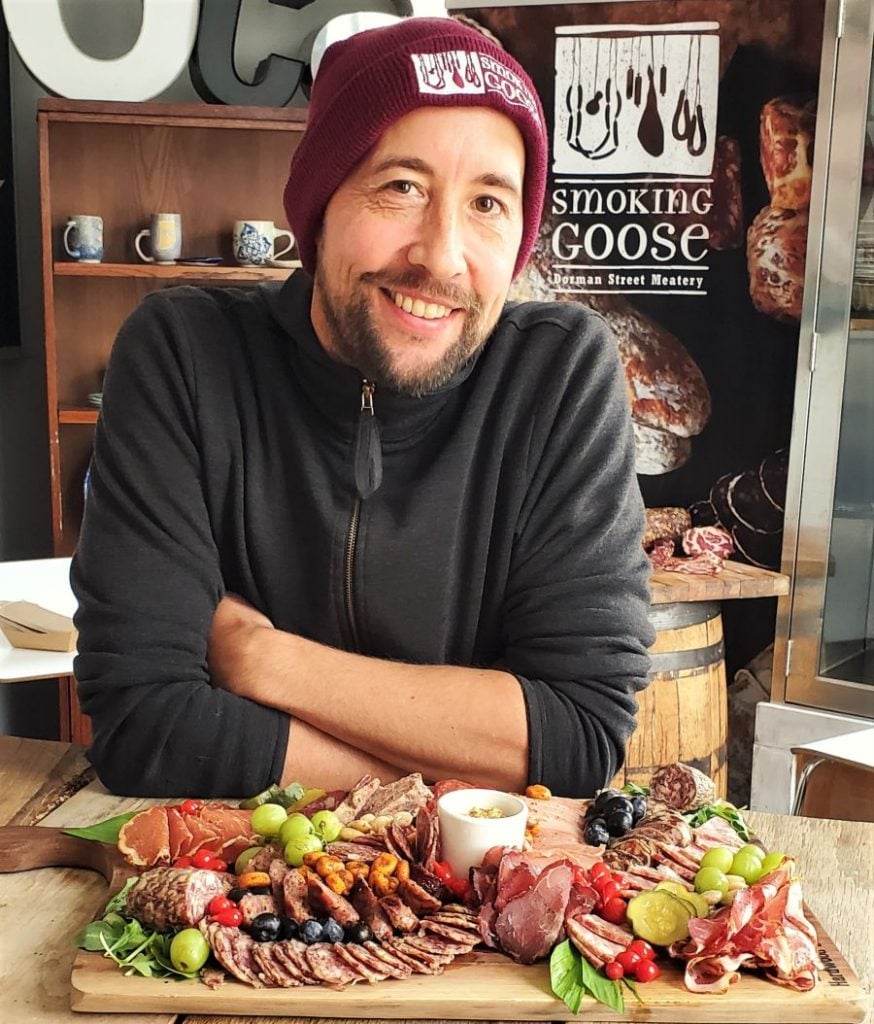 For decades, immersed in studying, working, learning, and teaching the art and craft of meat curing, now sharing his passion with you through his content.