People get a little confused about salt pork, it's preserved but does it go bad? It's a salt-cured piece of meat, but there are variations of course in how its made. Certain commercial types aren't made to last (more on this below).
I've made my own at home and its dead simple to actually produce, all it takes is some patience. It's definitely a 'cured' meat, and anything cured I'm keen as on!
Whether you are looking for a new food option to bring on your next camping trip, or you are simply curious as to incorporating a New England specialty into your diet, you might be experimenting with the century-old food of salt pork. You might have to learn a few things to know how to cook with it.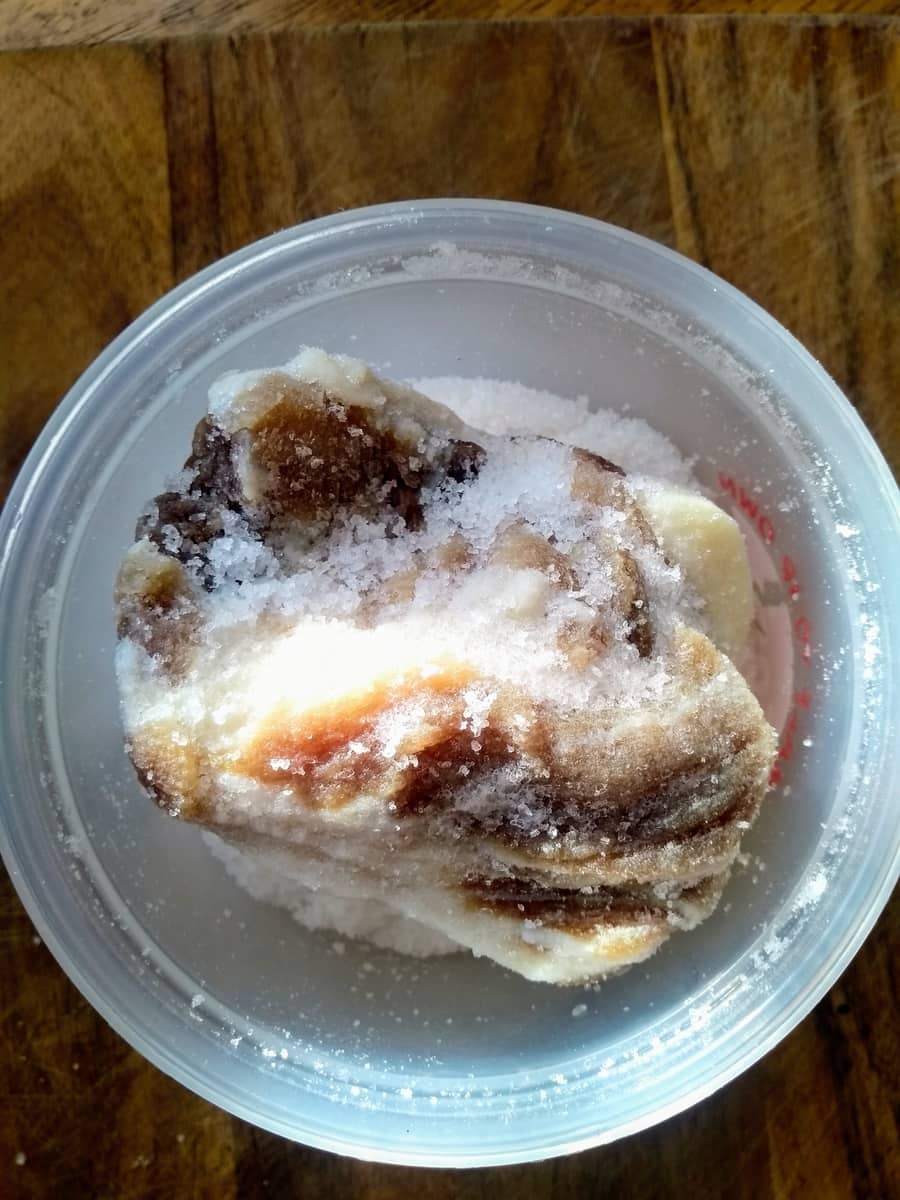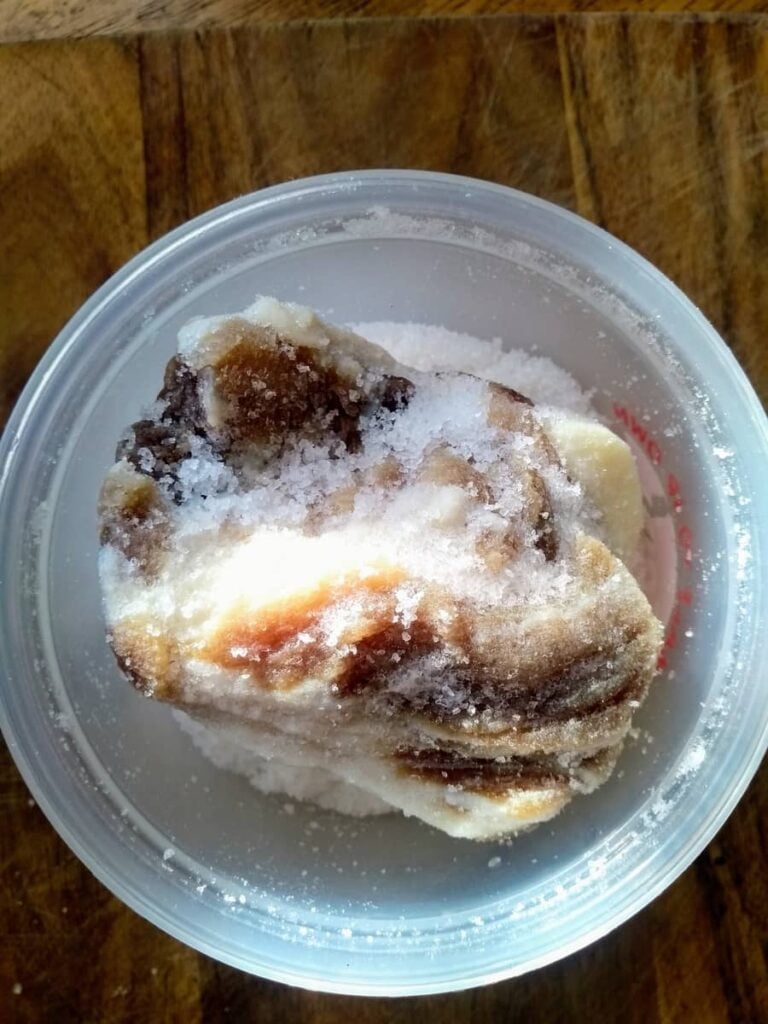 It's a simple type of cured meat that if done at home, can last a very long time.
Does salt pork go bad?
Salt pork has a lengthy off-the-shelf life due to its curation process. Homemade salt pork- that is soaked in salt brine or dry-cured can last for 18 months. Certain commercial salt pork go bad after 1.5-2 weeks unrefrigerated, 2-3 months refrigerated, or 6 months frozen.
It really depends on the level of bacterial inhibition and how long it has been cured in salt for (for homemade types).
With that in mind, it is important to know how to cook salt pork correctly to avoid any contamination issues you may otherwise face. While it can take a bit to learn the ins and outs of cooking with salt pork, once you learn the science of this treat, your tastebuds will thank you for time well spent.
Continue reading to learn more about salt pork and how you can safely consume it in all of its varieties, it definitely needs some preparation before consumption.
Commercial Vs. Homemade Salt Pork
If you are new to working with salt pork in your kitchen, then you might not be familiar with using this type of meat in your diet. However, those in New England will tell you that this is a treat you will not want to miss.
The flavor that salt pork can add to a dish of baked beans or clam chowder, for example, is enough to take your family recipe to the next level.
Commercial Salt Pork
To begin with the basics, it is important to understand the difference between commercial and homemade salt pork. Commercial salt pork- generally is from a pig's underbelly- it's usually cured and packaged to last for months in a refrigerator. 
Commercial salt pork will look similar to bacon as it can often be found sealed in thick plastic. You will be able to tell the difference in a commercial salt pork's lean proportions, too, as the coloration and fat are clearly visible in the package. 
Of course, when cooking with salt pork, you might not be trying to get the leanest cut as you would with other pieces of meat. After all, the point of using salt pork in many dishes is to render the fat and add flavor in this manner. 
You would use this instead of using oil or butter in a few choice dishes. Adding the flavor of the fat from salt pork to infuse a meaty flavor can make an exquisite upgrade.
Homemade Salt Pork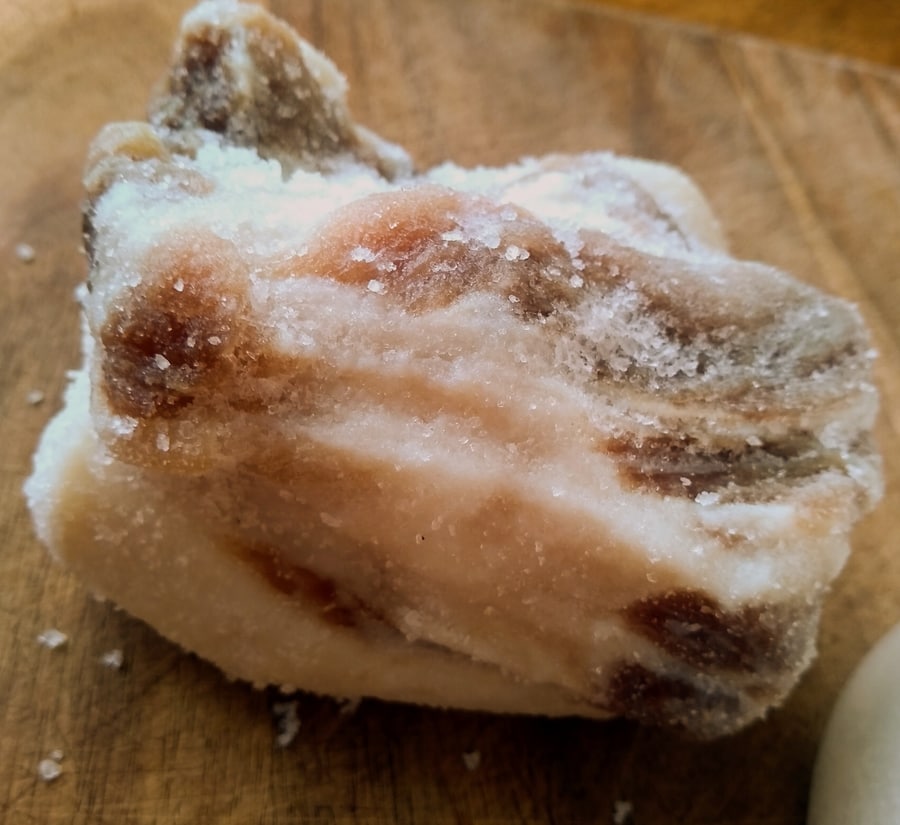 On the other hand, homemade salt pork, like that which colonial soldiers would have consumed, uses much more salt in its curation process and thus requires more preparation to cook. Homemade salt pork often uses the same parts of the pig (fatty pork belly). 
Clearly though, if you are making this yourself, then you will be able to choose which parts of meat you decide to use for your salt pork. Just remember that fat doesn't shrink at much as meat/muscle. So using a fatty cut of meat will mean it won't shrink as much (to do with water content and density I think).
Homemade salt pork would have been used by colonial soldiers going off to battle for many months. It needed to last for a long time without needing refrigeration. To make this, pork would be covered in salt- layering salt and meat inside of a container (which you can do at home very easily).
Then, a type of (liquid) brine would be used to fill in the gaps before the ending result was contained and sealed off (though a brine will form from the water that comes out of the meat whilst curing). Brine isn't essential, I just change the salt once.
On the flip side, you will have selected the pork that was used to make this in the first place, so you will have a bit more say about the fat to meat ratio.
The main difference in commercial versus homemade salt pork is how it will come packaged, saltiness and whether it is wet brined/dry cured.
Because homemade salt pork is generally sealed in a container, it will likely have to be opened in its entirety before you can begin to prepare and consume it. However, both options will need to be prepared and cooked before consumption to avoid any mishaps or food poisoning.
Do You Need to Refrigerate Salt Pork?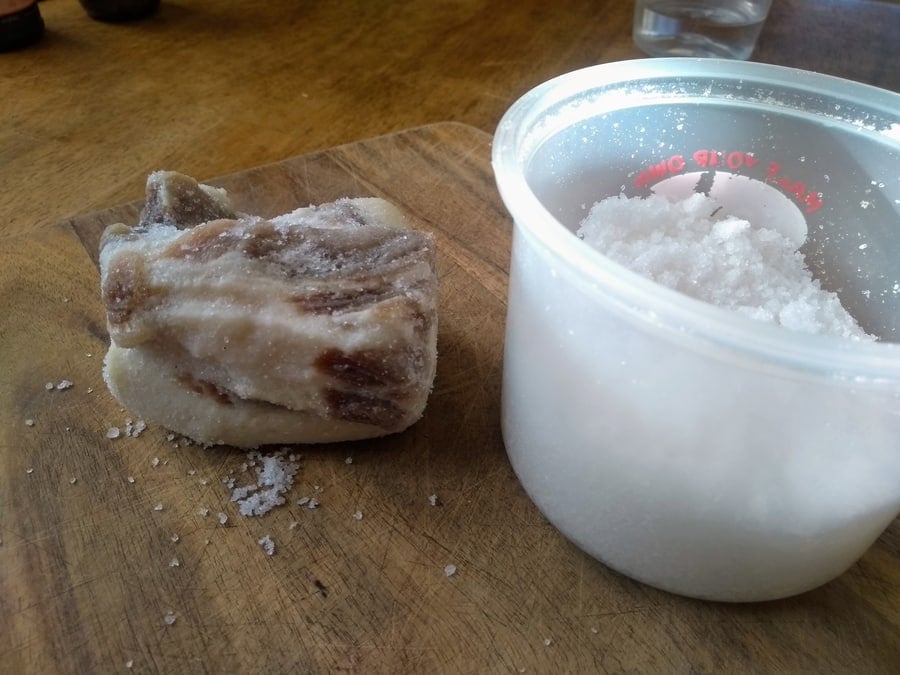 If you are cooking with salt pork, you might only use a portion of the meat that you are cooking with at the time. Perhaps you would like to save a bite for a meal later on in the week. Or, maybe you are hoping to bring some of the additional (uncooked) salt pork with you on a camping trip.
You should always refrigerate commercial salt pork when it is not in use and you have the option to refrigerate it. While it can last up to two weeks unrefrigerated, salt pork can last for 4-5 months refrigerated and even longer frozen.
Reading the instructions should give you an idea.
To refrigerate salt pork, it is best to wrap it and seal it as well as possible. The more tightly sealed your meat is, the longer it can be expected to last. When your salt pork is repeatedly exposed to higher temperatures, this creates the opportunity for the development of bacteria that can make meat unsafe to eat, but since it's immersed in salt bad bacteria struggle to get into the meat, it's also because of the lack of water activity.
Fortunately, as salt pork is prepared through a curing process pre-packaging (whether commercially made or homemade), it can last longer out of the refrigerator compared to standard meats.
This is what gives it enough longevity to be considered a smart protein option for your camping trips. Once it has been soaked or simmered in water, all you will need to do is to wrap it in foil, place it over a fire when you are ready to cook it, and enjoy the delicacy of a protein and fat combination.
Is Salt Pork Cured?
Another source of conflict with salt pork is understanding the if's, when's, and how's of consumption.
Generally speaking, you should cook the meat before you consume it, though there are some variations in which you can eat it prior to cooking. These options are not required for being considered "salt pork", though, so be sure to check the label of commercially produced salt pork to know if it is cured.
More often than not, salt pork has been cured through the salt and sealing process. But, you will need to recognize that this meat often still requires to be leached of excessive saltiness and cooked before you can consume it.
You will probably find that the dishes you want to use your salt pork for will require full heat, anyways.
So, hopefully knowing whether or not the meat is cured (if it's salt pork it should be cured)- and how that affects your preparation process- will mean that you will probably be cooking this food option.
Whether that dish is New England clam chowder, Boston baked beans, or another choice, you can rest assured knowing that the cooking process in these meats will keep you safe.
Do You Need to Soak Salt Pork?
To be able to use salt pork in your favorite dishes, you, of course, need to know how to properly prepare it. This will largely be done before you even begin to cook the dish. As its name will tell you, salt pork is soaked in loads of salt to help in the preservation process.
In order to prepare salt pork to be consumed, you will need to soak it to draw the salt out of it. Depending on the packaging and amount of salt used, you will need to soak the meat for at least 2-3 hours. Exchange the water that you are soaking your salt pork in every hour to expedite the amount of salt that is withdrawn from the pork.
The longer you soak you salt pork, the more salt will be withdrawn from it. Considering your salt pork will have been sitting in a vat/container of salt, you can recognize how this process will affect the safeness and flavor of the meat.
Often salt pork can be dried after this salt curing process, often hung. This is more traditional homemade vs. commercial versions which are often in wet brines sometimes still inside the packaging.
If you choose to neglect to soak your salt pork, it will be entirely too salty to consume. This could lead to health issues related to high sodium levels as well as exceedingly too salty of meat for your tongue to accept.
You can soak your salt pork in just about any container that has been cleansed and will not affect the meat.
Or
You can simmer the salt pork, for a length of time like 15-60 minutes. It really depends on how much salt has been used during the curing.
Salt pork, salt fish,salt beef – these are all made in a similar fashion so they didn't go bad or off quickly, historically to preserve without refrigeration – since it wasn't invented!
I wrote another post which goes over how to make salt pork, check it out here.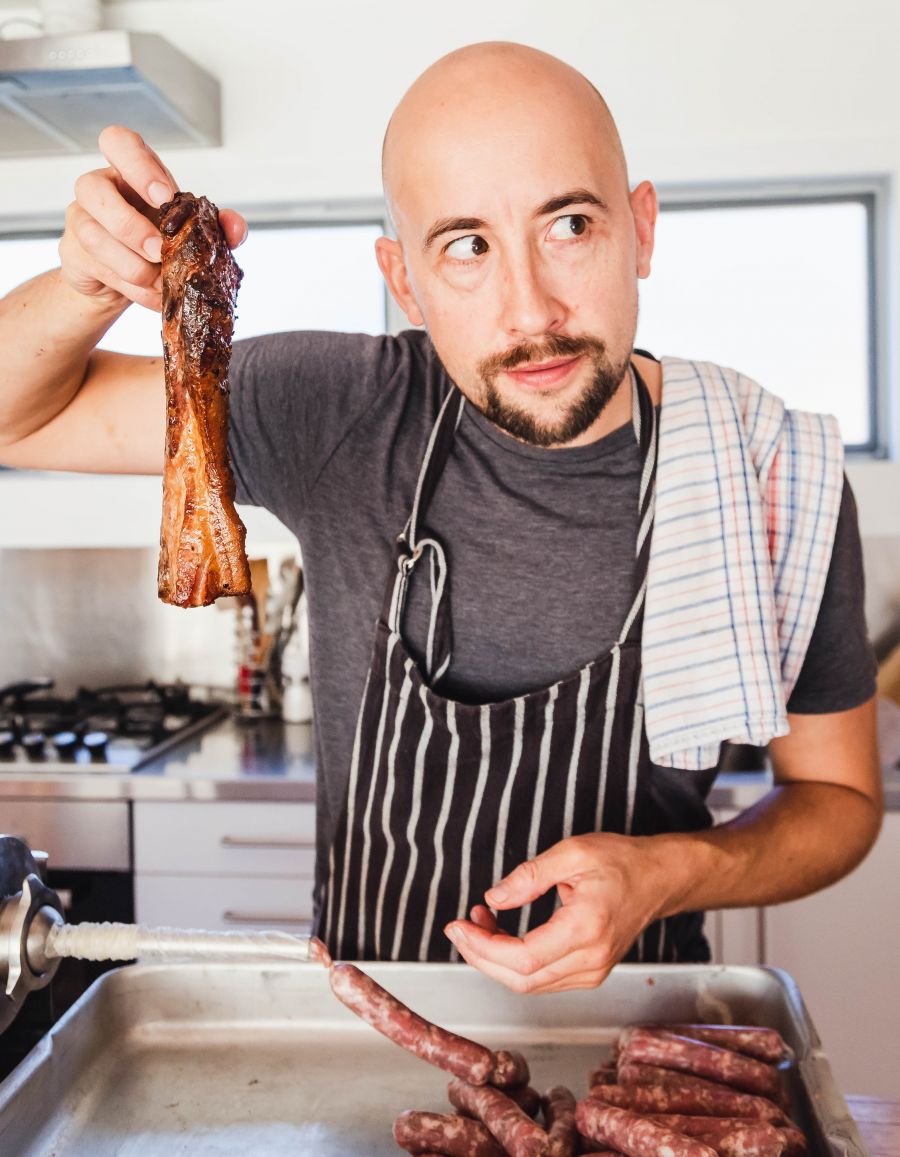 Thanks for dropping by, I've been passionate about meat curing for decades.
I Hunt, Fish, Forage, Buy, Butcher (Wannabe Norcini), Make, Savor (I'm not a Saviour), and love curing and smoking meat.
Learning and consuming in a circular fashion, I am always interested in what is happening around the curing and smoking world
Seeking the passionate behind the passion.