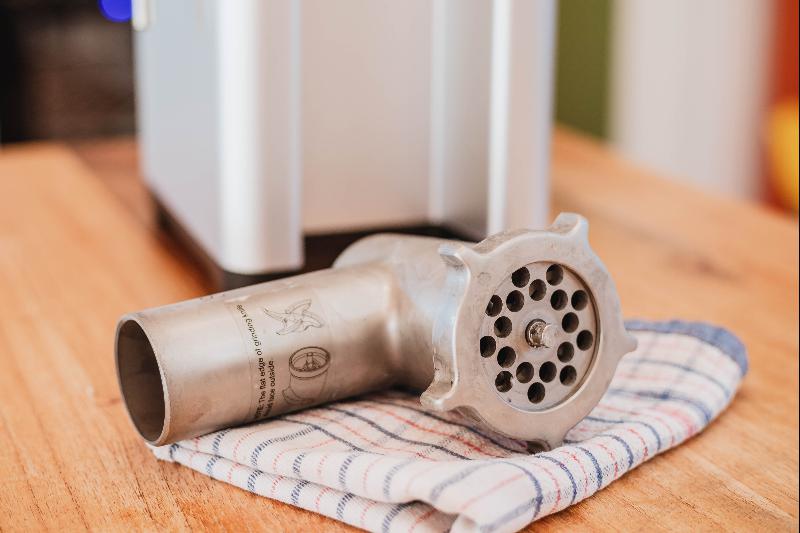 I'm now at that point where I find it really useful to have dedicated mincers/grinder and a stuffer. But that's because I do plenty of salami and sausages and want the right tools for the job.
Nothing wrong with a 2 in 1 machine. The very first one I had was also a juicer and pasta maker! You just attached whatever, and let the slow auger worm do its job (but very small batches are the only way….)
Unless you want a throwaway grinder that will just add to the landfill issues, you gotta investment around $200. There are sub-$200 meat mincers/grinders out there – and they do work, but for how long? Many include more plastic than metal componentry.
It's all about slick marketing, but they don't do it justice (pure opinion based of course).
On this sausage/salami journey I have learned a bit about the options.
Small runs of just a handful of salamis, minced meat or sausages – go manual or the free option below. But that's really only for a handful of sausages for a few salamis or sausages. It takes a long time to use a manual grinder or hand cut the meat, yes i have been there.
For decent batches of homemade charcuterie salami and sausages, electric grinders of course would be best suited.
There are a lot of claims of Horse Power (HP) output for meat grinders/mincers, many are not a TRUE output of what they claim.
Most Sub $100-$200 or less – these mincers have motors filled with plastic cogs, this is one reason they just don't go the distance. There are even quite a few 'toy' type mincers around $50, the build quality is inferior.
So here is how I mince (break) it down for options:
Buying a Dedicated Meat Mincer
'Extension' option -Kitchen Aid
Easiest (possibly free) Way (for really small batches)
Meat Sinew – Trimming Makes all the Difference!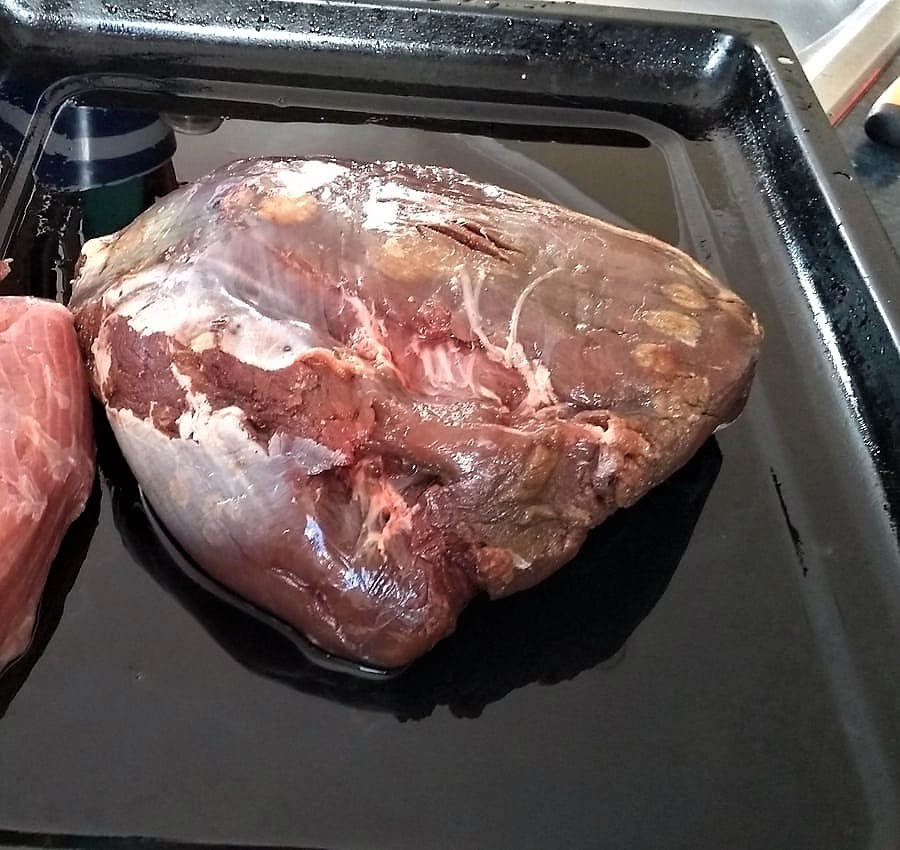 Whatever way you do it, if you spend the time trimming the sinew off the meat, it makes mincing SO much better (sometimes know as silverskin).
You want pure meat and pure fat in your sausages and salami ideally with minimal other trims.
There are so many people expecting mincers to tear through soft bones, just don't even try, once I didn't trim the meat properly and left a little ball joint/cap – it did not make the sausages very pleasant…
Factors to Consider
Ease of Cleaning
Functionality
User Friendliness (1 or 2 person job)
Blades / Sizes Included
Weight Sturdiness / Build (What I suggest is HEAVY)
Details on Options
Electric Meat Mincer
1HP true output motor gives you this below, sorry it's an old crappy video – but the 30 seconds will give you an idea of power.
And here is 1/2 HP output, it's decent grinds meat well!
I've had some crap grinders, so at least the 1/2 hp Kitchener gets the job done and I've been happy with.
There are a lot of plastic squishy mincers out there, they can run for a few minutes, but aren't designed to keep chugging. The above is, as you can see – doing a very quick job.
It's was a generic style semi-commercial, it's very hard, sturdy, and fast ($650 from memory?)
Talking $500-700+ for 1 HP, so I think a compromise is 1/2 output for most applications. Since that's quite an investment, 60 lbs! For the 100 pounds / 50kg grinding sessions!
Being $200-$250 approx – it's an bit of an investment compared to other options on Amazon for instance. But trust me, a poor performing mincer is painful especially for sausages and salamis you want to be proud of.
This is still a great grinder, it chews through loads – like 5-10 pound runs with ease.
I find this suits most guys who make small or large batches at home. Honestly go cheaper or lighter and you will regret it!
Kitchener Meat Grinder Sausage Stuffer Elite 1/2 HP
Manual
Here are a couple of manual mincers for small projects
Very respected Italian-made Tre Spade – hence why you pay around $200, it's quality stainless steel and built to last a lifetime.
There are sausage/salami funnels so you can do the stuffing with it, but will take a bit of time!
Not a fan of the cheaper grinders, cast iron old-school ones are good. But the production tolerances of 'modern' cast iron, too many stories of failure.
Don't want metal in my meat thanks.
'Extension' option -Kitchen Aid
Can get the job done, but the separation of fat/meat can be hard with mixing/melding happening. For short runs and you REALLY have to trim meat well, no sinew or connective tissue. With 1/2-1 HP you negate this to a certain degree.
Easiest (Possible Free) Way Mincer
2 Knives.
Slice the meat into 1/4″ slices, then use 2 sharp knives drawing away from the meat like this: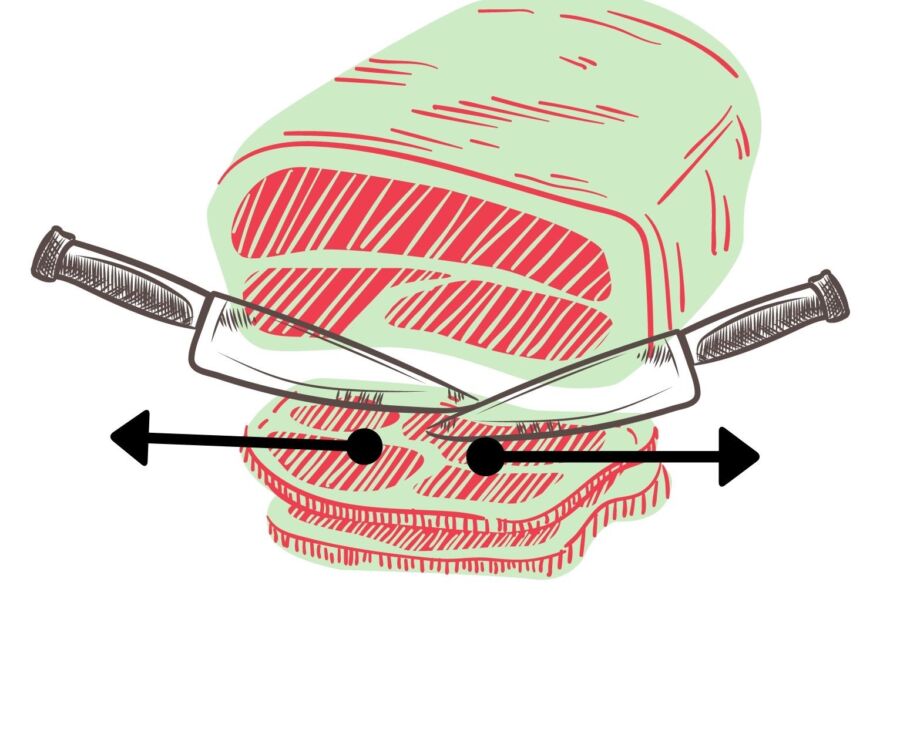 Then turn the meat 90 degrees and do it again. (A little freezing until harder but not frozen can help too if you just use 1 knife or cleaver.)
Freezing helps any mincing, not solid but just so the meat firms up. Fresh meat is predominated water anywho.