Salt pork makes for an incredible addition to many dishes, but can it be eaten raw?
If you have never used salt pork in your recipes, then you are missing out.
In its purist form, it's salt and pork – that's about it.
I've enjoyed eating, making and buying salt pork – it's versatile, and since this blog is all about cured meat – it's very much falls into this category.
This delicious option adds a distinct twist on the average flavor profile. But, since salt pork is known for its curation process, you might be curious if it can be consumed without being cooked.
Can salt pork be eaten raw? No, not only will you need to remove the salt that is embedded into the salt pork during the curation process, but you will also need to cook the salt pork before consumption. While the meat is dry-cured, this does not mean that it is safe to eat raw.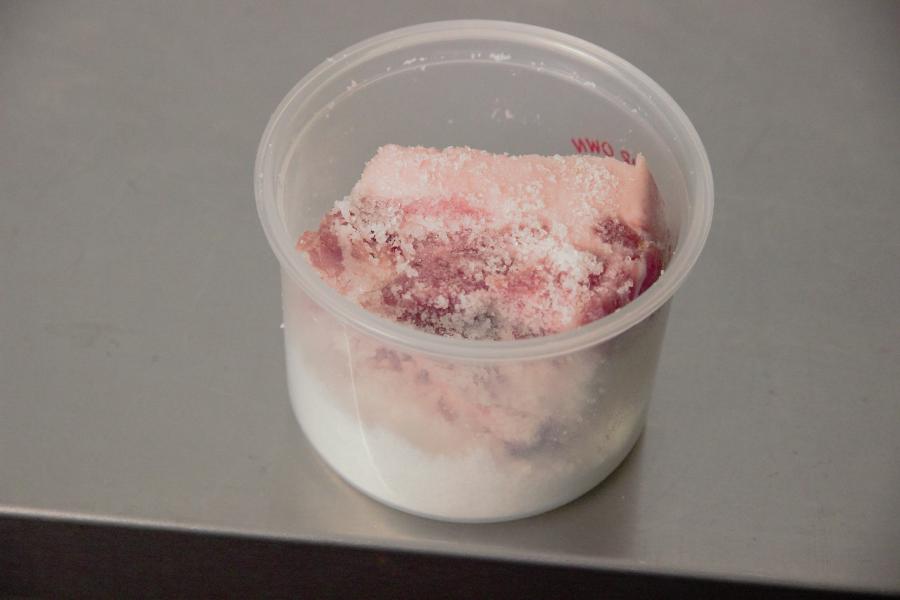 This may or may not be something that makes sense to you- likely depending on your familiarity with salt pork and its various uses. At the end of the day, it is simply important to recognize that this particular cured meat will need to be cooked before you can consume it.
Fortunately for you, cooking this meat will be worth the time and effort. Let's take a closer look.
Why You Can't Eat Salt Pork Raw
Salt pork is a cured meat which can be a bit confusing.
After all, it might resemble other meats that would be included on a Charcuterie board- depending on how it is sliced. But, do not let its raw appearances (like other cured meats) fool you into thinking that it is safe to be consumed without being cooked first.
Salt pork is cured with a combination of salt, sugar, and nitrate in commercial methods, while traditional salt pork is cured with salt (along with sugar, and other spices).
Though the salt curation helps to preserve the meat and prevent rapid bacterial growth, it does not cook the meat. 
Therefore, when you pull salt pork out of its container (either a commercially sealed bag or the container which you sealed it in at home during the traditional salt pork curation process), it will need to be rinsed and cooked before it is safe to consume.
It might feel a bit strange to rinse your meat if you have never done so, but it is absolutely necessary with raw salt pork.
The salt (and other seasonings) mixture that has been used for its curation will have become embedded into the meat during its time spent sealed tightly. 
So, if you were to eat salt pork raw without even rinsing it, then you would get a mouthful of salt along with incredibly unhealthy repercussions.
And, even if you were to rinse the salt pork, you still need to cook it. 
Though the salt has acted to help slow the bacterial growth on the meat, this does not mean that it is guaranteed to have removed the bacteria necessary to make it safe to eat.
Salt pork (especially when commercially made) can also be wet cured and soaked in a brine which would also imply that you would need to cook the meat before it is safe to consume.
Even though the salt will work to prevent bacterial growth, it is not always a secure process, so your salt pork could be left with some remaining pathogens in it.
Instead of hoping for the best, you must cook your salt pork (in one of three main ways) and ensure that it has been cooked appropriately before you take your first (delicious) bite.
Then, you can be sure that the salt pork you are eating is safe for consumption and does not still contain unhealthy bacteria that can cause negative consequences on your physical health.
Why You Can Eat Dry-Cured Meat Raw
As charcuterie boards rise in popularity among friends and in fine dining establishments, you might begin to see more dry-cured meats appear on your table.
But, since they look like any other type of raw meat to someone who is not as familiar, it might be confusing why they can be eaten without being cooked.
Dry-cured meats can be eaten "raw" because the salt curation process dehydrates the meat through the process of osmosis and prevents bacterial growth.
While those who dry-cure their meats must be sure to follow safety precautions (and all dry-cured meat still comes with an inherent risk of not being cooked), it can be done safely so that the meat can be eaten "raw".
There is a similar concept that follows behind why you can eat a steak cooked medium rare (with a warm red to hot pink center).
In this scenario, the harmful bacteria have been destroyed through the cooking process. 
In dry-cured meats, the harmful bacteria are not permitted to thrive, and the high salt concentration used in the curation process kills most of the microorganisms that cause food poisoning.
However, salt pork cannot be eaten raw even though the high concentration of salt has been used in the curation process. Instead, the salt pork must be rinsed and cooked before it is safe to consume.
How Does Salt Cure Meat?
Salt has long been used as the traditional ingredient for prolonging the shelf-life of meats.
For centuries, people all over the world have perfected the craft of using every component that comes from an animal and ensuring that it has high longevity. 
After all, meat is neither inexpensive nor something that can be cooked in bulk and eaten later.
Instead, many commercial and traditional meat producers use the curation process to enhance meat's longevity and provide a safe way to consume meat.
Salt cures meat at certain concentrations, for homemade salt pork – 10% (2%+ for dry-cured meat based on a percentage to the weight of the meat for dry cures).
Traditionally it wasn't measured so much, and the salt box or saturation method was used. Which means immersing the meat in salt for a length of time. This is how I do it at home as well.
Salt draws the water out or holds molecules in meat, thus creating an environment that minimizes unwanted bacteria.
Dry-cured meat will then be safe to consume. The salt can also bind inside the meat, which also produces an inhospitable environment for bacteria to spoil the meat.
Thus, by following thorough safety precautions, meat can be salt-cured to substantially reduce unwanted bacteria and microorganisms that would otherwise make consuming it unsafe.
This curation process often replaces the need to cook the meat, though this is not always true (as in the case with salt pork). 
Now if you're interested in the methods of using salt I wrote all about meat curing at home here.
One safety precaution that must be followed to ensure that the salt curation process has taken place is monitoring the weight of the meat from the beginning of the process through the end. (relevant for equilibrium curing)
If you want to check out the courses, there is some starters on how to cure meat at home here. 
You can make dry cured treats like this: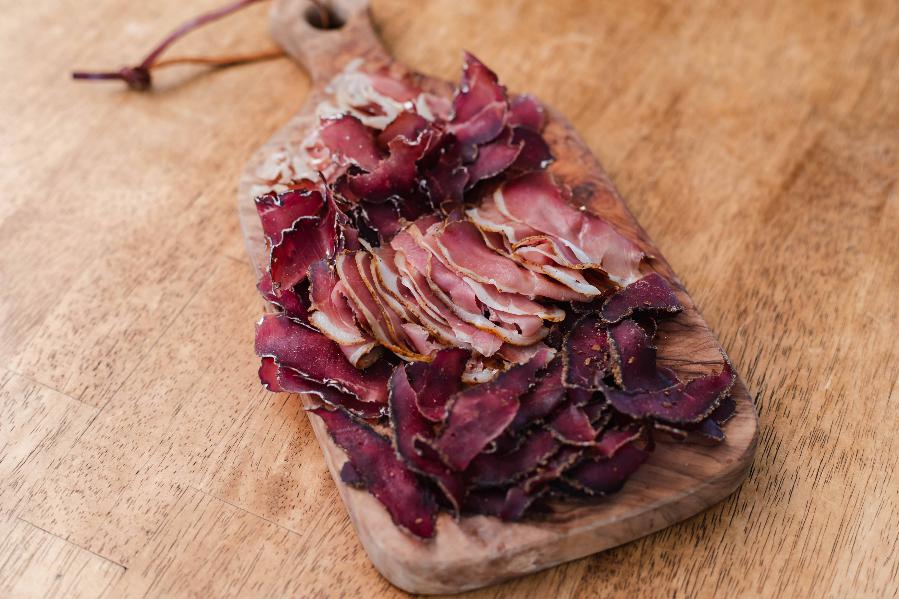 Venison Pastirma (Armenian style) and some acorn fed pork made using a Spanish Lombucho dry cure (lots of smoked paprika!)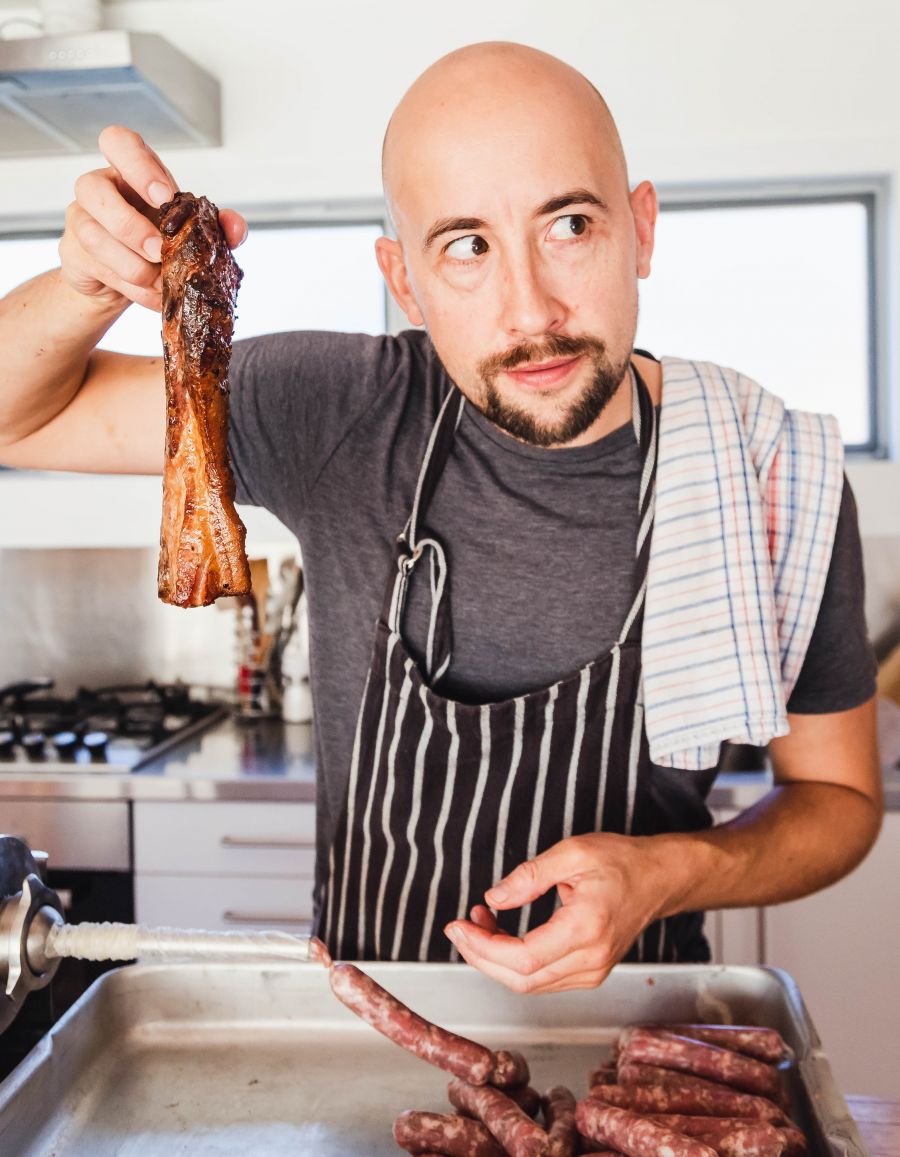 Thanks for dropping by, I've been passionate about meat curing for decades.
I Hunt, Fish, Forage, Buy, Butcher (Wannabe Norcini), Make, Savor (I'm not a Saviour), and love curing and smoking meat.
Learning and consuming in a circular fashion, I am always interested in what is happening around the curing and smoking world
Seeking the passionate behind the passion.