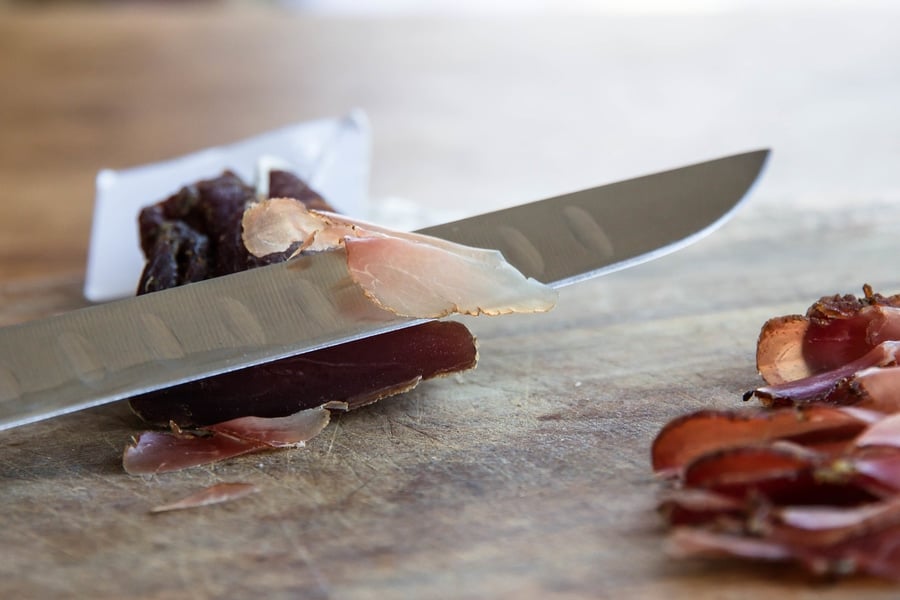 It all about a super sharp blade and it has to be a thin blade. These knives are, of course, designed for legs of cured ham, and horizontal slither slicing. But, I have found this style excellent for vertical slicing as well.
If you're really going to make legs of dry-cured prosciutto (doesn't have to be pork – I have tried lamb & goat with success) or buy one. Then having a leg holder (check them out on Amazon) is also advisable
Having a softer metal that can VERY easily be touched up/sharpened. It has made quite a difference compared to using the chef knives or filleting knives previously.
These knives are also awesome for cold-smoked fish – like salmon.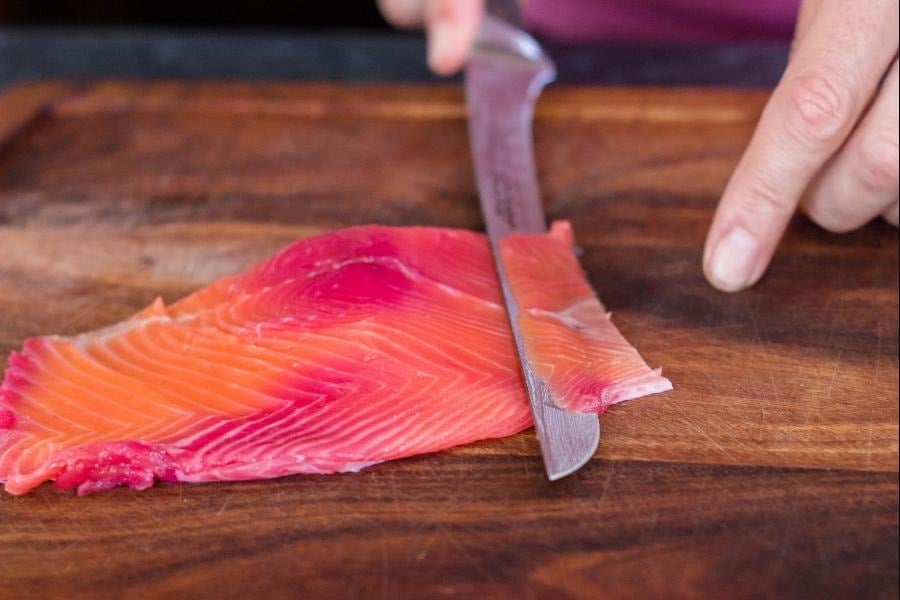 So I did a ton of research and choose the Arcos Natura Forged Prosciutto knife.
I was lucky enough to know the hospitality shop manager, so I was able to try out a few different prosciutto knives.
Why I love my Prosciutto Knife:
Solid brand
Granton Blade
Got a bit of style with a wooden handle, dry-cured meat is the ultimate slow food
Nitrum high-end quality build
Razor-sharp, and touches up to be uber sharp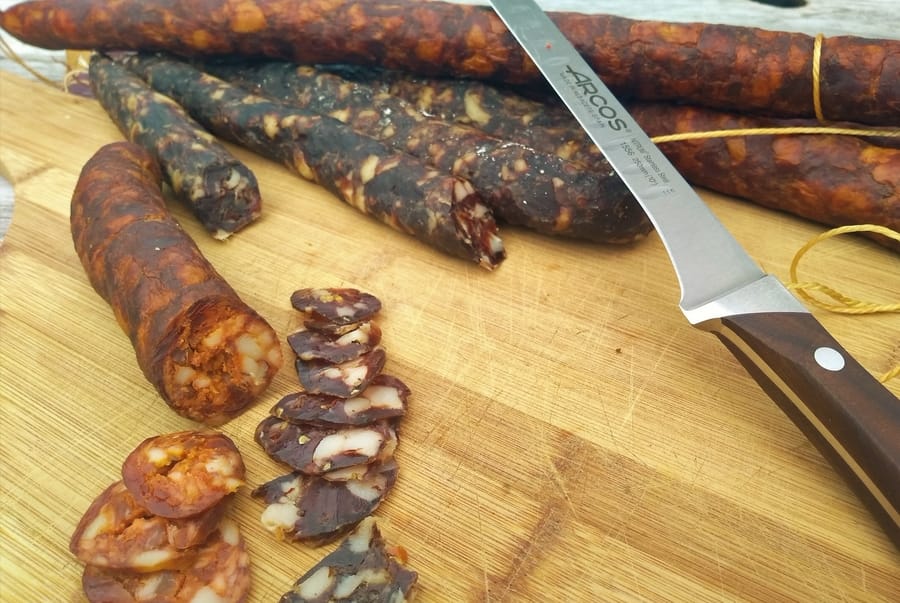 Blade

The NITRUM® forged stainless steel and its manufacture in a single forged piece provides excellent sturdiness and cutting capacity.

Handle

The warmth of its wood and its bold design are its principal hallmark. In its shape lies its charm.

Warm rosewood with an excellent surface finish.

Corrosion will never affect these stainless steel tongue-and-groove rivets.

From the European Arcos
Check out this Arcos knife on Amazon here.
You can get it in a 10″ or 12″ also, in a classic Spanish Iberian Ham style knife as well. No Granton blade, but ultra-thin – check it out here.
Other Recommendations – Budget & High End
As long as you look after it, any blade can keep razor-sharp, I have gone through many different sharpening options. I have settled on Japanese stones with a guide.
You want 2 stone minimum, like a coarse and a smooth. It takes a little bit of time, but it's the way to get razor-sharp edges. Here is a 2 stone combo with holder (Use an old towel or something underneath or do it outdoors, after you have soaked the stones, it will get a little messy).
-then all you need is the knife!
The 1000/6000 – is the all-rounder option you want – here is the full kit on Amazon.
Just the guide is an awesome add on to hold the blade at the perfect angle, you can buy one cheap here on Amazon.
For under $15, here is an ultra-sharp knife, easy to keep sharp…
If you want something budget-conscious check this one out from Arcos on Amazon.
Dream Prosciutto Knife
Japanese Damascus (folded metal), I have used this one in the shop and I can't yet justify the investment!
The Shun 10″ is similar in design to my Arcos but 3 or 4x the price, being top of the range.
Check it out here on Amazon.