Which is the best deli slicer to use for slicing up your jerky, well here are some ideas I put together.
When looking to prepare your own jerky at home, you might opt for a device designated specifically for this task.
But, if you are looking to use your expertise in meat preparation outside of just jerky, then you might want to look at a deli slicer that can do much more.
So here are some ideas I've put together that are outside the jerky box, a little.
Which Deli Slicer for Jerky? The best home options include the Ostaba Electric Deli Slicer w/Child Lock, Chefman Die-Cast Electric Deli Slicer, Cuisimax Electric Slicer, Weston 61-0901-W Heavy Duty Meat Slicer, Kitchener Professional Electric Meat Slicer, and Super Deal Commercial Stainless Steel Semi-Automatic Meat Slicer.
Of course, there are many options available on the market that can create beautiful slices of jerky straight from your kitchen countertop. 
But, in looking at the reviews of many of the most popular options (as well as testing them myself), these consistently show positive results in working both with deli meat and other food as well as the fan-favorite jerky.
Let's take a closer look at some of the best deli slicers for jerky on the market.
What are the Best Deli Slicers for Jerky?
If you are looking for a kitchen device that can slice your deli meat as well as help you prepare homemade jerky, then you are in luck.
There are many different options for deli slicers around, and plenty have positive feedback for the possibility of using them for various types of jerky.
Depending on what you are looking for, there is bound to be an option in your price range, aesthetic style, and size preferences.
Particularly, as there are several options that will be listed below, be sure to choose one that works for the size of meat as well as the thickness of the jerky that you prefer.
Here are some of the best deli slicers to be used for jerky.
Simple and useful for lots of slicing in the kitchen!
If you are looking for a deli slicer that you can leave out on the counter without having to worry about storing it when your kids are around, then the Ostaba Electric Deli Slicer with a child lock is a great option for you. 
Not only does this electric deli slicer have a removable 7.5" blade and feeder (making it easy to clean up after you are done using it), but it is stainless steel which can help with long-term use.
Additionally, it has an adjustable thickness tool so you can shred through meat in larger chunks when you are hoping for a thick slice of jerky, or you can enjoy a delicate piece of meat by using the thinner slicing option.
The cast iron structure will provide confidence in its structural soundness. Plus, it is powered at 150W giving you the assurance that it will work effectively in slicing through your thick cuts of meat.
You are sure to be satisfied as you slice through meat, cheese, bread, and jerky as you create snacks and meals to savor for months (and years) to come.
If you are looking for a more compact, inexpensive option for using a deli slicer for preparing jerky (among many other types of food) in your home kitchen, then the Chefman Die-Cast Electric Deli Slicer might be the right choice for you.
There are many benefits of a smaller deli slicer including the ability to move it around in your kitchen, the space that will be saved in storage, and the ease of one person being able to use it effectively without having to employ the help of a friend or family member.
Along with this, the die-cast aluminum makes for a solid blade that will be easy to clean up.
Since the majority of your other pots, pans, and kitchen utensils are made of this material, you should have no problem knowing how to clean it up.
And, since the blade is removable, this makes it even easier for you.
This electric deli slicer runs at 180W indicating a good source of power for slicing through your meat. It has adjustable settings to provide thick or thin jerky (or other types of meat, cheese, bread, vegetables, etc.).
Only looking to invest a small portion of your kitchen while still getting a good value for your jerky? This option could be right for you.
The Cuisimax Electric Meat and Deli Slicer is another dependable and affordable option if you are looking for a solid mid-range option that will leave you satisfied with the cut of your jerky (and other foods).
This option particularly boasts of its components that are easy to clean including the removable 7.5" blade, removable food pusher, and the stainless steel components that are easy to clean with a cloth or can even be tossed and cleaned in your dishwasher.
So long are the days of getting food stuck in your deli slicer and being forced to spend more time cleaning than you saved in preparation.
Another benefit of this option is the rubber suction feet that allow for more easy use of this device.
Considering how difficult it can be when you are pushing your food through other slicers causing the deli slicer to move about, the rubber suction feet provide that extra bit of ease to allow for a more smooth sailing operation.
With the adjustable thickness knob and safety switch, you are sure to be able to craft the perfect jerky with this deli slicer.
If you are looking for more of a heavy-duty option for your deli slicer that can be used to prepare jerky, then the Weston 61-0901-W Heavy Duty Meat Slicer is the right option for you.
This slicer even offers a 9" blade which might not seem like a lot larger than the other options that have been listed with 7-7.5" blades, but that extra inch means everything when it comes to the original cuts of meat that you will be able to slice through.
When you think about it, this means less preparation on your end as you can place your larger chunk of pre-sliced meat on the food pusher and be prepared for delicious jerky to arrive.
Along with this, the deli slicer is made of stainless steel- and it is coated with a corrosion-resistant covering. This makes sure that your kitchen device will be easy to clean up and will last for years to come.
Another benefit to this option is its compact size and portability. Even though the blade is slightly larger than other options, and it is marketed as heavy-duty, it can still be put together in a compact manner to allow for easy transportation and use.
This is a great heavy-duty option for preparing jerky.
The Kitchener Professional Electric Meat Slicer takes your deli skills to the next level in that it offers a few different types of interchangeable blades for particular use on specific types of food.
When using this kitchen tool to prepare your jerky, for example, you might choose to use the standard blade, or you can opt for the serrated blade (sold separately) to tear through a thick cut of meat.
Along with the neat feature of interchangeable blades that are sold by the same company (so they are sure to fit the device), the main blade is 9" meaning you will have plenty of room for the majority of types of meat that you hope to slice into sheer perfection.
It has a 150W current and a 200W max, so you are sure to see the power and effectiveness of this device, too.
In preparing your jerky, this deli slicer is sure to do the trick. And, depending on if you prefer thin or thick cuts of meat, you can opt for the variable range that this device provides from "thin" to ⅝" thick.
As another fun feature, this stainless steel bladed device also comes in a neat colored casing that is not as typical of deli slicers. So, if you are looking for a solid option that comes with a pop of color, this choice is both fun and functional.
The Super Deal Commercial Stainless Steel Semi-Automatic Meat Slicer is a little bit more expensive than a few of the other choices on this list, but considering its high quality, you will be glad that you decided to invest a little bit more.
Plus, it is still less expensive than several other kitchen tools and devices out there, and this one can do so much- including helping you to slice and prepare your jerky.
This option is a higher grade than a few others for a few reasons. First, this has a built-in sharpener that keeps the blade impeccably sharp and allows for the most precise cuts to your meat and other types of food.
Along with this, it has a fixed ring guard as an added safety feature. This component means that you cannot slip and accidentally cut yourself on the blade- something that is both incredibly important for homes with children around and for those with only adults in the kitchen.
This stainless steel blade powered at 1/3hp is sure to impress you with its high-quality cuts into your deliciously prepared jerky.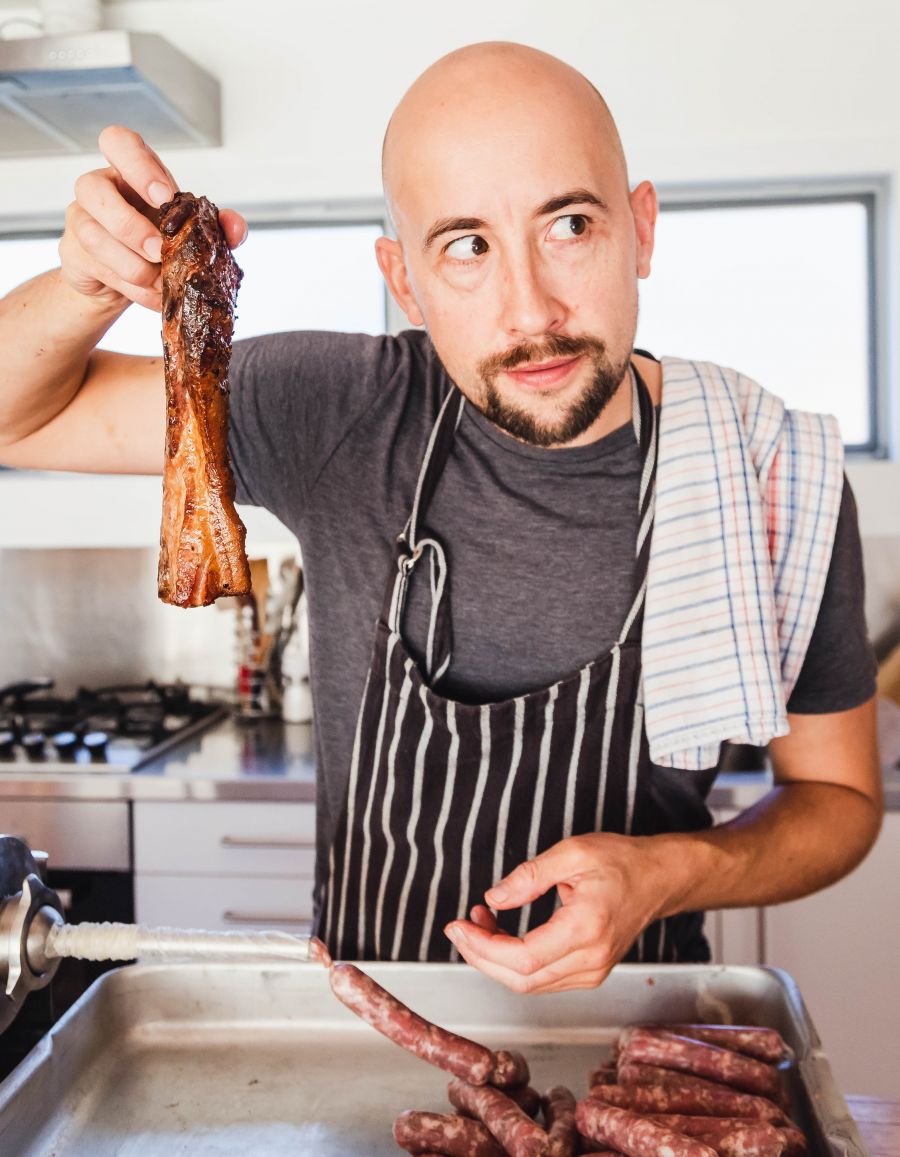 Thanks for dropping by, I've been passionate about meat curing for decades.
I Hunt, Fish, Forage, Buy, Butcher (Wannabe Norcini), Make, Savor (I'm not a Saviour), and love curing and smoking meat.
Learning and consuming in a circular fashion, I am always interested in what is happening around the curing and smoking world
Seeking the passionate behind the passion.