For decades, immersed in studying, working, learning, and teaching the art and craft of meat curing, now sharing his passion with you through his content.
(Last Updated On: October 25, 2023)
Different Accompanients, dips & spreads are a great way to enhance any charcuterie board. I want to create a helpful resource that covers inspiration, classic pairings, and suggestions for many styles and types.
Umami and savory flavors are always sought after when making a charcuterie board, so I have a few tips to bring to the next level.
The classics based on Italian, Spanish, and French cuisine will be covered. There are some colors and contrasts to really give your board the epic factor for your guests and loved ones.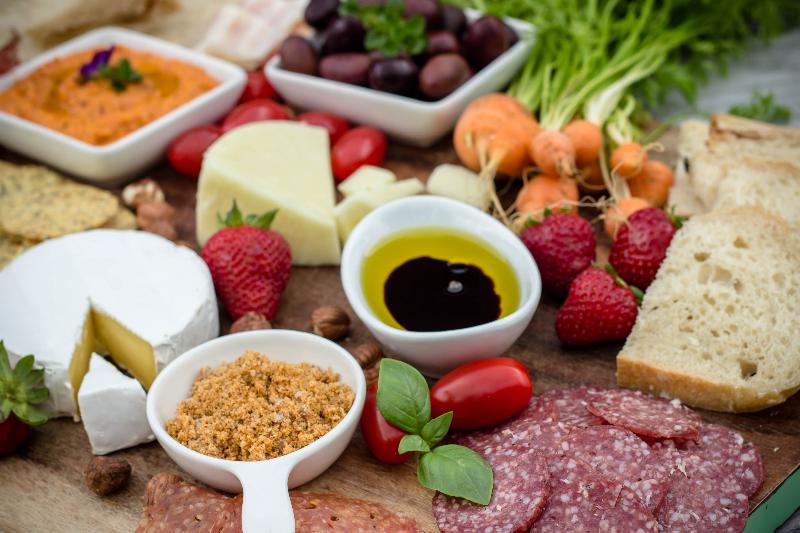 Ideas and Inspiration for Different Charcuterie Board Styles
To inspire you, I've included dips, spreads, and other ideas from a classic viewpoint and also the modern styles that have evolved.
You will find inspiration below for these styles and suggestions:
Italian North Charcuterie Board
Italian South Charcuterie Board
Spanish Charcuterie Board
Catalonian Charcuterie Board
French Charcuterie Board
Mediterranean-Inspired Charcuterie Board
Vegan Charcuterie Board
Dessert Charcuterie Board
Asian-Inspired Charcuterie Board
Middle Eastern Charcuterie Board
Greek Charcuterie Board
American South Charcuterie Board
Vegetarian Charcuterie Board
1. Italian Northern/Central Charcuterie Board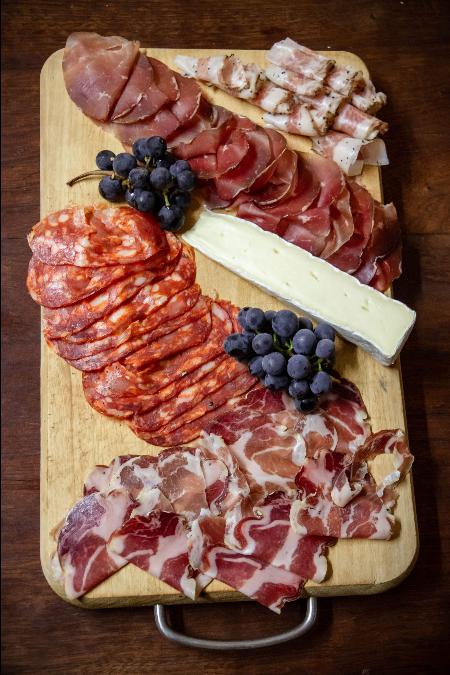 Meats: Prosciutto de Parma, Salame Piemonte, Pancetta, Felino Salami
Cheeses: Robiola, Castelmagno, Toma Piemontese
Accompaniments: Focaccia, Sourdough Bread
Charred Vegetables: Courgette, Aubergine
Spreads/Dips: Roasted Red Pepper Spread, Basil Pesto, Tuscan Offal Based Spreads
Cleaner and simpler flavors in the North of Italy.
2. Italian South Charcuterie Board
Meats: Salame Spianata Calabra, Ventricina, Capocollo
Cheeses: Burrata, Cacioricotta, Canestrato
Accompaniments: Olive Oil Crackers, Eggplant Caponata, Marinated Anchovies
Fresh Produce: Olives, Dried Figs
Spreads/Dips: Eggplant Dip, Spicy Calabrian Pepper Spread
Often the African influence and the spicy flavors will be more present in this style. If you can find or make Njuda spreadable dry-cured spicy salami, it is incredible.
3. Spanish Charcuterie Board
Meats: Cecina, Sobrasada, Jamon (Iberian Dry Cured Acorn Fed Ham)
Cheeses: Roncal, Garrotxa, Murcia al Vino
Accompaniments: Marinated Olives, Breadsticks, Almond Cakes
Fresh Produce: Sliced Oranges
Spreads/Dips: Olive Tapenade
Paprika and often pigs blood-based sausages are very popular in Spain
4. Catalonian Charcuterie Board
Meats: Catalan Sausage, Perol Sausage
Cheeses: Formatge de Cabra, Formatge de Tupí, Blau del Net
Accompaniments: Cava (Sparkling Wine), Marinated Sardines, Olive Mix
Fresh Produce: Sliced Peaches, Sliced Plums
Spreads/Dips: Escalivada Spread
Many classic flavors with Barcelona being the centre point.
5. French Charcuterie Board
Meats: Bayonne Ham, French Rosette Salami
Cheeses: Chèvre, Morbier, Munster
Accompaniments: Cornichons, Dijon Mustard, Baguette
Fresh Produce: Sliced apples
Spreads/Dips: Fig Jam, Olive Tapenade
The word has morphed to mean much more, than the classic French approach. Cured meats and offal-based meats were and are the cornerstone of classic French charcuterie, for instance, Pork Pate.
6. Mediterranean-Inspired Charcuterie Board
Spreads/Dips: Red Pepper Hummus, Olive Tapenade, Fava Bean Dip
Accompaniments: Stuffed Vine Leaves, Marinated Artichoke Hearts, Feta Cheese
Fresh Produce: Sliced Cucumbers, Cherry Tomatoes
Other: Pomegranate Seeds, Olive Oil for Drizzling
Color and contrasting flavors can be used to really create a visual feast.
7. Vegan Charcuterie Board
Spreads/Dips: Avocado Hummus, Vegan Cream Cheese, Muhammara
Accompaniments: Roasted Chickpeas, Marinated Tofu, Vegan Dark Chocolate
Fresh Produce: Fresh Berries, Sliced Cucumbers
Other: Nuts, Seeds
Meat doesn't have to be the focus, even though the resource site is all about cured meat. Many contrasting flavors and umami can be created without meat.
8. Dessert Charcuterie Board
Spreads/Dips: Raspberry Coulis, Lemon Curd, Chocolate Ganache
Accompaniments: Meringues, Mini Eclairs, Fresh Berries
Fresh Produce: Sliced Kiwifruit, Mango Pieces
Other: Mini Tarts, Assorted Cookies
A more visual aspects, my advice would be to create a very small charcuterie board.
9. Asian-Inspired Charcuterie Board
Meats: Char Siu Pork, Smoked Duck, Peking Duck
Accompaniments: Edamame Beans, Kimchi, Wasabi Peas
Fresh Produce: Sliced Cucumbers, Daikon Radish
Spreads/Dips: Hoisin Sauce, Sweet Chili Sauce, Soy Sauce
Other: Rice Crackers, Sushi Rolls
Asia has massive variations, sushi and sashimi can be used as a Japanese-style platter, or a mixture of Korean, Chinese Lap Jong sausage, and Peking Duck.
This could be a true fashion style.
10. Middle Eastern Charcuterie Board
Meats: Basturma (cured beef), Sujuk (spicy sausage)
Cheeses: Labneh, Halloumi, Feta Cheese
Accompaniments: Falafel, Dolma (stuffed grape leaves), Olives
Fresh Produce: Pomegranate Seeds, Fresh Herbs (mint, parsley)
Spreads/Dips: Hummus, Baba Ganoush, Muhammara
Other: Pita Bread, Nuts (almonds, pistachios)
11. Greek Charcuterie Board
Meats: Loukaniko (Greek sausage), Pastourma
Cheeses: Feta, Kasseri, Manouri
Accompaniments: Dolmades, Kalamata Olives, Tzatziki
Fresh Produce: Cherry Tomatoes, Cucumbers
Spreads/Dips: Taramasalata, Skordalia
Other: Pita Chips, Greek Yogurt
12. American South Charcuterie Board
Meats: Andouille Sausage, Country Ham, Jerky
Cheeses: Pimento Cheese, Sharp Cheddar, Gouda
Accompaniments: Pickles, Deviled Eggs
Fresh Produce: Grapes, Apple Slices
Spreads/Dips: Honey, Mustard, BBQ Sauce
Other: Cornbread, Pretzels
13. Vegetarian Charcuterie Board
Cheeses: Brie, Gouda, Goat Cheese
Accompaniments: Marinated Vegetables, Stuffed Peppers, Nuts
Fresh Produce: Sliced Bell Peppers, Carrot Sticks, Grapes
Spreads/Dips: Hummus, Guacamole, Pesto
Other: Breadsticks, Crackers
Modern Accompaniments for the Charcuterie Board in Detail
Many of the meats as well as the spreads/dips I make myself. Here is some more information to maybe inspire you.
Basil Pesto (or Sundried Pesto)
Olive Tapenade
Beetroot Spread or Dip
Garlicky Hummus
Dukkah – Spice blend
Extra Virgin Olive Oil & Balsamic Vinegar
Basil Pesto – Classic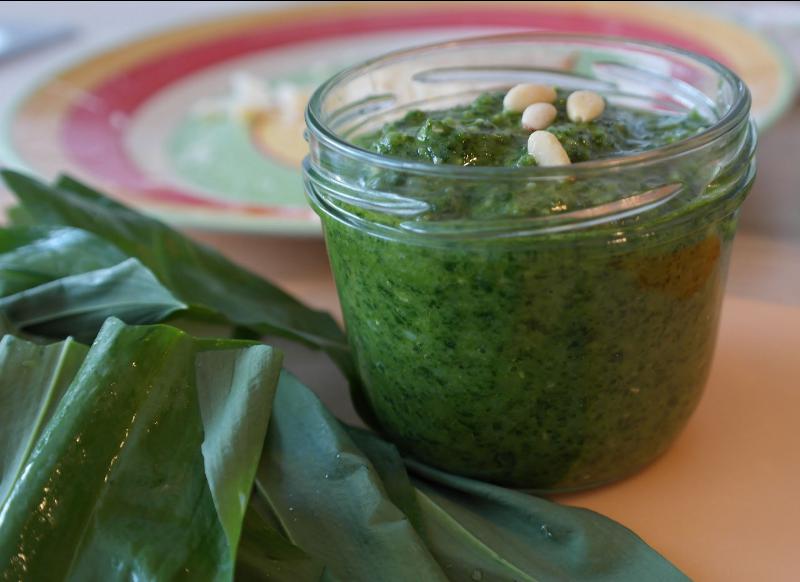 The combination of pine nuts (or other nuts), good parmesan, basil, quality extra virgin olive oil, salt, pepper & garlic is so simple but so awesome.
I remember watching a cooking show (Jamie Oliver in Italy I think) and seeing the Grandma (Nonna) crushing and mixing together the pesto in a mortar & pestle. She swore by this manual technique rather than using the easier blender or hand Wizzer options.
I tried it with Mortar & Pestle recently, it felt more authentic for sure.
The alternative the Sun-dried tomato pesto can be a great splurge of color also. The intensified flavor of dried tomatoes brings the summery sweet flavor.
I love this recipe, which is the way the classic Italian Nonna makes it, from the blog 101cookbooks.com
Olive Tapenade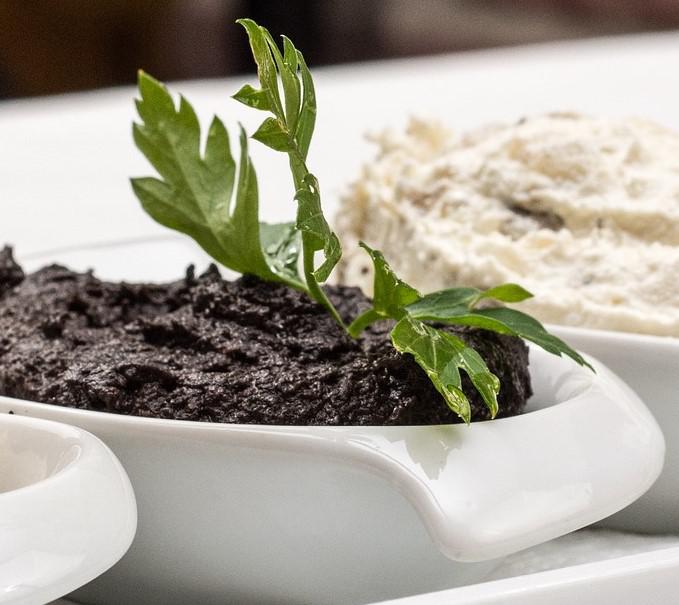 So mighty and so pungent, it's an art to get that balance of black olives and umami-salted anchovies just right. As with any cooking, you just keep tasting until it hits the sweet spot. An acquired taste and readily available in most stores these days.
Definitely prefer fresh bread, like sourdough with my tapenade on the charcuterie board. Crackers don't get that level of absorption that you can get from a well-soaked bit of fresh bread.
This rustic tapenade recipe from the blog An Italian in My Kitchen is simple and delicious.
Secret Ingredient – Savory Flakes
If you haven't tried it before, I am an addict when it comes to sprinkling it on buttered bread, it's very moreish (makes you want to eat more of it!).
This is actually a byproduct of making beer I am told, but it's also a massive savory hit when added to a dip or even broths and soups. Use it to enhance to the next level.
Beetroot Spread or Dip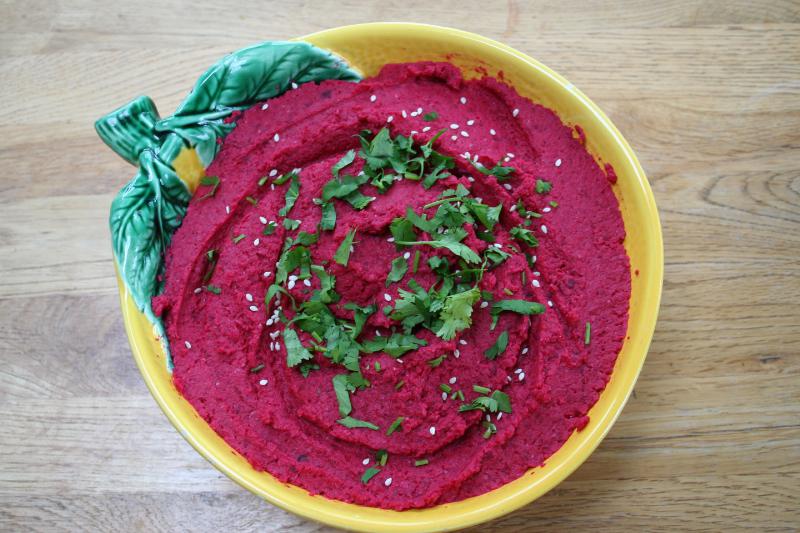 Purple is one of my favorite colors, this deep dark addition does wonders to the visuals on a charcuterie board.
Most of the beetroot recipes will tick the healthy box also if you make it at home, you can play around with the spices a bit of cinnamon, coriander, and toasted pistachios go a long way.
Garlicky and extra smear-able!
This yogurt-based recipe from delicious every day is a winner!
Garlic Hummus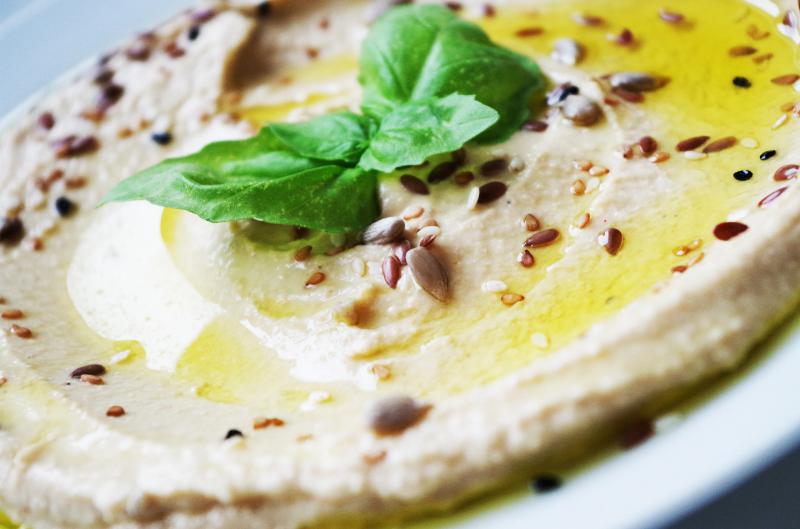 Talking about garlicky, another all-time favorite that is easy to make as well.
There used to be a standout Hummus restaurant in London I loved to go to when visiting. It was super simple variations of hummus and always piping on pita bread. Shame it closed some time ago.
Anyway, hummus can be the stand-out performer on your charcuterie board too, and you can really play around with the ingredients.
Tahini, garlic, chickpeas, salt, pepper, lemon/lime, and extra virgin olive oil.
Blend it up and that's about it, for many years I omitted tahini (sesame seed paste) – it gives that nutty edge but isn't essential I don't think.
This hummus recipe is a complete breakdown, and it gives that secret tip, it's about the order you add in the ingredients! Check it out here at Inspired Taste
Dukkah – Spice Blend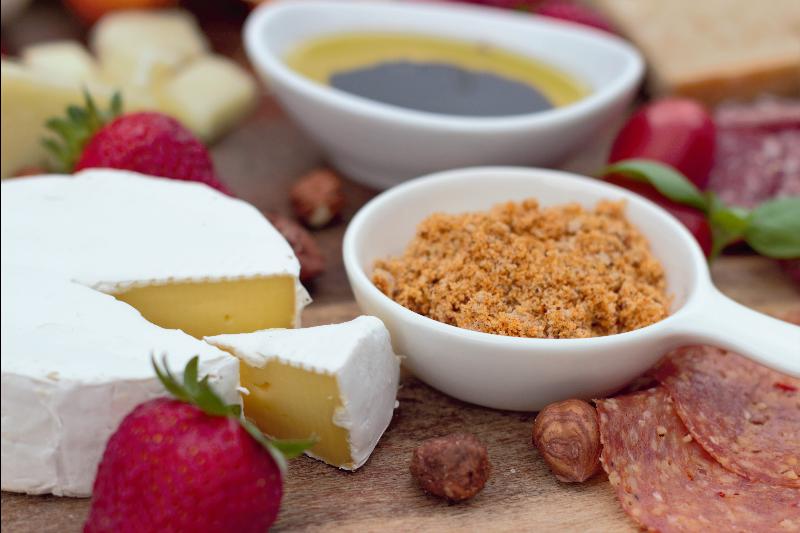 Having a spice grinder can really help make this a quick effortless creation.
Playing around with spices is what I love to do with many types of foods, be it a curry or a dry-cured piece of Braesola.
Nuts, cumin & coriander seeds form the base for many of my dukkah creations, and from there you can play around with heaps of spice combinations (Tip Smoked Paprika can elevate and create a whole new level)
All you need is quality creamy extra virgin olive oil for pre-dunking so that dukkah can be nicely coated across your soft fresh bread.
Sometimes I will use the olive oil/balsamic to create another layer of flavor for the dukkah dunking ritual.
Toasted spices can bring out more aromatics and deeper flavors I find.
Here is an easy step-by-step dukkah, one herb I'm not a big fan of it fennel, so I omit it, check it out here at hurry the food up.
Olive Oil & Balsamic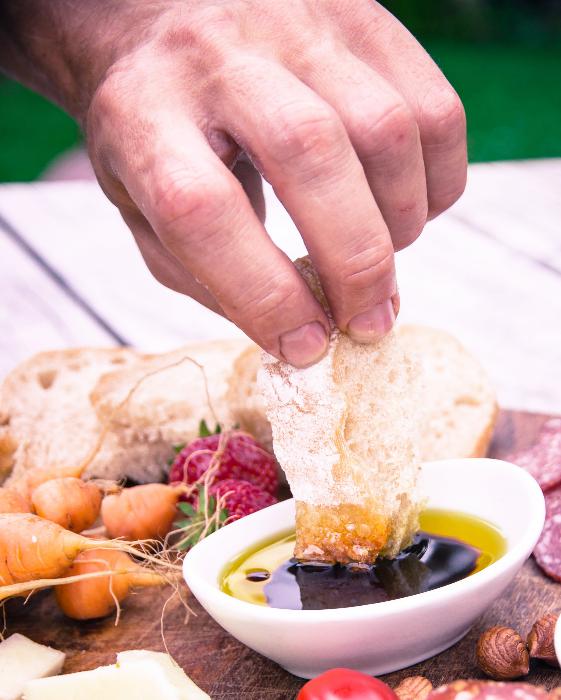 Yes, it is so simple, but also you get some much variation in quality olive oil and balsamic vinegar, you can really play around with it to produce something interesting.
Try to go for the creamy style of olive oil, I have accidentally bought robust/hot styles which can lead to lingering of bitterness in the mouth.
Breads & Crackers
Crackers are cool, I love them with soft cheeses. For dips and spreads, I generally like the soft fresh bread. This of course is just a personal preference, don't let me hold you back on those crackers!
For dunking soaking with olive oil/balsamic, and the dukkah – you get a bit more diversity with bread vs crackers.
Fresh Organic Local Seasonal Vegetables
When the season is right, homegrown or quality organic vegetables are a great way to showcase the true taste of vegetables.
Supposedly the sugar content
As soon as vegetables are harvested, they also begin to lose moisture. … Their cut stems also provide a perfect escape route for moisture, so vegetables wilt even faster once sliced. When plant tissues lose water, their nutrients, sugars, and plant acids become more concentrated in the remaining cell sap.

Science of Cooking website
For decades, immersed in studying, working, learning, and teaching the art and craft of meat curing, now sharing his passion with you through his content.